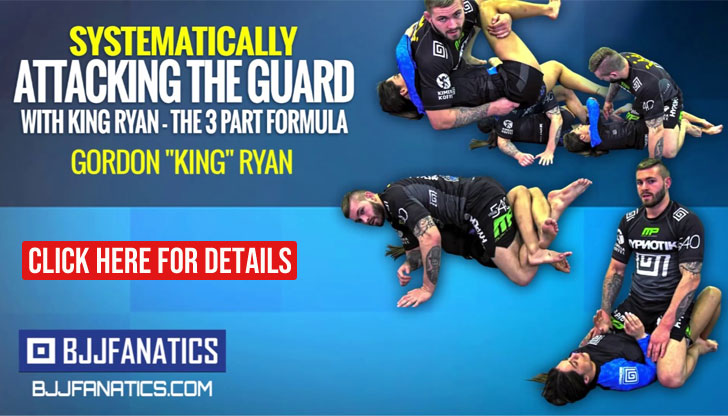 Firas Zahabi is a mixed martial arts (MMA) and grappling coach as well as a black belt in Brazilian jiu-jitsu under John Danaher, being most known for his work as the leader of the TriStar Gym in Montreal, Québec, Canada. Among Zahabi's most accomplished MMA students are athletes such as George Saint Piere, Miguel Torres, Denis Kang, and Rory McDonald, while in BJJ, Firas has helped develop a few of no-gi's best, names such as Ethan Crelinsten, Oliver Taza and Pierre-Olivier Leclerc.
Firas Zahabi Jiu-Jitsu
Full Name: Firas Zahabi
Nickname: N/A
Lineage: M. Maeda > C. Gracie > Helio Gracie > Carlos Gracie Jr > Renzo Gracie > John Danaher >  Firas Zahabi
Main Achievements: N/A
Favorite Position/Technique: Leg Locks
Weight Division: N/A
Team/Association: TriStar Gym
Firas Zahabi Biography
Firas Zahabi was born on February 5, 1980, in Quebec, Canada, being the son of Lebanese emigrants.
Growing up Firas and his brothers were big American football fans, a sport to which Firas allocated most of his extra-curricular efforts, playing in a number of local amateur teams. It wasn't until 1998 that Zahabi connected with martial arts, and jiu-jitsu in particular.
This connection with MA's started after watching the 2nd edition of the Ultimate Fighting Championship (UFC), a no-holds-barred tournament dominated by Royce Gracie – the Gracie JJ representative who had also conquered the first edition of the event. Royce's performance left Zahabi in awe of his technique, and soon the young Canadian started looking to learn this style of combat.
At the time of Zahabi's martial arts enlightenment, there were no legitimate Gracie Jiu-Jitsu coaches in Montreal. Eager to master grappling, Firas studied the movements on his own for months, drilling those with his brothers and a few friends, privately.
During the year 2000 a Renzo Gracie BJJ purple belt by the name of Angelo Exarhakos started coaching at a local Montreal martial arts gym named Tristar, and it was at this point that Firas was finally able to begin his martial arts tuition, both in jiu-jitsu with Angelo, and soon after adding Muay Thai (Thai boxing) to his schedule.
Firas quickly became a "mat-rat" spending as much time at the gym as he was allowed, earning his BJJ blue belt within 6 months of training. Soon after his promotion, Zahabi was offered a time-slot as a coach at Tristar as Exarhakos could only come to the gym 3 times per week, and Firas was by far the most dedicated and knowledgeable student. Zahabi's schedule would expand when Angelo was forced to quit coaching altogether to focus on his own professional obligations. Once Zahabi took charge of the grappling classroom, he shedded the gi and started training solely in no-gi, returning to training that facet of jiu-jitsu only 9 years later.
Running a filled out classroom while also focussing on his own academic endeavors (Zahabi has a bachelor's degree in philosophy from Concordia University [Montreal]), did not allow Firas to compete extensively, though there are mentions of him fighting in kickboxing, grappling and even freestyle wrestling.
Another important figure during the early stages of Firas Zahabi's development was Wagnney Fabiano. The well known Nova União black belt moved to Toronto in 1999, and during a couple of years had regular visits from Firas.
In 2007 Conrad Plas, the owner and co-founder of the TriStar gym, opened a different set of businesses, becoming too tied down to run the gym. A solution was found when he handed over the reins of the academy to Firas – who would later buy the business. The mid-2000s were incredibly important for Zahabi's professional career, as this was also the time when he became George Saint Pierre's main coach – a position taken after GSP's loss to Matt Serra (UFC 69).
Pierre, arguably MMA's greatest fighter of all time, would frequently visit jiu-jitsu coach extraordinaire, Mr. John Danaher in New York City, at the Renzo Gracie Academy, a trip Firas started taking as well from around the mid-2000s. The interaction with the New Zealand black belt (Danaher) and his group of students was of great benefit to both TriStar and Renzo's, with a very interesting exchange of ideas and students taking place between the two world-class teams.
At Renzo's 'blue basement' training ground, Zahabi had the opportunity to learn not only from Danaher but also other legends of the sport such as Braulio Estima and Roger Gracie, two names often mentioned as enormous influences in Zahabi's grappling mindset. Firas Zahabi's hard work on the mats would lead to his black belt promotion, an endorsement by John Danaher in an event that took place in 2011.
The work done by Firas Zahabi at the TriStar academy has reached far and wide through the many ramifications of the martial arts tree, with more emphasis on grapplers and cage fighters. Among Firas' most distinguished jiu-jitsu athletes are Ethan Crelinsten, Oliver Taza and Pierre-Olivier Leclerc.
Cover photo was taken from Firas Zahabi's Instagram Account @firas_zahabi