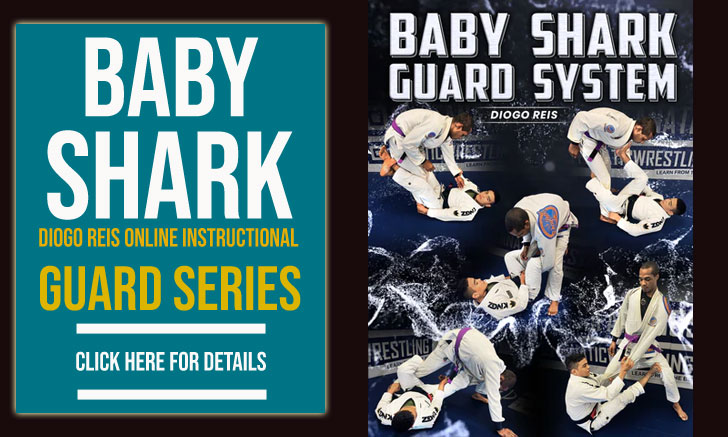 Gabriel Costa, commonly known as "Maranhão", is a jiu-jitsu black belt under Luiz Guilherme and a member of the Guigo Jiu-Jitsu Team of São Paulo, one of the top international squads in the sport. Costa became widely recognized as one of Brazil's rising grappling stars after his performances on the International Brazilian Jiu-Jitsu Federation's (IBJJF) circuit, namely at the European Open, South American Championships, and Brazilian National Championships.
Gabriel Costa Jiu-Jitsu
Full Name: Gabriel Silva Costa
Nickname: "Maranhão" which is the name of the birth state of Gabriel. The name started as a way to differentiate him from other same-name athletes at Guigo's academy in São Paulo.
Lineage:  Carlos Gracie > Helio Gracie > Rickson G. > Jorge Pereira > Luiz Guilherme > Gabriel Costa
Main Achievements:
1st Place AJP Grand Slam, RJ (2021)
3rd Place AJP South America Continental Pro (2021)
Main Achievements (Colored Belts):
1st Place CBJJ Brazilian Nationals (2019 purple)
1st Place CBJJE World Championship (2017** / 2018** / 2019* purple)
1st Place ACBJJ South American Championship (2018 purple)
2nd Place IBJJF European Open (2020 brown)
2nd Place IBJJF South American Championship (2016 blue, 2017 purple)
2nd Place CBJJE World Championship (2019 purple)
2nd Place IBJJF Brazilian Team Nationals (2016 blue)
3rd Place UAEJJF Grand Slam, LDN (2020 brown)
3rd Place UAEJJF Grand Slam, RJN (2020 brown)
3rd Place IBJJF South American Championship (2017* purple)
Favorite Position/Technique: Distance Passing / Closed-Guard Bump-Sweep
Weight Division: Peso Médio (82,30 kg / 181.5 lbs)
Team/Association: Guigo
Gabriel Costa Biography
Gabriel Costa was born on April 22, 1998, in Bacabal, a small town in the Brazilian state of Maranhão, located in the Northeast region of the country.
Growing up in the remote countryside, there were no sporting activities to play, and Gabriel's only outlet was jiu-jitsu, a sport he started at the age of 12, after moving to the state capital of São Luis to live with his stepfather and mother. It was by his stepdad's influence that Costa joined a Guigo Jiu-Jitsu Team affiliate near his new home, where he started training under Roberto Ferreira.
The proximity to the gym meant "Maranhão" spent the majority of his days, outside of school time, at the academy, training and watching the adults train. This day-to-day proximity with jiu-jitsu inspired Gabriel to pursue a professional career in the sport.
Competing under the guidance of coach Roberto Ferreira – himself a black belt under Luiz Guilherme "Guigo" – Gabriel Costa quickly started making his name known in the local circuit. His good performances as a blue belt led the youngster down to São Paulo to compete in the local circuit, arguably one of the strongest grappling tours in the world. When in São Paulo, "Maranhão" trained at the Guigo Headquarters, the team to which coach Ferreira was affiliated with.
After a few trips to São Paulo to compete, team leader Luiz Guilherme invited Gabriel to remain in São Paulo and train on a full-time jiu-jitsu scholarship, an offer accepted by Costa.
Gabriel "Maranhão" immediately made his talent known on a national level under the watchful eye of coach Guigo, conquering every major tournament on the Brazilian Gi circuit, but, unfortunately, he was unable to compete in the most important tournaments on the international circuit during his rise to black belt as he was not granted a visa to enter the United States, where the World and Pan American Championships are held.
After dominant performances in Brazil and an impressive run at the European Open Championship of 2020, where Costa earned a silver medal, Costa was finally promoted to black belt by Luiz Guigo in a ceremony that took place on November 2020.
Gabriel Costa vs Oliver Dillon (2020)
Gabriel Costa Grappling Record
66 WINS
BY POINTS


BY ADVANTAGES




BY SUBMISSION




BY DECISION




BY PENALTIES




BY DQ



31 SUBMISSIONS WINS
#214eb8
Choke from back
52
16
23 LOSSES
BY POINTS


BY ADVANTAGES




BY SUBMISSION




BY DECISION




BY PENALTIES




BY DQ



7 SUBMISSIONS LOSSES
#f58822
Inside heel hook
14
1
#224aba
Choke from back
14
1
Gabriel Costa Fight History
ID
Opponent
W/L
Method
Competition
Weight
Stage
Year
24736

Marcos Martins

Marcos Martins
L
Pts: 2x0
Grand Slam RJ
85KG
8F
2020
24825

Claudio Calasans

Claudio Calasans
L
Kneebar
Mundial CBJJE
88KG
F
2020
24981

Rider Zuchi

Rider Zuchi
L
RNC
Sul. Am. CBJJE
N/A
SF
2020
25991

Natan Chueng

Natan Chueng
L
Pts: 2x0
The New Star
82KG
SF
2021
26428

Matheus Godoy

Matheus Godoy
L
Pts: 4x2
SA Cont. Pro
85KG
4F
2021
26519

Erich Munis

Erich Munis
L
Triangle
SA Cont. Pro
HWA
SF
2021
26520

Yatan Bueno

Yatan Bueno
L
Pts: 1x0
SA Cont. Pro
HWA
3RD
2021
27402

Andre Ygor

L
Armbar
Sul Americano
82KG
4F
2021
27448

Herico Hesley

L
Points
Sul Americano
ABS
4F
2021
28434

Alex Munis

Alex Munis
D
---
Fenajitsu
88KG
SPF
2021
28435

Alex Munis

Alex Munis
D
---
Fenajitsu
88KG
SPF
2021
28436

Alex Munis

Alex Munis
L
Pts: 2x0
Fenajitsu
88KG
SPF
2021
29146

Catriel Oliveira

Catriel Oliveira
L
Pts: 4x3
BRA Qualifiers
85KG
SF
2021
29416

Pedro Maia

Pedro Maia
L
Pts: 3x3
Florianopolis Pro
85KG
SF
2021
30335

Ricardo Ramos

L
Pts: 2x0
ADCC BR2 Trials
88KG
R3
2022
34020

Rafael Paganini

Rafael Paganini
L
Pts: 2x1
Grand Slam RJ
85KG
SF
2022
35759

Mica Galvao

Mica Galvao
L
Inside heel hook
Magestic
NA
SPF
2022
36239

Fellipe Andrew

Fellipe Andrew
L
Pts: 3x0
WP Qualifier
85KG
SF
2022
37391

Reyson Neves

L
Pts: 2x0
Sul Brasileiro
88KG
4F
2023
38023

Mauricio Oliveira

Mauricio Oliveira
L
Pts: 3x0
Curitiba SMO
88KG
F
2023
38076

Pedro Alex

Pedro Alex
L
Pts: 0x0, Adv
Curitiba SMO
ABS
4F
2023
38108

Servio Tulio

Servio Tulio
L
Pts: 2x0
Curitiba SMNGO
85KG
4F
2023
39409

Gustavo Batista

Gustavo Batista
L
Choke from back
Brasileiro
88KG
4F
2023
40028

Agnelo Sales

L
Verbal tap
Floripa FO
88KG
4F
2023
40071

Iago Duarte

L
Referee Decision
Floripa NGO
85KG
SF
2023
24835

Manolito Chagas

W
Choke from back
Mundial CBJJE
ABS
R1
2020
24838

Maique Azevedo

W
Points
Mundial CBJJE
ABS
R2
2020
24980

N/A

W
Points
Sul. Am. CBJJE
N/A
4F
2020
25856

Lucas Barros

W
Choke from back
The New Star
82KG
R1
2021
26425

Bruno Tosto

W
Choke from back
SA Cont. Pro
85KG
R2
2021
26435

Joao Cerqueira

W
Pts: 3x0
SA Cont. Pro
85KG
RPC
2021
26436

T. Silva

W
Referee Decision
SA Cont. Pro
85KG
3RD
2021
26517

Wallace Costa

Wallace Costa
W
Choke from back
SA Cont. Pro
HWA
4F
2021
27395

Ronieri Pinto

W
Pts: 6x4
Sul Americano
82KG
8F
2021
27444

Cleyton Flores

W
Pts: 2x0
Sul Americano
ABS
8F
2021
28540

Erick Vinicius

W
Triangle
Grand Slam RJ
85KG
R1
2021
28547

Marcello Lemelle

W
Choke from back
Grand Slam RJ
85KG
8F
2021
28553

Yan Lucas

Yan Lucas
W
Referee Decision
Grand Slam RJ
85KG
4F
2021
28557

Alex Munis

Alex Munis
W
Referee Decision
Grand Slam RJ
85KG
SF
2021
28559

Athos Miranda

W
Pts: 3x2
Grand Slam RJ
85KG
F
2021
29143

Matheus Luna

Matheus Luna
W
Pts: 4x1
BRA Qualifiers
85KG
4F
2021
29415

Matheus Dauria

W
Pts: 4x0
Florianopolis Pro
85KG
SF
2021
29418

Agnelo Sales

W
Choke from back
Florianopolis Pro
85KG
3RD
2021
29419

Rhuan Duarte

W
Triangle
Florianopolis Pro
ABS
SF
2021
29420

Lucas Silva

W
Choke from back
Florianopolis Pro
ABS
F
2021
29948

Weiddy Souza

W
Armbar
Guarapari Pro
85KG
SF
2022
29950

Gustavo Borges

W
Pts: 1x0
Guarapari Pro
85KG
F
2022
30051

Vicente Heresi

W
Short choke
ADCC BR1 Trials
88KG
R1
2022
30059

Alexandre Jesus

Alexandre Jesus
W
Referee Decision
ADCC BR1 Trials
88KG
R2
2022
30313

Natan Almeida

W
RNC
ADCC BR2 Trials
88KG
R2
2022
30715

Wellington Luis

Wellington Luis
W
Pts: 0x0, Pen
Gramado Pro
85KG
RR
2022
30717

Wellington Luis

Wellington Luis
W
Choke
Gramado Pro
85KG
F
2022
32092

Vinicius Reis

W
Pts: 2x0
SA Cont. Pro
85KG
4F
2022
32094

Erick Souza

W
Submission
SA Cont. Pro
85KG
SF
2022
32095

Iago Martins

W
Pts: 2x0
SA Cont. Pro
85KG
F
2022
32366

Seonghun Yoo

W
Pts: 1x0
Grand Slam AD
85KG
4F
2022
32370

C. Negromonte

C. Negromonte
W
Pts: 2x2
Grand Slam AD
85KG
SF
2022
32372

Uanderson Ferreira

Uanderson Ferreira
W
Choke from back
Grand Slam AD
85KG
F
2022
32827

Mateus Lima

W
Choke
Belem Pro
85KG
SF
2022
32828

Ronieri Silva

W
Submission
Belem Pro
85KG
F
2022
33317

Bruno Tosto

W
Pts: 0x0, Adv
Rio WO
88KG
4F
2022
33318

Rodrigo Sezinando

W
Pts: 0x0, Adv
Rio WO
88KG
SF
2022
33993

Rodrigo Rocha

W
Choke from back
Grand Slam RJ
85KG
R1
2022
34008

Reyson Lima

W
Pts: 2x0
Grand Slam RJ
85KG
8F
2022
34016

Ramiro Galvan

W
Pts: 4x0
Grand Slam RJ
85KG
4F
2022
34025

C. Negromonte

C. Negromonte
W
Pts: 3x2
Grand Slam RJ
85KG
RPC
2022
34026

Leon Brito

Leon Brito
W
Pts: 2x1
Grand Slam RJ
85KG
3RD
2022
34201

W.Otaviano

W
Pts: 9x2
Joao Pessoa Pro
85KG
SF
2022
34202

Paulo Mariz

W
Pts: 3x0
Joao Pessoa Pro
85KG
F
2022
34502

Caio Knabben

W
Submission
Balneario Pro
85KG
4F
2022
34503

Rhuan Duarte

W
Pts: 1x0
Balneario Pro
85KG
SF
2022
34504

Lionel Bareiro

W
Pts: 11x0
Balneario Pro
85KG
F
2022
34822

Hermeson Leao

W
Choke from back
North BRA Pro
85KG
SF
2022
34823

Felipe Teixeira

W
Pts: 1x0
North BRA Pro
85KG
SF
2022
38015

Leonardo Mayworm

W
Pts: 8x0
Curitiba SMO
88KG
R1
2023
38018

Servio Tulio

Servio Tulio
W
Pts: 2x0
Curitiba SMO
88KG
4F
2023
38022

Wellington Luis

Wellington Luis
W
Pts: 2x0
Curitiba SMO
88KG
SF
2023
38069

Carlos Alexandre

W
Armbar
Curitiba SMO
ABS
8F
2023
38107

Davi Bravin

W
RNC
Curitiba SMNGO
85KG
R1
2023
38496

Dudu Paiva

W
Choke from back
Majestic
88KG
SPF
2023
38838

Mattheus Niccolas

W
Choke from back
Salvador FO
88KG
4F
2023
38841

Eduardo Macedo

W
Choke from back
Salvador FO
88KG
SF
2023
38858

Evandro Brandao

W
Choke from back
Salvador FO
ABS
R1
2023
38867

Lucas Silva

W
Choke from back
Salvador FO
ABS
8F
2023
38876

Salomao Standord

W
Choke from back
Salvador FO
ABS
4F
2023
38878

Leonardo Andrade

W
Pts: 2x0
Salvador FO
ABS
SF
2023
38880

Leandro Carlos

W
Pts: 2x0
Salvador FO
ABS
F
2023
38907

Matheus Fernandes

W
RNC
Salvador NGO
85KG
RR
2023
38909

Matheus Fernandes

W
Armbar
Salvador NGO
85KG
F
2023
39404

Alex Munis

Alex Munis
W
Referee Decision
Brasileiro
88KG
R1
2023
40070

Ramon Ferreira

W
RNC
Floripa NGO
85KG
4F
2023