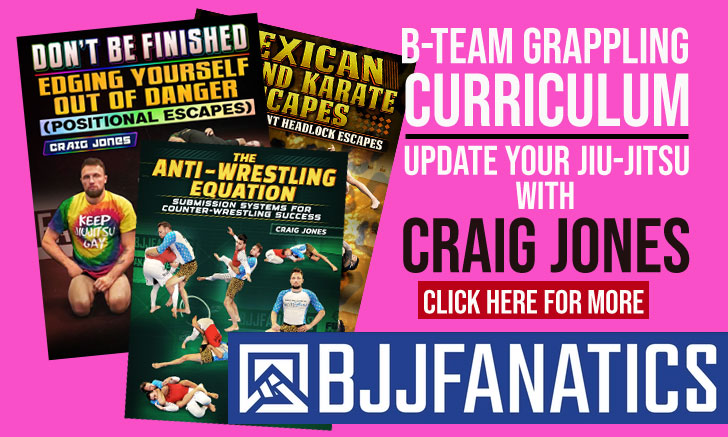 William Tackett is a professional jiu-jitsu athlete who specializes in the no-gi style of grappling. A black belt under Rodrigo Cabral (Brucutu) and a representative of the Brazilian Fight Factory in Austin, TX, Tackett first made waves in the sport while competing in the adult division as a minor, a time when he shocked many in this sport by beating and submitting several top tier black belts. William would continue to prove his worth and his reputation as one of America's most talented athletes with outstanding performances on the professional circuit, while still holding colored belt status. These performances led BJJ Heroes to acknowledge and highlight the talented (adopted) Texan in our profile listings, Tackett being only the 3rd brown belt feature on our site in over a decade.
William Tackett Jiu-Jitsu
Full Name: William Tackett
Nickname: N/A
Lineage: Carlos Gracie > Helio Gracie > Rolls Gracie > Romero Cavalcanti > Leo Vieira >Rodrigo Cabral > William Tackett
Main Achievements:
1st Place ADCC West Coast Trials (2022)
1st Place Jitz King Grand Prix 165 lbs (2019)
1st Place Grappling Idiots Invitational (2019)
1st Place Midwest Finishers Only (2019)
2nd Place ADCC East Coast Trials (2021)
2nd Place SUBVERSIV Tournament (2020)
2nd Place Jitz King Grand Prix 185 lbs (2020)
Main Achievements (Amateur):
F2W 185 lbs Brown Belt Champion (2020)
1st Place IBJJF Pan Championship (2017 blue)
1st Place IBJJF World Championship NOGI (2018 blue)
1st Place IBJJF World Championship NOGI Juvenile (2017** / 2018)
2nd Place IBJJF World Championship NOGI Juvenile (2018*)
2nd Place ADCC West Coast Trials (2019)
3rd Place IBJJF World Championship (2017 / 2018 blue)
* Absolute
** Weight and Absolute
Favorite Position/Technique: Scramble-jitsu
Weight Division: 84,00 kg / 185.00 lbs
Team/Association: Brazilian Fight Factory
William Tackett Biography
William Tackett was born on May 14, 2001, in Orange County – California, United States of America, moving to Austin, Texas, with his family when he was 4-years-old.
The first sport Tackett played competitively was football (soccer), which he played for one year, prior to finding BJJ. When William was 8 years old, a jiu-jitsu club opened near the Tackett family residence. William's father, a big fan of martial arts movies, had developed into an interest in combat sports, a curiosity that propelled him to sign himself up for classes at this new academy – Team Rabadi – an affiliate of the Ribeiro Jiu-Jitsu Association, adding his sons, William and Andrew Tackett to the club as well.
In 2017, seeking a more competition-driven environment, William discovered Rodrigo Cabral's Brazilian Fight Factory. Cabral was a very experienced athlete himself, who was building a solid team in Austin. Tackett joined the team together with his two brothers, all of whom fit right in, producing immediate results on the mats.
Arriving as a blue belt, William blossomed as a competitor, earning his purple and brown belts from Mr. Cabral, while beating some of the sport's top adult athletes while grappling as a minor – a habit Tackett maintained once he hit adulthood in 2019. On March 27, 2021, Tackett was promoted to black belt by coach Rodrigo.
NOTE REGARDING WILLIAM TACKETT'S RECORD
Traditionally BJJ Heroes has only accounted for black belt records as they signify an athlete's entry into our sport's elite ranks. Tackett, however, is a special case as he's been competing in the pro-grappling circuit since his teenage years, beating some of the sport's most significant athletes. This left BJJ Heroes with a delicate predicament of defining when to start accounting for the young prodigy's match records, as these wins should be noted for the importance they had on Tackett's career.
To capture William's full progress in our sport, we have decided to include his matches in the pro circuit, after his 18th birthday. Readers should keep in mind he was still a brown and purple belt throughout his 2019 and 2020 campaigns.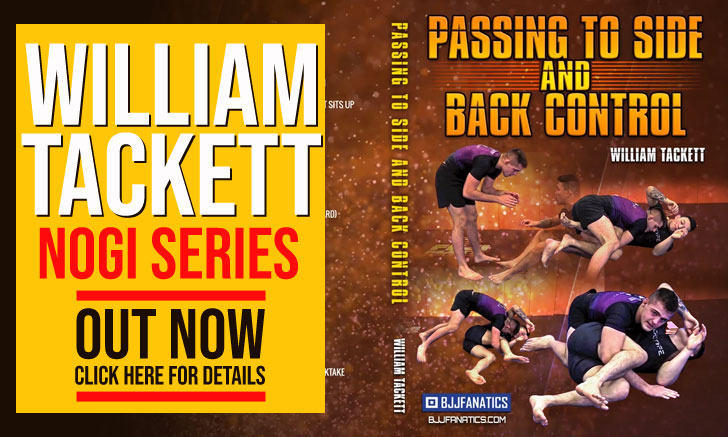 William Tackett Grappling Record
54 WINS
BY POINTS


BY ADVANTAGES




BY SUBMISSION




BY DECISION




BY PENALTIES




BY EBI/OT



37 SUBMISSIONS WINS
#86e620
Outside heel hook
16
6
#5AD3D1
Inside heel hook
14
5
#ff9124
Triangle armlock
3
1
#22c9a5
Reverse triangle
3
1
15 LOSSES
BY POINTS


BY ADVANTAGES




BY SUBMISSION




BY DECISION




BY PENALTIES




BY EBI/OT



1 SUBMISSION LOSSES
#214eb8
Straight ankle lock
100
1
William Tackett Fight History
ID
Opponent
W/L
Method
Competition
Weight
Stage
Year
22535

Tex Johnson

Tex Johnson
L
EBI/OT
BJJ Fanatics
ABS
4F
2019
23752

Pedro Marinho

Pedro Marinho
L
Points
3CG Kumite
88KG
4F
2020
23773

Roberto Jimenez

Roberto Jimenez
L
Pts: 3x0
Jitz King
84KG
4F
2020
24332

Lucas Barbosa

Lucas Barbosa
L
Referee Decision
Subversiv 4
ABS
F
2020
25580

Victor Hugo

Victor Hugo
L
Points
3CG 6 Absolute
ABS
4F
2021
25949

Vagner Rocha

Vagner Rocha
L
Referee Decision
F2W 171
84KG
SPF
2021
25965

Tye Ruotolo

Tye Ruotolo
L
Referee Decision
WNO 8
83KG
SPF
2021
26922

Lucas Barbosa

Lucas Barbosa
L
Pts: 33x0
Road to ADCC
88KG
SPF
2021
27081

Leandro Lo

Leandro Lo
L
Injury
BJJ Bet
88KG
SF
2021
27903

Mica Galvao

Mica Galvao
L
Referee Decision
WNO Champ.
84KG
4F
2021
27923

Jacob Couch

Jacob Couch
L
Referee Decision
WNO Champ.
84KG
3RD
2021
28871

Kade Ruotolo

Kade Ruotolo
L
Referee Decision
ADCC EC Trials
77KG
F
2021
35017

Mateusz Szczecinski

L
Straight ankle lock
ADCC
77KG
R1
2022
40043

Francisco Lo

Francisco Lo
L
Referee Decision
WNO 18
84KG
SPF
2023
43645

Elder Cruz

Elder Cruz
L
Pts: 3x0
ADCC ECTrials
88KG
SF
2023
20982

E. Hernandez

W
Armbar
Jitz King
75KG
R1
2019
20987

Enrico Cocco

Enrico Cocco
W
Outside heel hook
Jitz King
75KG
4F
2019
20988

Werther Marciales

W
RNC
Jitz King
75KG
SF
2019
20989

Mauricio Gomez

W
Pts: 12x0
Jitz King
75KG
F
2019
21315

Mike Dewitt

W
Outside heel hook
MDW Finishers
77KG
R1
2019
21317

Michael Carpenter

W
Calf slicer
MDW Finishers
77KG
4F
2019
21318

P.O. Leclarc

W
EBI/OT
MDW Finishers
77KG
SF
2019
21319

A. Sanchez

W
Kneebar
MDW Finishers
77KG
F
2019
21392

Nick Ronan

W
Pts: 9x0
Kasai Pro 6
N/A
SPF
2019
22521

Harry Gretch

W
Calf slicer
BJJ Fanatics
ABS
R1
2019
22529

Nick Fiore

W
EBI/OT
BJJ Fanatics
ABS
R2
2019
22540

Tom Cellamare

W
RNC
Grappling Idiots
ABS
4F
2019
22541

Felipe Cesar

Felipe Cesar
W
RNC
Grappling Idiots
ABS
SF
2019
22542

Athos Miranda

W
RNC
Grappling Idiots
ABS
F
2019
22937

Piter Taube

W
Toe hold
TMS Pro
ABS
RR
2019
22938

Saar Shemesh

W
Calf Slicer
TMS Pro
ABS
RR
2019
22939

Nimrod Ryder

W
RNC
TMS Pro
ABS
RR
2019
22940

Alan Surmunt

W
Toe hold
TMS Pro
ABS
RR
2019
22941

Omer Emanoely

W
Kneebar
TMS Pro
ABS
RR
2019
23765

Jay Jay Wilson

W
Points
Jitz King
84KG
R1
2020
23843

Aaron Harris

W
Katagatame
Sub Spectrum
84KG
SF
2020
23844

Andrew Wiltse

Andrew Wiltse
W
Inside heel hook
Sub Spectrum
84KG
F
2020
24083

Jason Rau

Jason Rau
W
Triangle armlock
WNO 4
85KG
SPF
2020
24088

Gabriel Checco

W
RNC
SUG 18
N/A
SPF
2020
24302

N/A

W
Outside heel hook
Subversiv 4
ABS
R1
2020
24316

Tex Johnson

Tex Johnson
W
Katagatame
Subversiv 4
ABS
4F
2020
24325

G. Mione

W
RNC
Subversiv 4
ABS
SF
2020
24991

Fellipe Andrew

Fellipe Andrew
W
Inside heel hook
Third Coast
ABS
SPF
2020
25030

John Combs

John Combs
W
Referee Decision
F2W 160
84KG
SPF
2021
25257

Manuel Ribamar

Manuel Ribamar
W
Outside heel hook
F2W 166
84KG
SPF
2021
27077

Rousimar Palhares

Rousimar Palhares
W
Pts: 9x0
BJJ Bet
88KG
4F
2021
27922

Dante Leon

Dante Leon
W
Calf slicer
WNO Champ.
84KG
RPC
2021
28827

H. Whyte

W
Inside heel hook
ADCC EC Trials
77KG
R2
2021
28840

D. Braithwaite

W
Inside heel hook
ADCC EC Trials
77KG
R3
2021
28853

Kirk Breneman

W
Inside heel hook
ADCC EC Trials
77KG
R4
2021
28864

JZ Cavalcante

W
Pts: 10x0
ADCC EC Trials
77KG
R5
2021
28868

Pierre Leclerc

W
Pts: 5x0
ADCC EC Trials
77KG
4F
2021
28870

Kody Steele

Kody Steele
W
Referee Decision
ADCC EC Trials
77KG
SF
2021
31412

Forest Fraijo

W
Yoko sankaku
ADCC WC Trials
77KG
R2
2022
31430

Michael Zindler

W
Outside heel hook
ADCC WC Trials
77KG
R3
2022
31440

Bobby Winther

W
RNC
ADCC WC Trials
77KG
R4
2022
31452

Nick Ronan

W
RNC
ADCC WC Trials
77KG
8F
2022
31459

Jonathan Satava

Jonathan Satava
W
Reverse triangle
ADCC WC Trials
77KG
4F
2022
31464

Chris Wojcik

W
Pts: 4x0
ADCC WC Trials
77KG
SF
2022
31465

Andy Varela

Andy Varela
W
Pts: 4x2
ADCC WC Trials
77KG
F
2022
37835

Kenta Iwamoto

W
Pts: 8x6
Unrivaled 2
SPF
84KG
2023
41118

Bradley Hill

W
Ezekiel
GrappleFest 16
NA
SPF
2023
43603

Mahan Zabihi

W
RNC
ADCC ECTrials
88KG
R1
2023
43620

C. Shahgholi

W
Katagatame
ADCC ECTrials
88KG
R2
2023
43632

Cameron Florczak

W
Pts: 6x0
ADCC ECTrials
88KG
R4
2023
43639

Jon Piersma

W
Pts: 3x0
ADCC ECTrials
88KG
8F
2023
43644

Jason Rau

Jason Rau
W
Pts: 2x0
ADCC ECTrials
88KG
4F
2023
43648

Jacob Rodriguez

W
Outside heel hook
ADCC ECTrials
88KG
3RD
2023
44987

Eoghan OFlanagan

W
Referee Decision
GrappleFest 17
90KG
SPF
2023