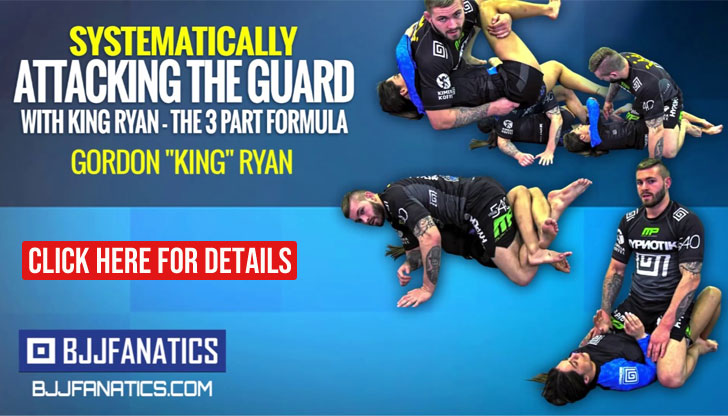 Francisco Iturralde, commonly known as "Sinistro" is a Brazilian jiu jitsu black belt under Fernando "Soluço" Di Piero of the Alliance academy, being the first big name to come out of Ecuador in this sport. A 2x World Champion in the juvenile division, Sinistro was quick to make his mark in grappling, later cementing his status as the top talent in South America's west coast with medals at the Pan American Championships, European Open and countless others.
Francisco Iturralde Jiu Jitsu
Full Name: Francisco Antonio Iturralde Lara
Nickname: "Sinistro" literally means sinister in portuguese, however, the common use of the word in Brazilian slang is to describe something out of the ordinary. In Francisco's case, his coach Fernando di Piero labeled Iturralde "Sinistro" due to his outstanding skill on the mat when he was just 14 years old.
Lineage: Mitsuyo Maeda > Carlos Gracie > Helio Gracie >Rolls Gracie > Romero Cavalcanti > Fábio Gurgel > Fernando Di Piero > Francisco Iturralde
Main Achievements:
IBJJF Pan Jiu-Jitsu No-Gi Champion (2013)
IBJJF European International Champion (2014)
IBJJF Pan American Championship Runner-up (2016)
IBJJF World No-Gi Championship 3rd Place (2016)
IBJJF Pan Jiu-Jitsu No-Gi Championship 3rd Place (2014)
IBJJF European Championship 3rd Place (2014*/2015)
Main Achievements (Colored Belts):
IBJJF World Champion (2008/2009 blue juvenile, 2011 purple)
IBJJF Pan American Champion (2008/2009* blue juvenile)
IBJJF Pan Jiu-Jitsu No-Gi Champion (2012 brown)
IBJJF World No-Gi Championship Runner-up (2009 purple, 2011 brown)
IBJJF World Championship 3rd Place (2010 purple/2013 brown)
IBJJF World No-Gi Championship 3rd Place (2009* purple, 2010** purple, 2011 brown)
IBJJF Pan American Championship 3rd Place (2009 blue juvenile, 2011* purple)
* Absolute
** Weight and absolute
Favorite Position/Technique: n/a
Weight Division: Peso Leve (76kg/167lbs)
Team/Association: Alliance
Francisco Iturralde Biography
Francisco Iturralde was born on May 17, 1992 in Guayquil, Ecuador.
During his early teens, 13 years old to be precise, Francisco started training jiu jitsu, influenced by his older brothers Leonardo and Juan Miguel who already practised the martial art. Sinistro's tuition would later be taken over by Fernando "Soluço" Di Piero, a pioneering figure for jiu jitsu in Ecuador.
Franciso's talent was evident from the get-go, earning him to junior world titles and the "Sinistro" (Sinister) nickname. Even though he was only a teenager, Iturralde was incredibly focussed and soon understood what it took to be an elite athlete in such a demanding sport, making the decision to move to Florida – USA (where he had family members) to train at Alliance HQ more regularly and be closer to the main Brazilian jiu jitsu competition circuit.
As a brown belt Sinistro spent some time training at the Alliance Academy with Fabio Clemente and Babs Olusanmokun.
Climbing the ranks of jiu jitsu, Sinistro became well known for his entertaining grappling style, often depicted as scrambly and submission driven. His incredible style ultimately led to his black belt, awarded on June 17, 2013 by Fernando Soluço (who had also awarded all of Francisco's previous belts).
2013 was also the year when Francisco decided to change his diet, first to vegetarianism and later to vegan, becoming one of the strongest ambassadors for this plant based lifestyle in the sport of jiu jitsu, an ethos followed my many important figures in combat sports such as Carlos and Helio Gracie, Walid Ismail, Nick and Nate Diaz, to name a few.
After two years spent in New York Sinistro moved to Los Angeles, to train with Rubens Charles "Cobrinha" in one of Alliance's top affiliates.
Cover photo by William Burkhardt of BJJPix.
Francisco Iturralde Grappling Record
67 WINS
BY POINTS


BY ADVANTAGES




BY SUBMISSION




BY DECISION




BY PENALTIES




BY DQ



31 SUBMISSIONS WINS
#fad11b
Bow and arrow
13
4
#f58822
Choke from back
13
4
43 LOSSES
BY POINTS


BY ADVANTAGES




BY SUBMISSION




BY DECISION




BY PENALTIES




BY DQ



12 SUBMISSIONS LOSSES
#86e620
Choke from back
17
2
#ff9124
Arm in guillotine
8
1
Francisco Iturralde Fight History
ID
Opponent
W/L
Method
Competition
Weight
Stage
Year
4841

Renan Borges

L
Loop choke
Boston Summer O.
76KG
F
2013
5133

Vitor Oliveira

Vitor Oliveira
L
Pts: 0x0, Adv
IBJJF Pro League
82KG
SF
2013
5362

JT Torres

JT Torres
L
Adv
Pan American
76KG
4F
2014
5466

M. Perez

L
Referee Decision
FIVE Cali. 2
77KG
SF
2014
5475

Arnaldo Maidana

Arnaldo Maidana
L
Adv
FIVE Cali. 2
ABS
4F
2014
5784

Celso Vinicius

Celso Vinicius
L
Pts: 5x2
World Champ.
76KG
R1
2014
5950

JT Torres

JT Torres
L
Points
American Nat.
82KG
F
2014
5959

Josh Hinger

Josh Hinger
L
DQ
Am. Nat. NoGi
82KG
SF
2014
5961

Josh Hinger

Josh Hinger
L
Pts: 11x0
Am. Nat. NoGi
ABS
4F
2014
5978

Vitor Oliveira

Vitor Oliveira
L
Points
No Gi Pan Am.
79KG
SF
2014
6091

Vitor Oliveira

Vitor Oliveira
L
Pts: 4x2
IBJJF Pro League
82KG
F
2014
6586

Davi Ramos

Davi Ramos
L
Pts: 2x0
European
82KG
SF
2015
6827

Felipe Cesar

Felipe Cesar
L
Pts: 4x2
Pan American
82KG
R1
2015
7020

Rafael Rosendo

L
N/A
NY Spring Open
82KG
SF
2015
7302

Murilo Santana

Murilo Santana
L
Katagatame
Boston Spring Open
ABS
F
2015
7459

Jaime Canuto

Jaime Canuto
L
Armbar
World Champ.
82KG
8F
2015
7666

Jonathan Satava

Jonathan Satava
L
Pts: 5x2
NY Summer Open
82KG
F
2015
8419

Thiago Gaia

Thiago Gaia
L
Referee Decision
NoGi Worlds
73KG
4F
2015
9104

Felipe Cesar

Felipe Cesar
L
Pts: 0x0, Adv
UAEJJF NYC Pro
77KG
F
2016
9123

Felipe Cesar

Felipe Cesar
L
Pts: 2x2, Adv
UAEJJF NYC Pro
LWABS
F
2016
9278

Edwin Najmi

Edwin Najmi
L
Estima lock
Pan American
76KG
F
2016
9984

JT Torres

JT Torres
L
Pts: 0x0, Adv
World Champ.
76KG
4F
2016
10830

Joao Rocha

Joao Rocha
L
RNC
US Open
ABS
F
2016
10919

Jonathan Satava

Jonathan Satava
L
Pts: 2x0
NoGi Worlds
79KG
SF
2016
12174

Michael Liera

Michael Liera
L
Triangle
Pan American
76KG
4F
2017
12647

Jonathan Satava

Jonathan Satava
L
Pts: 3x0
World Pro
77KG
R1
2017
13115

Celso Vinicius

Celso Vinicius
L
Pts: 2x0
World Champ.
76KG
8F
2017
13447

Jamil Hill-Taylor

Jamil Hill-Taylor
L
Referee Decision
FIVE Super League
70KG
4F
2017
13812

Renato Canuto

Renato Canuto
L
Pts: 8x2
Grand Slam LA
77KG
F
2017
14283

Renato Canuto

Renato Canuto
L
Pts: 9x0
Long Beach Open
76KG
F
2017
14688

Felipe Cesar

Felipe Cesar
L
Pts: 4x0
NoGi Worlds
79KG
R2
2017
15403

Michael Liera

Michael Liera
L
Choke from back
Pan American
76KG
4F
2018
16489

Celso Vinicius

Celso Vinicius
L
Arm in guillotine
World Champ.
76KG
R2
2018
16619

Tim Spriggs

Tim Spriggs
L
Submission
World Champ.
ABS
RD
2018
16971

J. Gracie

L
Choke from back
W.S.O.G.
81KG
F
2018
18614

Marcio Andre

Marcio Andre
L
Toe hold
NoGi Worlds
73KG
4F
2018
19599

Gabriel Rollo

Gabriel Rollo
L
Pts: 16x4
Pan American
76KG
4F
2019
19686

Gustavo Batista

Gustavo Batista
L
RNC
Pan American
ABS
4F
2019
20719

Igor Schneider

Igor Schneider
L
Pts: 11x2
World Champ.
ABS
R1
2019
23424

Dom Hoskins

L
Referee Decision
F2W 136
77KG
SPF
2020
23711

Jeremy Jackson

Jeremy Jackson
L
Pts: 4x4, Pen
Copa Podio
76KG
RR
2020
23719

A. Munis

L
Pts: 2x0
Copa Podio
76KG
SF
2020
23722

Leo Silva

Leo Silva
L
Pts: 2x0
Copa Podio
76KG
3RD
2020
4831

Bricklin Welch

W
N/A
Chicago S. Open
76KG
SF
2013
4832

P. Della Monica

W
Pts: 0x0, Adv
Chicago S. Open
76KG
F
2013
4840

Keith Florian

W
Points
Boston Summer O.
76KG
SF
2013
4964

Kenny Baker

W
RNC
NoGi Pan Am.
79KG
4F
2013
4965

Daniel Tavares

W
Kneebar
NoGi Pan Am.
79KG
SF
2013
4966

Vitor Oliveira

Vitor Oliveira
W
RNC
NoGi Pan Am.
79KG
F
2013
5253

Pilo Stylin

W
Bow and arrow
European
76KG
4F
2014
5256

AJ Agazarm

AJ Agazarm
W
Points
European
76KG
SF
2014
5777

Ruy Frade

W
Points
World Champ.
76KG
R1
2014
5866

Bruno Sena

W
N/A
Boca Raton Open
76KG
SF
2014
5867

Rafael Pereira

W
Pts: 10x0
Boca Raton Open
76KG
F
2014
5948

Josh Hinger

Josh Hinger
W
Adv
American Nat.
82KG
SF
2014
6090

Otavio Sousa

Otavio Sousa
W
Pts: 2x0
IBJJF Pro League
82KG
SF
2014
6580

Paulo Schauffler

W
Pts: 14x0
European
82KG
R2
2015
6584

Luca Anacoreta

Luca Anacoreta
W
Choke
European
82KG
4F
2015
7016

Caio Almeida

Caio Almeida
W
N/A
NY Spring Open
82KG
4F
2015
7026

Kevin Mahecha

Kevin Mahecha
W
Choke
NY Spring Open
ABS
4F
2015
7029

Jeferson Pereira

W
N/A
NY Spring Open
ABS
SF
2015
7030

Tim Spriggs

Tim Spriggs
W
DQ
NY Spring Open
ABS
F
2015
7300

Mansher Khera

Mansher Khera
W
N/A
Boston Spring Open
ABS
SF
2015
7330

Greg McIntyre

W
Armbar
Metamoris 6
ABS
SPF
2015
7665

Marcos Tinoco

Marcos Tinoco
W
Points
NY Summer Open
82KG
SF
2015
8112

Thiago Macedo

Thiago Macedo
W
Points
Dallas Open
76KG
SF
2015
8113

Kim Terra

Kim Terra
W
Points
Dallas Open
76KG
F
2015
8339

Issa Able

W
Armbar
Seattle Open
76KG
SF
2015
8340

Kim Terra

Kim Terra
W
Armbar
Seattle Open
76KG
F
2015
8413

Rafael Benedito

W
Pts: 2x2, Adv
NoGi Worlds
73KG
8F
2015
8898

Daniel Rivas

W
RNC
F2W 2
ABS
SPF
2016
9122

Charles Murdock

W
Choke
UAEJJF NYC Pro
LWABS
SF
2016
9270

Luis Lima

Luis Lima
W
Choke from back
Pan American
76KG
8F
2016
9275

AJ Sousa

AJ Sousa
W
Pts: 4x2
Pan American
76KG
4F
2016
9277

Gabriel Rollo

Gabriel Rollo
W
Pts: 2x2, Adv
Pan American
76KG
SF
2016
9969

Antonio Mugnaimi

W
Choke from back
World Champ.
76KG
R1
2016
10824

Rafael Barbosa

Rafael Barbosa
W
Pts: 7x0
US Open
82KG
RR
2016
10825

Manny Gonzales

W
Kneebar
US Open
82KG
RR
2016
10911

Sergio Ardila

Sergio Ardila
W
Pts: 0x0, Adv
NoGi Worlds
79KG
R1
2016
10917

Lachlan Giles

Lachlan Giles
W
Pts: 8x4
NoGi Worlds
79KG
4F
2016
11272

Stephen Martinez

W
Referee Decision
FIVE Grappling
76KG
SPF
2016
11779

Eduardo Vieira

W
Choke from back
Ecuador Pro
77KG
SF
2017
12035

Magid Hage

W
Referee Decision
FIVE SL
82KG
SPF
2017
12158

Enrique Galarza

W
Choke from back
Pan American
76KG
R2
2017
12167

Victor Silverio

Victor Silverio
W
Pts: 2x2, Adv
Pan American
76KG
8F
2017
13109

Matheus Costa

Matheus Costa
W
Kneebar
World Champ.
76KG
R1
2017
13516

Scott Thometz

W
N/A
San Jose Open
76KG
RR
2017
13517

Breno Bittencourt

Breno Bittencourt
W
DQ
San Jose Open
76KG
F
2017
13585

Blake Nolan

W
Necktie
Seattle Open
76KG
4F
2017
13587

Alexandre Molinaro

Alexandre Molinaro
W
RNC
Seattle Open
76KG
SF
2017
13588

Ben Buttars

W
Armbar
Seattle Open
76KG
F
2017
13809

Yago Espindola

W
Choke
Grand Slam LA
77KG
4F
2017
13811

Yan Lucas

Yan Lucas
W
Pts: 0x0, Adv
Grand Slam LA
77KG
SF
2017
14281

Alexandre Molinaro

Alexandre Molinaro
W
Kneebar
Long Beach Open
76KG
SF
2017
15012

Piter Frank

W
Submission
LA Open
76KG
SF
2018
15399

Rodrigo Freitas

Rodrigo Freitas
W
Pts: 2x0
Pan American
76KG
8F
2018
16328

Piter Frank

W
Submission
San Diego Open
76KG
F
2018
16852

Dom Hoskins

W
Triangle
KO Finishers
76KG
4F
2018
16853

Kolo Vida

W
Bow and arrow
KO Finishers
76KG
SF
2018
16854

Jake Scovel

W
Bow and arrow
KO Finishers
76KG
F
2018
16960

Vagner Rocha

Vagner Rocha
W
Referee Decision
W.S.O.G.
81KG
8F
2018
16965

Michael Perez

Michael Perez
W
Referee Decision
W.S.O.G.
81KG
4F
2018
16968

Ronaldo S.

W
Referee Decision
W.S.O.G.
81KG
SF
2018
16970

J. Gracie

W
N/A
W.S.O.G.
81KG
3RD
2018
17374

Arannick Montero

W
Choke
Elite Sub League
76KG
SPF
2018
18604

Jeremiah Vance

W
Pts: 9x0
NoGi Worlds
73KG
R1
2018
19339

Jeremy Jackson

Jeremy Jackson
W
Darce choke
Portland Open
76KG
SF
2019
19340

Alexandre Molinaro

Alexandre Molinaro
W
Bow and arrow
Portland Open
76KG
F
2019
23708

Kanan Clarke

D
---
Copa Podio
76KG
RR
2020
23714

Leo Silva

Leo Silva
W
Armbar
Copa Podio
76KG
RR
2020
34554

Jhonny Loureiro

Jhonny Loureiro
W
Referee Decision
F2W 211
N/A
SPF
2022
Francisco Iturralde vs Kim Terra

Francisco Iturralde vs Rafael Pereira