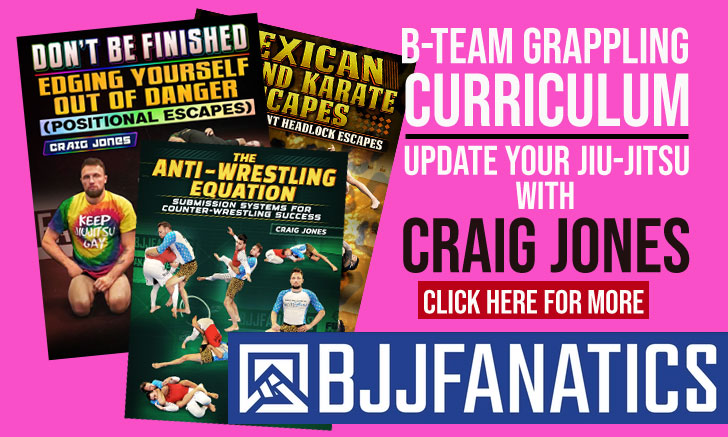 Gabriel Rollo, also known as "Palito", is a Brazilian jiu jitsu black belt under Rodrigo Cavaca, being regarded as one of the top lightweight competitors of his generation, having conquered medals in the sport/martial art's top grappling tournaments such as the South American Championship, the World Championship, the Pan American Championship as well as the European Open.
Gabriel Rollo Jiu Jitsu
Full Name: Gabriel Rollo da Silva Pontes
Nickname: "Palito" means "toothpick" in Portuguese. The name was attributed to Gabriel by his friends who mocked his lanky frame.
Lineage: Mitsuyo Maeda > Carlos Gracie > Carlson Gracie > Élcio Figueiredo > Rodrigo Cavaca > Gabriel Rollo
Main Achievements:
IBJJF South American Champion (2014)
IBJJF Sao Paulo Open Champion (2014)
ADCC Trials Winner (2015)
CBJJ Brazilian National Championship Runner-up (2017)
IBJJF Rio BJJ Pro Runner-up (2014)
UAEJJF Abu Dhabi World Pro Championship Runner-up (2015)
IBJJF World Championship Runner-up (2010 brown)
IBJJF European Championship Runner-up (2015)
IBJJF Pan American Championship 3rd Place (2019, 2016, 2015)
Favorite Position/Technique: Armbar
Weight Division: Peso Leve (76kg/167lbs)
Team/Association: Checkmat
Gabriel Rollo Biography
Gabriel Rollo was born on the 3rd of October, 1986 in Santos, a São Paulo state coastal city well known for it's wonderful beaches. Gabriel was a restless child, and as a consequence of this high energy, his parents enrolled him in several extracurricular activities such as judo, karate, tae kown do and capoeira from when he was 6 years of age. As he grew older, he became more interested in surfing, leaving all other activities behind.
When Gabriel was 18 years old, he was persuaded by his good friend and surfing buddy "Kaue" to come and try a jiu jitsu class. The reason being that when the two friends had no waves to surf, they could train jiu jitsu instead. This is when Gabriel met Paulo Theodoro.
Paulo Theodoro was Gabriel's first coach. Rollo loved the hardness of jiu jitsu and immediately saw it as a sport he wanted to pursue. Originally from Rio de Janeiro, Theodoro took a shine to "Palito", seeing great potential in him, always pushing for Gabriel to compete.
In 2007, one week after he awarded Rollo his the purple belt, Paulo Theodoro was brutally murdered. Gabriel was devastated by the loss and contemplated leaving jiu jitsu for good. Supported by his girlfriend (who later became his wife) and his friends he ended up joining Rodrigo Cavaca's academy (Cavaca Fight Trainer) a gym that became part of Checkmat's team in 2008.
Coach Cavaca went on to grade Gabriel with his brown and black belts, the later on the 4th of July,2010 shortly after an excellent performance and silver medal at the World Championship at brown belt.
As Rodrigo Cavaca left Checkmat in 2013 to form his own academy, Zenith Jiu Jitsu, Gabriel "Palito" opted to split with his coach and keep his link with Checkmat and their camp.
Banner picture by Jiu Jitsu Style.
Gabriel Rollo Grappling Record
96 WINS
BY POINTS


BY ADVANTAGES




BY SUBMISSION




BY DECISION




BY PENALTIES




BY DQ



36 SUBMISSIONS WINS
#86e620
Choke from back
28
10
#5AD3D1
Bow and arrow
6
2
#039a1f
Paper cutter choke
3
1
#03b41f
Mounted X choke
3
1
41 LOSSES
BY POINTS


BY ADVANTAGES




BY SUBMISSION




BY DECISION




BY PENALTIES




BY DQ



8 SUBMISSIONS LOSSES
#d1212a
Choke from back
13
1
Gabriel Rollo Fight History
ID
Opponent
W/L
Method
Competition
Weight
Stage
Year
3116

Clark Gracie

Clark Gracie
L
Footlock
World Champ.
82KG
4F
2011
3358

Victor Estima

Victor Estima
L
Estima lock
No Gi Worlds
82KG
4F
2011
3848

Murilo Santana

Murilo Santana
L
Armbar
Brasileiro
82KG
F
2012
4054

Kron Gracie

Kron Gracie
L
Pts: 4x4, Adv
World Champ.
82KG
8F
2012
4588

DJ Jackson

DJ Jackson
L
Adv
Pan American
82KG
R2
2013
5782

Lucas Lepri

Lucas Lepri
L
Pts: 2x0
World Champ.
76KG
R1
2014
6136

Vinicius Marinho

Vinicius Marinho
L
Pts: 2x2, Adv
Rio BJJ Pro
82KG
F
2014
6564

Michael Langhi

Michael Langhi
L
Referee Decision
European
76KG
F
2015
6815

AJ Agazarm

AJ Agazarm
L
Pts: 2x0
Pan American
76KG
SF
2015
7109

Lucas Lepri

Lucas Lepri
L
Choke from back
World Pro
75KG
F
2015
7448

Lucas Lepri

Lucas Lepri
L
Pts: 4x0
World Champ.
76KG
SF
2015
7949

Davi Ramos

Davi Ramos
L
Pts: 3x0
ADCC
77KG
4F
2015
8061

Caio Almeida

Caio Almeida
L
Points
Brazil Nat. Pro
77KG
R1
2015
8075

Paulo Miyao

Paulo Miyao
L
Pts: 4x2
Brazil Nat. Pro
U77KG
F
2015
8164

Lucas Valle

L
Pts: 2x2, Adv
Desafio UK
82KG
RR
2015
8166

Felipe Cesar

Felipe Cesar
L
Pts: 4x2
Desafio UK
82KG
F
2015
8354

Anderson Lira

L
Pts: 5x2
SP National Pro
77KG
4F
2015
8420

Mansher Khera

Mansher Khera
L
Pts: 4x0
NoGi Worlds
73KG
4F
2015
9277

Francisco Iturralde

Francisco Iturralde
L
Pts: 2x2, Adv
Pan American
76KG
SF
2016
9583

Felipe Cesar

Felipe Cesar
L
Pts: 2x0
World Pro
77KG
R1
2016
9987

Edwin Najmi

Edwin Najmi
L
Darce choke
World Champ.
76KG
SF
2016
11068

Alexandre Cavaliere

Alexandre Cavaliere
L
Pts: 0x0, Adv
Grand Slam RJ
77KG
F
2016
11706

Felipe Cesar

Felipe Cesar
L
Referee Decision
ADCC SP Trials
77KG
SF
2017
11756

Marcelo Mafra

Marcelo Mafra
L
Referee Decision
ADCC RJ
77KG
F
2017
12172

Renato Canuto

Renato Canuto
L
Pts: 2x2, Adv
Pan American
76KG
4F
2017
12769

Michael Langhi

Michael Langhi
L
Pts: 2x0
Brasileiro
76KG
F
2017
13114

Yan Lucas

Yan Lucas
L
Pts: 2x0
World Champ.
76KG
8F
2017
13294

Luan Carvalho

Luan Carvalho
L
Pts: 5x2
SP BJJ Pro
82KG
SF
2017
13478

Helton Jose

Helton Jose
L
Adv
ACBJJ World
ABS
SF
2017
14616

Hugo Marques

Hugo Marques
L
Pts: 4x2
ACB JJ Worlds
75KG
SF
2017
14626

Max Gimenis

Max Gimenis
L
Heel hook
ACB JJ Worlds
ABS
SF
2017
16504

Jake Mackenzie

Jake Mackenzie
L
Referee Decision
World Champ.
76KG
R3
2018
19602

Levi Jones

Levi Jones
L
Pts: 2x2, Pen
Pan American
76KG
SF
2019
19751

Servio Tulio

Servio Tulio
L
Referee Decision
ADCC SP Trials
77KG
4F
2019
20278

M.Leonison

L
Toe hold
Brasileiro
76KG
4F
2019
23363

Gabriel Figueiro

Gabriel Figueiro
L
Points
Curitiba SO
76KG
4F
2020
26412

Pedro Maia

Pedro Maia
L
Pts: 3x0
SA Cont. Pro
77KG
4F
2021
26417

Luan Carvalho

Luan Carvalho
L
Pts: 1x1
SA Cont. Pro
77KG
RPC
2021
35125

Luis Ribas

L
RNC
SP Open
76KG
SF
2022
37184

Max Lindblad

Max Lindblad
L
Pts: 6x2
European Open
76KG
R2
2023
40248

Alef Brito

Alef Brito
L
Pts: 4x0
World Champ.
76KG
R1
2023
3038

Ruben Nicolai

W
Choke from back
World Champ.
82KG
RDS
2011
3052

Bruno Alves

Bruno Alves
W
Points
World Champ.
82KG
RDS
2011
3845

Davi Ramos

Davi Ramos
W
Pts: 2x2, Adv
Brasileiro
82KG
4F
2012
3847

Gustavo Junqueira

W
Bow and arrow
Brasileiro
82KG
SF
2012
4578

Brent Primus

W
N/A
Pan American
82KG
R1
2013
6257

Theodoro Canal

Theodoro Canal
W
Choke from back
South American
76KG
F
2014
6313

Fabio Caloi

Fabio Caloi
W
Armbar
King of Fights
76KG
SPF
2014
6554

Sebastian Calloud

W
Armbar
European
76KG
R2
2015
6560

Oliver Geddes

Oliver Geddes
W
Pts: 9x0
European
76KG
4F
2015
6563

Rafael Pereira

W
Armbar
European
76KG
SF
2015
6707

Matheus Alemão

W
Pts: 0x0, Adv
Gramado Trials
75KG
R1
2015
6708

Theodoro Canal

Theodoro Canal
W
Pts: 7x0
Gramado Trials
75KG
4F
2015
6710

Caio Almeida

Caio Almeida
W
Pts: 4x0
Gramado Trials
75KG
F
2015
6807

Victor Matos

W
Pts: 7x0
Pan American
76KG
R2
2015
6814

Sergio Benini

Sergio Benini
W
Bow and arrow
Pan American
76KG
4F
2015
7059

Renan Cineaou

W
Armbar
ADCC SP
77KG
R1
2015
7061

Diego Henrique

W
Kneebar
ADCC SP
77KG
R2
2015
7064

Thiago Gaia

Thiago Gaia
W
Armbar
ADCC SP
77KG
4F
2015
7065

Diego Henrique

W
Points
ADCC SP
77KG
SF
2015
7067

Claudio Mattos

Claudio Mattos
W
Pts: 0x0, Pen
ADCC SP
77KG
F
2015
7099

Shane Kohei

W
Choke
World Pro
75KG
R1
2015
7103

Italo Lins

Italo Lins
W
Points
World Pro
75KG
4F
2015
7107

Mario Reis

Mario Reis
W
Pts: 3x0
World Pro
75KG
SF
2015
7439

Andris Brunovskis

Andris Brunovskis
W
Choke from back
World Champ.
76KG
8F
2015
7447

Michael Liera

Michael Liera
W
Pts: 2x2, Adv
World Champ.
76KG
4F
2015
7947

Enrico Cocco

Enrico Cocco
W
Pts: 8x0
ADCC
77KG
R1
2015
8074

Wellington Luis

Wellington Luis
W
Pts: 0x0, Adv
Brazil Nat. Pro
U77KG
SF
2015
8149

Felipe Cesar

Felipe Cesar
W
Pts: 5x2
Desafio UK
82KG
RR
2015
8151

Claudio Mattos

Claudio Mattos
W
Pts: 2x2, Adv
Desafio UK
82KG
RR
2015
8153

Luciano Bernert

W
Pts: 22x0
Desafio UK
82KG
RR
2015
8157

Hermes França

W
Armbar
Desafio UK
82KG
RR
2015
8350

Rodrigo Almeida

W
Armbar
SP National Pro
77KG
R1
2015
8358

Wellington Luis

Wellington Luis
W
Pts: 4x2
SP National Pro
ABS
4F
2015
8360

Felipe Cesar

Felipe Cesar
W
Pts: 2x2, Adv
SP National Pro
ABS
F
2015
8415

Ross Nicholls

Ross Nicholls
W
Pts: 6x2
NoGi Worlds
73KG
8F
2015
9268

Christian Lopez

W
Armbar
Pan American
76KG
8F
2016
9274

Andris Brunovskis

Andris Brunovskis
W
Pts: 4x4, Adv
Pan American
76KG
4F
2016
9964

Diego Vivaldo

Diego Vivaldo
W
N/A
World Champ.
76KG
R1
2016
9979

Rafael Babosa

W
Pts: 4x4, Adv
World Champ.
76KG
R2
2016
9983

Michael Langhi

Michael Langhi
W
Referee Decision
World Champ.
76KG
4F
2016
10152

Diego Vivaldo

Diego Vivaldo
W
Pts: 10x0
SP BJJ Pro
82KG
4F
2016
10153

Caio Almeida

Caio Almeida
W
Pts: 11x2
SP BJJ Pro
82KG
SF
2016
10154

Stefano Correa

W
Referee Decision
SP BJJ Pro
82KG
F
2016
10398

Unknown

W
Points
One Challenge
75KG
4F
2016
10399

Rodrigo Caporal

Rodrigo Caporal
W
Points
One Challenge
75KG
SF
2016
10400

Bruno Barbosa

Bruno Barbosa
W
Points
One Challenge
75KG
F
2016
10566

Marco Queiroz

W
Choke from back
Sao Paulo Open
76KG
R1
2016
10569

Djalma Junior

W
Pts: 5x0
Sao Paulo Open
76KG
4F
2016
10571

F. Nascimento

W
Armbar
Sao Paulo Open
76KG
SF
2016
10573

Julio Anjos

Julio Anjos
W
Referee Decision
Sao Paulo Open
76KG
F
2016
10985

Sandro Vieira

W
N/A
BJJ Rio Pro
82KG
R1
2016
10990

Manuel Ribamar

Manuel Ribamar
W
Pts: 8x4
BJJ Rio Pro
82KG
SF
2016
10992

Luan Carvalho

Luan Carvalho
W
Pts: 2x2, Adv
BJJ Rio Pro
82KG
F
2016
11053

Celso Vinicius

Celso Vinicius
W
Pts: 2x2, Adv
Grand Slam RJ
77KG
R2
2016
11059

Wellington Eller

W
N/A
Grand Slam RJ
77KG
8F
2016
11064

Matheus Costa

Matheus Costa
W
Armbar
Grand Slam RJ
77KG
4F
2016
11065

Jhonny Loureiro

Jhonny Loureiro
W
Pts: 2x2, Adv
Grand Slam RJ
77KG
SF
2016
11704

Unknown

W
Referee Decision
ADCC SP Trials
77KG
4F
2017
11740

Paulo Silva

W
RNC
ADCC RJ
77KG
R1
2017
11746

João Gabriel

W
RNC
ADCC RJ
77KG
R2
2017
11750

Udi Lima

W
Heel hook
ADCC RJ
77KG
8F
2017
11752

Thiago Abreu

Thiago Abreu
W
Guillotine
ADCC RJ
77KG
4F
2017
11754

Claudio Mattos

Claudio Mattos
W
Pen
ADCC RJ
77KG
SF
2017
12144

Julio Almeida

W
Cross choke
Pan American
76KG
R1
2017
12166

Joao Alves

W
Pts: 7x2
Pan American
76KG
8F
2017
12749

Henrique Rios

W
Choke from back
Brasileiro
76KG
R1
2017
12757

Leo Carlos

W
Submission
Brasileiro
76KG
R2
2017
12765

Rodrigo Conceicao

Rodrigo Conceicao
W
Pts: 3x0
Brasileiro
76KG
4F
2017
12767

Jose Carlos

Jose Carlos
W
Ezekiel
Brasileiro
76KG
SF
2017
13290

Ygor Dantas

W
N/A
SP BJJ Pro
82KG
4F
2017
13471

Magomedov Shamil

W
Points
ACBJJ World
75KG
SF
2017
13472

Wim Deputter

W
Referee Decision
ACBJJ World
75KG
F
2017
16497

Piter Frank

W
Pts: 6x6, Adv
World Champ.
76KG
R2
2018
19324

Celso Vinicius

Celso Vinicius
W
Adv
BJJ Stars
82KG
SPF
2019
19597

Endres Barbosa

Endres Barbosa
W
Injury
Pan American
76KG
8F
2019
19599

Francisco Iturralde

Francisco Iturralde
W
Pts: 16x4
Pan American
76KG
4F
2019
19748

N/A

W
Points
ADCC SP Trials
77KG
R2
2019
20258

Rodolpho Borges

W
Cross choke
Brasileiro
76KG
R1
2019
23359

Guilherme Silva

W
N/A
Curitiba SO
76KG
R1
2020
23870

Caio Almeida

Caio Almeida
W
Choke from back
BJJ Stars
N/A
SPF
2020
25095

Milton Vieira

W
Armbar
BJJ Stars 5
81KG
SPF
2021
26387

Luis Ribas

W
Pts: 9x3
SA Cont. Pro
77KG
R1
2021
26400

Yan Silveira

W
Pts: 1x0
SA Cont. Pro
77KG
R2
2021
26408

Leandro Lima

W
Pts: 2x1
SA Cont. Pro
77KG
8F
2021
34138

Gustavo Vieira

W
Choke from back
Vitoria Open
76KG
R1
2022
34140

Iranslav Neoral

W
Choke from back
Vitoria Open
76KG
4F
2022
34142

Savio Freitas

W
Toe hold
Vitoria Open
76KG
SF
2022
34143

Facundo Ciancio

W
Pts: 2x2, Adv
Vitoria Open
76KG
F
2022
35123

Jonas Bruno

W
Choke from back
SP Open
76KG
4F
2022
35413

Joao Machado

W
Paper cutter choke
Curitiba SPO
76KG
SF
2022
35415

Iranslav Neoral

W
Mounted X choke
Curitiba SPO
76KG
F
2022
35797

Douglas Duarte

W
Choke from back
S. Leopoldo OP
76KG
SF
2022
35799

Francis Quinn

W
N/A
S. Leopoldo OP
76KG
F
2022
35939

Joao Vitor

W
N/A
Salvador SPO
76KG
4F
2022
35942

Anselmo Santos

W
N/A
Salvador SPO
76KG
SF
2022
35943

Wilhiam Mateus

W
N/A
Salvador SPO
76KG
F
2022
Gabriel Rollo vs Fabio Caloi (2014)

Gabriel Rollo vs Theodoro Canal (2014)