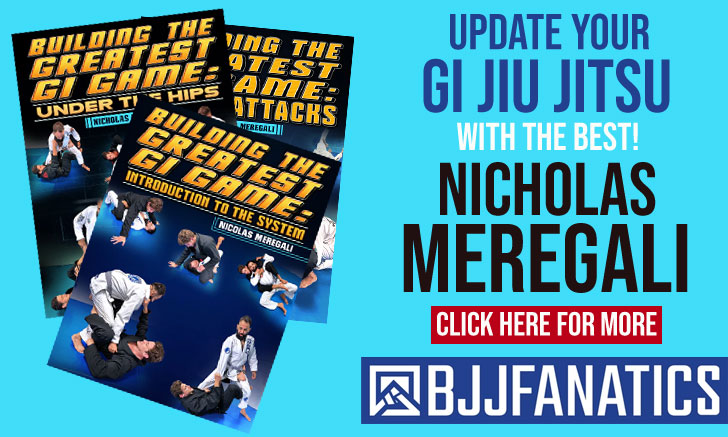 Hygor Brito da Silva is a Brazilian jiu-jitsu black belt under Nabil Abdel Aziz, having also worked extensively with coach Cicero Costha at the Projeto Social Lutando Pelo Bem (PSLPB) academy. Originally from Manaus, Hygor made a name for himself while competing in São Paulo's BJJ circuit, where he conquered important titles such as the CBJJ Brazilian Nationals and IBJJF São Paulo International Open.
Hygor Brito Jiu-Jitsu
Full Name: Hygor Brito da Silva
Nickname: N/A
Lineage: Carlos Gracie > Helio Gracie > Royler Gracie > Omar Salum > Nabil Aziz > Hygor Brito
Main Achievements:
1st Place IBJJF South American Championship (2018)
2nd Place IBJJF South American Championship (2018*)
2nd Place ACBJJ European Open No-Gi (2018**)
Main Achievements (Colored Belts):
1st Place CBJJ Brazilian Nationals (2017 brown)
1st Place IBJJF São Paulo Open (2017 brown)
1st Place IBJJF São Paulo BJJ Pro (2017 brown)
1st Place IBJJF Manaus Open (2014** blue)
3rd Place CBJJ Brazilian Nationals (2014 blue)
* Absolute
** Weight and absolute
Favorite Position/Technique: Footlocks
Weight Division: Meio Pesado (88,30 kg / 163.5 lbs)
Team/Association: Cicero Costha – PSLPB
Hygor Brito Biography
Hygor Brito was born on February 10, 1996, in Manaus, on the banks of the Negro River in northwestern Brazil, the capital of the vast state of Amazonas inside the Amazon Rainforest.
While growing up Hygor had friends who practiced jiu-jitsu and it was by their influence that Brito joined the sport/martial art at the age of 13, under the tutelage of instructor Othon Sevalho – founder of the Academia Clube Sevalho team.
Brito climbed jiu-jitsu's teen belt system guided by Othon, though as Hygor reached the blue belt rank, the club closed down for an extended period. This was when the young teenager joined Master Nabil (Nabil Abdel Aziz), a former student of the legendary Omar Salum.
Competing in the colored belt divisions of Manaus local BJJ circuit, Hygor became recognized as one of the region's most promising competitors. In trying to focus on making jiu-jitsu his profession, in 2016 Hygor moved to São Paulo to train with Cicero Costha where his good friend Diego Oliveira (Pato) already lived.
The experience with Cicero Costha exposed Hygor to a higher level of training partners and to one of the toughest competitive tours in the sport (São Paulo). Soon Brito's name went from a state-level rising star to a nationwide hot prospect, which ultimately led to Hygor Brito's black belt promotion on December 12, 2017.
Hygor Brito Grappling Record
82 WINS
BY POINTS


BY ADVANTAGES




BY SUBMISSION




BY DECISION




BY PENALTIES




BY EBI/OT



40 SUBMISSIONS WINS
#86e620
50/50 armbar
13
5
#d1212a
Choke from back
8
3
51 LOSSES
BY POINTS


BY ADVANTAGES




BY SUBMISSION




BY DECISION




BY PENALTIES




BY EBI/OT



13 SUBMISSIONS LOSSES
#86e620
Choke from back
23
3
Hygor Brito Fight History
ID
Opponent
W/L
Method
Competition
Weight
Stage
Year
17121

Diego Ramalho

Diego Ramalho
L
Pts: 2x0
ACBJJ NG Poland
85KG
F
2018
17131

Adam Wardzinski

Adam Wardzinski
L
Short choke
ACBJJ NG Poland
ABS
F
2018
17135

Piotr Frechowicz

L
Referee Decision
ACBJJ Poland
85KG
4F
2018
17490

Tony Ferraz

L
Points
Sao Paulo Open
94KG
SF
2018
17917

Fellipe Andrew

Fellipe Andrew
L
Botinha
Curitiba SPO
94KG
F
2018
18380

Horlando Monteiro

Horlando Monteiro
L
Pts: 4x4, Adv
South American
ABS
F
2018
18920

Henrique Cardoso

Henrique Cardoso
L
Points
European Open
88KG
4F
2019
19033

Gabriel Almeida

Gabriel Almeida
L
EBI/OT
WAR SKC2
ABS
F
2019
20374

Kaynan Duarte

Kaynan Duarte
L
Armbar
Brasileiro
ABS
R3
2019
20545

B. Lima

L
Clock choke
SYR Clash
ABS
SF
2019
20681

Dan Borovic

Dan Borovic
L
Triangle
World Champ.
94KG
R1
2019
20725

Felipe Pena

Felipe Pena
L
Choke from back
World Champ.
ABS
R1
2019
21145

Ronaldo Junior

Ronaldo Junior
L
Pts: 2x0
Fresno Open
ABS
F
2019
21696

Fernando Reis

Fernando Reis
L
Referee Decision
Grand Slam LA
94KG
SF
2019
21700

Rafael Vasconcelos

Rafael Vasconcelos
L
Pts: 2x2, Pen
Grand Slam LA
94KG
RPC
2019
22177

Adam Wardzinski

Adam Wardzinski
L
Pts: 2x0
European NoGi
91KG
4F
2019
22609

Yan Lucas

Yan Lucas
L
Pts: 2x2, Adv
South American
ABS
4F
2019
23139

Dimitrius Souza

Dimitrius Souza
L
Pts: 2x2, Adv
European Open
94KG
4F
2020
24264

Hygor Brito

Hygor Brito
L
Pts: 2x0
Rio Challenge
ABS
4F
2020
24265

Gutemberg Pereira

Gutemberg Pereira
L
Armbar
Rio Challenge
ABS
SF
2020
24279

Pedro Elias

Pedro Elias
L
Pts: 2x0
Brasileiro CBJJE
ABS
F
2020
24758

Gutemberg Pereira

Gutemberg Pereira
L
Choke from back
Grand Slam RJ
94KG
4F
2020
24830

Anton Seleznev

L
Adv
Mundial CBJJE
100KG
SF
2020
24848

Wallace Costa

Wallace Costa
L
Referee Decision
Mundial CBJJE
ABS
SF
2020
25926

G. Lambertucci

G. Lambertucci
L
Pts: 2x0
S. American NG
97KG
SF
2021
25937

Vinicius Pereira

Vinicius Pereira
L
Pts: 0x0, Adv
S. American NG
ABS
R2
2021
26445

Erich Munis

Erich Munis
L
Pts: 5x1
SA Cont. Pro
94KG
4F
2021
26453

Rafael Message

L
Pts: 1x0
SA Cont. Pro
94KG
3RD
2021
26835

Servio Tulio

Servio Tulio
L
Pts: 2x0
Copa Kings
87KG
SF
2021
27429

Marcelo Gomide

Marcelo Gomide
L
Pts: 0x0, Adv
Sul Americano
100KG
SF
2021
28077

Dimitrius Souza

Dimitrius Souza
L
Referee Decision
Brasileiro
94KG
4F
2021
28103

Wallace Costa

Wallace Costa
L
Referee Decision
Brasileiro
ABS
8F
2021
28576

Erich Munis

Erich Munis
L
Pts: 3x1
Grand Slam RJ
94KG
4F
2021
28585

Gabriel Henrique

Gabriel Henrique
L
Pts: 2x0
Grand Slam RJ
94KG
3RD
2021
30602

Jakub Zajkowski

Jakub Zajkowski
L
Choke
European Open
94KG
4F
2022
30640

Perttu Tepponen

Perttu Tepponen
L
Choke from back
European Open
ABS
8F
2022
31144

Erich Munis

Erich Munis
L
Pts: 5x2
Grand Slam LDN
94KG
SF
2022
31147

Adam Wardzinski

Adam Wardzinski
L
Pts: 3x0
Grand Slam LDN
94KG
RPC
2022
32189

Leon Brito

Leon Brito
L
Pts: 0x0, Adv
Brasileiro
94KG
4F
2022
33327

Elionai Braz

L
Armbar
Rio WO
94KG
SF
2022
33341

Darlan Casaca

L
Referee Decision
Rio WO
ABS
SF
2022
34038

Rider Zuchi

Rider Zuchi
L
Pts: 2x0
Grand Slam RJ
94KG
4F
2022
34048

Pedro Machado

Pedro Machado
L
DQ
Grand Slam RJ
94KG
3RD
2022
36645

Gabriel Henrique

Gabriel Henrique
L
Armbar
Brasilia Open
ABS
F
2022
37416

Patrick Gaudio

Patrick Gaudio
L
Pts: 4x2
Sul Brasileiro
100KG
F
2023
37434

Rafael Paganini

Rafael Paganini
L
Guillotine
Sul Brasileiro
ABS
F
2023
38238

Catriel Oliveira

Catriel Oliveira
L
Pts: 3x1
AJPGD LDN
94KG
4F
2023
38245

Adam Wardzinski

Adam Wardzinski
L
Pts: 7x1
AJPGD LDN
94KG
RPC
2023
40319

Pedro Machado

Pedro Machado
L
Pts: 0x0, Adv
World Champ.
94KG
R1
2023
40516

Felipe Bezerra

Felipe Bezerra
L
Pts: 1x0
Grand Slam RJ
120KG
R1
2023
41271

Marcos Vinicius

L
Pts: 6x4
SP BJJ Pro
94KG
R1
2023
16989

G. Casella

W
Botinha
Italian Nat.
ABS
SF
2018
16990

Luca Anacoreta

Luca Anacoreta
W
Pts: 2x0
Italian Nat.
ABS
F
2018
16991

G. Cronemberg

W
Botinha
Italian Nat.
88KG
F
2018
17119

Sergio Rios

Sergio Rios
W
Referee Decision
ACBJJ NG Poland
85KG
SF
2018
17128

Kacper Rot

W
Footlock
ACBJJ NG Poland
ABS
4F
2018
17130

Andrzej Migaj

W
Pts: 6x0
ACBJJ NG Poland
ABS
SF
2018
17390

Paulo P.

W
Botinha
Circuito Interior
88KG
F
2018
17914

Mateus Lasco

W
Armbar
Curitiba SPO
94KG
4F
2018
17915

Diogo Nascimento

W
Adv
Curitiba SPO
94KG
SF
2018
17924

Gabriel Azevedo

W
Pts: 7x6
Curitiba SPO
ABS
4F
2018
18368

Alex Goulart

W
Adv
South American
94KG
R1
2018
18369

Antonio Carlos

Antonio Carlos
W
Pts: 2x0
South American
94KG
4F
2018
18371

Flavio Junqueira

Flavio Junqueira
W
Pts: 2x0
South American
94KG
SF
2018
18373

Gerard Labinski

Gerard Labinski
W
Pts: 2x0
South American
94KG
F
2018
18375

N/A

W
Botinha
South American
ABS
R1
2018
18377

Advilson Junior

W
Adv
South American
ABS
4F
2018
18379

Antonio de Padua

W
Botinha
South American
ABS
SF
2018
18496

Caue Rodrigues

W
N/A
Brasilia Open
94KG
SF
2018
18497

Vitor Toledo

Vitor Toledo
W
N/A
Brasilia Open
94KG
F
2018
19027

Max Bickerton

W
Footlock
WAR SKC2
ABS
R1
2019
19029

Omar Conde

W
Toe hold
WAR SKC2
ABS
4F
2019
19031

Charlie Cawley

W
EBI/OT
WAR SKC2
ABS
SF
2019
20306

Henrique Riedlinger

W
Choke from back
Brasileiro
88KG
R1
2019
20368

J. Oliveira

W
Adv
Brasileiro
ABS
R2
2019
20543

J. Riekstins

W
Pts: 5x0
SYR Clash
ABS
R1
2019
20544

Luke Holness

W
Botinha
SYR Clash
ABS
4F
2019
20961

Nisar Loynab

Nisar Loynab
W
Referee Decision
F2W 117
88KG
SPF
2019
21141

Alessandro Silva

W
Submission
Fresno Open
ABS
4F
2019
21144

Piter Frank

W
Botinha
Fresno Open
ABS
SF
2019
22173

Jacob Staader

W
Submission
European NoGi
91KG
R1
2019
22603

Paulo Dantas

W
50/50 armbar
South American
ABS
R1
2019
23416

Ilke Bulut

Ilke Bulut
W
Choke from back
Torino Challenge
ABS
4F
2020
23417

S. Kurymori

W
Botinha
Torino Challenge
ABS
SF
2020
24262

Daniel Albuquerque

W
Botinha
Rio Challenge
ABS
R1
2020
24264

Hygor Brito

Hygor Brito
W
Pts: 2x0
Rio Challenge
ABS
4F
2020
24267

N/A

W
Botinha
Rio Challenge
ABS
3RD
2020
24274

N/A

W
Botinha
Brasileiro CBJJE
94KG
SF
2020
24275

Andre Lourenco

W
50/50 armbar
Brasileiro CBJJE
94KG
F
2020
24752

Henrique Cardoso

Henrique Cardoso
W
Referee Decision
Grand Slam RJ
94KG
R1
2020
24756

Gustavo Silva

W
Pts: 5x0
Grand Slam RJ
94KG
8F
2020
24765

Paulo Siva

W
Pts: 1x0
Grand Slam RJ
94KG
RPC
2020
24766

Harryson Pereira

Harryson Pereira
W
Pts: 2x1
Grand Slam RJ
94KG
RPC
2020
24767

Maique Azevedo

W
Pts: 3x0
Grand Slam RJ
94KG
3RD
2020
24827

Advilson Miranda

W
Botinha
Mundial CBJJE
100KG
R1
2020
24828

Giovani Lemke

W
Pts: 2x0
Mundial CBJJE
100KG
4F
2020
24838

Everton Nascimento

W
50/50 armbar
Mundial CBJJE
ABS
R1
2020
24840

Geovanni Lemke

W
Botinha
Mundial CBJJE
ABS
R2
2020
24843

Lucas Carvalho

W
Points
Mundial CBJJE
ABS
R1
2020
24846

Anderson Santos

W
Pts: 5x4
Mundial CBJJE
ABS
4F
2020
25923

Breno Novais

W
Pts: 6x0
S. American NG
97KG
4F
2021
25936

Cleber Sousa

Cleber Sousa
W
Pts: 6x4
S. American NG
ABS
R1
2021
26439

Rodolfo Lima

W
Botinha
SA Cont. Pro
94KG
R1
2021
26451

Maique Azevedo

W
Pts: 1x0
SA Cont. Pro
94KG
RPC
2021
26452

G. Lambertucci

G. Lambertucci
W
Pts: 3x2
SA Cont. Pro
94KG
RPC
2021
26833

Diogo Almeida

Diogo Almeida
W
Referee Decision
Copa Kings
87KG
4F
2021
28073

Wilson Almeida

W
50/50 armbar
Brasileiro
94KG
R1
2021
28570

Walisson Pardim

W
Pts: 1x1
Grand Slam RJ
94KG
8F
2021
28582

L. Silva

W
Botinha
Grand Slam RJ
94KG
RPC
2021
28584

Wildemar Santos

W
Kneebar
Grand Slam RJ
94KG
RPC
2021
30599

Roy Dagan

W
Pts: 2x2, Adv
European Open
94KG
R1
2022
30632

Eric Bergman

W
Pts: 2x0
European Open
ABS
R1
2022
31140

Julian Stonjek

W
Points
Grand Slam LDN
94KG
4F
2022
32186

Vinicius Lessa

Vinicius Lessa
W
Botinha
Brasileiro
94KG
R1
2022
33325

Rafael Moreira

W
Pts: 0x0, Adv
Rio WO
94KG
4F
2022
33336

Wellington Silva

W
Botinha
Rio WO
ABS
R1
2022
34032

Leandro Santos

W
Pts: 3x2
Grand Slam RJ
94KG
R1
2022
34044

Marcos Carrozzino

W
Toe hold
Grand Slam RJ
94KG
RPC
2022
34046

Harryson Pereira

Harryson Pereira
W
Botinha
Grand Slam RJ
94KG
RPC
2022
36580

Nycollas Xavier

W
Pts: 2x0
Balneario Open
94KG
SF
2022
36582

Leandro Carlos

W
Referee Decision
Balneario Open
94KG
F
2022
36630

Higor Rodrigues

W
Choke from back
Brasilia Open
O100KG
SF
2022
36632

Jonathan Aquino

W
Toe hold
Brasilia Open
O100KG
F
2022
36642

Marcus Ruiz

W
50/50 armbar
Brasilia Open
ABS
4F
2022
36644

Eduardo Macedo

W
Botinha
Brasilia Open
ABS
SF
2022
36659

Matheus Freire

W
Guillotine
Brasilia NGO
97KG
F
2022
36662

Renzo Jesus

W
Terra lock
Brasilia NGO
ABS
F
2022
37415

Estevao Nogara

W
Pts: 2x0
Sul Brasileiro
100KG
SF
2023
37421

Leonardo Mayworm

W
Botinha
Sul Brasileiro
ABS
R1
2023
37431

Walisson Barbosa

W
Pts: 2x0
Sul Brasileiro
ABS
4F
2023
37433

Lucas Alves

Lucas Alves
W
Botinha
Sul Brasileiro
ABS
SF
2023
38232

Caio Mendonca

W
Pts: 3x2
AJPGD LDN
94KG
R1
2023
38244

Simon Immerstrand

W
Pts: 2x1
AJPGD LDN
94KG
RPC
2023