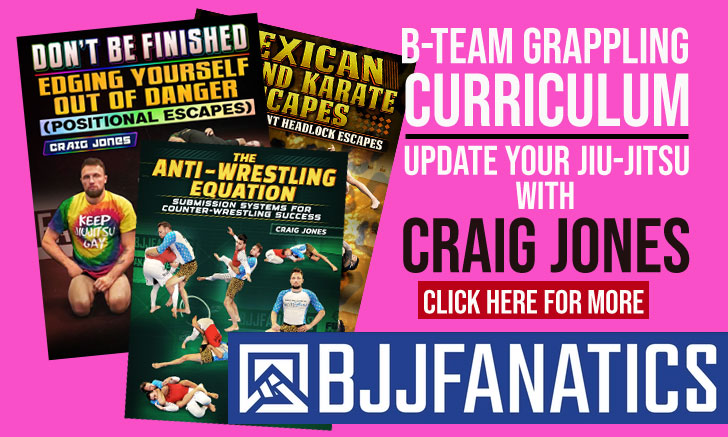 Matheus Godoy Romero is a jiu-jitsu athlete from Brazil's "swampland" of Pantanal and a black belt under Alan Régis (Tatuapú), also known as one of the top representatives of the Alliance Team. As a competitor, Godoy gained notoriety while competing with the gi, and winning important tournaments of the International Brazilian Jiu-Jitsu Federation (IBJJF), United Arab Emirates Jiu-Jitsu Federation (UAEJJF), Abu Dhabi Jiu-Jitsu Pro Tour (AJP) and Spyder Korea Invitational.
Matheus Godoy Jiu-Jitsu
Full Name: Matheus Godoy Romero
Nickname: Often referenced as "Pombo" – word for Pidgeon in Portuguese, a nickname that has been associated with Godoy since his white belt days, given by his coach Alan Régis. The reason behind the name, unfortunately, was lost with time.
Lineage: Carlos Gracie > Helio Gracie > Carlos Gracie Jr. > Francisco Fernandes > Alan Régis > Matheus Godoy
Main Achievements:
1st Place SPYDER Invitational (2017)
1st Place AJP World Pro BR Qualifiers (2019)
2nd Place IBJJF South American Championship (2021)
3rd Place AJP Grand Slam, AD (2018)
3rd Place AJP Grand Slam, LDN (2018)
Main Achievements (Colored Belts):
1st Place IBJJF South Brazilian Championship (2015 brown)
2nd Place IBJJF World Championship (2016 brown)
2nd Place IBJJF South American Championship (2013 purple)
3rd Place IBJJF South American Championship (2015 brown)
** Absolute
** Weight and Absolute
Favorite Position/Technique: Kneebar
Weight Division: Meio Pesado (88,30 kg / 195.0 lbs)
Team/Association: Alliance
Matheus Godoy Biography
Matheus Godoy was born in May 23, 1993, in Aquidauana, a rural town in Mato Grosso do Sul, known as a southern gateway to the Pantanal tropical wetlands of Brazil.
Although he had brief contact with taekwondo during 4th grade, it was through jiu-jitsu that Godoy truly fell in love with martial arts and competition, a sport he initiated in 2005 at the age of 12 with coach Delson Bueno.
Living in a small town in a rural part of the country, there was not a lot of high-level training grounds nearby, and for that reason, Godoy spent much of his time hopping in between gyms, from his hometown to the state capital, Campo Grande, where he trained extensively with Alan Régis (also known as Tatuapú).
For most of Godoy's career up to purple belt, he represented team Gracie Barra / Tatuapu JJ. 2011 was Matheus' first contact with the Alliance group when he traveled to the United States to compete at the IBJJF World Jiu-Jitsu Championship in California. There Matheus befriended a few competitors, representatives of the Alliance headquarters from Sao Paulo, a bond that grew even stronger in the following years. So much so that in 2014, as a purple belt, the young Mato Grosso athlete moved to São Paulo to train with the team on a full-time schedule.
Unfortunately for Godoy, he had a serious injury while training in São Paulo and was forced to return to Campo Grande to recover, but his connection with the team remained strong and shortly after earning his brown belt, Matheus opened his own affiliate of the Alliance franchise.
In 2015, the young Mato Grosso native applied for the United Arab Emirates jiu-jitsu national program, a structure that brings top brown and black belts from across the world to coach in the country's public school system. Matheus' application was accepted and he started spending his time in between the UAE and Brazil from then on.
Although a gym owner and a representative of the Alliance Academy at the time, Matheus was promoted to black belt by Alan Tatuapú in late 2016.
Matheus Godoy Grappling Record
60 WINS
BY POINTS


BY ADVANTAGES




BY SUBMISSION




BY DECISION




BY PENALTIES




BY DQ



15 SUBMISSIONS WINS
#86e620
Choke from back
13
2
36 LOSSES
BY POINTS


BY ADVANTAGES




BY SUBMISSION




BY DECISION




BY PENALTIES




BY DQ



14 SUBMISSIONS LOSSES
#214eb8
Choke from back
21
3
Matheus Godoy Fight History
ID
Opponent
W/L
Method
Competition
Weight
Stage
Year
14121

Rodrigo Fajardo

Rodrigo Fajardo
L
Points
Floripa Sp. Open
88KG
SF
2017
14185

Jamil Hill-Taylor

Jamil Hill-Taylor
L
Pts: 4x4, Adv
Spyder Invitational
ABS
SPF
2017
14842

Paulo Pinto

L
Pts: 0x0, Adv
Grand Slam AD
94KG
R1
2018
15437

Leandro Lo

Leandro Lo
L
Cross choke
Pan American
94KG
4F
2018
16090

Felipe Pena

Felipe Pena
L
Choke from back
WP Br Qualifier
94KG
SF
2018
16929

Kaynan Duarte

Kaynan Duarte
L
Pts: 3x0
Spider Inv. 4F
O76KG
SPF
2018
17179

Renato Cardoso

Renato Cardoso
L
Botinha
Floripa W. Open
94KG
F
2018
18019

Mauricio Lima

L
Pts: 2x0
Al Ain Pro
94KG
F
2018
18736

Renato Cardoso

Renato Cardoso
L
Referee Decision
Dubai Pro
94KG
SF
2018
18830

Adam Wardzinski

Adam Wardzinski
L
Choke from back
Grand Slam AD
94KG
4F
2019
19454

Adam Wardzinski

Adam Wardzinski
L
Pts: 9x2
Grand Slam LDN
94KG
SF
2019
19636

Ruan Oliveira

Ruan Oliveira
L
Botinha
Pan American
88KG
8F
2019
20117

Philippe Pomaski

Philippe Pomaski
L
Referee Decision
World Pro
85KG
R1
2019
22003

Matheus Luna

Matheus Luna
L
Cross choke
Tel Aviv Open
ABS
F
2019
22423

Perttu Tepponen

Perttu Tepponen
L
Points
Amsterdam Open
100KG
F
2019
22917

Renato Cardoso

Renato Cardoso
L
Referee Decision
Dubai Pro
94KG
SF
2019
23001

Helton Jose

Helton Jose
L
Referee Decision
Grand Slam AD
94KG
4F
2020
23009

Renato Cardoso

Renato Cardoso
L
Botinha
Grand Slam AD
94KG
3RD
2020
23191

Thiago Sa

Thiago Sa
L
Referee Decision
Emirates Pro
94KG
4F
2020
25332

Leon Brito

Leon Brito
L
Points
Rio Open
94KG
F
2021
26435

Alex Munis

Alex Munis
L
N/A
SA Cont. Pro
85KG
F
2021
26516

Yatan Bueno

Yatan Bueno
L
Pts: 2x0
SA Cont. Pro
HWA
4F
2021
27417

Marcello Lemelle

L
Pts: 4x2
Sul Americano
88KG
F
2021
29562

Gabriel Henrique

Gabriel Henrique
L
Pts: 3x2
World Champ.
94KG
4F
2021
30481

Andy Murasaki

Andy Murasaki
L
Armbar
Atlanta WO
ABS
4F
2022
30693

Guilherme Rocha

Guilherme Rocha
L
Referee Decision
Miami WO
ABS
4F
2022
31700

Rider Zuchi

Rider Zuchi
L
Armbar
Pan American
94KG
R2
2022
32520

Enderson Dias

Enderson Dias
L
Points
Atlanta SPO
94KG
F
2022
32982

Dimitrius Souza

Dimitrius Souza
L
Choke from back
World Champ.
94KG
8F
2022
33773

Eric Schlosser

L
N/A
Orlando SMO
100KG
F
2022
34640

Fellipe Andrew

Fellipe Andrew
L
Katagatame
Grand Slam MIA
94KG
SF
2022
34645

Italo Costa

L
Pts: 2x1
Grand Slam MIA
94KG
RPC
2022
35795

Lucas Lisboa

Lucas Lisboa
L
Armbar
Miami FO
94KG
F
2022
40339

Bruno Lima

Bruno Lima
L
Pts: 0x0, Adv
World Champ.
94KG
R1
2023
44447

Roosevelt Sousa

Roosevelt Sousa
L
RNC
Miami FO
O100KG
SF
2023
44448

Roosevelt Sousa

Roosevelt Sousa
L
Kneebar
Miami FO
ABS
4F
2023
14119

Henrique Cardoso

Henrique Cardoso
W
Points
Floripa Sp. Open
88KG
R1
2017
14120

Diego Almeida

W
Points
Floripa Sp. Open
88KG
4F
2017
14183

YeonJong Yoo

W
Kneebar
Spyder Invitational
O76KG
SF
2017
14184

Keli Manglona

W
Cross choke
Spyder Invitational
O76KG
F
2017
14517

N/A

W
Pts: xyes
Brasilia Open
94KG
4F
2017
14518

Felipe Nilo

W
Kneebar
Brasilia Open
94KG
SF
2017
14520

Vinicius Garcia

Vinicius Garcia
W
Kneebar
Brasilia Open
94KG
F
2017
14747

Basel Fanous

W
Pts: 12x0
Ajman Int. Pro
94KG
SF
2017
14748

Flavio Vianna

Flavio Vianna
W
Pts: 2x0
Ajman Int. Pro
94KG
F
2017
14857

Eduardo Machado

W
Kneebar
RAK Int. Pro
94KG
SF
2018
15433

Tyrone Gonsalves

W
Pts: 4x0
Pan American
94KG
8F
2018
16089

Daniel Silva

W
Pts: 4x0
WP Br Qualifier
94KG
4F
2018
16415

Thiago Pessoa

W
Toe hold
Zayed Sports
108KG
R1
2018
16416

Luiz Fernando

W
Pts: 2x0
Zayed Sports
108KG
4F
2018
16419

Hugo Fernandes

W
Pts: 2x0
Zayed Sports
108KG
SF
2018
16420

Luiz Henrique

W
Pts: 2x0
Zayed Sports
108KG
F
2018
16425

Jakson Bernardo

W
Kneebar
NAS Sports
94KG
SF
2018
16426

Eduardo Machado

W
Pts: 0x0, Adv
NAS Sports
94KG
F
2018
17178

Caue Rodrigues

W
Points
Floripa W. Open
94KG
SF
2018
17351

Nicolas Penzer

W
Choke from back
Amsterdam Open
94KG
F
2018
17355

Kenji Sette

W
N/A
Amsterdam Open
ABS
SF
2018
17357

Philippe Pomaski

Philippe Pomaski
W
Pts: 2x0
Amsterdam Open
ABS
F
2018
18827

Basel Fanous

W
Pts: 6x4
Grand Slam AD
94KG
R1
2019
18834

Reriano Couto

W
Pts: 2x0
Grand Slam AD
94KG
RPC
2019
18835

Helton Jose

Helton Jose
W
Referee Decision
Grand Slam AD
94KG
RPC
2019
18836

Zaid Sami

W
Pts: 2x0
Grand Slam AD
94KG
3RD
2019
19452

Marcos Junior

W
Pts: 2x0
Grand Slam LDN
94KG
4F
2019
19455

Marcos Junior

W
Pts: 2x0
Grand Slam LDN
94KG
3RD
2019
20048

Melksedec Franco

W
Pts: 0x0, Adv
WP BR Qualifier
85KG
4F
2019
20050

Thiago Sa

Thiago Sa
W
Pts: 2x2, Adv
WP BR Qualifier
85KG
F
2019
20664

Viking Wong

W
Pts: 2x0
World Champ.
88KG
R1
2019
22000

Almog Britsch

W
Pts: 16x0
Tel Aviv Open
100KG
SF
2019
22001

Eldar Rafigaev

Eldar Rafigaev
W
Pts: 2x0
Tel Aviv Open
100KG
F
2019
22427

Sam McNally

Sam McNally
W
Pts: 6x0
Amsterdam Open
ABS
4F
2019
22429

Jakub Zajkowski

Jakub Zajkowski
W
Pts: 2x0
Amsterdam Open
ABS
SF
2019
22431

Henrique Moreira

W
Pts: 4x2
Amsterdam Open
ABS
F
2019
22509

Matheus Santos

W
Kneebar
Al Ain Pro
94KG
SF
2019
22511

Renato Cardoso

Renato Cardoso
W
Referee Decision
Al Ain Pro
94KG
F
2019
22772

Stan. Varshavskiyi

W
N/A
Berlin Open
100KG
F
2019
22998

Philippe Pomaski

Philippe Pomaski
W
Injury
Grand Slam AD
94KG
R1
2020
23006

Faisal AlKitbe

Faisal AlKitbe
W
Loop choke
Grand Slam AD
94KG
RPC
2020
23007

Vandre Barbosa

W
Pts: 1x0
Grand Slam AD
94KG
RPC
2020
25327

Marcelo Gomide

Marcelo Gomide
W
Pts: 4x0
Rio Open
94KG
4F
2021
25331

Jurandir Conceicao

Jurandir Conceicao
W
Pts: 2x0
Rio Open
94KG
SF
2021
26421

Johnny Marks

W
Pts: 7x2
SA Cont. Pro
85KG
R1
2021
26425

Luiz Neves

W
Guillotine
SA Cont. Pro
85KG
R2
2021
26429

Gabriel Costa

Gabriel Costa
W
Pts: 4x2
SA Cont. Pro
85KG
4F
2021
26433

Reyson Lima

W
Pts: 2x1
SA Cont. Pro
85KG
SF
2021
27410

F. Silva

W
Pts: 2x2, Adv
Sul Americano
88KG
8F
2021
27413

Bruno Tosto

W
Pts: 2x0
Sul Americano
88KG
4F
2021
27415

Alex Munis

Alex Munis
W
Pts: 2x0
Sul Americano
88KG
SF
2021
29560

Patrick Gaudio

Patrick Gaudio
W
Triangle
World Champ.
94KG
R1
2021
30475

Jae McIntosh

W
Guillotine
Atlanta WO
94KG
SF
2022
30476

Kristof Szucs

Kristof Szucs
W
Referee Decision
Atlanta WO
94KG
F
2022
30690

Steve Johnson

W
Loop choke
Miami WO
100KG
F
2022
31694

Thiago Andrade

W
Choke from back
Pan American
94KG
R1
2022
32519

Thiago Saldanha

W
Pts: 2x0
Atlanta SPO
94KG
SF
2022
32976

Marlon Tanaka

W
Pts: 4x4, Adv
World Champ.
94KG
R1
2022
33772

Justin Primrose

W
N/A
Orlando SMO
100KG
SF
2022
34639

Andre Porfirio

Andre Porfirio
W
Pts: 5x4
Grand Slam MIA
94KG
4F
2022