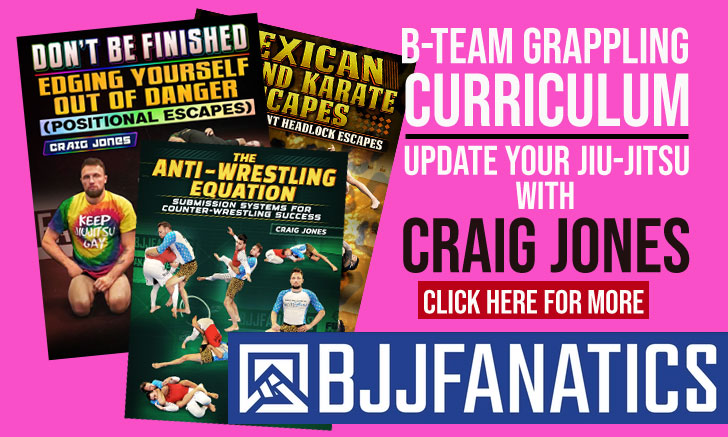 Known by the mixed martial arts (MMA) community as the leader of the American Top Team (ATT) academy, Ricardo Libório is also widely regarded in Brazilian jiu jitsu as one of the top black belts ever produced by Master Carlson Gracie, and an all-around legend of the sport. Ricardo Liborio was the very first World Jiu Jitsu Champion in the super heavyweight division (above 100kg/221lbs) back in 1996, a division he won weighing little over 83kg (181lbs). He chose to compete at that weight for a chance to avenge his only loss on record against the much heavier Leonardo Castello Branco.
Ricardo Liborio Jiu-Jitsu
Full Name: Antonio Ricardo Jardim Libório
Lineage: Carlos Gracie > Carlson Gracie > Ricardo Libório
Main Achievements:
1st Place IBJJF World Championship (1996)
2nd Place ADCC (2000)
3rd Place ADCC (1999)
Weight Division: Ricardio always competed in the heavier divisions although he weighed around 172lbs/78kg.
Association/Team: American Top Team (ATT) – Former BTT and Carlson Gracie Team
Ricardo Liborio's Biography
Ricardo Liborio was born on the 13th of July 1967 in Rio de Janeiro, Brazil. He started training martial arts when he was 4 years old, practicing Judo, while his first competitive challenge came only a year later when he was 5. Ricardo Liborio also trained in the Korean kicking art of Tae Kwon Do for a few years before he finally found jiu-jitsu as a teenager (going on 15 years of age).
His first BJJ training ground was the Carlson Gracie Academy in Copacabana, Rio de Janeiro. The academy was also shared by Rolls Gracie, Carlson Gracie's brother, who died a few months after Ricardo Liborio joined due to a paragliding accident.
Under Carlson Gracie's tuition, Ricardo Liborio bloomed to BJJ, winning several competitions for the team. His strong judo foundation and his amazing grasp of Jiu Jitsu made him excel and overcome adversity. Another interesting characteristic of Ricardo Liborio that serves as a testament to his warrior spirit, was that he enjoyed fighting in the heavier categories in order to test himself. Ricardo was not a heavy guy, usually weighing around 176lbs (80kg) but he would fight in the heavyweight and open-weight divisions. A good example of this was when in the 1996 World Championships Liborio decided to fight in the Super Heavyweights so he could avenge his loss in the 1993 "Nacional Brasileiro" to the much larger Leo Castello Branco. Castello Branco was winning in the final few minutes until Liborio took Castello Branco down following a quick mount, winning the fight and taking gold in the first-ever World Championship.
Ricardo Liborio had a special relationship with his coach, Carlson Gracie, often being referred by his master as his best student. Even so, around the year 2000, it was more and more evident that the Carlson Gracie Team was not happy with its leader. Gran Master Carlson often spent months on end in his Chicago school, neglecting the Rio de Janeiro classes (that were taught mainly by his senior students, people like Liborio, Sergio "Bolao" and others). Around this time the students demanded Carlson to sign a contract that allowed him to receive 30% of his fighters purses only on the condition that he would return to Brazil a month before the competitions to teach his students. The contract was signed, but it wasn't followed by the grandmaster, which caused great distress amongst the team. Around the same time, Ricardo Liborio left the country to go compete in Abu Dhabi's ADCC (The world's greatest Submission Wrestling tournament). Liborio went with his teammate Ricardo Arona where he got a Silver Medal and Arona won Gold. When Liborio returned he did not have a chance to go to the academy as he flew straight away to Japan to corner another teammate Murilo Bustamante for an MMA fight. It was there that both Liborio and Bustamante found out they had been expelled from the Carlson Gracie school together with several other students.
The expulsion came as a shock to Liborio, who believed everything could have been solved with a quiet get together. He then flew to Chicago to speak to his master and settle things, but Carlson was set in his decision and there was no going back. Ricardo Liborio returned to Rio and helped form a new team with Carlson Gracie's dissidents. The team was called "Brazilian Top Team" (BTT). The jiu-jitsu coaching was led by Ricardo Liborio and "Bebeo" Duarte while Murilo Bustamante and Zé Mario Sperry were the face of the academy and also two of their strongest MMA competitors.
Ricardo Liborio first started to drift away from BTT in 2001, when he was in Japan preparing Antônio Rodrigo Nogueira "Minotauro" for his fight against Mark Coleman. A Japanese fight promoter invited Ricardo to stay in Japan coaching Japanese fighters for 6 months. The proposal was tempting and Liborio promised to think about it while he visited the United States, to help his friend Murilo Bustamante fight Chuck Liddell. There he met Dan Lambert an American impresario. When Dan heard about the Japanese proposal, he made a counter proposal to Liborio to stay also a semester in Florida. Ricardo agreed, but after only a few months he decided he loved his new life in America and he wanted to stay. Ricardo Liborio then bought the name ATT and broke the contractual ties that led him to BTT, while keeping with the Brazilian team a very strong and healthy relationship. Ricardo Liborio, Dan Lambert, Marcelo, and Conan Silveira then joined forces and formed the American Top Team, a team that is going stronger with every year in both the MMA and the Grappling scene in the US.
Ricardo Liborio Grappling Record
11 WINS
BY POINTS


BY ADVANTAGES




BY SUBMISSION




BY DECISION




BY PENALTIES




BY DQ



4 SUBMISSIONS WINS
3 LOSSES
BY POINTS


BY ADVANTAGES




BY SUBMISSION




BY DECISION




BY PENALTIES




BY DQ



0 SUBMISSION LOSSES
Ricardo Liborio Fight History
ID
Opponent
W/L
Method
Competition
Weight
Stage
Year
328

Sasha Savko

L
Pts: 2x0
ADCC
88KG
SF
1999
440

Saulo Ribeiro

Saulo Ribeiro
L
Pen
ADCC
88KG
F
2000
528

Egan Inoue

Egan Inoue
L
Referee Decision
ADCC
88KG
4F
2001
93

Leonardo Branco

Leonardo Branco
W
Pts: 2x0
World Champ.
100KG
F
1996
103

Marcelo Figueiredo

W
Armbar
World Champ.
ABS
R1
1996
104

Remco Pardoel

W
Armbar
World Champ.
ABS
4F
1996
105

Leonardo Branco

Leonardo Branco
W
Pts: 6x0
World Champ.
ABS
SF
1996
320

Akihiro Gono

W
Pts: 5x0
ADCC
88KG
R1
1999
326

Luis Orlando

W
Pts: 16x0
ADCC
88KG
4F
1999
329

Egan Inoue

Egan Inoue
W
Pts: 3x0
ADCC
88KG
3PLC
1999
429

Toshiyuki Oyama

W
RNC
ADCC
88KG
R1
2000
434

Roberto Roleta

Roberto Roleta
W
Pts: 9x0
ADCC
88KG
4F
2000
438

Jorge Patino

Jorge Patino
W
Injury
ADCC
88KG
SF
2000
525

Tamura

W
Armbar
ADCC
88KG
R1
2001
Ricardo Liborio vs Marcelo Figueiredo