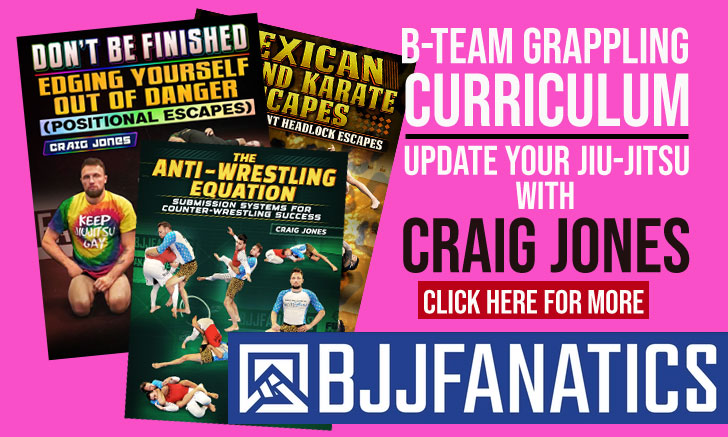 Vitor Ribeiro, commonly known as "Shaolin" is a former Brazilian jiu jitsu black belt IBJJF World Champion and CBJJ National Champion, who is regarded as one of the best lightweight competitors to have ever graced the sport. A member of the famous 2x World Champion Nova Uniao team of the late 1990's, Shaolin transitioned to mixed martial arts (MMA) during the 2000's, becoming a big name in cage-fighting also, competing for prestigious MMA organizations such as Strikeforce , Dream, K-1, Shooto and Cage Rage.
Vitor Ribeiro Jiu Jitsu
Full Name: Vitor de Souza Ribeiro
Nickname: Shaolin is a nickname that came up when Vitor started training BJJ. He used to rest in the lotus flower position pretending to meditate like a Buddhist monk, just goofing around with his fellow training partners. As a joke the guys started calling him Shaolin. The name stuck to him and still stands to this date.
Lineage: Mitsuyo Maeda > Carlos Gracie > Carlson Gracie > Andre Pederneiras > Vitor Ribeiro
Main Achievements (BJJ/Grappling):
IBJJF World Champion (1996 purple, 1999, 2000, 2001 black)
IBJJF Master Worlds Champion (2016 Master 2)
IBJJF World Championship Runner-up (1998 black)
CBJJ Brazilian National Champion (1996 brown, 1998)
ADCC 3rd Place (2003)
Favourite Position/Technique: half-guard/arm triangle.
Weight Division: Peso Leve (76kg/168lbs)
Team/Association: Vitor Shaolin BJJ
Vitor Shaolin Ribeiro's Biography
Vitor Ribeiro was born in February 24, 1979 (Rio de Janeiro, Brazil), starting his jiu jitsu training shortly after his 14th birthday (March 1993). He decided to join a gym after he had a fight with another kid at school who did "Luta Livre" (A Brazilian style of Wrestling which incorporates submission holds). He was badly beaten and enrolled in the famous André Pederneiras school called Nova Uniao just a few weeks after the incident.
Straight away his talent rose above in the competition and he won the World championships just 3 years later as a 17 year old, and placed 2nd at the Pan Ams and first at the Brazilian Nationals (close out with Wagney Fabbiano). He was still in his teens and fighting in the adult division. By the time he was 18 he reached his black belt in what was a record breaking achievement at the time. He went on to prove his mentor (Pederneiras) right by achieving glory on the Brazilian Nationals on the following year and placing 2nd in the Pan Ams.
His fighting career went on to shine in the lightweight division with three consecutive wins at the World Championships in 1999, 2000 and 2001. After the Mundial (World Championships) of 2001 Shaolin decided to move to MMA and display his ground magic on the cages and rings around the world, and he has been very successful at it, with amazing fights such as his bouts against Kawajiri, his Shooto Title win over Joaquin Hansen or his other MMA title won against Jean Silve (displayed bellow).
For his MMA career he developed his wrestling skills with Darryl Gholar a very accomplished American Wrestler who has lived in Brazil for several years, were he teaches MMA fighters the sport.
Vitor Shaolin Grappling Record
20 WINS
BY POINTS


BY ADVANTAGES




BY SUBMISSION




BY DECISION




BY PENALTIES




BY DQ



7 SUBMISSIONS WINS
#fad11b
Choke from back
14
1
9 LOSSES
BY POINTS


BY ADVANTAGES




BY SUBMISSION




BY DECISION




BY PENALTIES




BY DQ



4 SUBMISSIONS LOSSES
Vitor Shaolin Fight History
ID
Opponent
W/L
Method
Competition
Weight
Stage
Year
113

Royler Gracie

Royler Gracie
L
Adv
World Champ.
70KG
F
1997
136

Leonardo Vieira

Leonardo Vieira
L
Pts: 24x4
Copa Pele
76KG
SPF
1997
420

Leonardo Vieira

Leonardo Vieira
L
Adv
ADCC
77KG
4F
2000
462

Ricardo Almeida

Ricardo Almeida
L
Kneebar
ADCC
ABS
4F
2000
476

Leonardo Vieira

Leonardo Vieira
L
Pts: 6x4
Rio x Sao Paulo
75KG
SPF
2000
782

Marcelo Garcia

Marcelo Garcia
L
RNC
ADCC
77KG
SF
2003
10878

Fernando Terere

Fernando Terere
L
Referee Decision
Polaris 4
82KG
SPF
2016
17735

PJ Barch

PJ Barch
L
Armbar
Quintet 3
ABS
SF
2018
17747

Gordon Ryan

Gordon Ryan
L
Armbar
Quintet 3
ABS
F
2018
111

Marco Aurelio

W
Points
World Champ.
70KG
SF
1997
132

Alexandre Soca

Alexandre Soca
W
Pts: 5x0
Team Nationals
88KG
SF
1997
133

Octavio Couto

Octavio Couto
W
Pts: 18x0
Team Nationals
88KG
F
1997
283

Marcio Feitosa

Marcio Feitosa
W
Pts: 2x2, Adv
World Champ.
76KG
F
1999
388

Leonardo Vieira

Leonardo Vieira
W
Pts: 2x0
World Champ.
76KG
SF
2000
390

Marcio Feitosa

Marcio Feitosa
W
Pen
World Champ.
76KG
F
2000
418

Rumina Sato

W
Pts: 4x0
ADCC
77KG
R1
2000
575

Flavio Fernandes

W
Armbar
Copa Leopoldina
ABS
R1
2001
576

Rodrigo Fernandes

W
Ezekiel
Copa Leopoldina
ABS
SF
2001
593

Bruno Fernandes

Bruno Fernandes
W
Choke
World Champ.
82KG
SF
2001
594

Fernando Terere

Fernando Terere
W
Pts: 2x0
World Champ.
82KG
F
2001
628

Daniel Moraes

Daniel Moraes
W
Points
Arnold Classic
73KG
F
2002
775

Jason Ramsterrer

W
RNC
ADCC
77KG
R1
2003
779

Pablo Popovitch

Pablo Popovitch
W
Points
ADCC
77KG
4F
2003
784

Chris Brown

W
Pts: 3x0
ADCC
77KG
3PLC
2003
833

Michael O'Donnell

W
Choke
Arnold Classic
73KG
4F
2003
835

Daniel Moraes

Daniel Moraes
W
Pts: 2x0
Arnold Classic
73KG
SF
2003
6073

Nino Schembri

Nino Schembri
W
Pts: 8x0
World Expo
ABS
SPF
2014
8033

Nakamura Daisuke

W
Choke from back
Polaris 2
76KG
SPF
2015
13660

Caol Uno

W
Short choke
Polaris 5
73KG
SPF
2017
Vitor Shaolin Ribeiro vs Bruno Fernandes

Vitor Shaolin vs Jean Silva