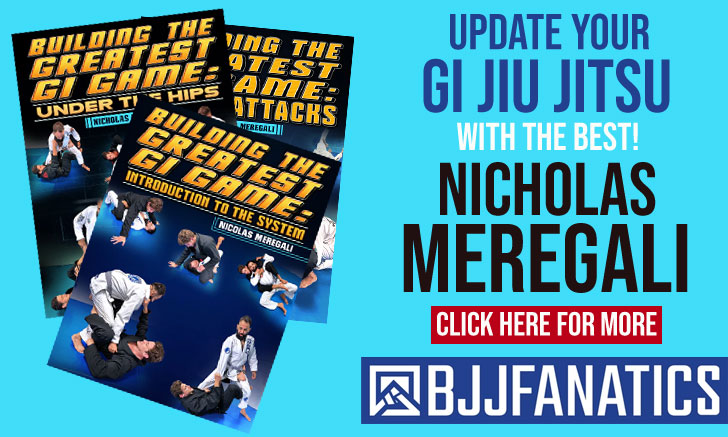 The Club Municipal of Tijuca, Rio de Janeiro received this Saturday, September 10 what is known as one of the most passionate tournaments in the jiu jitsu circuit, the Brasileiro de Equipes (Brazilian Team Nationals).
Known for its mixed category of black and brown belts in the adult division, this year's tournament saw some controversy early on with the exit of GF Team from the tournament due to a disagreement with CBJJ's deadline. The former champions were missed from the brackets, though a strong Gracie Barra presence with athletes such as Felipe Pena, Cássio Francis (heavyweights) as well as AJ Agazarm and Claudio "Caloquinha" Mattos (lightweight), added plenty of relevance to the historical tournament.
LIGHTWEIGHTS
Gracie Barra's favouritism lived up to scrutiny in the lightweight division, with brown belts Servio Tulio and Fernando Carsalade (Felipe Pena's younger brother) doing their team proud by winning their matches and proving they deserved to be by the side of AJ and Caloquinha.
On the other side of the bracket, another up and coming brown belt named Hugo Marques, of the Soul Fighters/Ares JJ (and Equipe Márcio Rodrigues) combined team, was causing havoc by defeating one of the division's favourite athletes – Luan Carvalho (Nova Uniao) during the semi final. Marques would later have a very tough final against Caloquinha, who beat the youngster by an advantage.
Lightweight Brown/Black Belt Results:
1st. GRACIE BARRA
AJ Agazarm
Claudio de Mattos
Fernando Carsalade
Matheus Rocha
Phillip Diniz
Sergio Benini
Servio Tulio
2nd. ARES JJ – SOUL FIGHTERS
Breno Bittencourt
Hugo Marques
Ituã Sales
Rafael Marques
Yago Rodrigues
HEAVYWEIGHTS
Ribeiro Jiu Jitsu shocked everyone at the venue by defeating the heavy favourite Gracie Barra team in the semi final. As aforementioned, team GB counted with the incredible talent such as Felipe "Preguiça" Pena, Cássio Francis, Augusto "Tio Chico" and Rodrigo "Pimpolho" but even with an all star cast, Barra Gracie wasn't able to push through to the final. In "Preguiça's" only match, the Belo Horizonte prodigy submitted Paulo Gabriel with a choke from the back, but after that Ribeiro JJ bounced back and stole the victory, thanks to the valiant efforts of athletes such as Eduardo Inojosa, Pedro Moura, Diego Pereira and Tiago Pereira.
Heavyweight Brown/Black Belt Results: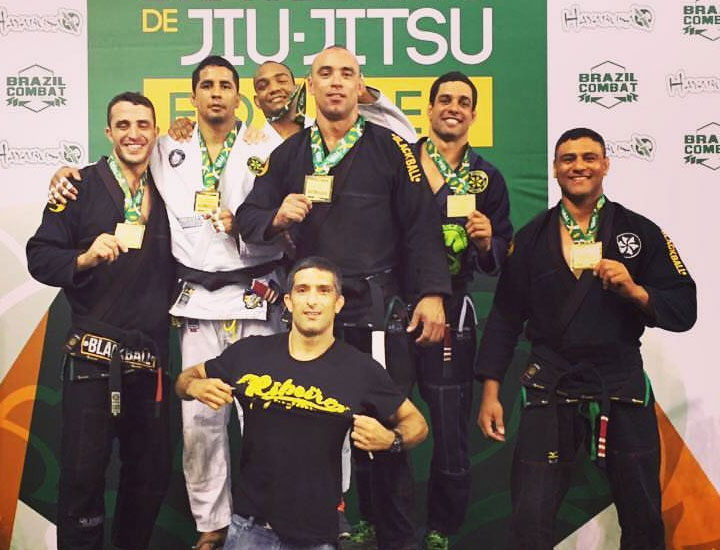 (above) Ribeiro JJ Winning team
1st. RIBEIRO JJ
Diego Santana
Eduardo Inojosa
Paulo Gabriel Costa
Pedro Moura
Tiago Pereira
2nd. NOVA UNIAO
Brenno Novaes
Diogo Joaquim Silveira
Gustavo de Andrade
Herico Hesley
Raul Almeida
Victor Hugo Vasconcelos