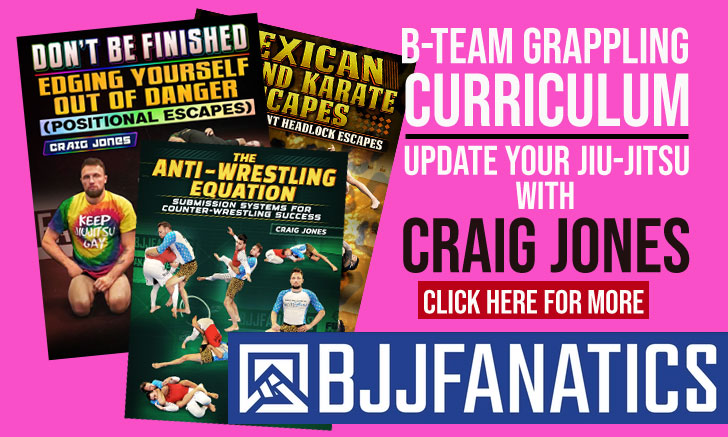 As explained last week the 16th edition of the Eddie Bravo Invitational (EBI) is around the corner. The all female tournament line-up set for June 24 (Sunday) in San Diego, California has gathered the interest of a few big names which will be mixed in with young up and coming competitors, a similar approach to the promotion's policy in past events.
The biggest name to stand out from the card is that of multiple time IBJJF World champion Bia Mesquita. Bia will meet steep opposition in athletes such as Luanna Alzuguir, a highly experienced competitor with a wealth of trophies at the highest level of competition.
One interesting aspect of this event will be how the submission only rules applied by EBI will affect the performances of more positional based jiu jitsu players such as Bianca Basílio. Another will be how the highly promising colored belts Miri Niedrauer and Amanda Leve will perform against this step up in competition.
Those questions will be answered on game day, for now we bring you the full line-up for the EBI 16 Female Tournament.
Female Bantamweight EBI 16 Card (135 lb / 61 kg / 9.6 st)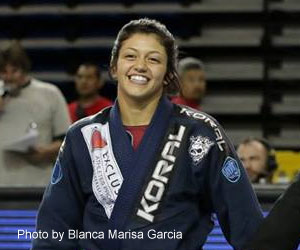 BIANCA BASÍLIO
(JFC Almeida)
Basilio is one of the very best gi athletes in the world today, and although she's been a black belt for just over 1 year Basilio has already conquered the IBJJF Pan American Championship and the UAEJJF Abu Dhabi Pro.
Bianca is exciting to watch, known for always pushing the pace of her matches and for her mad scrambles. Fast takedowns, explosive passing and a proficient guard are also part of her main attributes.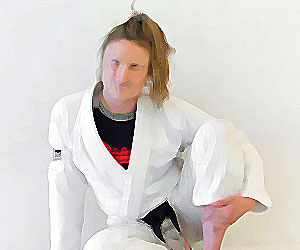 ERIN HERLE – LUANNA ALZUGUIR
(Alliance)
a historic figure for women's jiu jitsu, Luanna was one of the first dominant world champions in the division's lightweight category. 2013 was the last year we saw Alzuguir push forward at the highest level, since then the Brazilian has been dedicating more time to her coaching career in Abi Dhabi where she helped raise a strong team of champions.
This year Luanna made a return to mainstream jiu jitsu and will be replacing Erin Herle at the Eddie Bravo Invitational. A seasoned veteran, we wait with great anticipation on how she will adapt to the new nogi game.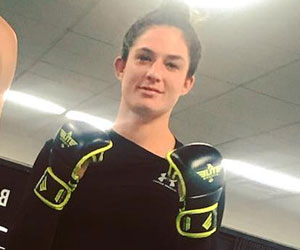 BROOKE MAYO
(Nick Diaz Academy)
Formerly with Team Alpha Male and Ralph Gracie Academy, the current Bellator signed MMA fighter Brooke Mayo is another experienced jiu jitsu player who has dabbled in cage fighting for the past few years.
A former soccer player who had to pull out of the sport due to a leg condition, Mayo found her calling in combat sports though BJJ, having since transitioned to mixed martial arts by compiling a great amateur record of 5-1-0. She is now returning to her grappling origins at EBI 16 and seems to be training at Nick Diaz' academy for that effect.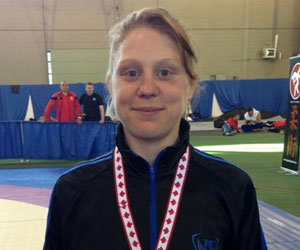 SOPHIA NORDENO
(Hilti JJ)
One of Scandinavia's most well known female black belts, Sophia is a well rounded grappler who is celebrated for her heel hook prowess and preference for the no-gi facet of the game.
Last year Nordeno conquered an important silver medal at the IBJJF NOGI Worlds, and is expected to do even better under the EBI ruleset, where she can use her good knowledge of lower body submissions to her advantage. Don't sleep on Sophia, a real contender to the podium.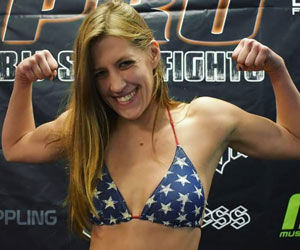 NIKKI SULLIVAN
(Nice Guy Submissions)
One of the regular faces in the IBJJF brown belt circuit is Nikki Sullivan of Atos HQ and Nice Guy Submissions. Sullivan earned a 2nd Place at the gi Pan American Championship this year – a good indicator of her grappling level.
Although she is seen often in the more traditional gi proving ground, Nikki is very well rounded and has plenty of miles competing in sub only rules, being an EBI and F2W Pro veteran.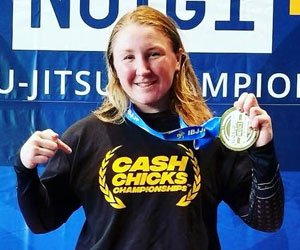 AMANDA LEVE
(RABJJ)
21 year old brown belt Amanda Leve is a natural born competitor having tested her skills on a wide range of rule-sets, from gi to nogi, from IBJJF to ADCC, sub-only and even Mixed Martial Arts.
Among Leve's top achievements so far are her IBJJF NOGI Worlds title back in 2016 and her IBJJF NOGI Pans double gold of 2015 as a purple belt. She has trained with big names of the sport such as Ricardo Almeida and her lineage is inline with the DDS squad, so expect her to be well versed in leg submissions and a tough challenge for anyone on this roster.
AMANDA RIBAS
(Team unknown)
Brazilian mixed martial arts fighter Amanda Ribas is from Minas Gerais and currently under contract with the UFC. After a failed a out-of-competition PED test postponed her octagon debut Ribas is making a return to her grappling roots at EBI.
Amanda is a former judo and jiu jitsu competitor, and although we do not know a whole lot regarding her style in a sub-only context, MMA does not make anything but tough athletes so at the very least expect Ribas to be a warrior.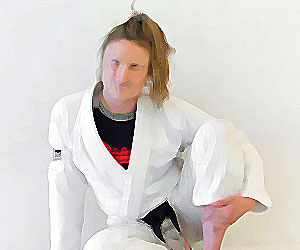 AMANDA ALEQUIN – KAYLA PATTERSON
(Luiz Palhares)
Very unfortunate not to have Alequin on the card, but a strong replacement in Eddie Bravo Invitational veteran Kayla Patterson. Brown belt Patterson had a great match againt Gabi McComb at the 1st female tournament and showed she can hang with some of the best.
We believe Miss Patterson has been dedicating more time to the EBI ruleset, having also switch camps with the intent of improving her grappling skills. She will not be one of the bigger athletes on the card, but she will give a tough match to any of the larger members of the roster. Guaranteed.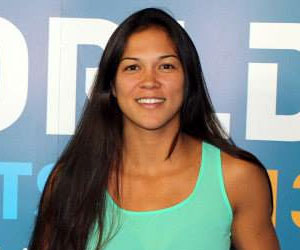 TRACEY GODELL
(Hawaii Elite MMA)
Back in 2010 Godell was regarded as one of the very brightest prospects in the jiu jitsu world, making her mark while competing for Team Lloyd Irvin. Fast forward to 2018 and Tracey's path did not go exactly as many believed it would. Instead of a bright career in the sport the Hawaiian chose to celebrate motherhood, while still keeping active in the regional circuit on occasion.
We haven't seen Godell compete in a few years and are unsure on what to expect. This may play to her advantage as many on this card weren't even training back when Tracey was tearing through the colored belt division.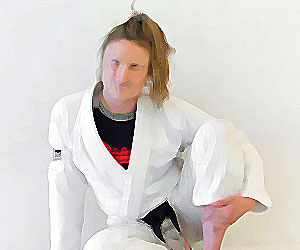 RAQUEL PA'ALUHI CANUTO – LILA SAMDJA
(10th Planet)
The first Eddie Bravo student on the card is Lila Smadja-Cruz, an athlete that had a very strong performance at the last female edition of the show (EBI 12). Lila proved to have a powerful "Chain Submission" game reaching the semi finals of the tournament, losing only to the champion.
A serious grappler Samdja Cruz is one of the more dangerous athletes currently competing under the 10P banner, and will pose a serious threat to the podium tonight. Don't sleep on Lia Samdja-Cruz.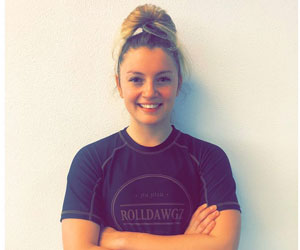 TALIA MARIE VAUGHAN
(Gracie Humaita)
A former American Nationals champion as a purple belt (2015), Vaughan has since earned her brown belt and a bronze medal in the IBJJF Words while training at a Gracie Humaita affiliate.
We have not yet seen Miss Vaughan competing in no gi, but assume she has had previous experience given that she was invited to take part in this tournament.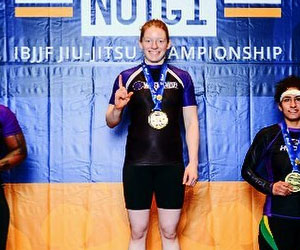 MIRI NIEDRAUER
(Impact Zone)
A very tough challenger is the powerful purple belt Miri Niedrauer, an IBJJF No-Gi World Champion (2017) and IBJJF No Gi Pans 2nd (2017) who usually competes in the medium heavyweight division.
Niedrauer is less experienced than the majority of the other females here, but is used to competing at a heavier weight class. This means she will be one of the bigger athletes on the card, which means she will not be muscled around.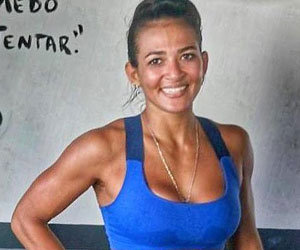 BIA MESQUITA
(Gracie Humaita)
Beatriz Mesquita, or Bia as she is commonly referenced is a black belt under the legendary Leticia Ribeiro as well as, arguably, the most versatile female BJJ athlete of her generation. Mesquita has competed (and won) in every major rule-set known in this sport at the highest level with EBI being the only missing environment.
Although EBI will run a few weeks after the IBJJF World Championship (which will be Mesquita's focus since January), the schedule still gives Bia a couple of weeks to prepare for EBI. Can she pull it off?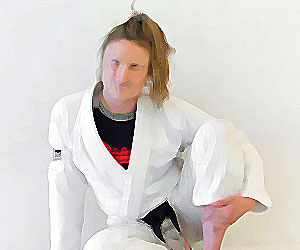 LIZ TRACY
(10th Planet)
Winner of the 10th Planet Qualifier Liz Tracy is not your average 10P athlete, she plays mainly from a top position and likes to pressure pass, being also more of an arm collector than a heel hook driven competitor.
Although more in tune with a pressure type of jiu jitsu – likely due to her other sporting career ventures, namely in MMA, Liz Tracy is well versed in the 10th Planet "system", being a student of Nathan Orchard, a famous Eddie Bravo black belt.
At 30 years of age, Tracy brings a ton of heart and determination to the mats, and will be tough to handle.
JESS FELICIANO
(Padilla BJJ)
No information on this athlete