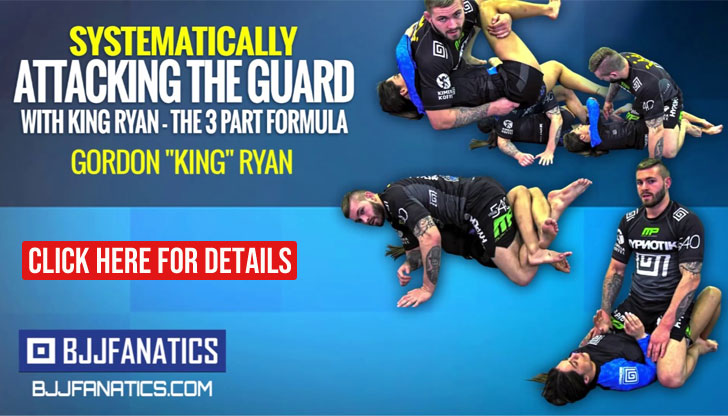 NOVEMBER 7, 2016 – Los Angeles, CA where another edition of the popular grappling tournament Eddie Bravo Invitational (EBI) took place this evening. The jiu jitsu promotion sought to find its champion at 205lbs – light heavyweight class and indeed it did, providing entertaining matches in the process, in an event slightly impared by its many matches decided by lengthy overtime rounds.
One of those who best used the overtime rule was semi finalist Matt Kirchwehm. Matt advanced through the tournament mostly by allowing the clock to run out, particularly against the Englishman Daniel Strauss – a match dominated by Strauss who passed the guard of Matt repeatedly, mounted several times, etc… That is, before the 10 minute clock ran out when Kirchwehm managed to steal the win. In the semi final Vinny Magalhaes was tighter with his submission attempts, not allowing Matt Kirchwehm to impose the same strategy, finishing with a kimura / triangle submission.
EBI has been a serious propeller for the no-gi submission only format, as well as for the trending heel-hook game thanks to its always interesting competitor selection. Unfortunately for jiu jitsu fans around the world, the king of the footlock himself – Gordon Ryan, scheduled to enter the tournament, suffered a cut while training for this 16 men challenge and had to be replaced by the current lightweight and welterweight champion (and team mate of Ryan) Garry Tonon.
Garry Tonon was in terrific form, submitting his way to the semi final. Daniel O'Brien proved to be a very worthy opponent in the semi final, taking the Tom DeBlass black belt into deep waters, though in the end the 'Lion Killer' prevaled and went through to the final on a fastest escape overtime round.
The final was decided between the two tournament favorites, Tonon and Vinny. The larger Magalhaes proved to be positionally dominant throughout the match playing from the top but was unable to submit Tonon. Much like most of the matches throughout this tournament, the final was decided on the overtime rounds, where Garry Tonon stole the victory through a fastest escape. After his semi final and final wars, there is a case for Tonon to change his nickname from 'Lion Killer' to 'Lion Heart'. Incredible performances by the Renzo Gracie Academy standout.
Below are the full results of each match in the EBI 9 tournament.
EBI 9 – 205lbsFull Results
ROUND1
Garry Tonon beat Jimmy Friedrich via heel hook
Adam Sanchoff beat Rodrigo Antunes via overtime submission
Daniel O'Brien beat Guybson Sá via outside heel hook
Kyle Boehm beat Travis More via palm-to-palm choke
Vinny Magalhaes beat Tom Breese via inside heel hook
Elliott Kelly beat Jacen Flynn via overtime submission
Matt Kirchwehm beat Ryan Walsh via overtime fastest escape
Daniel Strauss beat Quentin Rozensweig via americana lock
QUARTER FINALS
Garry Tonon beat Adam Sanchoff via inside heel hook
Daniel O'Brien beat Kyle Boehm via overtime submission
Vinny Magalhaes beat Elliott Kelly via overtime submission
Matt Kirchwehm beat Daniel Strauss via overtime submission
SEMI FINALS
Garry Tonon beat Daniel O'Brien via overtime fastest escape
Vinny Magalhaes beat Matt Kirchwehm via kimura from triangle
FINAL
Garry Tonon beat Vinny Magalhaes  via overtime fastest escape