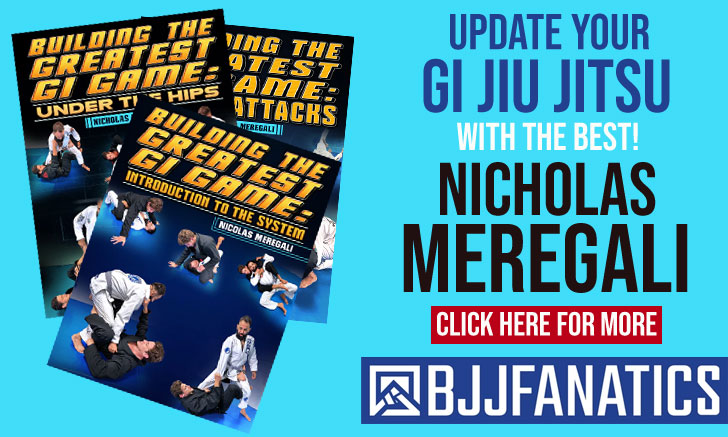 Going into the Polaris 3 event, one could easily say that this would be one of the biggest cards in the history of our sport. With a mix of MMA stars, grappling cult heroes and the top of jiu jitsu's food-chain, the British combat sports aficionados embraced the event with enthusiasm, filling out Poole's Centre For The Arts (Lighthouse).
Polaris' match making has been at the core of this promotion's success, and once again proved to be key in delivering a great standard of matches, below is a run down of the event:
TOP PRELIMS MATCH: Although we witnessed a high level of grappling throughout the main event, it is worth mentioning the preliminary match between Keith Mackenzie and Jeff Lawson. The two UK based black belts went toe to toe in exciting fashion. Lawson showed a very unconventional style against Mackenzie's solid "fundamentals" based skills. In the end "The Pride of Central Scotland" Keith Mackenzie took the submission with 1 second left on the clock by taking Jeff's back and finishing a palm-to-palm choke.
TOP MAIN CARD MATCH: A tough call between the Agazarm vs Shields and Toquinho vs Tonon matches. Both incredible, more details on each match bellow.
Main Card:
JOAO MIYAO (Unity/PSLPB) vs YUKINORI SASA (Paraestra)
Gi match
Result: Draw
Miyao dominated the match by imposing a strong top game with which he passed the dangerous guard of Sasa. Joao got a couple of strong brabo choke attempts and had an incredibly tight slide choke though Yuki survived showing great tenacity.
GEO MARTINEZ (10th Planet) vs LUIZ TOSTA (London Shootfighters)
No-gi match
Result: Draw
Good match between Martinez and Mario Reis' black belt Luiz Tosta. Geo was the aggressor throughout the match, but ultimately couldn't get his calf slicer and heel hooks to work against the resilient London Shootfighters grappling coach.
JONATHAN SATAVA (Alliance NY) vs DARRAGH O'CONNAILL (East Coast Academy)
Gi match
Result: Draw
Entertaining match between the two middleweights. Jon dominated by using a strong top game, passing from half guard control and mounting O'Connaill. The Dublin based grappler Darrah defended well and never truly got close to being tapped, landing a beautiful kouchi gari takedown near the end.
GEZARY MATUDA (ATT) VS LAURENCE FOUILLAT (Ribeiro JJ)
Gi match
Result: Draw
Another entertaining match that (unfortunately) ended in a draw. In a clear style clash, Gezary's new school skills allowed her to dominate most of the fight with a strong knee sliding game, without any eminent submission attempts. Laurence on the other hand, proved her jiu jitsu style is still relevant against a younger and faster world class athlete, though much more defensive than the ATT competitor.
BRUNO FRAZATTO (Team Nogueira) vs GIANNI GRIPPO (Alliance NY)
Gi match
Result: Draw
As predicted this was not the most exciting match on the card. Both athletes were known for their preference in the double guard position, coming into Polaris and unfortunately they stuck to their guns. The match had a couple of failed passes/standing up attempts, that ultimately ended in 50/50 guard. Uneventful.

AUGUSTO "TANQUINHO" MENDES (Soul Fighters) vs EDDIE CUMMINGS (Renzo Gracie Academy)
No-gi match
Result: Draw
Entertaining match between a strong pressure guard passer in "Tanquinho" and the butterfly guard of Cummings. Cummings was dangerous with his submission attempts but lacked aggression never once attempting to go on top from his frequent failed heel hook attempts. Mendes controlled the tempo of the match, constantly trying to pressure and even passing the guard of Cummings. After the 10 minute mark Augusto gained more confidence and opted to "give" his legs to Cummings in an attempt to have the John Danaher black belt to come out of his comfort zone, which never happened. A good match overall, but would have been nice to see Cummings coming out of his shell a bit more.
AJ AGAZARM (Gracie Barra) vs JAKE SHIELDS (Cesar Gracie JJ)
No-gi match
Result: Draw
Amazing performance by both grapplers, AJ got an A+ for his resilience and "never say die" attitude, while Shields got the same grade for his incredible display of pressure and technique. Certainly a match to be re-watched a few times. With exhilarating moments through and through Jake forced Agazarm to pull guard with two strong guillotine attempts from 2 failed low single attacks. This move dictated the fate of the match with Jake imposing a strong half guard pressure, combined with a couple of strong arm triangle attempts from the mount, and a very tight armbar near the end, all of which AJ miraculously escaped – proving why he is regarded as one of the toughest guys to submit in the sport.
On a sad note, the two competitors did almost come to blows after the match, with Shields throwing a slap to Agazarm (missed). Both had to be separated by the staff.
GARRY TONON (Renzo Gracie Academy) vs ROUSIMAR "TOQUINHO" PALHARES (Team Nogueira)
No-gi match
Result: Draw
AMAZING match! Tonon and Toquinho exchanged submissions at a relentless pace in the early stages of the match. Garry proved to have a better gas and more jiu jitsu in the tank, keeping his pace throughout the 15 minutes of the match, and dominating the exchanges. Incredible performance by Tonon.
Undercard:
Keith McKenzie vs Jeff Lawson – McKenzie by Palm to palm choke.
Greg Creel vs Vinicius de Castro – draw
Alain Pozo vs Micah Atkinson – Pozo by inside heel hook
Ben Dyson vs Travis "Newaza" – Dyson by kimura lock
Adam Adshead vs Phil Harris – draw