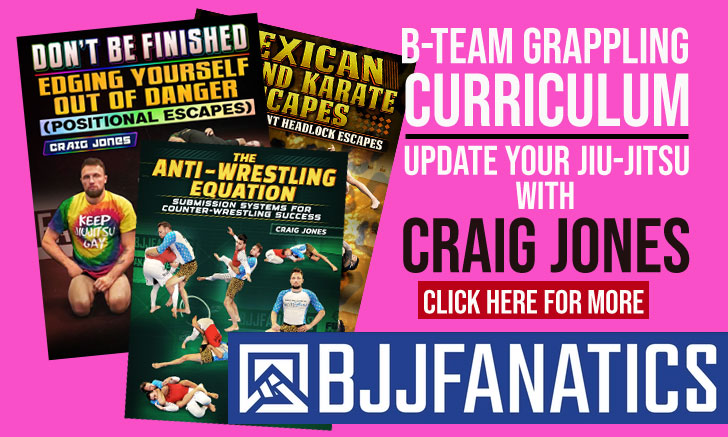 OCTOBER 29, 2016 – We've just witnessed the 4th edition of the famous grappling event: Polaris Jiu Jitsu Invitational, a promotion at the forefront of our sport's professional movement, where all 4 American competitors won their respective matches in exciting fashion.
With 4 jiu jitsu world champions, and some of the top athletes in our sport today, Polaris generated interest not only from grappling fans, but also from a mixed martial arts supporters – particularly those of UFC star Conor Mcgregor, who waited to see the Irishman's ground coach (Dillon Danis) displaying a bit his magic.
Below are the results of each individual match at Polaris' 4th event.
MAIN EVENT RESULTS
1st match @openweight / no gi
TOM BREESE VS BEN DYSON
winner: Tom Breese
method: Referee decision
In a remake of the exciting Newaza Challenge UK final (won by Dyson), the two British prospects did not disappoint putting on a crowd pleasing performance.
Breese implemented a good game plan, taking Dyson down on 3 occasions while working hard to pass the guard and force Ben to turn. The experienced Dyson never gave up the back and proved to be a threat from his guard with a couple of solid submission attempts. Though dangerous Dyson could not enough to win the nod from the judges, who valued Tom's positional dominance (and heel hook submission attempts).
2nd match @openweight / gi
DOMINYKA OBELENYTE VS YAS WILSON
winner: Dominyka Obelenyte
method: Referee decision
Arguably the oddest match-up on the card, we saw Dominyka Obelenyte – the most dominant IBJJF female champion of the past couple of years, go up against a virtually unknown black belt whom she outweighed by 26kg (57lbs).
As predicted by most, Obelenyte dominated her British opponent. Choosing to play the top game, Dominyka passed and mounted Yas on a few occasions, while Wilson played solely defensively.
Credit to Yas Wilson is due as the European grappler forced Dominyka to work extra hard, escaping several gnarly submission attempts – even Obelenyte's trademarked 'domoplata', through grit and incredible flexibility. A Rocky Balboa performance by the young Roger Gracie Academy representative.
3rd match @85kg / no gi
EDUARDO RIOS VS CHARLES NEGROMONTE
winner: Charles Negromonte
method: Referee decision
The very experienced Eduardo 'Teta' Rios faced a formidable adversary in Negromonte, who usually competes 1 weight class above Teta. Rios dealt with the size difference well early on the match, taking Charles down with two beautifully timed double legs.
Negromonte came back strong, forcing Teta to pull guard from a tight guillotine and then imposing his game, passing and mounting Frontline's headcoach. Unable to finish from the top Charles took the win by referee decision.
4th match @68kg / no gi
NATHAN ORCHARD VS MASAKAZU IMANARI
winner: Nathan Orchard
method: RNC
Dominant performance by Nathan who played from the top, passed the guard and submitted the legendary Imanari from the back.
5th match @90kg / no gi
JACKSON SOUZA VS DILLON DANIS
winner: Dillon Danis
method: Inside heel hook
One of the most exciting matches of the night. Jackson got the better of the exchanges standing, though Danis hit a very tight arm in guillotine from a double leg shot. Though dangerous, the two competitors landed outside the mat and the match had to be re-started standing.
A tight match between two evenly paired competitors, in the end Danis worked to his strengths from the guard, hitting a very tight heel hook that forced Souza to tap.
6th match @80kg / no gi
AJ AGAZARM VS IKUHISA MINOWA
winner: AJ Agazarm
method: Triangle
Dominant performance by the American grappler, who took down the pro-wrestling legend and finished with his trademark triangle choke with the far arm grip. Beautiful set-up and transition for AJ on his return to England.
During his post match interview AJ mentioned settling the score with his original Polaris oponnent, Ralek Gracie in the US.
7th match @77kg / no gi
GARRY TONON VS GILBERT BURNS
winner: Garry Tonon
method: Heel hook
What a match! Burns got the better of the takedown exchanges, controlling the match and passing Garry's guard. The New Jersey grappler stayed focussed and composed, waiting for the right moment to strike back. In the end, after an exciting scramble, Tonon was quick to secure a good heel hook control with which he tapped the IBJJF former world champion and UFC lightweight.
8th match @82kg / gi
VITOR RIBEIRO VS FERNANDO TERERE
winner: Fernando Terere
method: Referee decision
Great performance by the former 2x world champion, Terere who avenged his 2001 loss by way of referee decision. The Rio de Janeiro based coach played a patience game, dragging Shaolin into deep water throughout the stand-up game, pushing the Nova Uniao athlete to pull guard. Once on the top position Terere imposed his trademarked backstep passing with which he secured sidecontrol. Cruising for most of the match from their on.
PRELIMINARY MATCHES
5th match @73kg / gi
MARCO CANHA VS ROSS NICHOLLS
winner: Ross Nicholls
method: Referee decision
4th match @73kg / gi
PAUL BRIDGES VS JEFF LAWSON
winner: Jeff Lawson
method: Armbar
3rd match @62kg / no gi
PHIL HARRIS VS SPENCER HEWITT
winner: Phill Harris
method: Heel hook
2nd match @83kg / no gi
JANIS RIEKSTINS VS MIHA PERHAVEC
winner: Miha Perhavec
method: Heel hook
1st match @64kg / gi
REYCE ASESIMBA VS DYLAN O'BRIEN
winner: Reyce Asesimba
method: Flying triangle/Armbar combo