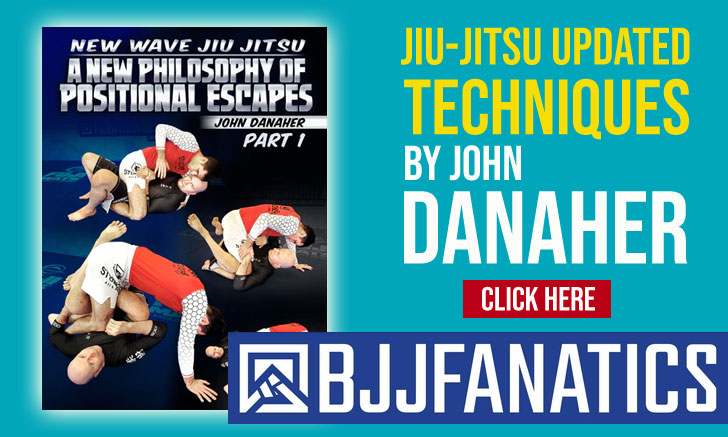 Once again the UK's biggest and most exciting professional grappling promotion has set up an exciting card for the delight of jiu jitsu fans around the globe. The Polaris Jiu Jitsu Invitational is set for Saturday July 14th 2018, and will take place inside the well known Indigo room on the O2 Arena in London, England.
The show will feature mainly European talent, setting a tremendous opportunity for some of the Old Continent's rising stars to showcase their skills in a mainstream platform, athletes such as Miha Perhavec, Oliver Lovell, Samantha Cook and Tom Halpin. Also featuring on the card will be more established names which include the likes of Gilbert Burns, Gregor Gracie, Lachlan Giles, Pedro Bessa, Masakazu Imanari and more. Last (but definitely not least) Polaris 7 will feature two well known members of the Danaher Death Squad, the young phenoms Nicky Ryan and Oliver Taza.
Although missing some of the star power usually associated with a Polaris Invitational, AKA Dillon Danis, Garry Tonon, Eddie Cummings. The PJJI is well known for its exquisite matchmaking, and going through the selection of duels presented on the card we can honestly say there is not one match here that doesn't scream "potential highlight reel". Below you will find the fullcard for the 7th edition of the Polaris Invitational.
MIHA PERHAVEC (ECBJJ) x JAMIE SCOTT (10th Planet)
Catchweight (85 kg) NOGI
One of Europe's most well traveled athletes, Miha is a regular appearance on popular BJJ instructional channels such as Yoga for BJJ and Keenan Online, projects he has worked on while competing (and winning) throughout the world in a variety of tournament rules, between gi and nogi.
Miha will be battling footlock specialist Jamie Scott, head coach of the 10th Planet academy in London (EN). Scott is a guard player and comes in with a very typical 10P style, one that is well adapted to the submission only ruleset. His guard retention skills are arguably the biggest kink in his armor, though his submission defense is excellent. Dangerous from all angles, we have seen this athlete heel hooking a fair share of opponents from the "wrong end" of a mount position. Don't sleep on this match, a great style clash.
PEDRO BESSA (PBBJJ) x TBD
Catchweight (80 kg) GI
Bessa is a veteran of the game, and a former student of the Eduardo Telles/Fernando Tererê duo back in Brazil. He has been living in the United Kingdom for many years, having formed a strong team there while competing regularly in the national and international scenes.
SEAN MCDONAGH (Gracie Barra) x EOGHAN O'FLANAGAN (Craig Ewers Academy)
Catchweight (80 kg) NOGI
This one should be a doozy for the match announcer. We didn't know much about Sean McDonagh prior to Polaris 6 but he made sure we remembered him from then on. A wonderful performance on the last event earned Sean a vicious opponent for this July's show – Eoghan O'Flanagan, an Irish nogi specialist, who has had some vicious wins by footlock over the past year.
From the footage we have seen, McDonagh may have the advantage in movement while O'Flanagan will be the chain submission expert. A contrast that is becoming a modern day classic between these two distinct grappling methods.
OLIVER LOVELL (Gracie Barra) x YOUSUF NABI (Checkmat)
Catchweight (74 kg) GI
Lovell is one of England's rising stars, a high level black belt competitor who has battled with some of the best, having greatly improved over the past couple of years. Oliver will meet Yousuf Nabi, who coaches in Brighton and has been very active in the UK grappling circuit, particularly with the gi.
LLOYD COOPER (Combat Base) x KIERAN DAVERN (SGB)
Catchweight (80 kg) NOGI
The "Yorkshire Gripper" returns to the Polaris stage after his loss to AJ Agazarm at the P5 event. Cooper is a black belt who enjoys the submission aspect of the game, particularly the footlock department, having some noteworthy wins on his resume.
Kieran Davern is also well versed in footlocks and the nogi aspect of grappling. An avid competitor, Ireland's Davern has a brown belt under John Kavanagh, being also the Head Coach at SBG Tullamore. Davern has travelled a bunch over these past few years, training with Marcelo Garcia, Renzo Gracie's DDS, Mjolnir Iceland, and many others.
TOM HALPIN (Fight Sports) x IGOR TERRECO (RGA)
Catchweight (68 kg) NOGI
One of the most exciting matches on the Polaris 7 Card will be this great matchup between the Irishman (Halpin) and the Brazilian (Terreco), both black belts under legends of the sport – Roberto Cyborg and Roger Gracie respectively.
Both always keen to submit, this will be a battle of guard players. Given that this is a nogi match, we would give a slight advantage to Tom, though this is anyone's game. Particularly if Igor manages to establish guard first.
SAMANTHA COOK (Checkmat-Fight Zone London) x VENLA LUUKKONEN (Hilti)
Over 55 Ladies (+55 kg) NOGI
Another exciting clash to start the paid portion of the card. Cook made her black belt debut at the previous Polaris event, defeating Valessa English. Samantha went on to have a very positive year so far by winning the UAEJJF Grand Slam, placing at the podium of the IBJJF Worlds and reaching a 4th place at the ADCC last year. Ahead Sam will have one of the most experienced female athletes in Europe, Venla Luukkonen.
In this match expect Samantha to be the more technical athlete, against Venla's superior size, strength and experience.
Polaris Featherweight Tournament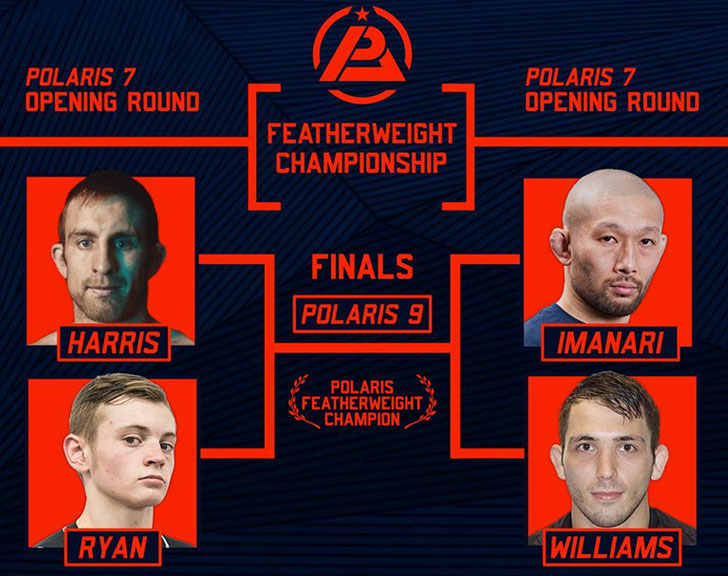 The first Polaris tournament of the day will be the featherweight, which will feature two of the best leg lockers on the planet. The first round of this new concept will take place on July 14, with the final taking place at a later time.
MASAKAZU IMANARI (?) x ASH WILLIAMS (Chris Rees)
Featherweight (65.8 kg) NOGI
A legend in the sport of mixed martial arts (MMA) Imanari was once the most dangerous footlocker in the business, and a pioneer in that department. Williams on the other hand belongs to the younger generation of nogi grapplers, though he follows a more traditional jiu jitsu style.
In a game of cat and mouse, we believed that If Ashley can overcome Imanari's dangerous leglock game, he will have the upper hand… That is, however, a big "if".
NICKY RYAN (Renzo Gracie) x PHIL HARRIS (?)
Featherweight (65.8 kg) NOGI
The co-main event will feature one of the brightest stars in the sport, John Danaher's teenage competitor Nicky Ryan who will face Phil Harris – a former mixed martial artist (MMA) and Polaris veteran. Judging by what we have seen of Harris' previous performances, he should have the strength advantage here though everything else goes in Ryan's favor by a wide margin. Expect Nicky to submit early.
Polaris Welterweight Tournament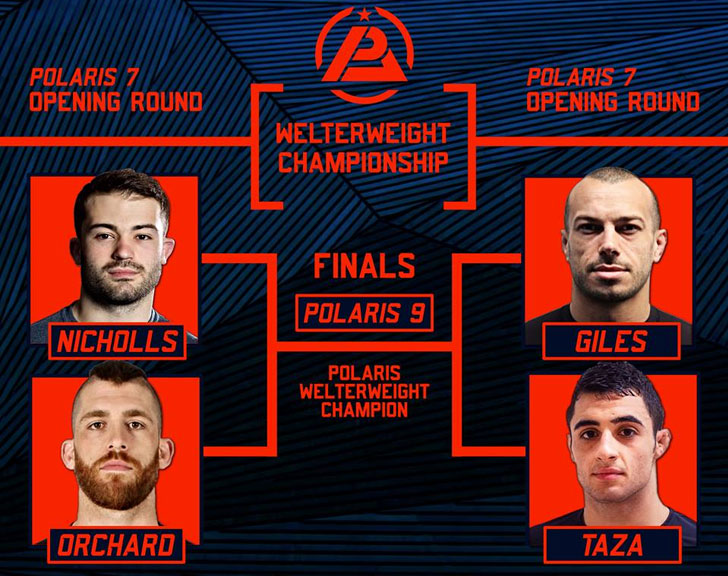 Ready to crown its first welterweight king Polaris is setting up an exciting tournament for which the first round will take place on July 14. The final of the tournament is taking place at a later time (likely at the next Polaris event).
ROSS NICHOLLS (RGA) x NATHAN ORCHARD (10th Planet)
Welterweight (77.1 kg) NOGI
Another excellent duel between two very evenly matched competitors. Ross was traditionally a gi athlete, having more recently shifted his training towards nogi while Orchard is one of Eddie Bravo's most famous black belts, being also one of 10P's most versatile representatives.
Both well versed on lower limb attacks, Nicholls had an outright footlock battle before with Oliver Taza (one of the world's top footlockers) and came out intact, having also submitted his opponent at P6 with a heel hook. Nathan is unlikely to find his way to Ross' feet, so these two might get away from the boring footsie battle and head towards a more 'old school' approach to this match. One we (the fans) will surely appreciate.
LACHLAN GILES (Absolute MMA) x OLIVER TAZA (Renzo Gracie)
Welterweight (77.1 kg) NOGI
The other side of the welterweight bracket will see Lachlan Giles' attempt to take another Polaris belt back to Australia, after his team mate Craig Jones conquered the middleweight strap. To get to the final Giles must first face Oliver Taza, the well known John Danaher pupil.
Both competitors have very complete games and like to push for the kill. A good match ahead with no clear favorite.
GREGOR GRACIE (Renzo Gracie) x GILBERT "DURINHO" BURNS (ATT)
Catchweight (85 kg) NOGI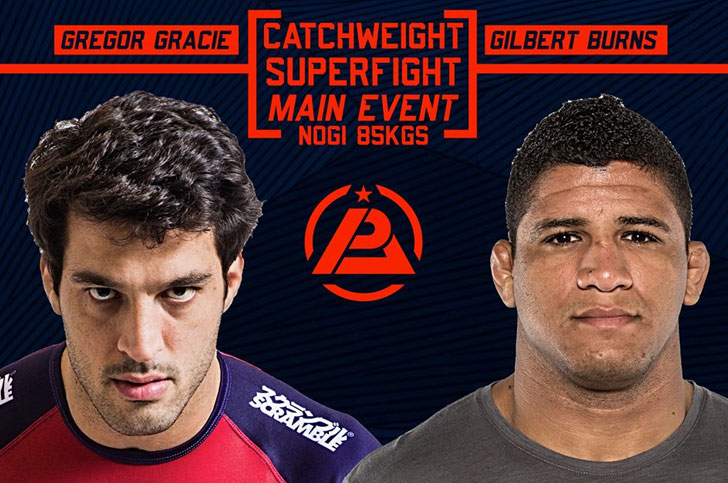 Two legends of jiu jitsu with a wealth of experience with and without the gi, as well as in MMA. Good takedowns, solid fundamentals and killer instinct. This is one of the best match-ups provided by Polaris over the years, and we are very much looking forward to this one.
Durinho will likely have the advantage in agility and the scrambles, Gregor is the more pressure based athlete here. Both competitors also prefer to stay on top, so we may see a takedown battle here also. Perfect pairing for an exciting grappling war!