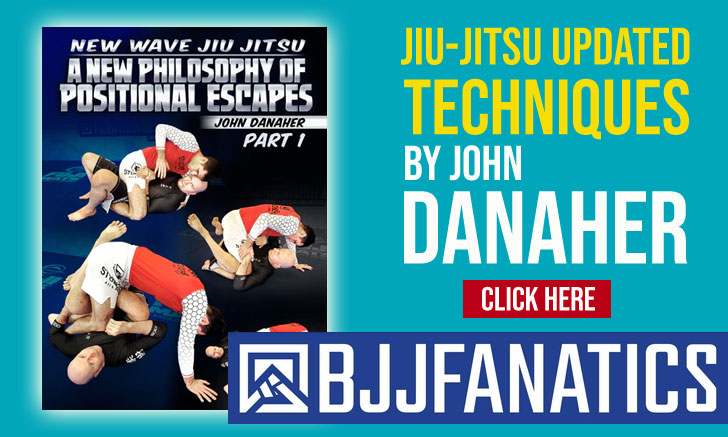 FEBRUARY 17, 2018 London – England. The 6th edition of Polaris Jiu Jitsu Invitational was an absolute blast with well matched grapplers and plenty of exciting events.
Although all eyes were on the 185lbs title match between USA's Jake Shields and the Aussie Craig Jones, it was Henderson vs Agazarm who stole the show with an unbelievable match that will certainly be on the backs of spectators minds for a while. Right up there with Tonon vs Palhares Benson and AJ BROUGHT IT: insane scrambles, submission exchanges, reversals, this match had it all. Worth looking it up on Fight Pass if you didn't see this match live.
Full results below with detailed descriptions of the action:
POLARIS 6 UNDERCARD RESULTS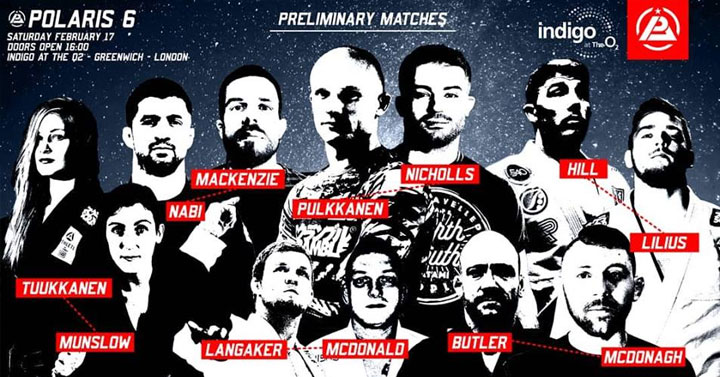 Emilia Tuukkanen [FIN] vs Leoni Munslow [UK]
(Gi Match) || Result: Tuukkanen win by decision
Great match between the Finnish Tuukkanen and the Brit Munslow. Although heavily supported by the crowd, Leoni could not impose her game over the slick jiu jitsu skills of Emilia. Although the smaller athlete, Tuukkanen took control of the match but was unable to secure the tap achieving victory by unanimous decision.
Jay Butler [UK] vs Sean McDonagh [UK]
(Gi Match) || Result: McDonagh win by toe hold
Total domination by McDonagh who looked phenomenal against Butler. Sean had to submit Jay on two occasions to get the win, given that the first time (armbar) Butler claimed to have been kicked in the head prior to the finish.
The match was McDonagh's to win from the very first second. Flying armbar attempts, long step passing and fluid jiu jitsu Sean gave it all and reaped his rewards. 5 star performance.
Santeri Lilius [FIN] vs Bradley Hill [UK]
(Gi Match) || Result: Hill win by decision
Although an anticipated match between two rising stars in the European circuit, this ended up being a 50/50 Guard battle – much to the frustration of Bradley who (to his credit) did try his best not to end up in this slow moving position.
A few footlocks exchanged but not much else. In the end the judges must have chosen to go for the athlete who was trying to progress the most, although Santeri did try to attack the feet a bit more from the 50.
Tommy Lanagaker [NOR] vs Charlie Macdonald [UK]
(Gi Match) || Result: Langaker by choke from the back
Absolute domination by Tommy in a clear mismatch. Longstep, backtake and choke in one minute.
Tiago Valente [BRA] vs Oliver Lovell [UK]
(Gi Match) || Result: Lovell by choke
This was one of the toughest matches to arrange for the organizers. First Jake Mackenzie's opponent had to step out do to injury and Oliver took the spot, then – this morning it was Jake who had to pull out due to food poisoning.
Be that as it may this was a good match, particularly for Gracie Barra's Lovell who dominated last minute replacement Valente from the start. In the end Oliver got the tap by way of a one handed collar choke from a knee slide position. A very unusual submission to see in competition.
Ross Nicholls [UK] vs Tommi Pulkkanen [FIN]
(Nogi Match) || Result: Nicholls win by outside heel hook
Ross Nicholls came out of the walk-in ramp with one thing on his mind, and that was the heel hook. Nicholls kept trying to attack the lead leg of Tommi from the first second and eventually got there. Very interesting performance by the Roger Gracie black belt who seems sold on the no-gi aspect of the game.
POLARIS 6 MAIN CARD RESULRS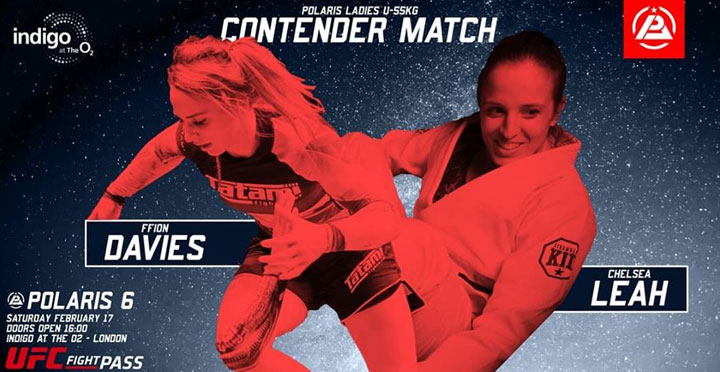 Chelsea Leah [USA] vs Ffion Davies [UK]
(Nogi – Contender match) || Result: Davies win by armbar
Great match between veteran Chelsea Leah and rising star Ffion. Chelsea started out a little bit better with a couple of leg attacks, once those were finished Davies was able to impose her pressure passing game to achieve the mount, which preceded the armbar finish. Flawless victory by the Welsh brown belt.
Marco Canha [BRA] vs Ashleigh Grimshaw [UK] (Nogi Match) || Result: Canha win by decision
Absolute control by 36 year old veteran Marco Canha from start to finish over powerful MMA/grappler Grimshaw. Marco was aware of Ash's strong wrestling + guillotine game, opting to pull guard and sweep. From there UK's Grimshaw was never able to gain space to stand back again, thanks to Canha's strong leg game and under hooking control.
More of a top game competitor and without much of a guard to attack the Brazilian, Ashleigh became an easy prey to Marco's numerous guard passes and mount controls. Credit to Grimshaw for never exposing his back to Marco, something we could tell the Checkmat and FightZone London team leader was aiming for. A clean sweep for Marco.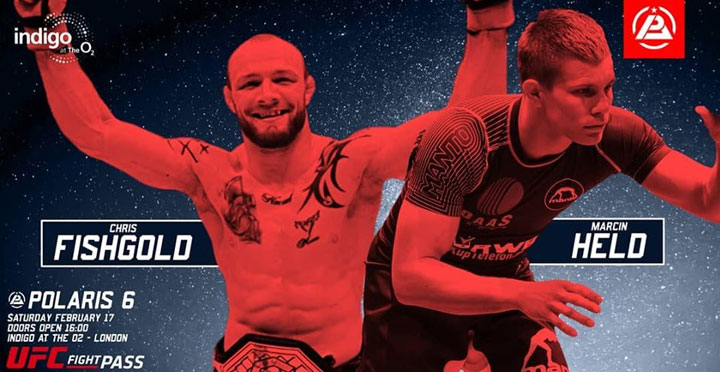 Chris Fishgold [UK] vs Marcin Held [POL]
(Nogi Match) || Result: Held win by armbar
Quick match for the Polish athlete who clamped on a very, very tight armbar from closed guard on Fishgold. Chris tried to resist as much as he could (maybe way longer than most), but the effort went to waste as he was forced to concede the win to Marcin.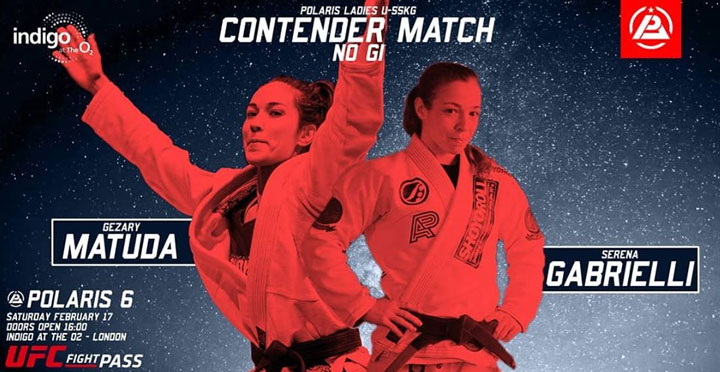 Gezary Matuda [BRA] vs Serena Gabrielli [ITA]
(Nogi – Contender match) || Result: Matuda win by straight ankle lock
There are not many grapplers out there with the killer instinct of Gezary Matuda, and once again the Brazilian confirmed just how sharp her game is. Traditionally an armbar focused athlete Matuda showed she is willing to attack any part of the body, this time showing her love for the footlocks.
Quick match, Serena pulled guard and did show she moved well, but did a rookie mistake by leaving her foot too vulnerable and up in the air.That was all Gezary needed to secure the win.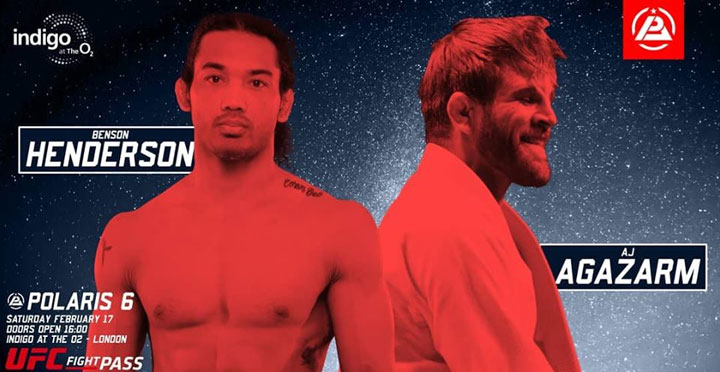 Benson Henderson [USA] vs AJ Agazarm [USA]
(Nogi Match) || Result: Henderson win by decision
Very intense match with Benson coming out with aggressive takedowns attempts making this grappling match look almost like a street fight. The intensity of the match would have won the fight of the night award (if there was one), and definitely top 3 all time Polaris match-ups. takedowns, scrambles, close submission attempts, sweeps this had it all.
The crazy takedowns ended up outside the mat on a few occasions, leading the refereeing team to add another referee just to help contain the competitors. In the end it was Benson who won the majority of the exchanges, being stronger and more aggressive than Agazarm who did put on great opposition to the former WEC and UFC lightweight champion.
One detail worth noticing was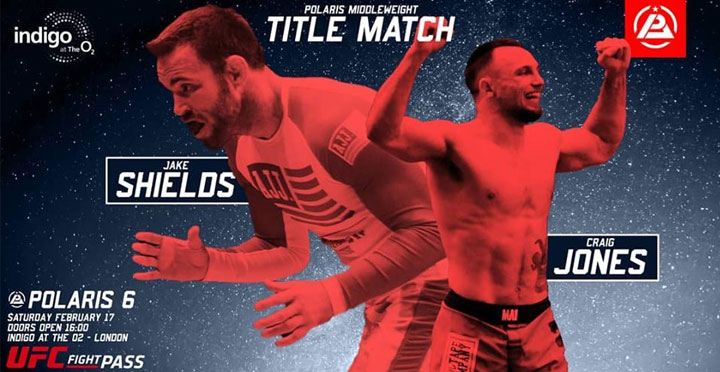 Jake Shields [USA] vs Craig Jones [AUS]
(Nogi – Title Match) || Result: Jones win by inside heel hook
Quick match for Craig Jones. Much of the history of the match was going to be if Craig could stop Shields' underhook pressure and invert on Jake to reach his legs. The question was answered in about 30 seconds as the Australian conquered the 411 position with relative ease and straight in that heel hook.