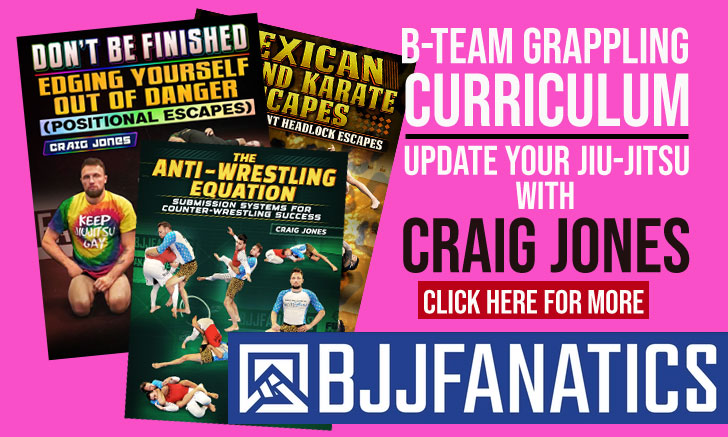 Last weekend (February 10) saw one of the top brown belt events in the world take place on Norwegian soil, a tournament that gathered some of the very best brown belts in Europe to decide who would take the brown belt vacancy in Copa Podio's lightweight tournament.
As we had alluded to on our pre-fight analysis, Norwegian hot prospect Tarik Hopstock of Frontline Academy was the favorite to win the show, that, however was no easy task. During his very first match of the evening Tarik almost tapped to Alberto Buriasco of Italy, refusing to do so Hopstock had his foot broken (update: although previously reported as broken, the foot was indeed badly sprained. Not broken). He carried out the match and beat Buriasco to proceed in the tournament and win the show. A performance of grit and determination that showcased just how bright the future ahead is for this young man in the sport of BJJ.
Another star in the making to emerge from Iron Brown Belt II was the Spaniard Yusef Kaddur, representative of Claudio Calasans JJ. Kaddur had 9 matches and indeed beat the champ Hopstock during the group stage (4th round), submitting many other matches while always pushing the pace and really putting himself out there as a contender for the future.
The format was dynamic and exciting, to watch with the athletes really bringing a lot of energy and warrior mentality to the mats. The forward thinking jiu jitsu on display clearly showed that jiu jitsu as a spectacle is heading on the right direction in Europe. Below are the match results for the Iron Brown Belt Europe.
Superfight
VERGARD RANDEBERG (NOR) x GUILHERME JARDIM (POR) – Vegard by submission
Eliminatory Round 1
ALBERTO BURIASCO (ITALY) x TARIK HOPSTOCK (NORWAY)- Tarik by 2×0
SÁNDOR LAKATOS (HUNGARY) x BRYN JENKINS (UNITED KINGDOM)- Bryn by 2×0
DAVID RIVERA (SWITZERLAND) x ALAN CIKU (BELGIAN) – Alan by 4×0
YUSEF KADDUR (SPAIN) x GNIEWKO WÍSNIEWSKI (POLAND) – draw 2×2
FLAVIEN MARTIN (FRANCE) x MARCUS PHELAN (IRELAND) – Marcus by 4×0
Eliminatory Round 2
ALBERTO BURIASCO (ITALY) x TARIK HOPSTOCK (NORWAY)- Tarik by submission
SÁNDOR LAKATOS (HUNGARY) x BRYN JENKINS (UNITED KINGDOM)- Bryn by submission
DAVID RIVERA (SWITZERLAND) x ALAN CIKU (BELGIAN) – Alan by submission
YUSEF KADDUR (SPAIN) x GNIEWKO WÍSNIEWSKI (POLAND) – Yusef by submission
FLAVIEN MARTIN (FRANCE) x MARCUS PHELAN (IRELAND) – Marcus by submission
Tie Breaker
BRYN JENKINS (IRELAND) x YUSEF KADDUR (SPAIN) – Yusef by submission
Super-Fights
HENRIQUES JR. "JUNIÃO" (ENG) x MUSLIM PATSARIGOV (CHE) – Muslim by 5×0
ANE SVENDSEN (NOR) x LARISSA CAMPOS (BRA)- Ane in sudden death round
Group Stage
MARCUS PHELAN x TARIK HOPSTOK – Tarik by submission
YUSEF KADDUR x ALAN CIKU – Yusef by submission
MARCUS PHELAN x ALAN CIKU – Alan by submission
TARIK HOPSTOK x YUSEF KADDUR – Tarik by 1 advantage
MARCUS PHELAN x YUSEF KADDUR – Yusef by submission
TARIK HOPSTOK x ALAN CIKU – Tarik by 1 advantage
TARIK HOPSTOK x YUSEF KADDUR – Yusef by 3 advantages
MARCUS PHELAN x ALAN CIKU – Alan by submission
MARCUS PHELAN x YUSEF KADDUR – Yusef by 7×0
TARIK HOPSTOK x ALAN CIKU – Tarik by 1 advantage
TARIK HOPSTOK x YUSEF KADDUR – Tarik by 1 advantage