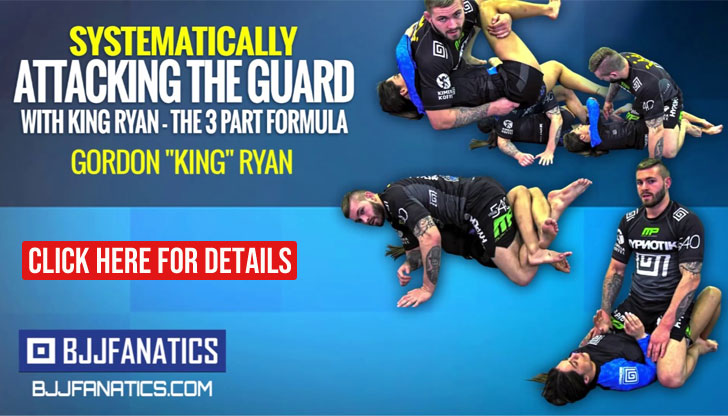 Set for Sunday, December 9, 2018, the Polaris Jiu-Jitsu Invitational has gathered all the ingredients required for a great professional grappling event, with not one, not two, but THREE (3) titles matches underway with Feather, Welter, and Light-heavyweight belts on the line.
These titles bouts will feature some of the sport's most respected athletes, particularly in the main event where we will see the highly anticipated clash between current Polaris middleweight champ, Craig Jones and ADCC silver medal Keenan Cornelius for the light heavyweight title. More on this match below.
Further down on the card is a match, we believe, has the perfect recipe to steal the show; That is the Vagner Rocha versus Ben Henderson clash. A fantastic style match-up between two "gamers" who have been active in the combat arena for a while, with a proven track record of barn-burners.
Another interesting aspect of the Polaris 8 will be the undercard and how it will play out. The last edition of this British event exceeded all expectations, showcasing some of the most exciting grappling matches we have seen in professional BJJ, and the bar is stacked pretty high for P8, which is, without a doubt, the best window into European jiu-jitsu at a professional level.
Official Website – polarisprograppling.com
Venue – Cardiff – Ice Arena (Wales, UK)
Date – December 9, 2018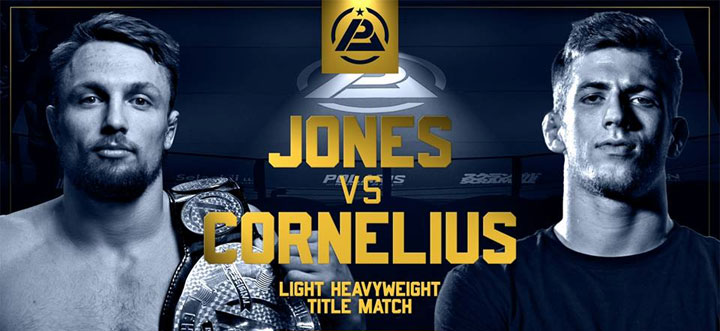 CRAIG JONES vs KEENAN CORNELIUS
Light Heavyweight (93.0 kg) NOGI
Logic would give the no-gi, sub-only, heel hooking expert the advantage over a lapel wizard and gi specialist under the Polaris ruleset, but this is not the case as Cornelius holds a dominant win over Jones at the 2017 ADCC tournament in Finland. At the time of their match, Jones was still relatively unknown, with the famous submission wrestling tournament being the first high-level competition the Australian grappling wizard experienced. Fast forward 15 months and the young Adelaide native matured into one of the most feared leg lock experts in the game. Expect to see a much more competitive exchange between these two this time around.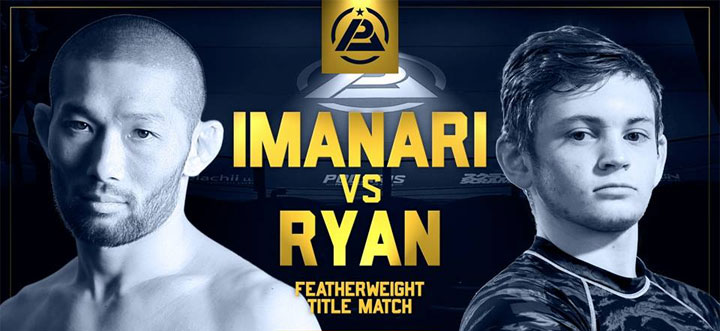 MASAKAZU IMANARI vs NICKY RYAN
Featherweight (65.8 kg) NOGI
Unfortunately for Polaris, the original winner of the featherweight tournament semi-final, Ashley Williams, is injured and had to be replaced by the Japanese MMA star, Imanari (who had competed in the semis [P7] against Williams). On the other side will be purple belt Nicky Ryan, who has been somewhat critiqued for being overly protective of his grappling record in recent times. Although dangerous, we don't see Masakazu as being a particularly challenging match for the very talented young American. In this old vs new school leglockers, expect Ryan to snatch a win by submission.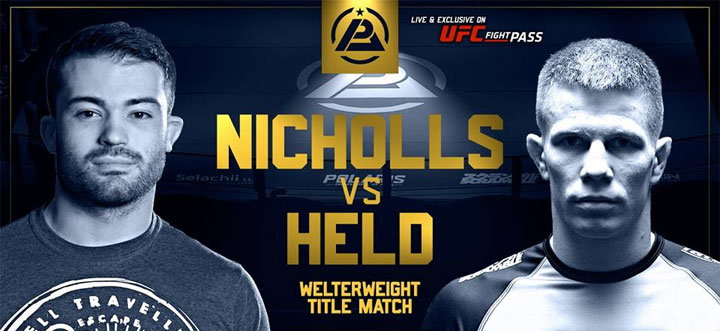 LACHLAN GILES (ROSS NICHOLLS) vs MANSHER KHERA (MARCIN HELD)
Welterweight (77.1 kg) NOGI
Wow, this has been the toughest title match to put together to date. The first original title challenger to drop out was Oliver Taza, who was forced to withdraw from the competition due to injury. Polaris then called on an old friend of the promotion, Polish grappler Marcin Held. Unfortunately Held injured himself in preparation for the match and we will now have "Munch" Khera, arguably a much tougher test than either of the previous candidates given the experience and pedigree of the New Yorker, Khera.
On the other side, with just a few days to the event, challenger Ross Nicholls also injured himself. To replace him Polaris called Lachlan Giles, another heel hook minded athlete to face Mansher. Munch has a wealth of knowledge in the leg lock game, particularly from a defensive standpoint, and should have the tools to nullify most of Giles attacks. Will it be enough to overcome the famous Australian?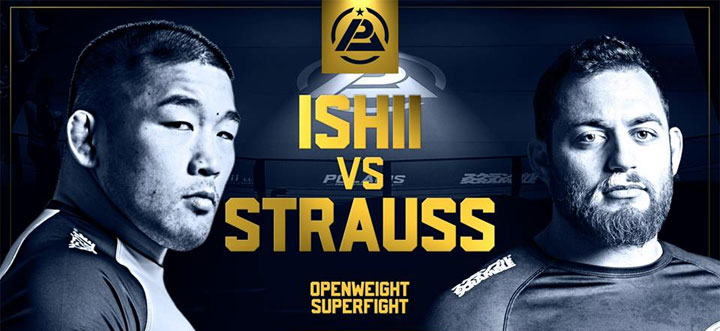 SATOSHI ISHII vs DANIEL STRAUSS Absolute (- kg) NOGI
London's own Dan Strauss, one of the regular appearances in Polaris' promotions, will face a former Olympian judoka (2008 silver medal) in Satoshi Ishii, who has since moved to mixed martial arts. Ishii returned to grappling recently at Quintet and seems to have picked up the desire to challenge himself again under these submission-only rules.
This is the only ultra-heavyweight match on the card. Don't expect to see Ishii on his back in this match, so Strauss will have to bring a sharp butterfly guard to overcome the larger Japanese player.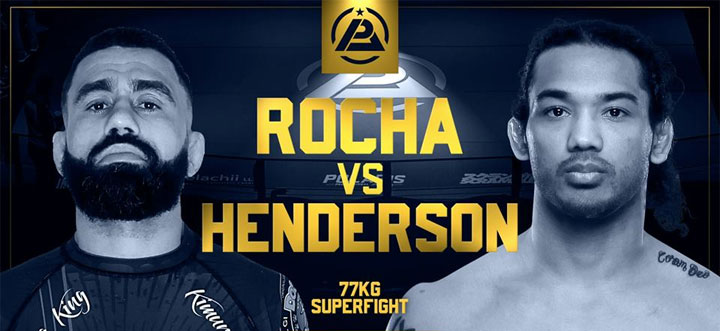 VAGNER ROCHA vs BENSON HENDERSON
Welterweight (77.1 kg) NOGI
As we mentioned before, this has all the necessary elements to be the Match Of The Night at Polaris 8. Rocha's game is at its best when he manages to overpower/bully his opponents, but Ben Henderson is not the type of player that gets intimidated in a match, and the usual antics will likely fire up the young American black belt. Wrestling and endurance advantage to Henderson, submission and grappling experience advantage to Vagner. Expect to see plenty of scrambles on the feet and a lot of aggressive head fighting, the toughest man will come out on top.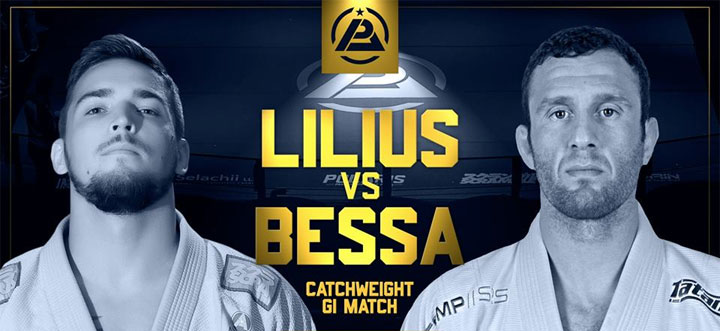 SANTERI LILIUS VS PEDRO BESSA
Catchweight (80 kg)
Two familiar faces on the Polaris schedule, who were yet to meet. Both stationed in Europe, Bessa is an old-school competitor with very solid ground skills and a wealth of experience, while Santeri brings the flavor of the new generation.
– Brett Johns vs Tom Halpin (68KG)
– Ash Grimshaw vs Bryn Jenkins (73 kg)
– Kieran Davern vs Matty Holmes (88 kg)
– Paul Redmond vs Craig Ewers (77.1 kg)
– Frederic Vosgrone vs Lew Long (86 kg)
– Ed Ingamells vs Jamie Hughes (110 kg)