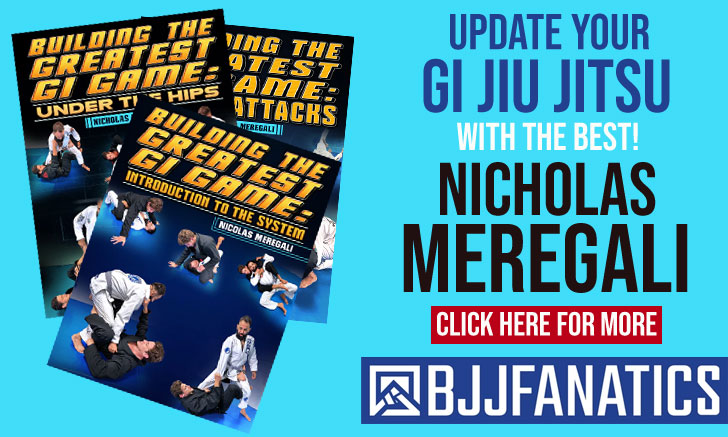 Danilo Borovic, commonly referenced as Dan Borovic, is a Brazilian jiu-jitsu black belt of Serbian descent, who earned his rank while training under Scott Huston and worked extensively with Rodrigo 'Comprido' Medeiros while climbing the ranks of the sport. Already regarded as a hot prospect for BJJ as a brown belt, Borovic's status was showcased to a wider audience on March 2017, after a fantastic performance at the 11th edition of the Eddie Bravo Invitational (EBI 11). Dan Borovic is also known for his work as a grappling coach of former Ultimate Fighting Championship (UFC) lightweight champion Anthony 'Showtime' Pettis.
Dan Borovic Jiu Jitsu
Full Name: Danilo Borovic
Nickname: N/A
Lineage: Mitsuyo Maeda > Carlos Gracie (Senior) > Hélio Gracie > Rolls Gracie > Romero Cavalcanti (Jacaré) > Rodrigo Medeiros (Comprido) > Scott Huston > Dan Borovic
Main Achievements:
1st Place IBJJF Chicago Spring Open (2019)
1st Place IBJJF Atlanta Spring Open (2019**)
Main Achievements (Colored Belts):
1st Place IBJJF World Championship No-Gi (2014 purple)
1st Place Metamoris Challenger Champion (2015)
1st Place UAEJJF USA National Pro (2016** brown)
2nd Place IBJJF World Championship (2013 blue, 2014/2015 purple)
2nd Place IBJJF World Championship No-Gi (2014* purple)
3rd Place IBJJF Pan Championship (2016 brown)
3rd Place IBJJF World Championship No-Gi (2013* blue)
* Absolute
** Weight and absolute
Favorite Position/Technique: Triangle, Armbar, RNC
Weight Division: Meio Pesado (88,30 kg / 195.0 lbs)
Team/Association: 360 BJJ
Dan Borovic Biography
Dan Borovic was born on April 23, 1992, in Knin, a small city in the Šibenik-Knin County of Serbia, moving to the United States when he was 7 years old, where Dan spent his formative years.
Connected with sports from an early age, Borovic started competing during elementary school in taekwondo (TKD) and swimming, activities he carried out for many years, up until his senior year of high school, when he started learning Brazilian jiu-jitsu.
At the age of 18 (2010), and one month away from his black belt test in TKD, Borovic discovered jiu-jitsu and quit the Korean striking art almost immediately, one he had practiced since second grade. Dan's training in BJJ was somewhat hectic early on, as he did not stop in one particular gym for long, his first 'full-time' coach, however, was Mike Contrares.
Scott Huston of 3 Sixty Jiu-Jitsu (360 BJJ) would later become Borovic's coach and an important figure in Dan's development as a grappler. Huston awarded Dan his purple and black belts, with the legendary Rodrigo 'Comprido' (Huston's own instructor), awarding Dan the brown belt.
On March 26, 2018, Borovic was promoted to black belt by coach Scott Huston, 8 years into his grappling training.
Dan Borovic Grappling Record
12 WINS
BY POINTS


BY ADVANTAGES




BY SUBMISSION




BY DECISION




BY PENALTIES




BY DQ



10 SUBMISSIONS WINS
#fad11b
Triangle armbar
10
1
5 LOSSES
BY POINTS


BY ADVANTAGES




BY SUBMISSION




BY DECISION




BY PENALTIES




BY DQ



1 SUBMISSION LOSSES
#214eb8
Outside heel hook
100
1
Dan Borovic Fight History
ID
Opponent
W/L
Method
Competition
Weight
Stage
Year
18660

Murilo Santana

Murilo Santana
L
Pts: 7x2
NoGi Worlds
85KG
4F
2018
19507

Murilo Santana

Murilo Santana
L
N/A
Cincinnati Open
88KG
SF
2019
19513

Ashur Darmo

L
N/A
Cincinnati Open
ABS
4F
2019
20688

Kaynan Duarte

Kaynan Duarte
L
Pts: 12x0
World Champ.
94KG
R2
2019
22502

Kyle Boehm

Kyle Boehm
L
Outside heel hook
KOTM 7
ABS
4F
2019
18649

Gabriel Procopio

Gabriel Procopio
W
Triangle
NoGi Worlds
85KG
R1
2018
18653

Diogo Sampaio

Diogo Sampaio
W
Pts: 4x4, Pen
NoGi Worlds
85KG
R2
2018
19510

Jonathan Buren

W
RNC
Cincinnati Open
ABS
R1
2019
20423

Ronnie Trey

W
Armbar
Atlanta SPO
88KG
F
2019
20424

Orlando Andaviza

W
Darce choke
Atlanta SPO
ABS
R1
2019
20425

Jovanny Anthony

W
Armbar
Atlanta SPO
ABS
4F
2019
20426

Abraao Amorim

W
Armbar
Atlanta SPO
ABS
SF
2019
20427

Alex Aparecido

W
Triangle armbar
Atlanta SPO
ABS
F
2019
20521

Todd Mueckenheim

W
Armbar
Chicago SPO
94KG
SF
2019
20522

Matt Leighton

Matt Leighton
W
Pts: 4x2
Chicago SPO
94KG
F
2019
20681

Hygor Brito

Hygor Brito
W
Triangle
World Champ.
94KG
R1
2019
22497

Khalif Fadallah

W
Submission
KOTM 7
ABS
R1
2019
Dan Borovic vs John Gutta (Purple Belt 2014)