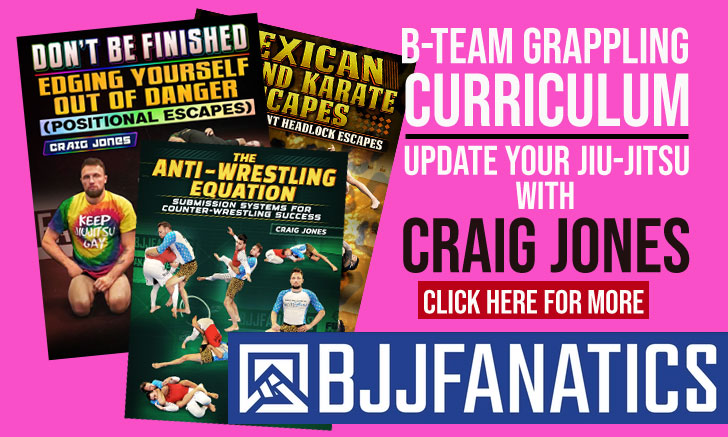 SEPTEMBER 30, 2023, WALES, UNITED KINGDOM, was the date and the place set for one of the most exciting jiu-jitsu cards of the year, the Polaris Open Weight Grand Prix, which put some of the top grapplers in the world from various weight classes and mixed them up in an absolute bracket. The tournament gathered champions from Brazil, the United States of America, Ecuador, Poland, England, and Australia in a melting top of world-class talent.
With so much talent on the mats, it is often hard to see real upsets coming through, given how all athletes are very accomplished competitors in their own right, but if there is one thing this sport has taught us over the years, is that you should always expect the unexpected. This is precisely what happened when a featherweight of 70 kilos (154 lbs), Fabricio Andrey, an athlete with great achievements with the gi, but none at the highest level in the no-gi circuit, took out 95-kilogram (209 lbs) Giancarlo Bodoni, the current ADCC World Champion in an highly entertaining match that could be celebrated as the essence of jiu-jitsu, with the smaller man defeating the larger. This wasn't the only David vs. Goliath match by the Brazilian, Andrey, at the event. In the first round, Fabricio had beaten Judo/Wrestling specialist Owen Livesey of England, who also weighed over 90 kilograms, and beat him at his own game in a beautiful stand-up war. Fabricio Andrey's performance was, by all accounts, spectacular.
On the opposite side of the GP bracket was another Brazilian, 99-kilogram (218 lbs) ADCC Champion, Kaynan Duarte.  Duarte Dominated US leg-locking specialist Jason Rau in the first round, taking the Serra JJ athlete down, passing, mounting, and submitting from there. He went on to meet Australia's rising talent, Izaak Michell in the semis. The match with Izaak was a more balanced affair, with Michell showing great heart and even winning a few of the wrestling exchanges at the end of the match, nevertheless, Kaynan's early work was enough to see him through to the final.
The All-Brazilian final clash also saw the biggest disparity of weight of the tournament, nearly 30 kilos! Duarte applied the same strategy as his previous matches, scoring very early. This time from a very quick wrestle-up sweep, from there he tried to impose his weight over Andrey, but as soon as Duarte released pressure, Fabricio stood back up. Kaynan pulled guard again, avoiding Fabricio's outstanding standing skills. From the bottom, Duarte was, once again, able to sweep the former IBJJF Gi World Champion, Andrey, with a shoulder Crunch/violin sweep, straight to the back position, ending the match with a cross face/short choke. A very clean performance by Kaynan Duarte in this match and overall.
POLARIS 25 GP OPEN WEIGHT RESULTS
GRAND PRIX MATCH RESULTS
Quarter Finals:
–  Fabricio Andrey def. Owen Livesey via 1×0
– Giancarlo Bodoni def.  Marcin Maciulewicz via RNC
– Izaak Michell def. Roberto Jimenez via 2×0
– Kaynan Duarte def. Jason Rau via katagatame
Semi-Finals:
– Kaynan Duarte def. Izaak Michell via 3×1
–  Fabricio Andrey def. Giancarlo Bodoni via 1×0
Final
– Kaynan Duarte def. Fabricio Andrey via short-choke
SUPERFIGHT:
– Aljamain Sterling def. Mike Grundy via decision
The match between former UFC champion and professional MMA fighter Mike Grundy in the Polaris jiu-jitsu ruleset was spent mostly standing with a few neck attacks off of snapdowns. The match was busy but with no big scoring positions for either athlete.