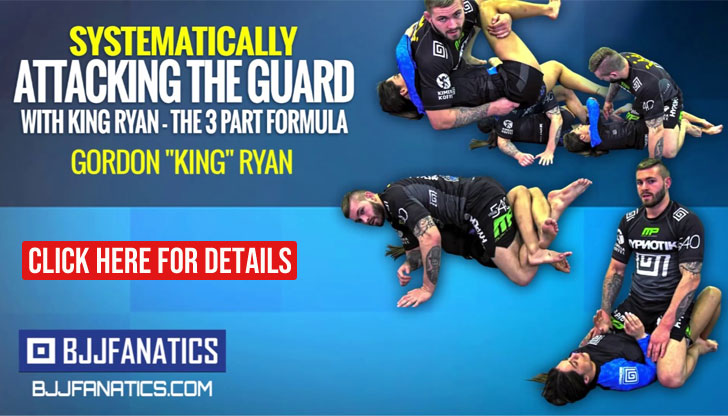 Maybe it slipped through the radar of many jiu jitsu followers given the buzz generated by last week's IBJJF World Championship, but only a few days ago Atos Jiu Jitsu founder André Galvão announced his retirement from competition as an athlete.
Those who are new to the game may know Galvão as the head coach of two time IBJJF Words team champion Atos JJ, a work group with a diverse platoon of high end athletes under the tutelage of André. Competitors that range from young superstars Jonnata Gracie, Dom Bell, João Bisnaga and Kaynan Duarte to a black belt squad of killers: Michael Liera, Brunovskis, Josh Hinger, Lucas Barbosa, Gustavo 'Braguinha', Michael Perez, Keenan Cornelius, Mike Perez, Luiza Monteiro, Angelica Galvão and many more.
Today "Deco" (as he is called by his friends) is one of the most prestigious and well respected figures of our sport, though his rise to the top is nothing short of a fairytale narrative given the unlikelihood of his story. A young boy raised by a humble family in the Paraíba Vale of Brazil who made it to San Diego's exclusive list of distinguished citizens.
Starting out through judo at a young age Galvão would later shift his focus to jiu jitsu under coach Luis Dagmar, the first man to notice the tremendous potential of Galvão. While the majority of teenage American or European boys are totally reliant on their families and the commodities they provide, Deco chose to carve his own path and moved to Rio de Janeiro (2002) on his own to train with one of the legends of jiu jitsu, Osvaldo Alves with whom he conquered his first world title as a blue belt. One year later he joined Fernando Tererê and his team in pursuit of his grappling goals. One of those life changing events that totally re-shaped the path walked by André.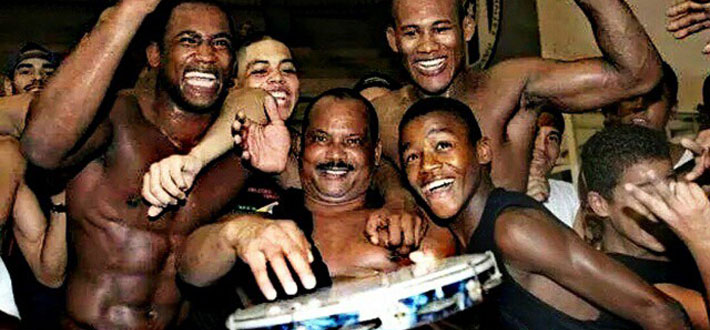 Celebrating tournament victory – photo above (left to right): Fernando Tererê, Galvão, Tio Barriga, Ronaldo Souza, Jackson Sousa.
Galvão's talent was as real as it gets, and shielded by a hard working mentality he quickly became the most feared colored belt athlete in the world. As a purple and brown belt Galvão went on to conquer double gold medals in both the IBJJF World Championship and the highly prestigious CBJJO World Cup (now extinct). Not only did he conquer these important achievements, but he did so by submitting all his opponents while being the very first purple belt in the history of the sport to win the Grand Slam (IBJJF World Championship, IBJJF Pan American Championship, and CBJJ Brazilian Nationals – Euros did not exist at the time).
Galvão's battles with his arch rivals of the time – Tarsis Humphreys and Ricardo Abreu captured the interest of grappling mainstream media, something only seldom achieved in the lower ranks of the sport at the time. Unfortunately when it got time to step up to the black belt division, Deco's mentor – Tererê was arrested while inside a US airplane. An episode that sent Fernando's life in a downward spiral from which he never fully recovered. Tererê's ordeal was felt by his many students, and the team would later be dismembered with André earning the BB rank from his old instructor Luis Dagmar.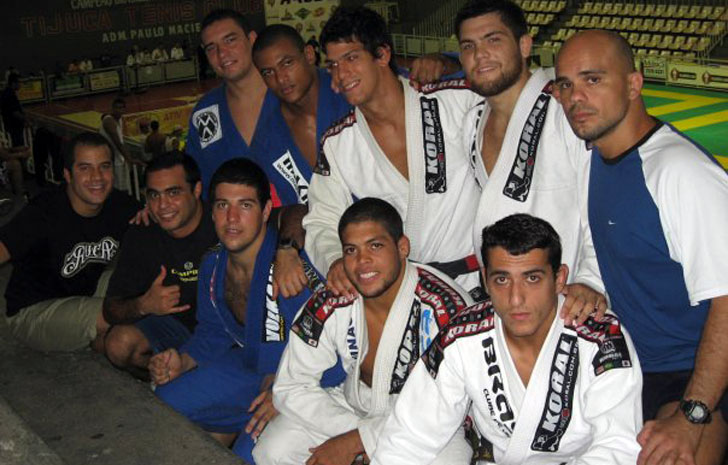 The Brasa Days – photo above (left to right):
Top – Rodrigo Comprido, Igor Silva, Guga Campos, Robert Drysdale, Leo Castello Branco
Bottom – Leozinho Vieira, Muzio de Angelis, Ricardo Pantcho, André Galvão, Felippe Linguiça (RIP).
The following years of Galvão's life were spent competing as a black belt for Brasa Clube de Jiu Jitsu, training in one of the rising academies at the time Andre added two more world titles to his resume as well as two silver medals before turning his sights on the more profitable mixed martial arts (MMA) market. 2008 was also the year when Galvão joined forces with Ramon Lemos to create the Atos Jiu Jitsu Academy, with the headquarters set in Rio Claro – Brazil.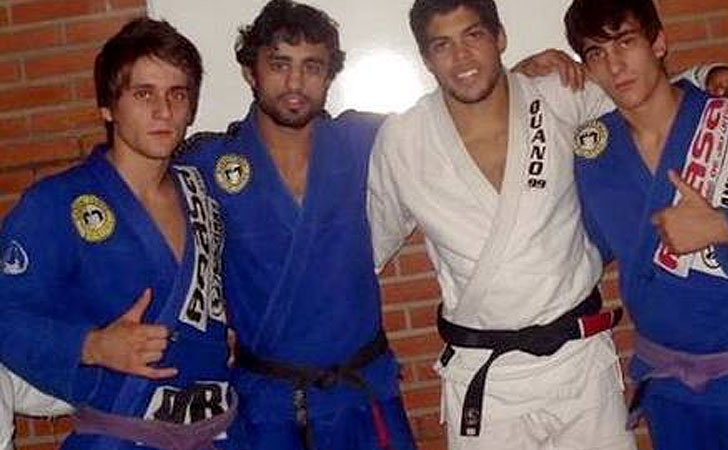 Raising Atos From the Ground Up in Rio Claro – photo above (left to right): Rafael Mendes, Ramon Lemos, André Galvão, Guilherme Mendes
Two highly productive years in MMA saw André being rumored for The Ultimate Fighter (TUF), but in 2010 he decided to return to his roots. Opening a jiu jitsu academy in San Diego and making his comeback to the gi following year.
2011 was indeed a historical year in the career of André, a year when he conquered the NYC Ultimate Absolute tournament, the IBJJF Pans as well as the ADCC in both his weight class and the open. The list of names Galvão defeated that year is enough to frame on a memory plaque if it was anyone else, for Andre this was just another year: Marcus Almeida, Claudio Calasans, Rousimar Palhares, Rustam Chsiev, Pablo Popovitch (2x), Antônio Braga Neto, the list goes on.
As the sport started gaining momentum in the US, so did André Galvão's Atos JJ Academy, which became the official team headquarters. From it, in 2017 the Galvão + AOJ coalition achieved the unthinkable, stopping the Alliance Jiu Jitsu Academy's victorious 9 year run at the IBJJF World Championship. In this tournament André competed alongside his students, conquering the last world title of his career (17 years after he won it for the first time [2005]).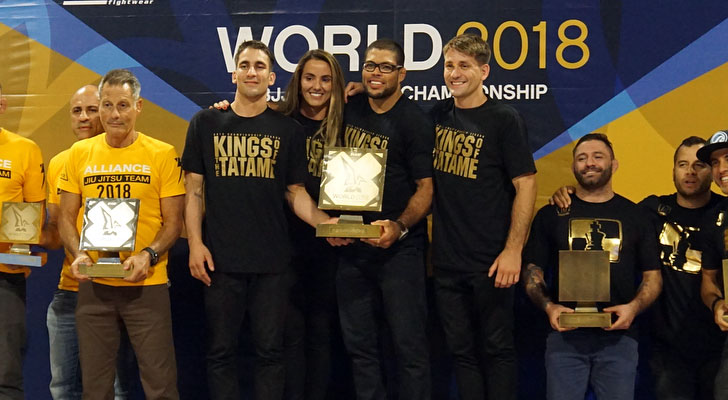 Atos JJ at the Top of the IBJJF World Championship 2018 Podium
It is fair to say that Atos is today the top jiu jitsu academy in the world, a rank that took Galvão and the rest of the team 10 years to achieve. The body of work brought forward by André Galvão is unrivalled. He has won every major jiu jitsu tournament repeatedly, conquered the most important tournament in submission grappling – the ADCC twice, winning 3 superfights while as a coach, Galvão took a small scale team to the top of the sport's ladder. All these will be listed in Galvão's legacy, something BJJ fans will be discussing many years from now, long after we leave this ground.