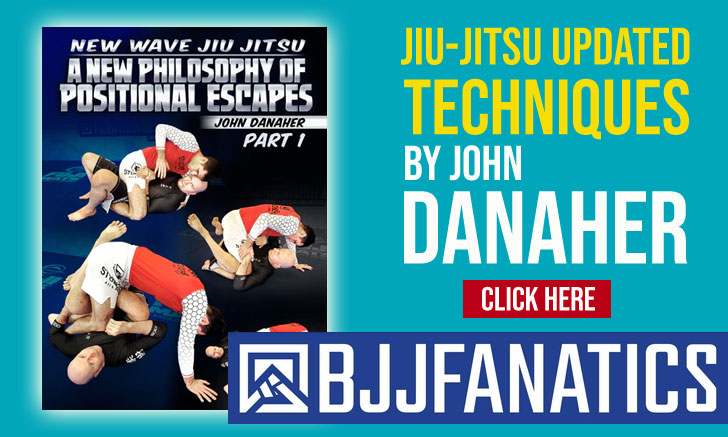 Over the past few years jiu jitsu has suffered an evolution, of sorts. Different submissions, cleaver guard games and passing styles being added to the sport as it grows into worldwide recognition. Some of these additions are continuously absorbed by jiu jitsu and grow roots in this combat style, others are brushed aside as superfluous novelties when applied at the highest level.
In this piece we crunch the numbers of the men's black belt division of the world jiu jitsu championship (2015) and try to decipher what is real and what is fable in BJJ's sporting environment, going through a few of the black belt divisions of the IBJJF World Championship.
Points & Submission Percentages at the World Championships
At the 2015 World Jiu Jitsu Championships, adult men's black belt division we had 61 submissions in a total of 145 matches. This equates to around a 42% submission rate. In 2014, the IBJJF "Mundial" produced 162 matches and 67 submissions (41%), which attests for some consistency in these numbers.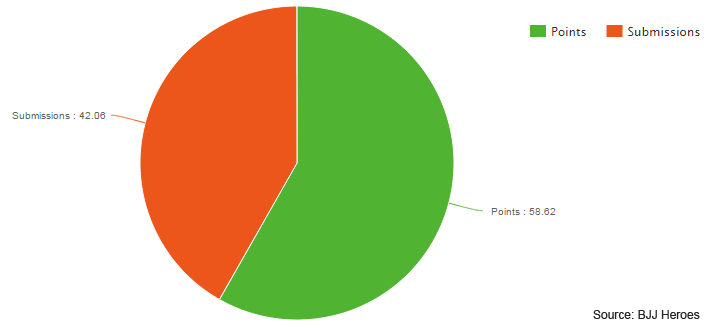 The debate between the submission only vs. point system in jiu jitsu is an old one, but since the appearance of Metamoris, Polaris and EBI, the voices of submission only advocates have been louder than ever. Does the point system slow the game?
When comparing these numbers with those of all Metamoris events combined (38 grappling matches recorded) we have 11 submissions – 34% submission rate, showing there seems to be an advantage towards the point system. These numbers are even lower when accounting for Metamoris gi matches, 19 in total with 5 submissions (26%). The submission rate of the World Championship gets closer to that of MM when we account solely for semi finals and finals, where the level is more reminiscent of a superfight format. In 26 matches (8 finals and 17 semis) we had 8 finishes (32%).
In combat sports it is often said that the lighter weights are more exciting. In jiu jitsu this doesn't seem to apply, as the division with most submission finishes is definitely the super heavyweight with 71%. The featherweights did have a very decent submission rate, largely due to Rafael Mendes and "Cobrinha" who submitted their way through to the final. The absolute division had 45% taps (11 submissions). As for the lowest submission rate in the tournament, we had the middleweights with 6 submissions in 21 matches (28.5%). The middleweight who broke the trend was Jaime Canuto, the most accurate middleweight finisher (100%), before being stopped by Otavio Sousa with the advantages game.
Favored Submissions at the World Championships
Another interesting piece of data worth analyzing is "which type of submissions are applied more often"?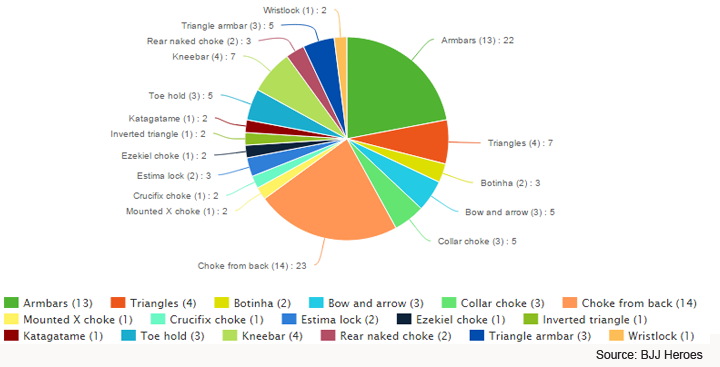 Following last year's trend, the fight for "supreme submission" fell between the armbar and the choke from the back (crossed collar grip) with the kneebar and the triangle in a distant third place. The straight triangle was less in use during 2015 when compared to years passed, which could be due to a more widespread use of the lapel game, a game that naturally focuses more on sweeps and back takes.
World Champions, Who Submits the Most?
Which champion had a better submission rate? Well, it is fantastic to see that Bernardo Faria followed the trends left by his open weight champion predecessors (Roger Gracie, Rodolfo Vieira and Marcus Almeida), imposing the most accurate killer instinct of all champs across the board. Not one to hold on to a points lead in any match, Bernardo Faria only failed to submit João Gabriel Rocha in the final of his weight division (super heavy).
Below is an account of each of this years men's jiu jitsu champions' submission rates. (due to incomplete data on women's divisions we could not assess the female world champions).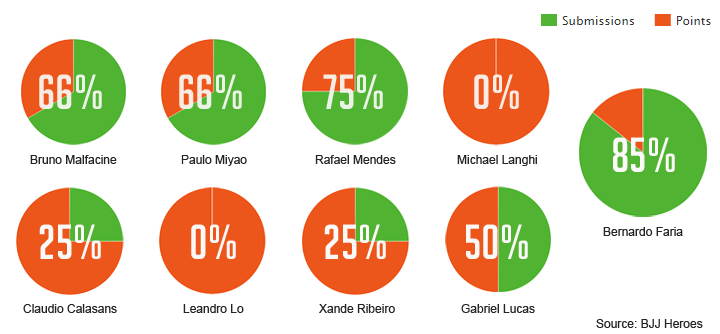 BJJ Stats: Women vs Men
Jiu jitsu has graced us with an environment that allows for some of the best matches we could watch regardless of gender. Women in these past few years have been praised by their aggressive style of grappling, a style that has ridden off the backs of champions such as Michelle Nicolini, Mackenzie Dern, Gezary Matuda and many others. But do women submit more often than men?
Unfortunately, due to a technical issue with the broadcast, we missed out on a few of the early matches in the female featherweight division. But seeing that all the others have been accounted for, the data showed that in 42 female matches, 17 were submissions. A 40% submission rate, very close to that of the men.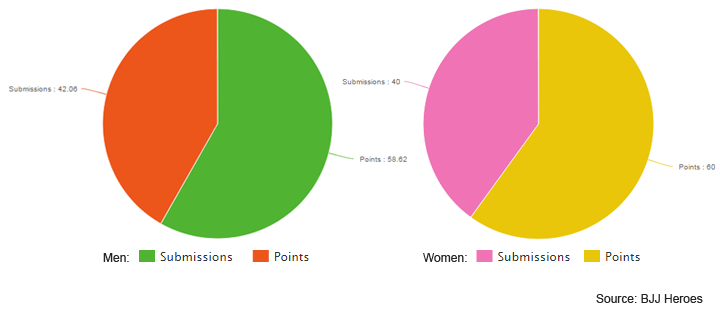 Jiu Jitsu is an unpredictable sport, this was clearly on display this year with so many mishaps and surprises. But the numbers have remained somewhat consistent for the past few years, which indicate a clear window into what we should expect for the future of this martial art.