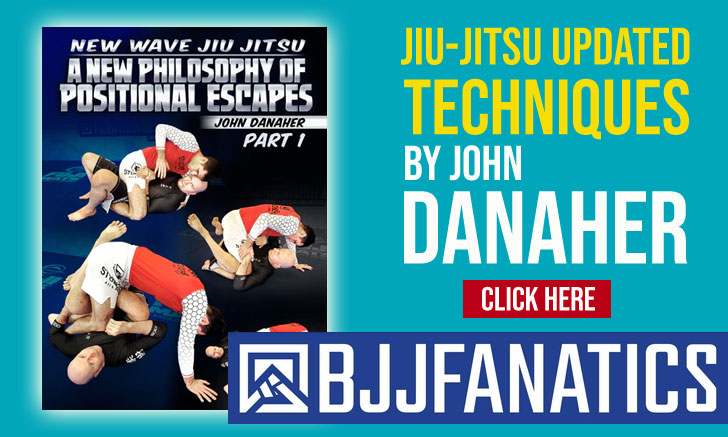 As 2016 advances towards the finish line, so does this year's sport jiu jitsu season. From this year's grappling roller coaster we have seen an unprecedented expansion in our sport, with the growth of the submission only movement as well as the rapid evolution of the female division – heavily supported by the rise of Talita Alencar, Nathiely de Jesus, Tayane Porfirio and a few other incredibly talented individuals.
Another division that was in need of new blood was the featherweight division, a weight class heavily dominated by Rubens Charles and Rafael Mendes over the past 10 years. In late 2014 we witnessed the arrival of the highly promising Márcio André of Nova União (Bangú) with anticipation, though a serious injury in early 2015 would rule him out for most of that year.
This year the young pupil of Master Fábio Andrade returned to the sport and did so with a bang, running through the majority of tournaments he dedicated himself to with a flashy and forward moving jiu jitsu style reminiscent of a lighter Leandro Lo. Cat like reflexes, incredible balance and flawless timing have been characteristics that Márcio had accustomed us to over the years, in the colored belt divisions, these same weapons he used this year to cement his status as the future of the 70 kilogram division, through victories such as the one last weekend at the World No-Gi Championship.
Unparalleled work rate, and willingness to take the lead are other strong characteristics of André. This is translated in 19 matches observed (out of the 23 he played this year), where Márcio got two takedowns (both foot sweeps – Okuri Ashi-Harai and Kouchi Gari) while being involved in 7 double guard pulls, coming up to pass 5x within the first 5 seconds of the pull. But lets analyse his work rate in detail:
WORK RATE
The pace set by Márcio André is unrivalled in the featherweight division. In those 19 matches observed his offence led to these incredible numbers: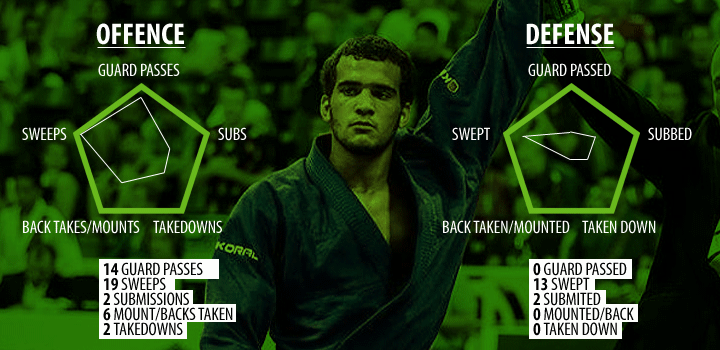 His willingness to test his opponent's guards and put himself in range to pass (and to be swept) have led to an incredible 159 points across all matches, an average of 8.5 points per match, without having ever had his guard passed, his back/mount taken or conceded a takedown.
This offensive output has also led his only two submission losses at black belt. One while trying to pass the guard of Osvaldo Moizinho and another against the much larger Erberth Santos while attempting to pass Santos' dangerous 50/50 guard.
THE GUARD
50-50 has been a common Modus Operandi used by his opponents to slow André's movement down, having in return helped improve Márcio's own guard and becoming a dangerous weapon in his sweeping arsenal – used it successfully on 7 occasions to get the precious 'two' over the past year: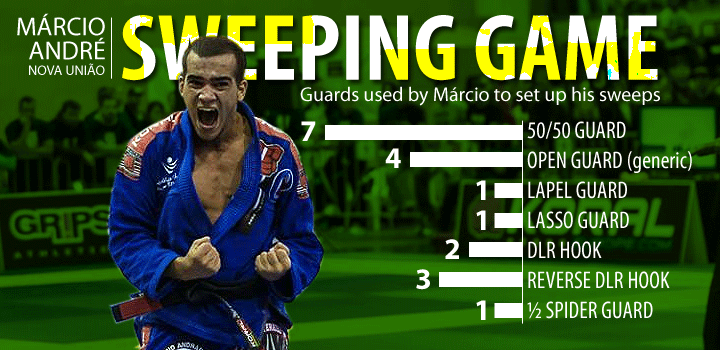 His guard sweeping footprint is a perfect example of a modern day jiu jitsu guard player – a wide array of open guard structures at his disposal, which he used to sweep 19 times in 19 matches. André is not seen often in more traditional guards such as the half-guard or the closed guard and instead opts to play on the outside, keeping his shoulders and head in the safety zone.
PLAYING FROM THE TOP
Arguably the ace up Márcio's sleeve has been in his guard passing skills. Where most lighter weight competitors focus on playing from the guard and sticking to the sweeping or back taking game, André opts for a more traditional approach. He spends most of his time trying to pass those 'unpassable' featherweight guards, something he has done successfully 14 times in 19 matches, the best guard passing record in the division at the highest level.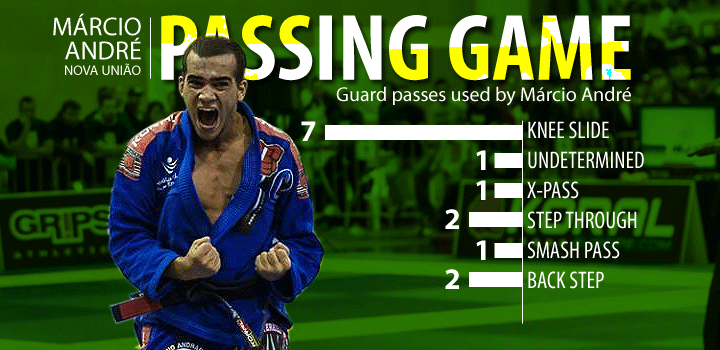 Having passed the incredible guards of Osvaldo Moizinho, Bruno Frazatto and Rubens Charles is enough to place André in the history books of our sport – particularly 'Cobrinha' whose guard had never been passed at black belt, but we trust Márcio will have plenty more high points collected before his career is over.
This Nova União standout also uses his passing to push for submissions, with all his submissions and almost 90% of his submission attempts coming from the top, be it side control or knee on belly. He also pushes for the mount more often than the majority of featherweight contenders, who give preference to the back.
An unusual athlete who is set to break the positional trends of our sport and a real challenger to the pole position of the featherweights next year at the World Championships.