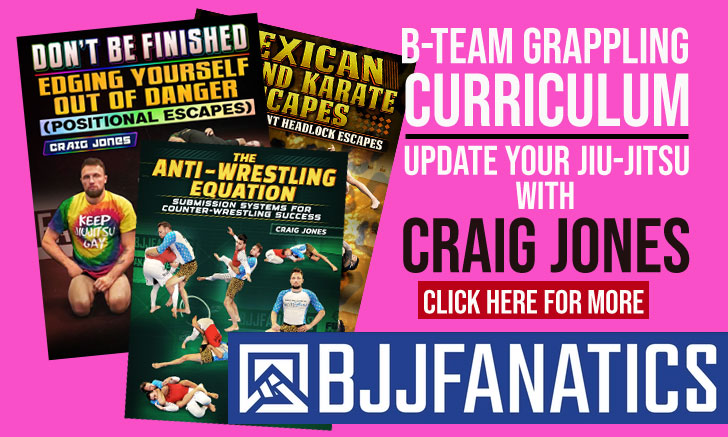 The Caio Terra Foot-Lock, also known as the De La Riva Ankle Lock, is a submission hold that works by utilizing the famous De La Riva hook as a way to isolate the foot joint, then applying pressure to the foot by using similar grips to those of a straight ankle-lock. The position was named after the man who developed this submission: Caio Terra, a Brazilian jiu jitsu world champion who applied this position numerous times in grappling matches throughout his competitive career.
Caio Terra Footlock
Although the position gained notoriety after Terra's 15 second win over the highly accomplished Fabbio Passos at the final of the 2012 American Nationals (absolute division), Caio had been applying the submission since late 2009/ early 2010.
During the 2007/2008 era, a few of the rising stars of jiu jitsu started effectively using an early version of the berimbolo from the double guard pull, a back attack that is today instantly associated with the De La Riva Guard (DLR). During that period athletes such as Michel Langhi (Michael's younger brother), Rafa and Guilherme Mendes as well as Ary Farias, were terrorising the lower belt divisions with this double guard pull to the back maneuver.
Faced with the complicated puzzle of "double guard pulling", and considering the lack of options from that circumstance, Caio Terra adopted this position. He also saw the potential to use it from from the DLR  instead of the double guard. It was toying with the idea of forcing a standing opponent to sit, by using a De La Riva Hook that led Caio to the footlock:
"I liked this position [E.N.: double guard pull to berimbolo] and even tried to apply it in the final of the World Championship in 2009 against Malfacine (…) Can't remember exactly but it was between the end of 2007 and 2009 that I created this position here in the US. It started with me brainstorming to push my opponents to the mat and avoid them standing back up. Eventually I started tapping people with this and stopped using the berimbolo from there, even because the grip holds be down too much for me to berimbolo. Instead I went on to create several other positions from that foot control, including a triangle, which I applied to Malfacine in  2013, if memory serves me right". – Caio Terra for BJJ Heroes in 2016
After developing this in 07/09, Caio slowly started introducing it in competitions around the globe, his success made this footlock a part of modern day jiu jitsu with several up and coming athletes, particularly in the lower weight classes, adding this creative position to their games.
Recommended Caio Terra Footlock Media Resources
Videos of the Caio Terra Footlock
Caio Terra vs Fabbio Passos 2012 American Nationals

Caio Terra vs Max Carvalho 2013 European Open No-Gi

Caio Terra vs Jordy Peute 2013 European Open No-Gi

Caio Terra vs Fabbio Passos 2012 American Nationals
Caio Terra vs Max Carvalho 2015 British National

Unknown

Unknown