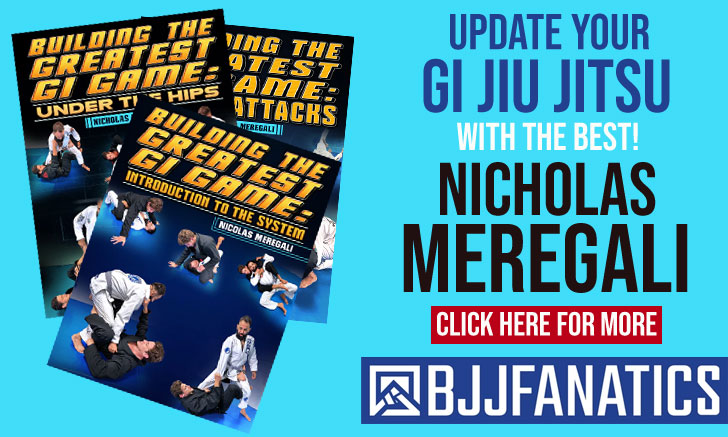 The "Jiu Jitsu Dirty Dozen" is a name often used to describe the pioneers of the Brazilian grappling style outside its country of origin. There has been plenty of speculation regarding the famous first 12 grapplers to reach the rank of black belt. With speculation there is also plenty of misinformation. It was the latter that led us to put this article together.
The names put forward in this article have been compiled through research as well as by contacting the students and the coaches (BJJ pilgrims) involved in raising awareness to jiu-jitsu outside Brazil in the early and mid-1990s. If you wish to see the female version of the Dirty Dozen, please follow this link.
NOTE: We often receive emails and messages debating the pioneers published here. These were posted here through research as one may attest by the sources we've disclosed here. If you have reason to believe any of it to be mistaken, you will need to present facts or sources which we can investigate independently. Otherwise, your messages/emails/comments will remain unanswered.
Brazilian Jiu Jitsu's Dirty Dozen
12 RICK MINTER  JOHN WILL (AMENDED)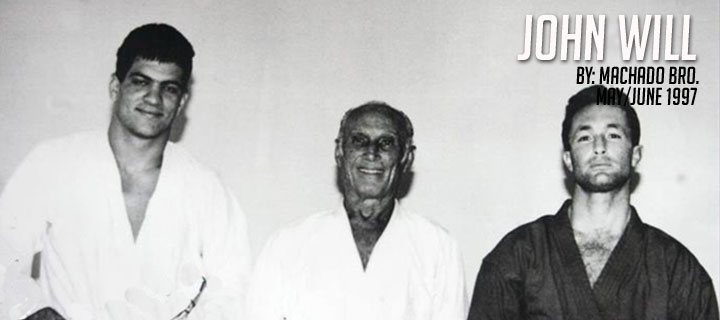 Promoted in: mid-1997 (source – Rigan Machado)
Promoted by: Machado Brothers
E.N: In 2010 BJJ Heroes interviewed John Will, then setting the date of his promotion somewhere in 1998. For that reason, and since both Rick Minter and  Chris Saunders had earned their black belt in the second semester of 97, we disregarded Will from the "race". Since launching this piece, however, Rigan Machado has stepped forward and mentioned that the 1998 date had been incorrect as in fact John Will had earned his rank a couple of months before Minter, around August 1997, making him the #12 of the Dirty Dozen.
John Will is a pioneer for jiu-jitsu in the Australasian continent, having produced several talented grapplers and mixed martial arts (MMA) fighters such as George Sotiropoulos, Elvis Sinosic and Anthony Perosh. John B. Will has a wealth of knowledge in a variety of MA's, from taekwondo to silat, having also been the founder and editor of "Blitz", an important magazine fully dedicated to martial arts during the 1980s.
11, 10 AND 9 RICK WILLIAMS, CHRIS HAUETER + DAVID MEYER
Promoted on: December 1996 (source – Chris Hauater)
Promoted by: Rigan Machado
All three Americans were graded on the same December day by Rigan Machado, in a ceremony where Brazilians Renato Magno and Fernando Vasconcelos were also promoted to black belt.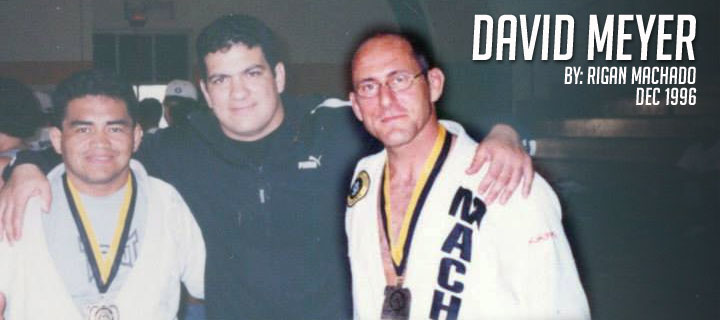 DAVID MEYER arrived at the Machado school already a black belt in Japanese jiu-jitsu, quickly adapting and becoming a strong competitor in the BJJ scene, reaching an honorable 3rd place at the World Jiu-Jitsu Championship, adult black belt open weight division (1998). Meyer is still active as a senior (Masters) competitor, having conquered a Pan American title (2011) and a Master & Senior World silver medal (2012) in the division.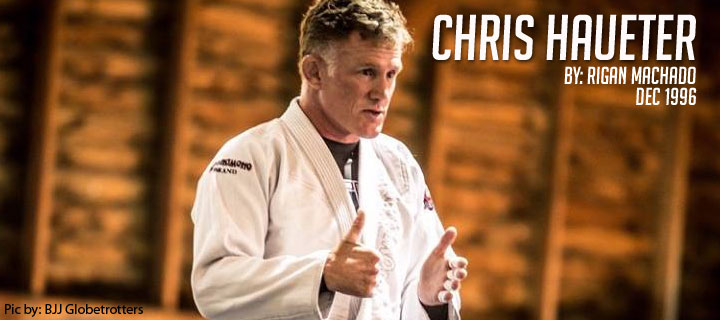 CHRIS HAUETER was also an avid competitor in the '90s and throughout the 2000s, having also established the prestigious Combat Base Academy, while being revered by many as the father of the jiu-jitsu gauntlet. In the last few years, Haueter became known by the mainstream audience of the sport for his work as a referee for the popular grappling promotion Metamoris.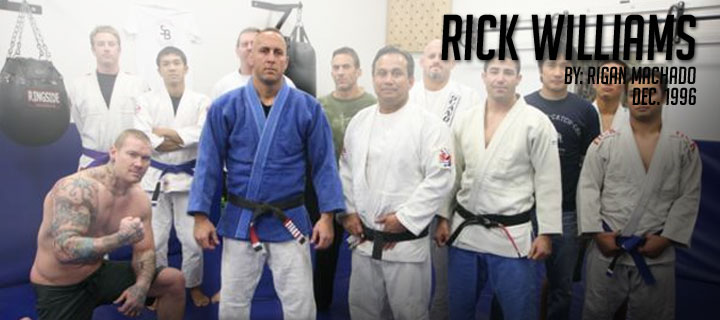 RICK WILLIAMS was another "monster" forged inside the Machado Academy in the mid '90s. A former wrestler, Rick won the Pan American Jiu-Jitsu Championship in 1996 (adult brown belt), going on to work with his fellow Rigan Machado black belt Bob Bass, at the South Bay Academy for many years.
8 BOB BASS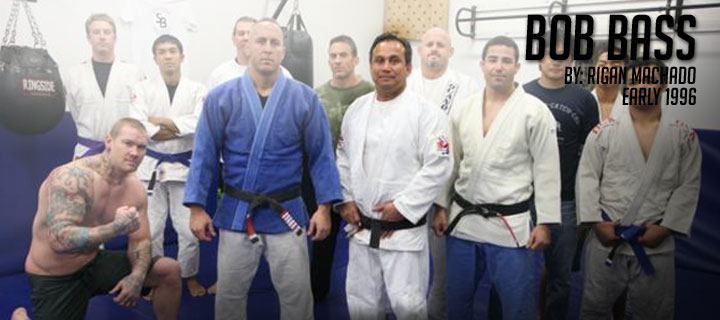 Promoted on: early/mid-1996
Promoted by: Rigan Machado
One of the best grapplers of his generation, Bob Bass did the unthinkable at the 1995 Pan American Championship (the 1st official Brazilian Jiu-Jitsu Pan Am tournament), defeating the jiu-jitsu prodigy Márcio Feitosa of Gracie Barra at the brown belt division. Bass had many great results as a competitor, later founding the South Bay Jiu-Jitsu Academy.
7, 6, 5 MARC BAQUERIZO, JAMES BORAN & RICK LUCERO
Promoted on: Jan 1996 (source – Joe Moreira)
Promoted by: Joe Moreira
The first three Americans to be promoted to black belt by Joe Moreira were Marc Baquerizo, James Boran, and Rick Lucero. All of whom (we are told) are still involved with jiu-jitsu to this day.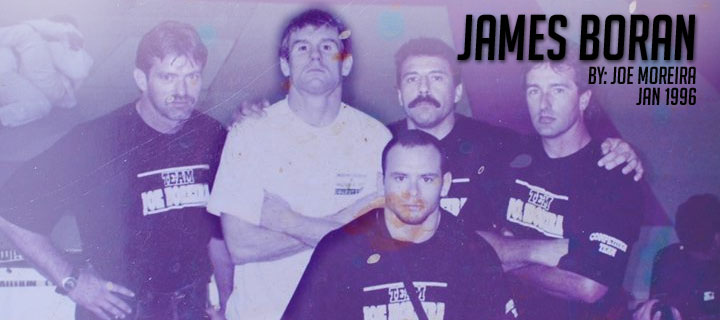 JAMES BORAN is a well-respected member of the grappling community, with an athletic background as a football linebacker in the Ivy League for Columbia University, who signed with the New York Jets in 1979. Boran is also a black belt in taekwondo and trained with the Gracie family in Torrance before joining Moreira's school. In 2006 Boran won double gold at the Pan American Championship in the senior division.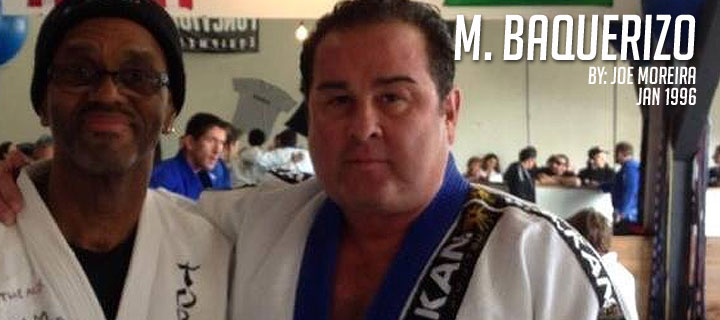 MARC BAQUERIZO Not much is known of Baquerizo, just that he has achieved the rank also in judo and hapkido.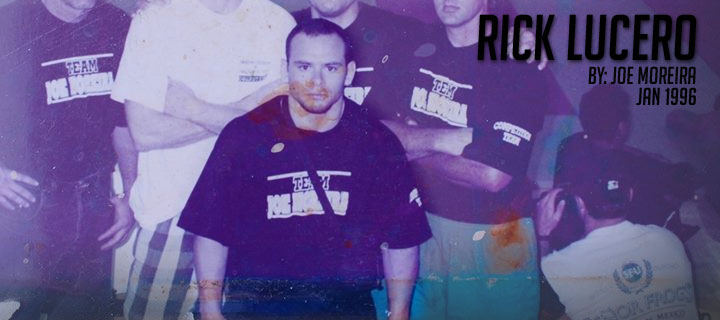 RICK LUCERO is another jiu jitsu pioneer to come from a wrestling background. Not much is known from Lucero, though he is still active as a coach in California.
4 KEN GABRIELSON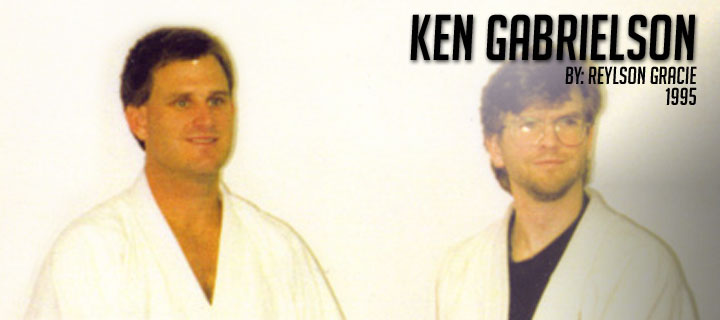 Promoted in: 1995 (source Reylson Gracie)
Promoted by: Reylson Gracie
Gabrielson is often mentioned as the 2nd man to achieve the rank of black belt as early as 1992, and according to the historical pictures on Robert Leruyet's website (here), Gabrielson seems to be wearing a black belt in 1993. Be that as it may, when researching for this piece we got a hold of his former instructor – Reylson Gracie, who guaranteed Ken's promotion had occurred in 1995 (though he could not ascertain which month). Reylson did move to the US in 1991, so considering the time frame necessary to reach the black belt level, it would be hard to think of any time earlier than 95.
3. JOHN LEWIS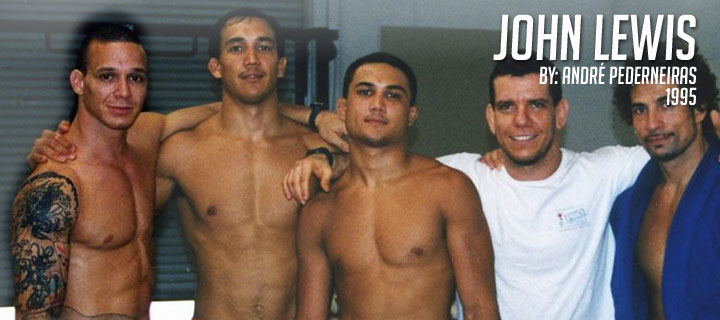 Promoted in: 1995 (source John Lewis)
Promoted by: André Pederneiras
John Lewis arrived in jiu jitsu already as a black belt in judo under the legendary Gene LeBell. Rickson Gracie was his first coach, awarding Lewis his blue belt. Lewis left the Gracie and spent some time with the Machado brothers before settling at André Pederneiras' Nova Uniao. Lewis is also one of the very rare cases of athletes who went from blue to black belt in one single promotion. He was also the founder of the world-famous J-Sect and helped promote jiu-jitsu for many years, both as a cage fighter and as a coach to legends such as Chuck Liddell, Randy Couture, Egan Inoue, Enson Inoue, Ricco Rodriguez, BJ Penn, Marc Laimon, Gazzy Parman Robert Drysdale and many others.
2. DAVID KAMA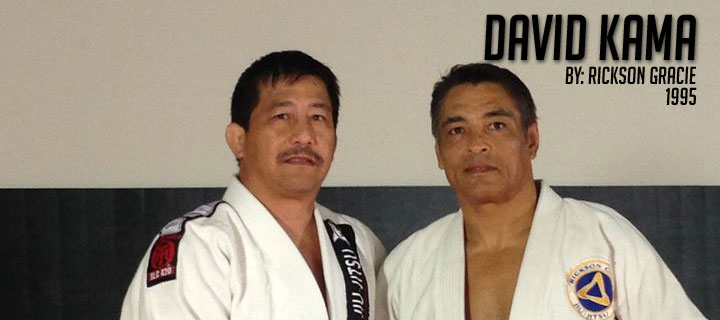 Promoted in: 1995 (source – Tony Pacenski)
Promoted by: Rickson Gracie
Dave Kama started training jiu-jitsu in the 1980s, becoming the first American to receive a black belt under Rickson Gracie. Kama ran one of his Master's affiliate academies for many years before opening his own endeavor: "Kama Jiu Jitsu", which is still going strong in California (Laguna Niguel and Tustin) as well as Texas (Dallas).
EDITOR's NOTE: Regarding #4, 3 and 2, we could not get accurate dates for when the promotion ceremony of each athlete occurred. As such we cannot guarantee the chronological display to be 100% accurate in between each other.
1. CRAIG KUKUK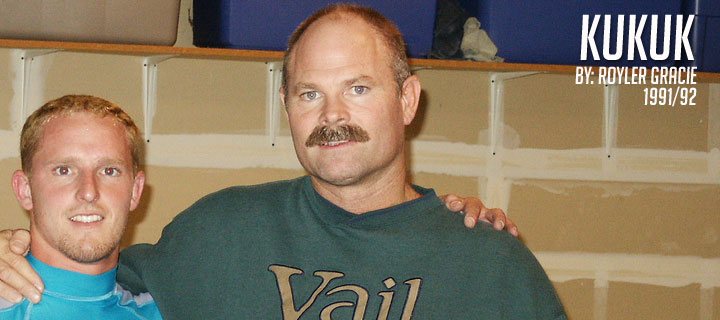 Promoted in: 1991/2
Promoted by: Royler Gracie
A historic figure for jiu-jitsu in America's East Coast, Craig Kukuk was the first instructor to open an academy in New Jersey (Red Bank). Although his grappling ability is highly praised by many who had a chance to meet Kukuk, he has maintained a low profile in the community throughout his career.
It is unclear exactly when Craig Kukuk received his black belt from Royler Gracie (while training at Gracie Humaita in Rio de Janeiro), but it is believed the promotion occurred somewhere between 1991 and 1992, according to Steve Maxwell who attended the ceremony.
Other athletes often mentioned as being part of the Dirty Dozen are: Chris Saunders (December 1997), Roy Harris (1998), Rick Minter (late 1997)