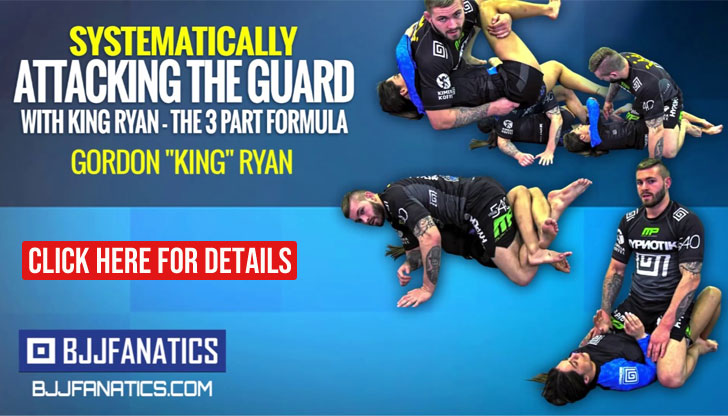 Andris Brunovskis is a Brazilian jiu jitsu black belt, a degree earned under the tutelage of André Galvão. Known for his creative and exciting open guard game, Brunovskis established his submission artist reputation in the colored belt divisions of the sport, a reputation he carried with him to black belt. In 2014 Brunovskis became an overnight internet sensation after the video of his 'colorful' submission of Christopher Broudnax at the World No-Gi Championship semifinal (2010) went viral. In the footage, Andris scoots on his back while playing inverted guard this peculiar move was caught by some of MMA's mainstream media (below) which boosted the video's views.
Andris Brunovskis Jiu Jitsu
Full Name: Andris Auseklis Brunovskis
Nickname: N/A
Lineage: M. Maeda > Carlos Gracie > Rey. Gracie > Osv. Alves > Luis Dagmar > André Galvão > Andris Brunovskis
Main Achievements:
IBJJF World Champion (2010 purple, 2008 blue)
IBJJF Pan American Champion (2014 brown)
IBJJF/JBJJF Asian Open Champion (2017/2015)
IBJJF Pan Pacific Champion (2017)
IBJJF San Diego Open Champion (2017)
IBJJF Las Vegas Open Champion (2017/2016)
IBJJF American Nationals 2nd Place (2014)
IBJJF World No-Gi Championship 2nd Place (2010 purple, 2008 blue)
IBJJF European Open Championship 3rd Place (2019/2017)
Favorite Position/Technique: Open Guard & Omoplata
Weight Division: Peso Leve (76,00 kg/168.0 lbs)
Team/Association: Atos Jiu-Jitsu
Andris Brunovskis Biography
Andris Brunovskis was born on the 8th of August, 1990. Though both of Andris' parents are Latvian, Brunovskis was born in the United States.
Jiu jitsu appeared in Brunovskis' life when he was 16 years old while living in Cleveland, Ohio. His first coach was Darren Branch at Evolution Jiu Jitsu, which later became an affiliate of Gracie Humaitá. Andris became fascinated by grappling even at an early age, and the sport was an important part of his life almost from the get-go.
After he moved to Sacramento, Brunovskis continued his training at Cassio Werneck's academy. A former world champion, Werneck's experience helped Andris earn his first world title, as a blue belt (2008). It was during his time in Sacramento that Brunovskis met Keenan Cornelius and the two became good friends.
Andris often traveled from Cleveland to Sacramento to visit his family, dividing his training between Branch and Werneck. While competing in Ohio, Brunovskis was scouted by Lloyd Irvin who saw the talent in Brunovskis. Lloyd offered Andris the chance to train full time for his team, with all expenses paid for, a chance immediately accepted by the young athlete. Brunovskis would later be the main reason why Keenan Cornelius decided to join Irvin's Maryland  based team.
Living in a "fighter house" with fellow teammates who ate and drank jiu jitsu 24/7, Andris went through a great competitive period, but as the Team Lloyd Irvin scandal broke out early in 2013, involving the alleged rape of a fellow student and the somber past of the team's leader, the competition group split and the majority of the team (specially those who had been scouted from other teams) left TLI, this included Brunovskis.
The split from Lloyd Irvin's team left Andris in a precarious situation. With no financial means to train full time, and no fixed team, Brunovskis had to take one step back in order to re-group. He returned to his grappling career in 2014 with the Atos Jiu Jitsu academy, where he met many of his former team mates. On September 2014 Andris Brunovskis was awarded his black belt by his new instructor, André Galvão.
Banner picture taken by Kenny Jewel of GrappleTv
Andris Brunovskis Grappling Record
39 WINS
BY POINTS


BY ADVANTAGES




BY SUBMISSION




BY DECISION




BY PENALTIES




BY DQ



23 SUBMISSIONS WINS
#5AD3D1
Bow and arrow
9
2
#fad11b
Triangle armbar
9
2
#bf1f6c
Reverse omoplata
4
1
#22c9a5
Choke from back
4
1
13 LOSSES
BY POINTS


BY ADVANTAGES




BY SUBMISSION




BY DECISION




BY PENALTIES




BY DQ



2 SUBMISSIONS LOSSES
#214eb8
Choke from back
50
1
Andris Brunovskis Fight History
ID
Opponent
W/L
Method
Competition
Weight
Stage
Year
5945

Osvaldo Moizinho

Osvaldo Moizinho
L
DQ
American Nat.
76KG
F
2014
7439

Gabriel Rollo

Gabriel Rollo
L
Choke from back
World Champ.
76KG
8F
2015
9274

Gabriel Rollo

Gabriel Rollo
L
Pts: 4x4, Adv
Pan American
76KG
4F
2016
11576

Marcio Andre

Marcio Andre
L
Triangle
European Open
76KG
SF
2017
12171

Marcio Andre

Marcio Andre
L
Pts: 7x2
Pan American
76KG
4F
2017
13108

Joao Alves

L
Pts: 2x0
World Champ.
76KG
R1
2017
13808

Yan Lucas

Yan Lucas
L
Referee Decision
Grand Slam LA
77KG
4F
2017
15401

Breno Bittencourt

Breno Bittencourt
L
Pts: 6x4
Pan American
76KG
4F
2018
18178

Victor Silverio

Victor Silverio
L
Points
Long Beach Open
82KG
F
2018
18915

Isaque Bahiense

Isaque Bahiense
L
Pts: 4x2
European Open
82KG
SF
2019
19384

Otavio Sousa

Otavio Sousa
L
Pts: 6x6, Adv
LA BJJ Pro
82KG
SF
2019
19612

Lucas Rocha

Lucas Rocha
L
Pts: 4x2
Pan American
82KG
R1
2019
23850

Richar Nogueira

Richar Nogueira
L
Referee Decision
F2W 148
72KG
SPF
2020
5942

Jimmy Tat

W
Points
American Nat.
76KG
4F
2014
5943

Rodrigo Freitas

Rodrigo Freitas
W
Omoplata
American Nat.
76KG
SF
2014
6220

Wellington Dias

Wellington Dias
W
Omoplata
Long Beach Open
76KG
F
2014
6801

Jonatas Gurgel

Jonatas Gurgel
W
Adv
Pan American
76KG
R1
2015
6809

Juan Kamezawa

Juan Kamezawa
W
Pts: 4x4, Adv
Pan American
76KG
R2
2015
6812

Thiago Abreu

Thiago Abreu
W
Pts: 0x0, Adv
Pan American
76KG
4F
2015
7340

Thimothy Lee

W
Points
Las Vegas Open
76KG
4F
2015
7341

Della Monica

W
Adv
Las Vegas Open
76KG
SF
2015
7342

Omar French

W
Bow and arrow
Las Vegas Open
76KG
F
2015
7433

Rafael Henrique

W
Kneebar
World Champ.
76KG
R1
2015
7560

Josh Whincey

W
Omoplata
Sub Series Pro
ABS
SPF
2015
8046

Bruno Amorim

Bruno Amorim
W
Omoplata
Asian Open
82KG
4F
2015
8047

Hansel ko

W
Kneebar
Asian Open
82KG
SF
2015
8048

Rodrigo Caporal

Rodrigo Caporal
W
Pts: 8x4
Asian Open
82KG
F
2015
9269

Matias Simonelli

W
Pts: 16x4
Pan American
76KG
8F
2016
11181

Johannes Anderson

W
Submission
Swedish Open
76KG
SF
2016
11182

Paulo Peixoto

W
Points
Swedish Open
76KG
F
2016
11564

Edipo Monteiro

W
DQ
European Open
76KG
8F
2017
11572

Ilke Bulut

Ilke Bulut
W
Cross choke
European Open
76KG
4F
2017
12151

Jan Buatim

Jan Buatim
W
Bow and arrow
Pan American
76KG
R1
2017
12164

Kevin Mahecha

Kevin Mahecha
W
Armbar
Pan American
76KG
8F
2017
12574

Miles Ivankovic

W
Omoplata
Pan Pacific
76KG
SF
2017
12575

Jeremy Umphries

W
Omoplata
Pan Pacific
76KG
F
2017
12692

John Combs

John Combs
W
Kneebar
F2W 31
82KG
SPF
2017
12860

Ross Keeping

W
Omoplata
Las Vegas Open
82KG
4F
2017
12861

Bill Cooper

Bill Cooper
W
Pts: 8x6
Las Vegas Open
82KG
SF
2017
12863

Diego Ramalho

Diego Ramalho
W
Baratoplata
Las Vegas Open
82KG
F
2017
12955

Yago Espindola

W
Omoplata
San Diego Open
82KG
4F
2017
12958

Nathan Mendelsohn

Nathan Mendelsohn
W
Referee Decision
San Diego Open
82KG
SF
2017
12960

Magid Hage

W
Pts: 2x0
San Diego Open
82KG
F
2017
13686

Jin Ishimura

W
Triangle armbar
Asian Open
76KG
4F
2017
13688

Tano Odilio

W
Pts: 6x0
Asian Open
76KG
SF
2017
13690

Masahiro Iwasaki

Masahiro Iwasaki
W
Omoplata
Asian Open
76KG
F
2017
15397

Douglas Kallin

W
Triangle armbar
Pan American
76KG
8F
2018
18176

Hunter Ewald

Hunter Ewald
W
Reverse omoplata
Long Beach Open
82KG
SF
2018
18906

Thomas Mietz

W
Pts: 9x2
European Open
82KG
R1
2019
18911

Darragh OConaill

Darragh OConaill
W
N/A
European Open
82KG
4F
2019
19343

Chad Shaule

W
Submission
Portland Open
82KG
SF
2019
19345

Breno Bittencourt

Breno Bittencourt
W
Choke from back
Portland Open
82KG
F
2019

Andris Brunovskis vs Christopher Broudnax

Andris Brunovskis vs Wellington Dias