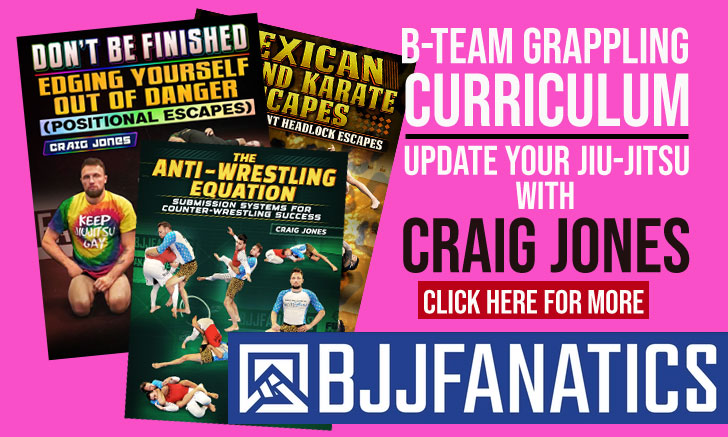 One of the top Brazilian Jiu Jitsu competitors of an exciting new generation of featherweight fighters to have appeared in BJJ post 2010, Victor Genovesi is also the son of marathon runner Dani Figueiredo and her husband (one of the top BJJ coaches in the world) Alexandre Paiva who has coached many great fighters such as: Tererê and Leo Leite, with whom Victor has trained since his teenage years.
Victor Genovesi Jiu Jitsu
Full Name: Victor Figueiredo Genovesi
Nickname: Vitinho, which is a friendly way of saying Victor.
Lineage: Mitsuyo Maeda > Carlos Gracie > Helio Gracie > Rolls Gracie > Romero Cavalcanti > Alexandre Paiva > Victor Genovesi
Main Achievements:
IBJJF London Open Champion (2015)
IBJJF São Paulo Open Champion (2016)
CBJJ Brasileiro No Gi Championship 3rd Place (2013)
IBJJF Pans Championship 3rd Place (2017)
Main Achievements (Colored Belts):
IBJJF World Champion (2012 brown)
IBJJF Brasileiro Champion (2013 brown)
CBJJ Brasileiro No Gi Champion (2010 purple)
IBJJF European Open Champion (2011 brown)
CBJJ Brasileiro No Gi Championship 3rd Place (2012 brown)
CBJJ Brasileiro Championship 3rd Place (2009 blue)
IBJJF Rio Open Championship 3rd Place (2011 brown)
IBJJF European Open Championship 3rd Place (2012 brown)
Favorite Technique: Guard Passing
Weight Division: Peso Pena (70kg/141lbs)
Team/Association: Alliance,
Victor Genovesi Biography
Victor Genovesi was born on the 11th of March, 1991 in Rio de Janeiro, Brazil. Victor started training Jiu Jitsu very early in his life, at the age of 3 in the famous Strike academy, being taught by Muzio de Angelis. His instruction also went through Alexandre Puga, one of the coaches at the Alliance academy in Zona Sul.
Victor was very young at the time and unsure of which sport he wanted to follow, he decided to quit Jiu Jitsu at the age of 8 to give Judo a try. Genovesi practiced Judo for 2 years before he had to stop due to an illness, a problem that has haunted Victor since birth, a disease in the stomach which has led to several surgeries (at 10 months of age, 3 years of age, 10 and 13 years of age).
When he recovered from the surgery he came back to Jiu Jitsu and Alexandre Puga's class before being handed in the capable instruction of his father, the former world champion Alexandre Paiva, at the age of 14. Apart from his father and Alexandre Puga, Fernando Tererê was also an important figure to Vitinho Genovesi's maturing as a person and a competitor. Tererê lived with the Genovesi's for a long period and was one of Alexandre Paiva's top students, being an inspiring figure to the young Victor on and off the mats.
Victor has been unlucky with his health throughout his Jiu Jitsu career, and at the age of 18 he had another big injury to the wrist which kept him away from BJJ competition for over a year. In 2011 Victor Genovesi made his come back to Jiu Jitsu competition after his year off due to wrist surgery. Still bothered by his wrist and with returning stomach problems, Genovesi had to be hospitalized the week previous to the World Championship. Though he was asked not to compete, he managed to convince his father to put him on the B team of Alliance for the "Mundial" so he wouldn't damage the team's hopes to medal and score points in the most important tournament of the year. Even fighting with a diminished health, Victor managed to win all his fights, reaching the quarter finals where he conceded passage to Pedro Torres, the competitor of Alliance's A team.
In 2012 came the brown belt, and a good year competition wise which led to his black belt being awarded on the 22nd of August 2013.
Victor Genovesi Grappling Record
29 WINS
BY POINTS


BY ADVANTAGES




BY SUBMISSION




BY DECISION




BY PENALTIES




BY DQ



19 SUBMISSIONS WINS
#86e620
Choke from back
26
5
12 LOSSES
BY POINTS


BY ADVANTAGES




BY SUBMISSION




BY DECISION




BY PENALTIES




BY DQ



3 SUBMISSIONS LOSSES
Victor Genovesi Fight History
ID
Opponent
W/L
Method
Competition
Weight
Stage
Year
7426

Osvaldo Moizinho

Osvaldo Moizinho
L
Pts: 4x2
World Champ.
70KG
8F
2015
8935

Michael Liera

Michael Liera
L
Triangle
European Open
76KG
4F
2016
9735

Isaque Paiva

Isaque Paiva
L
Choke
Brasileiro
70KG
4F
2016
9895

Jurandir Conceicao

Jurandir Conceicao
L
Pts: 2x2, Adv
Miami SPO
R1
4F
2016
10243

Isaque Paiva

Isaque Paiva
L
Pts: 2x0
Rio Winter Open
70KG
F
2016
18483

Yuri Abreu

L
N/A
Brasilia Open
76KG
SF
2018
19275

Guilherme Rocha

Guilherme Rocha
L
Pts: 2x2, Adv
London WO
76KG
SF
2019
19282

Guilherme Rocha

Guilherme Rocha
L
Points
London WO
ABS
4F
2019
19813

Daniel Lima

L
Adv
Rio FO
76KG
SF
2019
21785

Ygor Rodrigues

Ygor Rodrigues
L
RNC
Brasileiro NoGi
73KG
SF
2019
22705

Alef Brito

Alef Brito
L
Points
Salvador SPO
82KG
SF
2019
22722

Servio Tulio

Servio Tulio
L
Adv
Salvador SNGO
ABS
F
2019
6680

Sergio Calderon

Sergio Calderon
W
Choke from back
London WO
70KG
SF
2015
6681

Carlos Eduardo

W
Katagatame
London WO
70KG
F
2015
6789

Gustavo Dantas

Gustavo Dantas
W
Kimura
Pan American
70KG
R1
2015
6796

Kim Terra

Kim Terra
W
Referee Decision
Pan American
70KG
4F
2015
7353

Unknown

W
Armbar
Newbreed AC
ABS
F
2015
8506

Douglas Saraiva

W
Choke from back
Confere 8
76KG
SPF
2015
8931

Thibaut Olivier

Thibaut Olivier
W
Pts: 2x2, Adv
European Open
76KG
R1
2016
9727

Anderson Pereira

Anderson Pereira
W
N/A
Brasileiro
70KG
8F
2016
9732

Pedro Petrônio

W
N/A
Brasileiro
70KG
4F
2016
10235

Wendel Silva

W
N/A
Rio Winter Open
70KG
R1
2016
10239

Unknown

W
Choke from back
Rio Winter Open
70KG
4F
2016
10241

Victor Moraes

W
Choke from back
Rio Winter Open
70KG
SF
2016
10561

Jhonny Trece

W
Choke
Sao Paulo Open
70KG
4F
2016
10563

Marcos Campo

W
Choke
Sao Paulo Open
70KG
SF
2016
10564

Victor Moraes

W
RNC
Sao Paulo Open
70KG
F
2016
12136

Thiago Cintra

W
Choke
Pan American
70KG
8F
2017
12141

Alexandre Vieira

Alexandre Vieira
W
Armbar
Pan American
70KG
4F
2017
15616

Ichitaro Tsukada

W
Choke
Tokyo Open
70KG
SF
2018
15617

Takuto Kako

W
Choke
Tokyo Open
70KG
F
2018
18481

Bernardo Dib

W
N/A
Brasilia Open
76KG
4F
2018
19519

Krysztof Flak

W
Submission
Budapest Open
70KG
SF
2019
19520

Franck Hart

W
Choke from back
Budapest Open
70KG
F
2019
19811

Luan Silva

W
Choke
Rio FO
76KG
4F
2019
20620

Jake MacKenzie

Jake MacKenzie
W
Canto choke
World Champ.
76KG
R1
2019
21780

Bruno Ailson

W
N/A
Brasileiro NoGi
73KG
R1
2019
21783

Edward Hohl

W
N/A
Brasileiro NoGi
73KG
4F
2019
22086

Carlos Augusto

W
Omoplata
BH SPO
82KG
SF
2019
22714

Diego Fiel

W
N/A
Salvador SNGO
79KG
SF
2019
22721

Paulo Dantas

W
Points
Salvador SNGO
ABS
SF
2019
Victor Genovesi vs Ilke bulut

Victor Genovesi vs Gianni Grippo