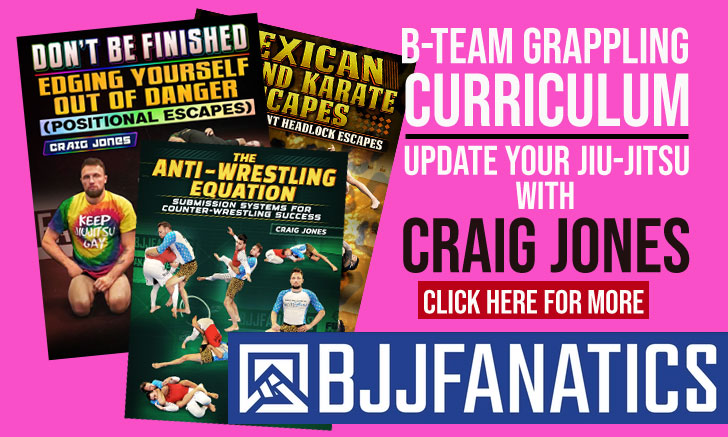 Bruno Fernandes is a Brazilian jiu jitsu black belt under Carlos Gracie Junior, being the founder and head instructor of Montreal's Gracie Barra franchise (Canada). Known as the grappling coach of former UFC champion George Saint Pierre, Bruno Fernandes was also one of the most talented competitors to have graced the sport of jiu jitsu during the 2000's decade, known in the grappling circuit for being able to maintain the highest technical standard in the sport, even while training on a part time regime.
Bruno Fernandes Jiu Jitsu
Full Name: Bruno Franco Fernandes
Nickname: "Molenga" meaning lazy boy in Portuguese. The name started in the late 1990's at the gym. Bruno was always known for his laid back approach to jiu jitsu, always looking to use leverage and minimum athleticism. Because if his grappling style Bruno started being known as lazy boy, the nickname being attributed by his friend and team mate Leonardo "Plic".
Lineage: Mitsuyo Maeda > Carlos Gracie Sr. > Helio Gracie > Carlos Gracie Junior > Bruno Fernandes
Main Achievements:
World Champion (1997 purple; 1998, 1999 and 2000 brown)
Pan American Champion (1997 purple, 1998 brown absolute, 2014 master black)
Brazilian National Champion (1996 blue, 1997 purple)
Brazilian National Teams Champion (1997 purple, 1998, 2000)
Rio de Janeiro State Champion (1996 purple, 1999 brown)
Australian National Champion (2013)
Montreal Open Champion – IBJJF (2013 weight & absolute)
Boston Open Champion – IBJJF (2014)
2nd Place at World Championship (2002)
2nd Place at Brazilian National Championship (1997 purple absolute)
3rd Place at World Championship (2001)
3rd Place at Pan American Championship (2008)
3rd Place at Pan American No Gi Championship (2012, 2013)
3rd Place at Brazilian National Championship (1998 brown, 2000 and 2004 black)
Favourite Position/Technique: Guard
Weight Division: Peso Médio (82kg/181lbs)
Team/Association: Gracie Barra
Bruno Fernandes Biography
Bruno Fernandes was born on the 6th of April, 1978 in Rio de Janeiro – Brazil, being raised in the Botafogo and Copacabana neighbourhoods as a child. Bruno's father had a close friendship with Ricardo Perrone and the Rosado family (Jeronimo and Carlos Antonio), illustrious members of the Carlson Gracie Academy. It was due to the close bond with these grapplers that Fernandes was enrolled in the children's classes at the Carlson Gracie gym, after his 11th birthday.
Alberto Santos was Bruno's first coach, later Carlson Gracie Junior and Miguel Kelner as well as "Rey" Diogo also became part of Fernandes' BJJ development at the CGA, an academy that developed talented competitors such as Daniel Cristoph, Luis Sergio "Jaba", Paulo Filho and many others.
For a long time Bruno split his after school activities between swimming and jiu jitsu, but at the age of 15 he chose to leave swimming behind and stick to grappling, a sport in which he was already excelling. He received his blue belt from Master Marcelo Saporito but not long after this, his family moved away from Copacabana and relocated at Barra da Tijuca. In Barra Bruno lived two blocks away from the Gracie Barra headquarters and naturally enrolled in the famous academy.
As Bruno became a medicine student at the University (later specializing in ophthalmology), the fact that Gracie Barra was only a 5 minute walk from his accommodation played a major role in keeping jiu jitsu a part of Fernandes' busy student life. It was during his period at the Barra Gracie headquarters that Bruno Fernandes had his best competitive years, winning 4 world titles in a row, 3 of those as a brown belt (1998/99/00). After his 2000 title, Bruno was awarded his black belt, at the age of 20. He would go on to medal at the Brazilian Nationals that year at black belt.
Although Fernades had a very positive competitive record, being widely recognized as one of the top middleweights in the world at the time, he only trained part time due to his duties as a medicine student. One of the greatest testaments to Bruno's talent shined through at the World Jiu Jitsu Championship of 2001. After an extended period training only 3 times per week, trying to finish his degree, Bruno travelled to Canada for an internship, where he didn't get a chance to put the gi on one single time. He returned to Brazil just days before the famous Mundial and decided to compete, reaching the semi final of the most important tournament in the sport, losing to Vitor "Shaolin" Ribeiro by way of choke in a very even fight, one that was tied on the scoreboard until the deciding moment.
In 2005, after finishing his internship, Bruno Fernandes moved to Canada to do a speciality course in ophthalmology and a PhD at the McGill University in Montreal, where he started coaching BJJ part time. The plan was to stay for two years and return to his motherland, but he decided to stay after being offered a position as a teacher at the university.
After a few years teaching at the Tristar MMA academy, coaching some of Canada's best mixed martial artists, where he helped develop Canada's grappling community, in 2010 Bruno Fernandes decided to open up his own Gracie Barra affiliate. After two years splitting his time between the university and his new gym, Bruno opted to abandoned academia altogether, gathering all his efforts towards jiu jitsu and his Montreal academy.
Banner picture by GracieMag.
The time spent in Canada has produced a few black belts such as:
George Saint Pierre
Rodolphe Beaulieu
Thierry Queneville
Fateh Belkalem
Vince Mattei
Tiago Bricolli
Bruno Bricolli
Wesley Nogueira
Anthony Casella
Elsa Sery
David Guigui
Albert Khait
Bruno Fernandes vs Regis Lebre (2014)

Bruno Fernandes vs Lee Vilneuve

Bruno Fernandes Highlight