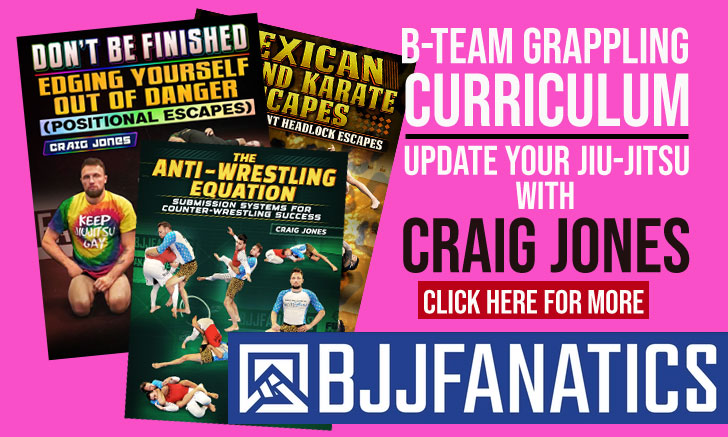 Vinny Magalhães, also known as Pezão, is one of the top Brazilian Jiu-Jitsu competitors of his generation, being also a retired mixed martial arts (MMA) fighter, and former The Ultimate Fighter (TUF) season 8 finalist. Vinny worked with instructors such as Royler Gracie, Vini Aieta and Eddie Bravo, becoming well known for his submission orientated grappling style, a style he has used to submit great competitors such as Marcio Cruz, Rodrigo Cavaca, Roberto Cyborg, Bruno Bastos and many others in Grappling competitions.
Vinny Magalhães
Full Name: Vinicius de Magalhães
Lineage: Mitsuyo Maeda > Carlos Gracie > Helio Gracie > Royler Gracie > Vini Aieta > Vinny Magalhães
Nickname: "Vinny" is a name that first came about in 2004 when Magalhães moved to America. He started being called that by Cesar Gracie and he embraced it as it was an easy solution for the frequent miss-spelling of his first name by the locals.
"Pezao" means Big Foot in Portuguese, the name was given by Bernardo Treco from the Gracie Tijuca academy (where Vinny trained). Magalhães was only 14 years old at the time and his feet were disproportionate when compared to his still-developing body frame, thus the name
Main Achievements:
1st Place ADCC World Championship (2011)
1st Place IBJJF World Championship NoGi (2007)
1st Place IBJJF Masters World Championship (2016)
3rd Place ADCC World Championship (2011*, 2009**)
Main Achievements (Colored Belts):
1st Place IBJJF World Championship (2005** brown, 2002 blue belt)
1st Place IBJJF Pan Championship (2002 blue belt)
1st Place CBJJ Brazilian Nationals (2005* brown belt)
2nd Place IBJJF Pan Championship (2005 brown belt)
2nd Place CBJJ Brazilian Nationals (2003 purple belt)
* Absolute
** Weight and absolute
Favorite Position/Technique: Closed Guard, 50/50 Guard
Weight Division: Peso Pesado (94kg-207lbs) or Super Pesado (100kg-221lbs)
Association/Team: Was linked in with Gracie Tijuca and Gracie Humaitá, in the US he has fought for 10th Planet, Team Quest and Cesar Gracie.
Vinny Magalhães Biography
Vinicius Magalhães was born on the 2nd of July 1984 in Rio de Janeiro, Brazil. Vinny lived the life of a normal kid in Rio de Janeiro often playing football or shooting some hoops, but it was only in 1998 (when he was 14) that he started practicing the sport that would change his life, Brazilian Jiu-Jitsu. He started training at a small gym in his neighborhood (Bairro de Olaria) with Jair Reis but shortly after he moved to train with Professor Germano Junior from the Strauch Academy with whom he stayed until the end of 1999 when he got his blue belt.
Shortly after getting his blue belt Vinicius moved clubs to meet the man that would become his true master, Professor Vinicius Aieta from Gracie Tijuca – where Saulo Ribeiro also taught. Under Aieta's supervision Magalhães Jiu-Jitsu evolved tremendously and there he started developing his unique fighting style, always seeking the submission at all cost.
Oddly enough, though he proved more than often his worth on the mats, his black belt was earned due to a lost bet between his master Vinicius Aieta and Royler Gracie at the Mundial in 2005. After an amazing performance at the brown belt Super Pesado weight division, where he submitted every single one of his opponents (including Rodrigo Cavaca in the final), Vinny Magalhães went on to have a total of 7 fights in the absolute division reaching the final with just two fighters surviving his submission onslaught (one of whom was Romulo Barral to whom Vinny won by 7×0). Royler told Aieta he was "sandbagging" and Aieta believed Vinny was not yet ready for the black belt as he had only been a brown belt for 10 months. It was agreed between the two masters that if Vinny submitted his opponent in the final he would get his black belt, if he didn't he would stay a brown belt for a while longer. Turns out Vinny destroyed his opponent Gabriel Kitobert in one minute via armbar receiving the black belt on the podium from his master and Royler Gracie.
In 2004 Vinny Magalhães took a big chance and moved to the United States. He was dating Cesar Gracie's cousin at the time, and she told Vinny of a vacant coaching spot at the Gracies academy. Vinny applied for the spot immediately and got it even though he did not speak a word of English.
From Cesar Gracie's gym, Vinny Magalhães went on to coach grappling/BJJ at one of the greatest Mixed Martial Arts teams in the world, Team Quest, a team led by two MMA legends, Dan Henderson and Matt Lindland. Being in a big team like Quest, many opportunities presented themselves to a gifted athlete like Magalhaes, the was biggest probably his chance to be a part of The Ultimate Fighter reality show, a TV show in which you fight your way into a contract with a major fighting organization (the UFC). In Vinny's case, he managed to get in the show without even going to the series of trials. What happened was that at the time "Pezão" heard that the UFC was doing a series on light heavyweights, he asked Dan Henderson to give UFC president – Dana White a call and put in a good word for the Brazilian ace, which worked out perfectly. Magalhaes went to the house and put on good performances that allowed him a spot in the final against Ryan Bader, a fight Vinny lost by TKO.
Coming to a big show like TUF was a mixed bag, in one hand there was the exposure of being in a mainstream show, but on the other hand, Vinny was still very new to the sport and had very basic knowledge of the stand-up aspect of the game. Continuing his bad luck streak, Vinny left Team Quest when he returned from the Show, there were certain issues with the team's management and Magalhães slammed the door on the academy. Making the mistake of not having a stand-up coach and only doing grappling sparring consistently his career with the UFC also came to an abrupt end after his loss to another TUF competitor, Eliot Marshal (this time by decision).
Vinny was in need of a reboot, and that he did, by moving to Las Vegas where he found new training partners and coaches that have helped him recreate his MMA career. He is still relatively active in Submission Grappling events, namely Grapplers Quest and ADCC.
Vinny Magalhaes Grappling Record
36 WINS
BY POINTS


BY ADVANTAGES




BY SUBMISSION




BY DECISION




BY PENALTIES




BY EBI/OT



21 SUBMISSIONS WINS
#5AD3D1
Flying armbar
10
2
#f58822
Triangle armbar
5
1
#22c9a5
Inside heel hook
5
1
24 LOSSES
BY POINTS


BY ADVANTAGES




BY SUBMISSION




BY DECISION




BY PENALTIES




BY EBI/OT



2 SUBMISSIONS LOSSES
#214eb8
Choke from back
50
1
Vinny Magalhaes Fight History
Vinny Magalhães vs Daniel Gracie

VinnyMagalhães vs Marcus Almeida

Vinny Magalhães Highlight