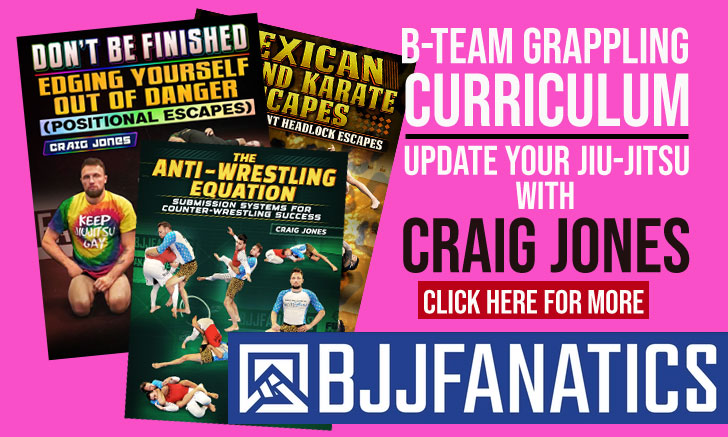 José Bruno Pereira Matias, commonly known as Bruno Matias, is a jiu-jitsu black belt under Ulpiano Malachias of Team Gracie Barra who worked extensively with coach Felipe Pena (Preguiça) at the Projeto Gold Team – one of the prime grappling programs in the world – during his colored belt career, a time when Bruno Matias became widely recognized as one of his generation's top athletes. Bruno would cement this reputation during his pro-division debut at the IBJJF Houston No-Gi Open, with a double gold performance. Matias is not to be confused with the same name competitor of the mid-2000s decade who was a Checkmat representative, for that profile, click here.
Bruno Matias Jiu-Jitsu
Full Name: José Bruno Pereira Matias
Nickname: N/A
Lineage: Carlos Gracie > Helio Gracie > Carlos Gracie Junior >  Ulpiano Malachias > José Bruno Matias
Main Achievements:
1st Place IBJJF American Nationals (2021)
1st Place IBJJF American Nationals NOGI (2021)
1st Place IBJJF Houston Open NOGI (2021**)
2nd Place IBJJF Houston Open (2021)
3rd Place IBJJF Pan Championship NOGI (2021)
Main Achievements (Colored Belts):
1st Place CBJJ Brazilian Nationals NOGI (2018 purple, 2019 brown)
2nd Place IBJJF World Championship NOGI (2018 purple)
2nd Place IBJJF Pan Championship NOGI (2020 brown)
3rd Place CBJJ Brazilian Nationals (2019 purple)
* Absolute
** Weight and Absolute
Favorite Position/Technique: Well Rounded
Weight Division: Peso Médio (82,30 kg / 181.5 lbs)
Team/Association: Gracie Barra
Bruno Matias Biography
Bruno Matias was born on June 11, 1999, in Arcoverde, a municipality in Pernambuco, Brazil, where Matias grew up.
Martial arts appeared in Bruno's life as a way to combat his childhood hyperactivity. Matias' mother believed combat sports would help her son release some of the extra energy while including solid hierarchy and structure in Bruno's life, and she wasn't wrong.
Bruno started playing capoeira as an 8-year-old, later adding judo to his extra-curricular activities, in 2008, as well as jiu-jitsu with coach Romualdo Lucas. Under the guidance of Romualdo (Nova União affiliate), Bruno Matias climbed through the ranks of BJJ up until purple belt.
At the age of 17, purple belt Matias applied for a scholarship at Felipe Pena's, Project Golden Team. To be accepted by the famous jiu-jitsu program, Bruno had to go through a demanding selection process where he competed against other athletes looking to conquer that same spot. After the trials, Bruno was accepted by the Belo Horizonte workgroup, then moving to the state of Minas Gerais to pursue a professional career in the sport.
Matias gained plenty of notoriety on the Brazilian circuit while under Felipe Pena's guidance, earning his brown belt from the ADCC and IBJJF World Champion. Later, through Golden Team's network, Matias had the opportunity to move to the United States, Texas, and join Gracie Barra's Westchase's program with coach Ulpiano Malachias.
After a lengthy career in the colored belt divisions, Bruno Matias was promoted to black belt by Ulpiano Malachias. A ceremony that took place on March 13, 2021.
Bruno Matias Grappling Record
45 WINS
BY POINTS


BY ADVANTAGES




BY SUBMISSION




BY DECISION




BY PENALTIES




BY EBI/OT



20 SUBMISSIONS WINS
#214eb8
Inside heel hook
25
5
#fad11b
Choke from back
10
2
#f58822
Cachecol choke
10
2
#fad223
Bow and arrow
5
1
29 LOSSES
BY POINTS


BY ADVANTAGES




BY SUBMISSION




BY DECISION




BY PENALTIES




BY DQ



11 SUBMISSIONS LOSSES
#86e620
Inside heel hook
18
2
#ff9124
Outside heel hook
9
1
Bruno Matias Fight History
ID
Opponent
W/L
Method
Competition
Weight
Stage
Year
25809

Rafael Vasconcelos

Rafael Vasconcelos
L
Adv
Houston Open
94KG
F
2021
25819

Tainan Dalpra

Tainan Dalpra
L
Ezekiel
Houston Open
ABS
4F
2021
26162

Lucas Barbosa

Lucas Barbosa
L
Pts: 12x0
NoGi Pan Am.
91KG
SF
2021
26217

Giancarlo Bodoni

Giancarlo Bodoni
L
Pts: 0x0, Adv
NoGi Pan Am.
ABS
4F
2021
26883

Andre Porfirio

Andre Porfirio
L
Triangle
Chicago NGO
92KG
F
2021
26966

Oliver Taza

Oliver Taza
L
Pts: 5x0
Austin NGO
85KG
SF
2021
26978

Max Gimenis

Max Gimenis
L
Pts: 4x0
Austin NGO
ABS
F
2021
27138

Alan Sanchez

Alan Sanchez
L
Triangle
MDW Finishers
ABS
4F
2021
27986

Jay-Jay Wilson

L
Referee Decision
BJJ Fanatics
ABS
R1
2021
28189

Max Gimenis

Max Gimenis
L
Pts: 0x0, Adv
NoGi Worlds
ABS
8F
2021
28316

Diego Ramalho

Diego Ramalho
L
Inside heel hook
NoGi Worlds
91KG
4F
2021
29537

Matheus Spirandeli

Matheus Spirandeli
L
Pts: 13x0
World Champ.
88KG
R1
2021
32981

Rider Zuchi

Rider Zuchi
L
Pts: 6x2
World Champ.
94KG
8F
2022
34966

Ellis Younger

L
Pts: 6x3
ADCC Vegas
91KG
R2
2022
35558

Stanley Rosa

L
Outside heel hook
NoGi Pan
85KG
8F
2022
35902

Francisco Lo

Francisco Lo
L
Toe hold
Houston FO
88KG
F
2022
35922

Felipe Cesar

Felipe Cesar
L
Points
Houston FNGO
85KG
SF
2022
36178

Jacob Couch

Jacob Couch
L
Guillotine
WNO
84KG
SPF
2022
36869

Sebastian Rodriguez

Sebastian Rodriguez
L
Referee Decision
NoGi Worlds
85KG
SF
2022
37900

Anthony Robinson

L
Submission
Dallas NGO
85KG
SF
2023
38435

Jansen Gomes

Jansen Gomes
L
Triangle
Pan American
88KG
8F
2023
39886

Mateus Rodrigues

Mateus Rodrigues
L
Pts: 3x2
Houston Open
88KG
R1
2023
39922

Eduardo Avelar

Eduardo Avelar
L
Pts: 13x2
Houston Open
ABS
4F
2023
40326

Wellington Luis

Wellington Luis
L
Pts: 2x2, Adv
World Champ.
88KG
R1
2023
41512

Yan Lucas

Yan Lucas
L
Pts: 3x0
Austin SMO
82KG
F
2023
41549

Pedro Alex

Pedro Alex
L
Points
Austin NGO
ABS
SF
2023
43201

Felipe Costa

Felipe Costa
L
Katagatame
NoGi Pan
ABS
4F
2023
43285

Jacob Couch

Jacob Couch
L
Pts: 2x0
NoGi Pan
85KG
4F
2023
44373

Daniel Sathler

Daniel Sathler
L
Inside heel hook
ADCC Florida
83KG
F
2023
25808

Yuri Santos

W
Choke from back
Houston Open
94KG
SF
2021
25815

Rafael Vasconcelos

Rafael Vasconcelos
W
Pts: 8x4
Houston Open
ABS
R1
2021
25838

Yuri Santos

W
Points
Houston NGO
91KG
4F
2021
25840

Rida Haisam

Rida Haisam
W
Inside heel hook
Houston NGO
91KG
F
2021
25848

Eduardo Avelar

Eduardo Avelar
W
Inside heel hook
Houston NGO
ABS
SF
2021
25849

Oliver Taza

Oliver Taza
W
Pts: 6x0
Houston NGO
ABS
F
2021
26158

Hunter Colvin

W
Pts: 11x0
NoGi Pan Am.
91KG
4F
2021
26211

Felipe Cesar

Felipe Cesar
W
Pts: 6x0
NoGi Pan Am.
ABS
8F
2021
26676

Bruno Borzani

W
Bow and arrow
American Nats
88KG
R1
2021
26679

Vinicius Wong

W
Cachecol choke
American Nats
88KG
SF
2021
26681

Andre Gois

Andre Gois
W
Referee Decision
American Nats
88KG
F
2021
26742

Fellipe Trovo

Fellipe Trovo
W
Pts: 15x0
American NGN
91KG
SF
2021
26743

Jake Watson

Jake Watson
W
Pts: 20x0
American NGN
91KG
F
2021
26867

Brian Beaury

Brian Beaury
W
Armbar
Chicago Open
88KG
SF
2021
26869

Nathan Santos

W
Pts: 5x0
Chicago Open
88KG
F
2021
26873

Brian Beaury

Brian Beaury
W
50/50 armbar
Chicago Open
ABS
4F
2021
26874

Nathan Santos

W
Toe hold
Chicago Open
ABS
SF
2021
26876

Andre Porfirio

Andre Porfirio
W
Referee Decision
Chicago Open
ABS
F
2021
26882

Nathan Santos

W
Inside heel hook
Chicago NGO
92KG
SF
2021
26886

Javier Palomo

W
Armbar
Chicago NGO
ABS
4F
2021
26890

Andre Porfirio

Andre Porfirio
W
Inside heel hook
Chicago NGO
ABS
SF
2021
26891

Oliver Taza

Oliver Taza
W
Pts: 6x2
Chicago NGO
ABS
F
2021
26927

K. Bickham

W
Cachecol choke
F2W 177
N/A
SPF
2021
26965

Robert Ezzell

W
Pts: 39x0
Austin NGO
85KG
4F
2021
26975

Leo Silva

Leo Silva
W
Pts: 0x0, Adv
Austin NGO
ABS
4F
2021
27134

Ramses Bugarin

W
EBI/OT
MDW Finishers
ABS
R1
2021
28180

Rennick Kama

W
Short choke
NoGi Worlds
ABS
R1
2021
28311

Bradley Ringler

W
Short choke
NoGi Worlds
91KG
8F
2021
32764

Andre Porfirio

Andre Porfirio
W
Pts: 2x2, Adv
Houston Open
88KG
F
2022
34962

Dylan Melton

W
Pts: 2x0
ADCC Vegas
91KG
R1
2022
35901

Lucas Lisboa

Lucas Lisboa
W
N/A
Houston FO
88KG
SF
2022
36862

Rafael Anjos

Rafael Anjos
W
Pts: 4x0
NoGi Worlds
85KG
8F
2022
36865

David Garmo

David Garmo
W
Guillotine
NoGi Worlds
85KG
4F
2022
38425

Murilo Santana

Murilo Santana
W
Kneebar
Pan American
88KG
R1
2023
39919

Marcos Goulart

W
Choke from back
Houston Open
ABS
R1
2023
41511

Ricardo Briceno

W
N/A
Austin SMO
82KG
SF
2023
41534

Tomoshige Sera

W
N/A
Austin NGO
79KG
SF
2023
41536

Matheus Galvao

W
N/A
Austin NGO
79KG
F
2023
41547

Igor Schneider

Igor Schneider
W
N/A
Austin NGO
ABS
4F
2023
43196

Clay Mayfield

W
Inside heel hook
NoGi Pan
ABS
8F
2023
44363

Caleb McAllister

W
Guillotine
ADCC Florida
83KG
R1
2023
44367

Tony Campa

W
Injury
ADCC Florida
83KG
R2
2023
44369

Sebastian Calle

W
Pts: 3x0
ADCC Florida
83KG
8F
2023
44371

G. Lamanna

W
Submission
ADCC Florida
83KG
4F
2023
44372

Jon Bailey

W
Pts: 2x0
ADCC Florida
83KG
SF
2023