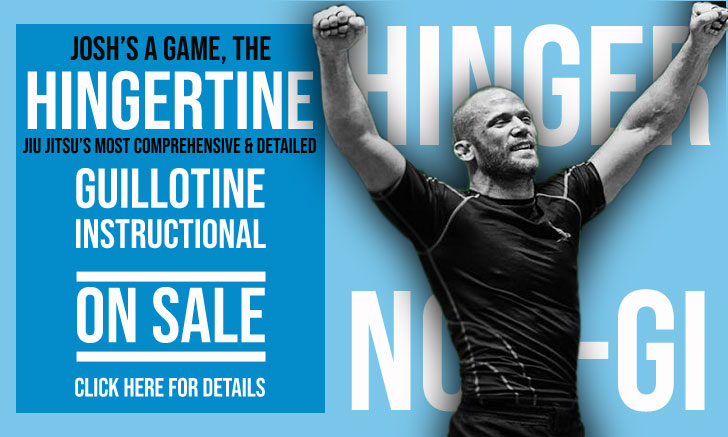 Bruno Malfacine is a jiu jitsu black belt under Vinicius Amaral who is widely regarded as the best rooster weight in the history of the sport with 9 world titles (IBJJF) at black belt, having surpassed the world championships gold medal record established by Omar Salum in 2000. Malfacine started his career in Game Fight/UGF's academy, but moved to the Alliance camp where he became one of the star figures of the team.
Bruno Malfacine Jiu Jitsu
Full Name: Bruno da Silva Malfacine
Nickname: He is called "Bad Boy", the name was given by his training partners when he was still a child.
Lineage: Mitsuyo Maeda > Carlos Gracie > Helio Gracie > Carlson Gracie > Vinicios Amaral > Bruno Malfacine
Main Achievements:
IBJJF World Champion (2007/2009/2010/2011/2012/2014/2015/2016/2017/2018)
IBJJF Pan American Champion (2007/2008/2015/2017)
IBJJF European Open Champion (2010)
IBJJF Rio International Open Champion (2008/2009)
CBJJ Brazilian Champion (2008/2009/2010)
CBJJ Brazilian No-Gi Champion (2009)
IBJJF Pan American Championship 2nd Place (2011)
IBJJF European Open 2nd Place (2011)
Main Achievements (Coloured Belts):
IBJJF World Champion (2004 purple, 2005 brown)
IBJJF Pan American Champion (2005 purple)
CBJJ Brazilian Champion (1999 child yellow, 2002/2003 juvenile blue, 2005 purple)
Favourite Position/Submission: Butterfly Guard & Taking the back
Weight Division: Peso Galo (57.5Kg – 127.0 lbs)
Team/Association: Alliance (formerly GF/UGF/GFT)
Bruno Malfacine Biography
Bruno Malfacine was born on August 28, 1986, in Duque de Caxias (Rio de Janeiro State), Brazil. Bruno started training Brazilian Jiu-Jitsu when he was 11 years old (1998) under the instruction of Carlos Santana. He began by his uncle's influence, a BJJ enthusiast and student.
Although talented and interested in Jiu-Jitsu, Malfacine's training was interrupted at the rank orange belt rank after coach Santana stopped training to focus on his profession.
Malfacine's Jiu-Jitsu career nearly ended there and then, but with his family's support, particularly from his uncle, Bruno restarted his training routine with Vinicius Amaral, founder of Academia Game Fight, an affiliate of GFT (Gama Filho Team – later changed its name to Grappling Fight Team).
Under the coaching of professor Vinicius Amaral, Bruno Malfacine achieved his blue, purple, brown and black belts (late 2006). By the end of 2008, Malfacine had the opportunity to train with "The General" Fabio Gurgel, one of the best BJJ coaches in the World at the time, and the leader of Alliance's Team in Brazil.
At the Alliance team, Bruno's career flourished and he quickly established himself as the best roosterweight of all time in the sport of Brazilian Jiu-Jitsu.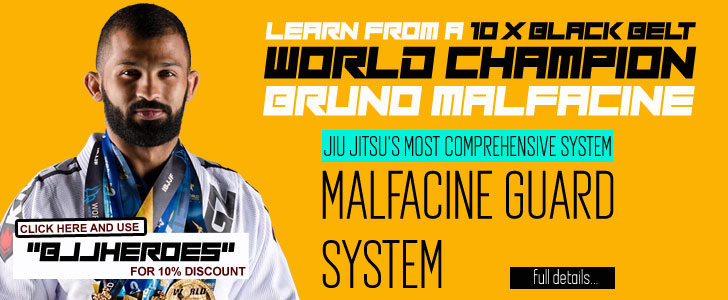 Bruno Malfacine Grappling Record
63 WINS
BY POINTS


BY ADVANTAGES




BY SUBMISSION




BY DECISION




BY PENALTIES




BY DQ



40 SUBMISSIONS WINS
#86e620
Choke from back
13
5
#5AD3D1
Bow and arrow
10
4
#03861f
Flying armbar
3
1
#039a1f
Crucifix choke
3
1
#03c61f
Triangle armbar
3
1
#03d61f
Arm in ezekiel
3
1
9 LOSSES
BY POINTS


BY ADVANTAGES




BY SUBMISSION




BY DECISION




BY PENALTIES




BY DQ



1 SUBMISSION LOSSES
Bruno Malfacine Fight History
Bruno Malfacine vs Bernardo Pitel

Bruno Malfacine vs Pablo Teixeira (2009)

Bruno Malfacine vs Emanuel de Jesus (2012)

Picture taken by Ross Finlayson