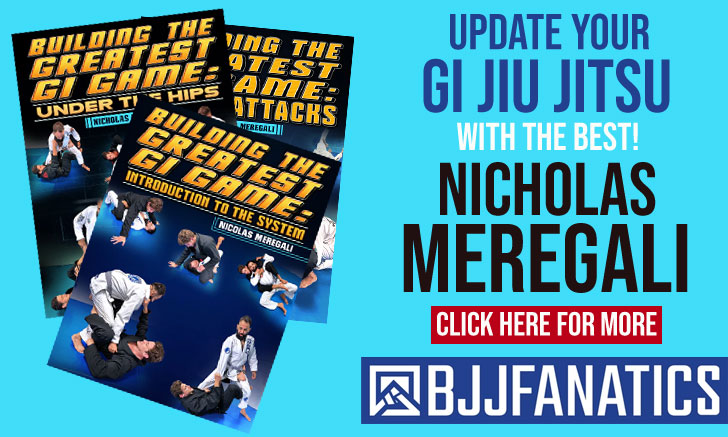 Leon Brito is a jiu-jitsu black belt under Ricardo Marques and a representative of the Brazilian Top Team gym in Juiz de Fora, Minas Gerais, Brazil, one of the most fruitful grappling academies in the sport, having produced top-end talents such as Bernardo Faria, Leonardo Saggioro, Gabriel Procópio, and more. Brito broke through in the sport while competing in the IBJJF (International Brazilian Jiu-Jitsu Federation) circuit, where he conquered numerous important medals.
Leon Brito Jiu-Jitsu
Full Name: Leon Denny Zambelli Brito
Nickname: N/A
Lineage: Carlos Gracie > Carlson Gracie > Sérgio Bolão > Ricardo Marques > Leon Brito
Main Achievements:
1st Place IBJJF South American Championship (2022)
2nd Place IBJJF South American Championship (2021)
2nd Place CBJJ Brazilian Nationals (2022)
3rd Place CBJJ Brazilian Nationals (2023)
4th Place Copa Podio Grand Prix (2021)
Main Achievements (Colored Belts):
1st Place IBJJF Brazilian Nationals (2013 blue)
2nd Place IBJJF World Championship (2013 blue)
2nd Place IBJJF Pan Championship (2018 brown)
2nd Place IBJJF Brazilian Nationals (2012 blue)
3rd Place IBJJF Brazilian Nationals (2014 purple, 2018 brown)
* Absolute
** Weight and Absolute
Favorite Position/Technique: Half-Guard
Weight Division: Pesado (94,30 kg / 208.0 lbs)
Team/Association: Brazilian Top Team (BTT)
Leon Brito Biography
Leon Brito was born on August 26, 1993, in Juiz de Fora, a city located in the state of Minas Gerais, Brazil.
During his childhood, Leon played football (soccer) competitively at a local club, an activity that lasted until October 2008 (15YO), when an injury pushed young Brito to the sidelines for over 1 year. By the time his injury improved, the young Mineiro had gained plenty of weight. While looking for a way to regain his previous form Leon decided to try jiu-jitsu for the first time.
Leon's first instructor was Brazilian Top Team's Eduardo Portilho, commonly known as Barney, who was a brown belt at the time. Brito trained under Portilho's tuition up until he earned his blue belt, after which he joined BTT's Juiz de Fora's headquarters with coach Ricardo Marques. A gym that is well known for the lengthy list of high achievers.
Once he joined Marques' workgroup, it didn't take long for Leon to break through the ranks, conquering many important international titles on his way to black belt, the latter a rank Brito earned from coach Ricardo in 2018.
Although extremely successful in jiu-jitsu as an athlete early on, having conquered his first world title as a blue belt, Leon competed unsponsored up until he was a well-established black belt, with his first true sponsorship deal being signed midway through 2021 with the Vouk brand.
Leon Brito Grappling Record
42 WINS
BY POINTS


BY ADVANTAGES




BY SUBMISSION




BY DECISION




BY PENALTIES




BY DQ



20 SUBMISSIONS WINS
#214eb8
Choke from back
25
5
#22c9a5
Violin armlock
5
1
21 LOSSES
BY POINTS


BY ADVANTAGES




BY SUBMISSION




BY DECISION




BY PENALTIES




BY DQ



9 SUBMISSIONS LOSSES
#224aba
Arm in Ezekiel
11
1
Leon Brito Fight History
ID
Opponent
W/L
Method
Competition
Weight
Stage
Year
20819

Marcos Martins

Marcos Martins
L
Toe hold
Rio Open
88KG
R1
2019
21102

Rafael Paganini

Rafael Paganini
L
Pts: 4x2
BH Winter Open
88KG
SF
2019
22089

Fernando Reis

Fernando Reis
L
Pts: 2x0
BH SPO
94KG
F
2019
22325

Igor Sousa

L
Referee Decision
Grand Slam RJ
85KG
4F
2019
24740

Wellington Luis

Wellington Luis
L
Pts: 3x2
Grand Slam RJ
85KG
8F
2020
26047

Felipe Bezerra

Felipe Bezerra
L
Pts: 2x0
Copa Podio
98KG
RR
2021
26060

Pedro Alex

Pedro Alex
L
Kneebar
Copa Podio
98KG
SF
2021
26062

Felipe Bezerra

Felipe Bezerra
L
Points
Copa Podio
98KG
3RD
2021
27425

Dimitrius Souza

Dimitrius Souza
L
Armbar
Sul Americano
94KG
F
2021
28070

Mauricio Oliveira

Mauricio Oliveira
L
Pts: 4x2
Brasileiro
88KG
SF
2021
28559

Athos Miranda

L
Pts: 6x3
Grand Slam RJ
85KG
SF
2021
28562

Yan Lucas

Yan Lucas
L
Pts: 3x1
Grand Slam RJ
85KG
RPC
2021
29541

Fabio Alano

Fabio Alano
L
Armbar
World Champ.
88KG
8F
2021
31911

Rider Zuchi

Rider Zuchi
L
Katagatame
Rio Fall Open
94KG
F
2022
32192

Rider Zuchi

Rider Zuchi
L
RNC
Brasileiro
94KG
F
2022
34023

Jansen Gomes

Jansen Gomes
L
RNC
Grand Slam RJ
85KG
SF
2022
34028

Gabriel Costa

Gabriel Costa
L
Pts: 2x1
Grand Slam RJ
85KG
3RD
2022
34877

G. Lambertucci

G. Lambertucci
L
Kimura
Serra Confere
110KG
SF
2022
37004

Lucas Gualberto

Lucas Gualberto
L
Pts: 0x0, Adv
Rio SMO
88KG
SF
2023
38421

Francisco Lo

Francisco Lo
L
Pts: 2x2, Adv
Pan American
88KG
8F
2023
39504

Gustavo Batista

Gustavo Batista
L
Arm in Ezekiel
Brasileiro
88KG
SF
2023
21290

Rafael Alves

W
Submission
Vitoria Open
94KG
SF
2019
21291

Flavio Junqueira

Flavio Junqueira
W
Submission
Vitoria Open
94KG
F
2019
21298

Caio Caetano

Caio Caetano
W
Points
Vitoria Open
ABS
R1
2019
21302

H. Riedlinger

W
N/A
Vitoria Open
ABS
4F
2019
21305

Rafael Paganini

Rafael Paganini
W
Points
Vitoria Open
ABS
SF
2019
21306

Marcos Martins

Marcos Martins
W
Pts: 8x4
Vitoria Open
ABS
F
2019
22317

Flabio Maia

W
Pts: 2x2, Adv
Grand Slam RJ
85KG
R1
2019
22323

Edson Oliveira

W
Choke from back
Grand Slam RJ
85KG
R2
2019
22331

Rodrigo Reis

W
Referee Decision
Grand Slam RJ
85KG
RPC
2019
25328

Paulo Silva

W
Triangle
Rio Open
94KG
4F
2021
25330

Marcos Goulart

W
Americana
Rio Open
94KG
SF
2021
25332

Matheus Godoy

Matheus Godoy
W
Points
Rio Open
94KG
F
2021
26044

Rodrigo Fajardo

Rodrigo Fajardo
W
Pts: 2x0
Copa Podio
98KG
RR
2021
26051

Guthierry Barbosa

Guthierry Barbosa
W
Triangle
Copa Podio
98KG
RR
2021
27114

Felipe Basilio

W
DQ
AJP RJ Pro
94KG
4F
2021
27117

Joao Freitas

W
Triangle
AJP RJ Pro
94KG
SF
2021
27118

Maique Azevedo

W
Choke from back
AJP RJ Pro
94KG
F
2021
27422

Uilton Silva

W
Omoplata
Sul Americano
94KG
4F
2021
27424

Filipe Pimentel

W
Katagatame
Sul Americano
94KG
SF
2021
28064

Vinicius Reis

W
Pts: 5x0
Brasileiro
88KG
R1
2021
28067

Carlos Alves

W
Clock choke
Brasileiro
88KG
4F
2021
28544

Pedro Pimenta

W
Pts: 2x2
Grand Slam RJ
85KG
R1
2021
28552

Agnelo Sales

W
Pts: 1x0
Grand Slam RJ
85KG
8F
2021
28556

Javier Valenciano

W
Pts: 10x0
Grand Slam RJ
85KG
4F
2021
29535

Joshua McKinney

W
Choke from back
World Champ.
88KG
R1
2021
31905

Leandro Santos

W
Referee Decision
Rio Fall Open
94KG
4F
2022
31909

Filipe Pimentel

W
Triangle
Rio Fall Open
94KG
SF
2022
32189

Hygor Brito

Hygor Brito
W
Pts: 0x0, Adv
Brasileiro
94KG
4F
2022
32191

Leandro Santos

W
Armbar
Brasileiro
94KG
SF
2022
34006

Lucas Silva

W
Choke from back
Grand Slam RJ
85KG
R1
2022
34015

Darlan Casaca

W
Choke
Grand Slam RJ
85KG
8F
2022
34020

C. Negromonte

C. Negromonte
W
Pts: 2x1
Grand Slam RJ
85KG
4F
2022
34026

Wellington Luis

Wellington Luis
W
Pts: 7x0
Grand Slam RJ
85KG
RPC
2022
34874

Pablo Campos

W
Pts: 6x4
Serra Confere
110KG
4F
2022
35707

Eduardo Rodrigues

W
N/A
South American
88KG
R1
2022
35712

Lucas Laet

W
Pts: 2x2, Adv
South American
88KG
4F
2022
35714

Vital Neto

W
Choke from back
South American
88KG
SF
2022
35716

Reyson Neves

W
Pts: 0x0, Adv
South American
88KG
F
2022
37000

Eduardo Rodrigues

W
Katagatame
Rio SMO
88KG
4F
2023
38405

Shane Fishman

W
Pts: 2x2, Adv
Pan American
88KG
R1
2023
39498

Eduardo Macedo

W
Violin armlock
Brasileiro
88KG
R1
2023
39502

Lucas Gualberto

Lucas Gualberto
W
Armbar
Brasileiro
88KG
4F
2023