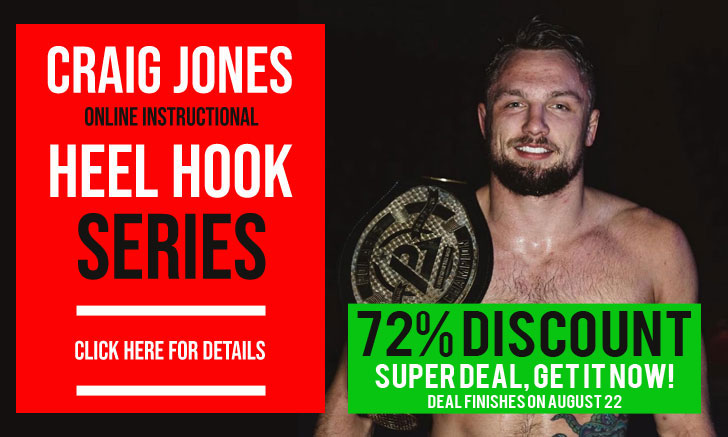 Davi Ramos is a Brazilian Jiu Jitsu black belt under Master Cesar Guimaraes (AKA "Casquinha") from the Top Brother academy, also known as a member of the Atos Jiu Jitsu academy in this sport's international circuit. One of the most talented athletes of his generation Ramos is praised for his fast and explosive grappling style, a method with which he conquered important titles such as the ADCC and the ACB. One of Davi Ramos' first big career breaks in BJJ occurred at the Grapplers Quest Las Vegas back in 2011, when he submitted 6 out of his 7 opponents and tapped big names such as Jeff Monson and Joao Assis. Davi Ramos is also an experienced mixed martial artist (MMA) and an Ultimate Fighting Championship (UFC) veteran.
Davi Ramos Jiu Jitsu
Full Name: Davi Ramos Pinheiro da Silva
Nickname: N/A
Lineage: Mitsuyo Maeda > Carlos Gracie > Carlson Gracie > Walter Guimaraes > Cesar Guimaraes > Davi Ramos
Main Achievements:
ADCC Champion (2015)
ACBJJ 75KG Champion (2018)
Grapplers Quest Champion – Las Vegas (2011)
CBJJ Brazilian National No Gi Champion (2010)
IBJJF Chicago Open Champion (2010 weight)
UAEJJF Abu Dhabi Pro No Gi 2nd Place (2011)
IBJJF Chicago Open 2nd Place (2011*)
CBJJ Brazilian National 3rd Place (2011)
Main Achievements (Colored Belts):
IBJJF World Silver 2nd Place (2006 brown)
Weight Division: Peso Leve (76kg/167lbs)
Favourite Position/Technique: Guard/Single leg sweep from guard
Team/Association: Top Brother/Atos Jiu Jitsu
Davi Ramos Biography
Davi Ramos was born on the 5th of November, 1986 in Rio de Janeiro – Brazil. He was brought up through the ranks by Master "Casquinha", the founder of the Top Brother academy and son of Carlson Gracie black belt Walter Guimaraes. Davi slowly became one of the top representatives of the academy and an ambassador of Master Casquinha abroad. It was Davi Ramos who opened the first Top Brother academy in the country of Mexico.
Davi Ramos ventured into mixed martial arts (MMA) successfully in 2o10, but soon returned to his true calling, Jiu Jitsu.
Ramos was lesser known at an international level when compared to a few of the more famous competitors in his weight class, that changed once Davi Ramos joined with the Atos academy training camp, a highly respected team constantly on the spotlight of BJJ's media which helped Davi by bringing more exposure.
On July 2011 Davi Ramos fought in Las Vegas at the Grapplers Quest championship where he conquered the absolute division and his weight class submitting big names (and heavier fighters) such as Jeff Monson (by armbar) & Joao Assis (Toe Hold), his first major break at an international level.
Davi Ramos Grappling Record
47 WINS
BY POINTS


BY ADVANTAGES




BY SUBMISSION




BY DECISION




BY PENALTIES




BY DQ



26 SUBMISSIONS WINS
#ff9124
Choke from back
4
1
#22c9a5
Russian armbar
4
1
#fad223
Flying armbar
4
1
24 LOSSES
BY POINTS


BY ADVANTAGES




BY SUBMISSION




BY DECISION




BY PENALTIES




BY DQ



6 SUBMISSIONS LOSSES
#214eb8
Choke from back
33
2
Davi Ramos Fight History
ID
Opponent
W/L
Method
Competition
Weight
Stage
Year
2670

Celso Vinicius

Celso Vinicius
L
Choke from back
World Champ.
76KG
4F
2010
2758

Augusto Mendes

Augusto Mendes
L
DQ
South American
76KG
SF
2010
2945

Michael Langhi

Michael Langhi
L
Points
Brasileiro
76KG
SF
2011
3097

Michael Langhi

Michael Langhi
L
Pts: 4x0
World Champ.
76KG
4F
2011
3159

Rustam Chsiev

L
Points
Ultimate Abs.
ABS
4F
2011
3325

Antonio Peinado

Antonio Peinado
L
DQ
No Gi Worlds
ABS
4F
2011
3358

Victor Estima

Victor Estima
L
Estima lock
No Gi Worlds
82KG
SF
2011
3662

Caio Almeida

Caio Almeida
L
Choke
Copa Podio
85KG
GP
2012
3678

Dimitrius Souza

Dimitrius Souza
L
Pts: 6x4
Copa Podio
85KG
SF
2012
3763

Roberto Satoshi

Roberto Satoshi
L
Pts: 3x2
World Pro.
76KG
R2
2012
3830

Gabriel Rollo

Gabriel Rollo
L
Pts: 2x2, Adv
Brasileiro
82KG
4F
2012
4000

Vinicius Marinho

Vinicius Marinho
L
Pts: 4x4, Adv
World Champ.
76KG
R3
2012
4327

A. Johnson

L
Kneebar
Art of Grappling
ABS
R1
2013
4671

Diogo Sampaio

Diogo Sampaio
L
Pts: 2x0
Copa Podio
88KG
GP
2013
4678

Felipe Pena

Felipe Pena
L
Choke from back
Copa Podio
88KG
GP
2013
4776

Otavio Sousa

Otavio Sousa
L
Pts: 6x2
World Champ.
82KG
4F
2013
8817

Lucas Lepri

Lucas Lepri
L
Pts: 4x2
Copa Podio
77KG
GP
2016
8822

Leandro Lo

Leandro Lo
L
Pts: 6x2
Copa Podio
77KG
GP
2016
9474

Andre Galvao

Andre Galvao
L
Pts: 0x0, Adv
World Pro
ABS
R2
2016
9543

AJ Agazarm

AJ Agazarm
L
Pts: 2x0
World Pro
77KG
4F
2016
11488

Isaque Bahiense

Isaque Bahiense
L
Pts: 2x0
European Open
82KG
4F
2017
11838

Marcio Andre

Marcio Andre
L
Points
ACBJJ 4
75KG
SF
2017
13523

Edwin Najmi

Edwin Najmi
L
RNC
ACBJJ 7
75KG
SF
2017
16492

Lucas Lepri

Lucas Lepri
L
Points
ACBJJ 14
75KG
SPF
2018
2928

Augusto Mendes

Augusto Mendes
W
Points
World P. NoGi
74KG
R1
2011
2929

Michel Maia

W
N/A
World P. NoGi
74KG
4F
2011
2931

JT Torres

JT Torres
W
Points
World P. NoGi
74KG
SF
2011
3157

Warren Stout

W
Toe hold
Ultimate Abs.
ABS
R1
2011
3179

Jeff Monson

W
Armbar
Grapplers Quest LV
ABS
SF
2011
3180

Joao Assis

Joao Assis
W
Toe hold
Grapplers Quest LV
ABS
F
2011
3308

Warren Stout

W
Kneebar
NoGi Pan Ams
82KG
SF
2011
3309

P. Elias

W
Toe hold
NoGi Pan Ams
82KG
F
2011
3310

Unknown

W
RNC
NoGi Pan Ams
ABS
4F
2011
3311

Kayron Gracie

Kayron Gracie
W
Calf slicer
NoGi Pan Ams
ABS
F
2011
3321

Leo Davila

W
Submission
No Gi Worlds
ABS
R2
2011
3341

Rafael Rosendo

W
Verbal tap
No Gi Worlds
82KG
4F
2011
3357

Rafael Freitas

Rafael Freitas
W
Verbal tap
No Gi Worlds
82KG
4F
2011
3657

Pedro Mello

Pedro Mello
W
Pts: 8x0
Copa Podio
85KG
GP
2012
3666

Ricardo Bastos

D
---
Copa Podio
85KG
GP
2012
3673

Tiago Barata

W
Armbar
Copa Podio
85KG
GP
2012
3679

Ricardo Bastos

W
Pts: 2x0
Copa Podio
85KG
3RD
2012
3729

Rodrigo Akilis

W
Pts: 6x0
Gramado Trials
75KG
SF
2012
3730

Thiago Abreu

Thiago Abreu
W
Points
Gramado Trials
75KG
F
2012
3985

Francisco Tavares

W
Armbar
World Champ.
76KG
R1
2012
3992

Unknown

W
Choke from back
World Champ.
76KG
R2
2012
4675

Alexandre Ceconi

Alexandre Ceconi
W
Toe hold
Copa Podio
88KG
GP
2013
4683

Kit Dale

Kit Dale
D
---
Copa Podio
88KG
GP
2013
6534

Nic Nikolaisen

W
Choke
European
82KG
R2
2015
6539

Victor Silverio

Victor Silverio
W
Pts: 2x0
European
82KG
4F
2015
6542

Francisco Iturralde

Francisco Iturralde
W
Pts: 2x0
European
82KG
SF
2015
6598

Unknown

W
Submission
Sharjah Open
85KG
SF
2015
6599

Marcos Costa

Marcos Costa
W
Points
Sharjah Open
85KG
F
2015
6600

Unknown

W
Toe hold
Sharjah Open
ABS
4F
2015
6601

Luis V.

W
Russian armbar
Sharjah Open
ABS
SF
2015
6602

Jiddu Lemos

W
Referee Decision
Sharjah Open
ABS
F
2015
6936

Rafael Ferreira

W
Armbar
ADCC RJ
77KG
R1
2015
6937

Luan Andrei

W
RNC
ADCC RJ
77KG
R2
2015
6939

Matheus Oliveira

W
Armbar
ADCC RJ
77KG
R3
2015
6941

Geraldo Freitas

W
Referee Decision
ADCC RJ
77KG
4F
2015
6943

Thiago Abreu

Thiago Abreu
W
Pts: 4x0
ADCC RJ
77KG
SF
2015
6944

Claudio Mattos

Claudio Mattos
W
RNC
ADCC RJ
77KG
F
2015
7895

Young-Ahm

W
RNC
ADCC
77KG
R1
2015
7902

Gabriel Rollo

Gabriel Rollo
W
Pts: 3x0
ADCC
77KG
4F
2015
7906

Gilbert Burns

Gilbert Burns
W
RNC
ADCC
77KG
SF
2015
7908

Lucas Lepri

Lucas Lepri
W
Flying armbar
ADCC
77KG
F
2015
8825

Felipe Cesar

Felipe Cesar
W
Pts: 2x0
Copa Podio
77KG
GP
2016
8829

AJ Sousa

AJ Sousa
W
Pts: 2x0
Copa Podio
77KG
GP
2016
9517

Marcos Tinoco

Marcos Tinoco
W
Pts: 4x2
World Pro
77KG
R1
2016
9540

Alex Cabanes

W
Pts: 0x0, Adv
World Pro
77KG
8F
2016
11483

Sebastian Brosche

Sebastian Brosche
W
Armbar
European Open
82KG
8F
2017
11835

AJ Agazarm

AJ Agazarm
W
Points
ACBJJ 4
75KG
4F
2017
13521

Luan Carvalho

Luan Carvalho
W
Points
ACBJJ 7
75KG
4F
2017
15111

Edwin Najmi

Edwin Najmi
W
Referee Decision
ACBJJ 11
75KG
SPF
2018
Davi Ramos vs Jeff Monson

Davi Ramos vs Antonio Inacio

Davi Ramos vs Luiz Pereira

Davi Ramos vs Abraão Amorim

Davi Ramos vs Leon Amancio

Davi Ramos Highlight

Davi Ramos vs Jonathas Novaes