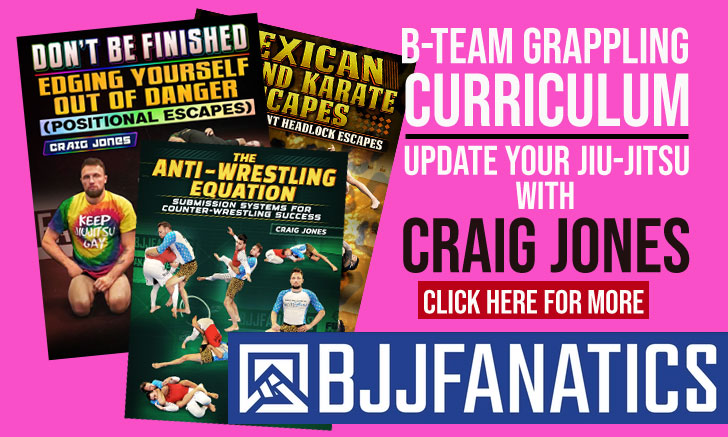 Master Cezar Guimarães, also known by his nickname "Casquinha", is a Brazilian Jiu Jitsu black belt produced by the old Carlson Gracie Academy, who later founded the famed Rio de Janeiro academy Top Brother, a team that has brought forward some highly talented competitors in both BJJ and MMA (Mixed Martial Arts). Cezar Guimarães also has a black belt in Judo where he excelled as a competitor earning a spot in the Brazilian national junior squad.
Cezar Guimarães Casquinha Jiu Jitsu
Full Name: Cezar Guimarães
Nickname: "casca grossa" means "tough skined" in Portuguese, and it is a common term in Jiu Jitsu and in the Brazilian culture, to describe someone who's tough in nature. Cezar Guimaraes started being called the nickname Casquinha when he was around 7-8 years old. He was one of the toughest kids in the class and as Casquinha is a friendlier way to say "casca grossa", like "little casca grossa" the nickname seemed very appropriate.
Lineage: Mitsuyo Maeda > Carlos Gracie > Carlson Gracie > Walter Guimaraes > Cesar Guimaraes
Main Achievements:
Rio de Janeiro State Champion
Interstate Champion (Rio de Janeiro/Minas Gerais)
Member of the Judo Brazilian National Junior squad.
Favorite Position/Technique: n/a
Weight Division: n/a
Team/association: Top Brother
Cezar Casquinha Biography
Cezar Guimarães "Casquinha" was born on the 16th of March, 1965 in Rio de Janeiro – Brazil. Being the son of Walter Guimarães, a tough Carlson Gracie black belt, it didn't come as a surprise to anyone when little Cezar began his Brazilian Jiu Jitsu journey at the age of 4. Casquinha started training at the original Carlson Gracie gym which was shared with Carlson's brother Rolls Gracie (in "Nossa Senhora de Copacabana", Zona Sul, Rio de Janeiro). This was before Carlson moved to the historic building in Figueiredo Magalhães street. Casquinha trained often in Rolls Gracie's classes with many of the Gracies, including Royler and Royce as well as the Machado Brothers.
Casquinha's training was divided between the two Gracie coaches until the passing of Rolls Gracie, when Cezar moved definitely to the Carlson Gracie academy, Guimarães also picked up on some Judo training at the Gama Filho University where he had the opportunity to train with many of Brazil's top Judo competitors, World and Olympic medalists as well as the top coaches in the country, instructors such as Geraldo Bernardes and Leopoldo Pinto de Lucas. through this constant contact with the Japanese art of throwing, Casquinha decided to compete in Judo and quickly earned a spot at the Brazilian national junior squad.
On January 1986, Master Carlson Gracie decided it was time to award Casquinha his black belt, but as a sign of respect the belt handing ceremony was handed to Cezar's father, Walter Guimarães.
Living in the northern area of Rio de Janeiro (Méier), Cezar Guimarães decided to open his own space, and due to the rivalry between the south and the north areas of Rio de Janeiro, he thought it was best to distance himself from the south gyms (Gracie and Carlson) and call his space Casquinha Jiu Jitsu. With some initial success with his own venture, Master Carlson Gracie asked Cezar to teach at Carlson Gracie's matrix academy in the south side, a job Casquinha fulfilled with great results, from around 2004 until the passing of Master Carlson Gracie in 2006.
After his master passed away, Casquinha returned to his work in Méier. Top Brother came shortly after, also in 2006. One of Master Casquinha's black belts, Marcelo Nigue, was the kick off for the creation of Top Brother. As Nigue was starting his MMA career, Master Casquinha decided it was time for Marcelo to start working on his striking game also, he called in Muay Thai coach Vander Valverde for that purpose. The two coaches worked very well together, Guimarães on the grappling department and Valverde on the stand-up, so they decided to take the team forward and formed Top Brother. The team rapidly became one of the main academies of the northern area of Rio de Janeiro for both BJJ and MMA, which has consistently produced great fighters since its start.