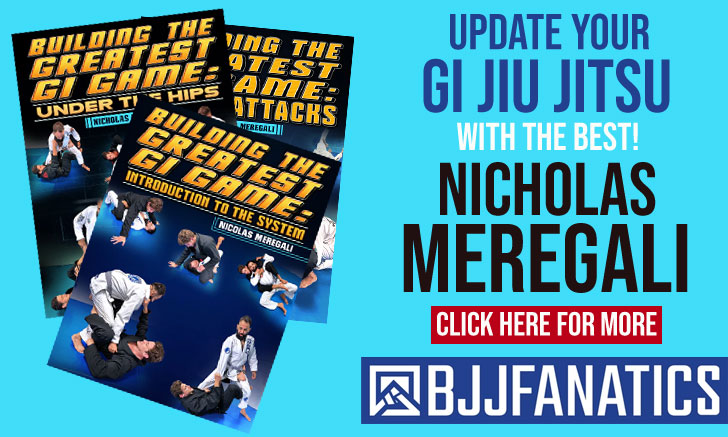 João Assis is an accomplished grappler having won important titles in the sport of Brazilian jiu jitsu, including the ADCC and World No-Gi Championship. A Checkmat black belt under Leonardo Vieira João turned a few heads his way for the first time on June 2010, after his submission wins over Jeff Monson, (a 2x ADCC Champion who had not been tapped in competition for over 10 years) at UFC 114's Fan Expo (Grapplers Quest).
Joao Assis Jiu Jitsu
Full Name: Joao Francisco de Moraes Assis
Lineage: Mitsuyo Maeda > Carlos Gracie > Helio Gracie > Rolls Gracie > Romero Cavalcanti > Leonardo Vieira > João Assis
Main Achievements:
ADCC Champion (2013)
World Nogi Champion (2015, 2010)
World Champion (2007 – purple belt division)
World Cup Champion (2007 – open weight division, purple belt – CBJJE)
Pan American Champion (2009 – open weight, brown belt division)
10x Grapplers Quest Champion
2x NAGA Champion – NO GI advanced (2009 weight and open weight)
2x NAGA Champion – Jiu Jitsu (2009 weight and open weight)
2008 World NO GI Champion (2008 – brown belt division)
4x American National Champion
California State Champion (2009 – open weight)
ADCC Silver Medallist (2011)
Weight Division: Pesado (Heavyweight) 94kg-207lbs
Favourite Position/Technique: Half Guard sweep, takedown, footlocks and guillotine
Association/Team: Checkmat
Joao Assis Biography
Joao Assis was born on the 11th of July, 1983 in Porto Alegre, the state capital of Rio Grande do Sul. He started training relatively late (he was 17 years old) as a way to learn how to defend himself. As a youngster he got involved in a lot of fights at school as well as at parties, and he wanted to learn self defence. To start his training he sought out Luis Brito, a BJJ and MMA instructor who was from Rio de Janeiro but living and teaching in Porto Alegre.
He stayed with Luis Brito from white belt to purple, but as he got more and more interested in BJJ, Joao Assis realised that grappling was what he wanted to do for the rest of his life and that Porto Alegre just wasn't big enough for him. Always trying to seek out the best sparring and instruction around, he travelled to Sao Paulo to train with a legend in the business, Mr Leonardo Vieira, at the Brasa headquarters (now Checkmat). Under Vieira he met a formidable team that helped his jiu jitsu game grow exponentially, earning his brown belt from Vieira and later the deserved black belt in 2009.
In another display of his fearlessness, Joao moved to the United States, travelling almost "blindfolded". He arrived at the northern territory without any money, any job, house or even a contact number, just armed with his will power and a strong belief in himself. Luckily (or maybe as Joao Assis puts it, thanks to his prayers) he managed to find the right people that helped him get settled in, people like Fabricio Werdum, Rafael Cordeiro, Dan Henderson, Carlson Gracie Junior, Lucas Leite, Robert Drysdale amongst many others.
In America Joao Assis worked extensively on his wrestling and No Gi game to improve his MMA career, a career he started back in 2003 with a win by Mata Leao Choke against Valdir Linhares, at the Profight Combat Show. To get that high profile training Assis sought out one of the best wrestling based teams in MMA, Team Quest, who has some of the best fighters in the world – Dan Henderson, Chael Sonnen, Matt Lindland amongst many others.
Joao Assis Grappling Record
51 WINS
BY POINTS


BY ADVANTAGES




BY SUBMISSION




BY DECISION




BY PENALTIES




BY DQ



20 SUBMISSIONS WINS
#fad11b
Choke from back
5
1
#224aba
Triangle armbar
5
1
#ff9124
Inside heel hook
5
1
20 LOSSES
BY POINTS


BY ADVANTAGES




BY SUBMISSION




BY DECISION




BY PENALTIES




BY DQ



8 SUBMISSIONS LOSSES
#214eb8
North south choke
38
3
#5AD3D1
Choke from back
13
1
Joao Assis Fight History
ID
Opponent
W/L
Method
Competition
Weight
Stage
Year
2429

Roberto Alencar

Roberto Alencar
L
Kimura
NoGi Worlds
94KG
SF
2009
2565

Rafael Lovato

Rafael Lovato
L
Pts: 2x0
Pan American
94KG
SF
2010
2713

Rafael Lovato

Rafael Lovato
L
Points
World Champ.
94KG
4F
2010
3145

Leo Nogueira

Leo Nogueira
L
Referee Decision
World Champ.
100KG
SF
2011
3184

Braga Neto

Braga Neto
L
Choke from back
San Diego Trials
O92
SF
2011
3194

Davi Ramos

Davi Ramos
L
Toe hold
Grapplers Quest LV
ABS
F
2011
3298

Dean Lister

Dean Lister
L
Heel hook
ADCC
99KG
F
2011
3307

Victor Estima

Victor Estima
L
Pts: 2x0
ADCC
ABS
R1
2011
3656

Bernardo Faria

Bernardo Faria
L
Pts: 3x2
Pan American
O100KG
SF
2012
4119

Felipe Bueno

L
Pts: 7x2
World Champ.
100KG
R2
2012
4259

Alexandre Ribeiro

Alexandre Ribeiro
L
Referee Decision
NoGi Worlds
100KG
F
2012
4277

Antonio Peinado

Antonio Peinado
L
North south choke
NoGi Worlds
ABS
4F
2012
4753

Joao Rocha

Joao Rocha
L
Points
World Champ.
ABS
RDS
2013
4816

Luiz Panza

Luiz Panza
L
Botinha
World Champ.
100KG
4F
2013
7769

Yuri Simoes

Yuri Simoes
L
Referee Decision
FIVE SL
ABS
SF
2015
7922

Felipe Pena

Felipe Pena
L
Pts: 9x0
ADCC
99KG
SF
2015
13871

Jackson Sousa

Jackson Sousa
L
Referee Decision
ADCC
99KG
4F
2017
14600

Lucas Barbosa

Lucas Barbosa
L
North south choke
ACB JJ 9
95KG
4F
2017
14717

Lucas Barbosa

Lucas Barbosa
L
North south choke
NoGi Worlds
97KG
F
2017
16918

Richie Martinez

Richie Martinez
D
---
Quintet II
ABS
N/A
2018
16980

Kevin Cassey

L
Referee Decision
W.S.O.G.
O81KG
8F
2018
2563

Daniel Simmler

W
Points
Pan American
94KG
4F
2010
2754

Bruce Hoyer

W
RNC
GQ UFC Expo
ABS
R1
2010
2755

Mario Barbosa

W
RNC
GQ UFC Expo
ABS
4F
2010
2756

Bill Cooper

Bill Cooper
W
Pts: 6x0
GQ UFC Expo
ABS
SF
2010
2757

Jeff Monson

W
RNC
GQ UFC Expo
ABS
F
2010
2758

Wilson Reis

Wilson Reis
W
Pts: 8x0
GQ WBG
ABS
R1
2010
2759

Nader Magrihiy

W
Kneebar
GQ WBG
ABS
4F
2010
2761

Nolan Dutcher

W
Toe hold
GQ WBG
ABS
SF
2010
2763

Alexandre Ribeiro

Alexandre Ribeiro
W
Points
GQ WBG
ABS
F
2010
2769

Bill Cooper

Bill Cooper
W
Pts: 2x2, Adv
GQ Las Vegas
ABS
NA
2010
3090

Ronilson Nunes

W
Choke
World Champ.
100KG
RDS
2011
3125

Ricardo Henrique

W
DQ
World Champ.
100KG
4F
2011
3190

M. Perez

W
RNC
G. Quest WC
ABS
4F
2011
3191

Pat Begin

W
Pts: 23x0
G. Quest WC
ABS
SF
2011
3192

Rustam Chsiev

W
Adv
G. Quest WC
ABS
F
2011
3247

James Poupolo

W
Heel hook
ADCC
99KG
R1
2011
3273

Braga Neto

Braga Neto
W
Footlock
ADCC
99KG
4F
2011
3287

Alexandre Ribeiro

Alexandre Ribeiro
W
RNC
ADCC
99KG
SF
2011
3334

Luis Pedro

W
RNC
No Gi Worlds
ABS
R2
2011
3338

Clark Gracie

Clark Gracie
W
Pts: 10x0
No Gi Worlds
ABS
4F
2011
3343

Antonio Peinado

Antonio Peinado
W
Pts: 2x0
No Gi Worlds
ABS
SF
2011
3653

James Puopolo

James Puopolo
W
Toe Hold
Pan American
O100KG
4F
2012
4258

Bernardo Faria

Bernardo Faria
W
Pts: 3x0
NoGi Worlds
100KG
SF
2012
4274

Gustavo Dias

Gustavo Dias
W
Pts: 12x0
NoGi Worlds
ABS
8F
2012
4724

Pedro Bessa

W
Pts: 2x0
World Champ.
ABS
RDS
2013
4742

Tio Chico

W
Choke from back
World Champ.
ABS
RDS
2013
5026

Liu Wen Bo

W
Pts: 9x0
ADCC
99KG
R1
2013
5030

Tomasz Narkun

W
Pts: 3x0
ADCC
99KG
4F
2013
5034

Leo Nogueira

Leo Nogueira
W
Heel Hook
ADCC
99KG
SF
2013
5036

Dean Lister

Dean Lister
W
Pts: 5x0
ADCC
99KG
F
2013
6060

Eliot Kelly

Eliot Kelly
W
Pts: 2x0
NoGi Worlds
100KG
4F
2014
6061

Roger Ambrosi

W
Pts: 8x0
NoGi Worlds
100KG
SF
2014
6278

Andrew Miller

W
Kneebar
FIVE NAIC
ABS
RR
2014
6279

Marcel Goncalves

Marcel Goncalves
W
Points
FIVE NAIC
ABS
RR
2014
6280

Valdir Araujo

Valdir Araujo
W
Points
FIVE NAIC
ABS
RR
2014
7557

Tom DeBlass

Tom DeBlass
D
---
Sub Series Pro
ABS
SPF
2015
7641

Tom DeBlass

Tom DeBlass
D
---
Sub Series Pro
ABS
SPF
2015
7767

Abraham Marte

Abraham Marte
W
Heel hook
FIVE SL
ABS
4F
2015
7771

Lucas Rocha

Lucas Rocha
W
Pts: 4x2
FIVE SL
ABS
3RD
2015
7909

Tomasz Narkun

W
Pts: 3x0
ADCC
99KG
R1
2015
7920

Kamil Uminski

W
Injury
ADCC
99KG
4F
2015
8464

Evandro Nunes

Evandro Nunes
W
Pts: 6x2
NoGi Worlds
97KG
4F
2015
8467

James Puopolo

James Puopolo
W
Ankle lock
NoGi Worlds
97KG
SF
2015
8469

Roberto Alencar

Roberto Alencar
W
Pts: 4x0
NoGi Worlds
97KG
F
2015
8551

JJ Pugsley

W
RNC
F2W 1
100KG
SPF
2015
9867

Ray Kong

W
Triangle armbar
FTW Pro 5
ABS
SPF
2016
11773

M. Perez

W
Referee Decision
F2W 24
ABS
SPF
2017
13549

Tom deBlass

Tom deBlass
W
Referee Decision
F2W 43
N/A
SPF
2017
13865

Jeff Monson

W
Inside heel hook
ADCC
99KG
E1
2017
14713

Matt Jubera

W
Pts: 9x0
NoGi Worlds
97KG
4F
2017
14715

Tex Johnson

Tex Johnson
W
Pts: 2x0
NoGi Worlds
97KG
SF
2017
15071

Braga Neto

Braga Neto
W
Referee Decision
F2W 61
100KG
SPF
2018
15305

Eliot Marshall

Eliot Marshall
W
Referee Decision
F2W 64
100KG
SPF
2018
Joao Assis vs Joel Tudor