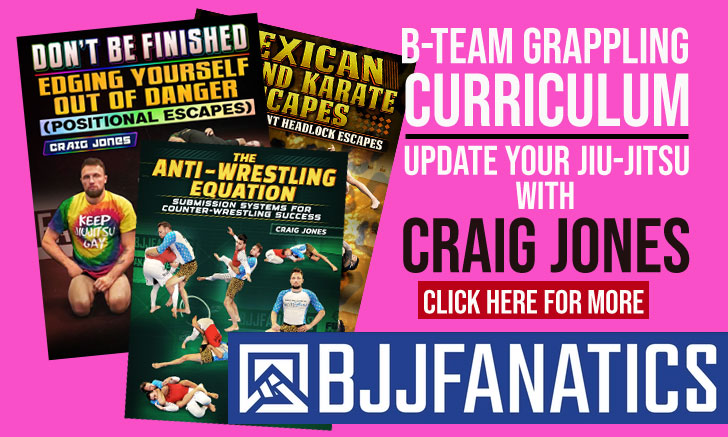 Demian Maia is a Brazilian Jiu-Jitsu black belt and a professional mixed martial arts (MMA) fighter, who reached the top of both sports' rankings, particularly in grappling where Maia earned titles such as World Cup (2002, 2003), ADCC (2007). In MMA Demian had title attempts in the UFC's middleweight (April 2010) and welterweight (July 2017) divisions. Demian is also known for having one of UFC's longest successful submission win streaks (5). In the context of jiu-jitsu history, Maia was at the heart of the early 2000's Alliance Academy's turmoil, a case that ended in the team splitting, giving birth to the Brasa, TT, and Master academies.
Demian Maia Jiu Jitsu
Full Name: Demian Maia Baptista
Nickname: n/a
Lineage: M. Maeda > C. Gracie > H. Gracie > Rolls Gracie > Romero Cavalcanti > Fabio Gurgel > Demian Maia
Main Achievements (BJJ/MMA/Grappling):
ADCC Champion (2007)
CBJJ Brazilian Team National Champion (2003)
IBJJF World Champion (2000 purple belt)
ADCC 2nd Place (2005)
CBJJO World Cup Champion (2002/2003*/2005)
* Absolute
** Weight and absolute
Favorite Technique/Position: Triangle Choke
Weight Division:
BJJ – Médio (Middleweight) 82Kg-181Lbs
MMA – Middleweight & welterweight
Team/Association: Brasa Clube de Jiu Jitsu
Demian Maia Biography
Demian Maia was born in Sao Paulo, Brazil on the 6th of November 1977. His first contact with the Martial Arts world was through Judo at the tender age of 4, a sport that he practiced for 2 years. After an inactivity period, he started taking Karate and Kung-Fu classes by his own initiative. He was 12 and he trained in both these sports until he was 19, when he picked up BJJ. The decision to drop the more traditional martial arts (Karate and Kung Fu), came after he watched an MMA event in the town of Ibrabuera, Brazil, where all 3 of the Brazilian Jiu-Jitsu representatives easily won their respective fights without much effort.
He picked up BJJ at the same time he entered University to study Journalism, and his first Jiu-Jitsu academy was Fabio Araujo's place (who was a Brown Belt at the time under Carlson Gracie). Demian decided to move away from this gym after making the decision to dedicate his time to BJJ and possibly becoming a professional athlete (even though he continued his studies in Journalism).
He sought Fabio Gurgel and his Alliance team academy in Sao Paulo's Centre, with whom he stayed until graduating as Black Belt in a staggering 4 years and 7 months. Although this is an amazingly short period to reach black belt, Demian Maia was training BJJ 2 to 3 times per day and competing in all the main Tournaments (and winning), earning the World Title in the lower belts (purple and Brown) two years on a row. Before earning his Black belt, Demian Maia had his first MMA experience at the "Tormenta Del Ring" tournament in Venezuela (2001).
Demian was also at the centre of a revolution that almost caused Alliance team's demise when in 2002 him and a few others decided to fight in CBJJO's (Confederacao de Jiu Jitsu Olimpico) World Cup, just a few days prior to the World Championships (CBJJ) against Fabio Gurgel and Jacare Romero's instructions. The reason these fighters fought in the Cup was because CBJJO offered a prize money, which the World Championships didn't and Demian along with the others (Rodrigo Comprido, Leo Vieira, Terere and "Rico" Vieira) believed a fighter should get paid for his hard work.
After the refusal to accept Gurgel's orders, the fighters were penalized and denied entrance at the IBJJF World Championships under the Alliance banner, also being barred from their gym for an undetermined time. With these new guidelines, the athletes decided to start their own team, then forming the Masters Academy (a tribute to their master, Romero Jacaré), a workgroup that would later phase out to the Brasa Clube de Jiu-Jitsu team.
Demian remained under Brasa until he decided to pick mixed martial arts as his main activity, a sport in which he gained tremendous notoriety. After going through a series of minor shows in Brazil and Finland, Maia joined the biggest MMA organization of all, the UFC where he had a fantastic run, winning several "Submission of the Night" bonus prizes.
Demian Maia Grappling Record
27 WINS
BY POINTS


BY ADVANTAGES




BY SUBMISSION




BY DECISION




BY PENALTIES




BY DQ



9 SUBMISSIONS WINS
#86e620
Choke from back
22
2
11 LOSSES
BY POINTS


BY ADVANTAGES




BY SUBMISSION




BY DECISION




BY PENALTIES




BY DQ



1 SUBMISSION LOSSES
#214eb8
Brabo choke
100
1
Demian Maia Fight History
ID
Opponent
W/L
Method
Competition
Weight
Stage
Year
707

Alexandre Dantas

Alexandre Dantas
L
Points
Brasileiro
ABS
4F
2002
720

Roger Graci.

L
Points
Team Nationals
O88KG
F
2002
741

Roger Gracie

Roger Gracie
L
Points
Team Nationals
O88KG
4F
2003
939

Fabio Nascimento

Fabio Nascimento
L
Points
World Cup
88KG
SF
2003
1195

Ronaldo Souza

Ronaldo Souza
L
Pts: 0x0, Pen
ADCC
88KG
F
2005
1301

Braulio Estima

Braulio Estima
L
Pts: 0x0, Adv
World Champ.
88KG
SF
2005
1391

Alexandre Ribeiro

Alexandre Ribeiro
L
Pts: 0x0, Adv
Pan American
ABS
4F
2006
1470

Roberto Abreu

Roberto Abreu
L
Pts: 4x0
World Champ.
ABS
4F
2006
1500

Romulo Barral

Romulo Barral
L
Brabo choke
Brasileiro
88KG
SF
2006
1513

Marcelo Garcia

Marcelo Garcia
L
Pts: 2x0
Brasileiro
ABS
F
2006
1820

Luiz Theodoro

L
Referee Decision
Super Challenge
ABS
4F
2007
746

Leandro Borgo

W
Pts: 5x0
Team Nationals
O88KG
F
2003
947

Ricardo Tozzi

W
Triangle
World Cup
ABS
R1
2003
949

Fabio Nascimento

Fabio Nascimento
W
Choke from back
World Cup
ABS
4F
2003
950

Fernando Paradeda

Fernando Paradeda
W
Points
World Cup
ABS
SF
2003
951

Gabriel Napão

W
Points
World Cup
ABS
F
2003
1187

Marko Helen

W
Pts: 3x0
ADCC
88KG
R1
2005
1190

David Avellan

W
Pts: 3x0
ADCC
88KG
4F
2005
1192

Saulo Ribeiro

Saulo Ribeiro
W
Pts: 0x0, Pen
ADCC
88KG
SF
2005
1254

Paulo Jacare

W
Pts: 8x0
World Cup
88KG
SF
2005
1255

Ronaldo Souza

Ronaldo Souza
W
Adv
World Cup
88KG
F
2005
1297

Rodrigo Pnheiro

W
Pts: 4x4, Adv
World Champ.
88KG
R1
2005
1298

Antonio Borges

W
Choke from back
World Champ.
88KG
4F
2005
1371

Paulo Gazze

Paulo Gazze
W
Triangle
Pan American
88KG
4F
2006
1372

Romulo Barral

Romulo Barral
W
Pts: 4x2
Pan American
88KG
SF
2006
1373

Givanildo Santana

Givanildo Santana
W
Points
Pan American
88KG
F
2006
1383

Rafael Barbosa

Rafael Barbosa
W
Armbar
Pan American
ABS
R1
2006
1464

Rodolfo Silva

W
Points
World Champ.
ABS
R1
2006
1509

Romulo Barral

Romulo Barral
W
Referee Decision
Brasileiro
ABS
4F
2006
1512

Fernando Piero

Fernando Piero
W
Omoplata
Brasileiro
ABS
SF
2006
1695

Yushin Okami

W
Points
ADCC
88KG
R1
2007
1701

Rafael Lovato

Rafael Lovato
W
Points
ADCC
88KG
4F
2007
1703

Tarsis Humphreys

Tarsis Humphreys
W
Points
ADCC
88KG
SF
2007
1706

Flavio Almeida

Flavio Almeida
W
Armbar
ADCC
88KG
F
2007
1813

Bruno Bastos

Bruno Bastos
W
Pts: 3x0
Super Challenge
ABS
R1
2007
32058

Alex Oliveira

W
Triangle
BJJ Stars
NA
SPF
2022
33287

Ben Henderson

W
Referee Decision
Polaris 20
ABS
SPF
2022
37604

Sangwook Kim

W
Katagatame
Spyder RTBB
ABS
SPF
2023
Demian Maia By Riccardo Baleia