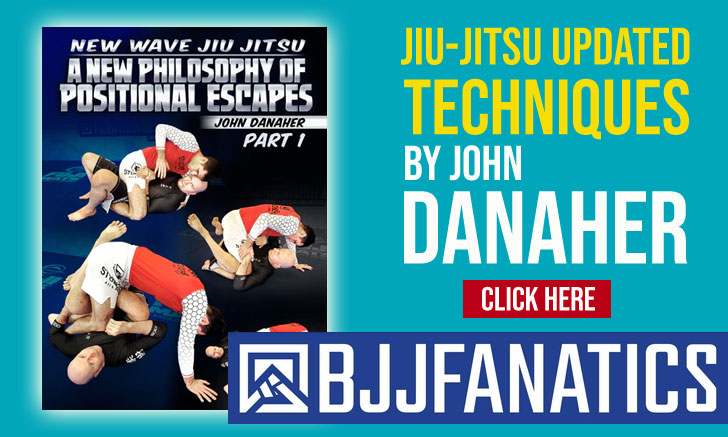 Tarik Hopstock is a Norwegian grappler and a black belt in jiu-jitsu under Eduardo Rios (Teta), who represents the Scandinavian team Frontline in the sport's global circuit. Hopstock made a name for himself as one of the leading competitors of Europe during his colored belt career, a reputation earned after his numerous medals on the International Brazilian Jiu-Jitsu Federation (IBJJF) league, particularly the podium placements at the World, World No-Gi, and European Championships. Tarik Hopstock is also widely recognized as the creator of the Tarikoplata, a submission he introduced to the BJJ world as a blue belt.
Tarik Hopstock Jiu-Jitsu
Full Name: Tarik Hopstock
Nickname: N/A
Lineage: Carlos Gracie > Helio Gracie > Carlson Gracie > Ricardo Libório > Eduardo Rios > Tarik Hopstock
Main Achievements:
2nd Place Copa Podio 77KG Grand Prix (2019)
3rd Place IBJJF European Open (2022)
Main Achievements (Colored Belts):
1st Place IBJJF European Open (2014 / 2015 blue, 2017 purple, 2018 brown)
1st Place IBJJF European Open (2015** blue, 2017** purple, 2018 brown
2nd Place IBJJF World Championship NOGI (2015 / 2016* purple)
2nd Place IBJJF European Open (2020* brown)
3rd Place IBJJF European Open (2015* blue, 2016** purple, 2018* / 2019** / 2020* brown)
3rd Place IBJJF World Championship (2016 / 2017** purple, 2018 / 2019 brown)
3rd Place IBJJF World Championship NOGI (2016 purple)
Favorite Position / Technique: Straight ankle lock
Weight Division: Peso Médio (82,30 kg / 181.5 lbs)
Team/Association: Frontline
Tarik Hopstock Biography
Tarik Hopstock was born on May 10, 1996, in Oslo, Norway.
Tarik's first attempt at martial arts came through judo, an activity he practiced during his tweens at a local club. Although the experience was highly positive, his gym only offered one (1) judo class per week, a scarce schedule that did not satiate Hopstock's training needs. While looking for another workgroup that offered a busier timetable, Tarik was invited by a friend to come and visit the Frontline Academy, an offer accepted by the young Norwegian.
At the Frontline Academy, Tarik discovered jiu-jitsu and met the team's leader, Eduardo Rios (Teta) – one of the most charismatic and knowledgeable coaches on the European Continent – whose relationship with Hopstock is often mentioned by Tarik as a deciding factor in his sporting success.
As a juvenile athlete, Tarik started showing signs of his potential in the local circuit. Noticing Hopstock's qualities, coach Rios pushed his student to attend the adult classes, a decision that helped Tarik's growth tremendously. It was also the added hardship of practicing with his adult teammates that helped Hopstock develop one of his most celebrated creations – the Tarikoplata – a modified shoulder lock (check more details about this position here).
In an interview given to BJJ Heroes back in September 2020, Tarik Hopstock said of the Tarikoplata's inception:
"It started with how I struggled to pull people's arms out from the top kimura position. This was around 2014. So, one day after class I was trying to solve the problem with some of my teammates. A lot of the times I would try to almost deadlift the arm out or just go back to the D'Arce choke. My thought was that there had to be some technical way to advance with attacking the arm. After some trial and error I ended up passing the leg over my partner's hip line, but we were all skeptical about the move at the time. We thought it was too risky turning your back to the opponent. Later I started to recognize the position for the bottom and had successfully applied it to my game. We didn't even call it Tarikoplata until I had gotten it numerous times in competitions."
The talent displayed during his juvenile grappling career only improved as Tarik moved on to the adult division. After numerous medals in the sport's top events, and wins over many high-level competitors, Hopstock was promoted to black belt by his long-time instructor, Eduardo Rios, in a ceremony that took place on December 05, 2021.
ABOUT TARIK HOPSTOCK'S GRAPPLING RECORD
Although Tarik made his black belt debut on February 2022, at the European Open, the Norwegian grappler had competed in previous years, as a brown belt, in a few of the sport's top pro-circuit events, namely in Polaris & Copa Pódio. Although BJJ Heroes traditionally only accounts for adult black belt matches (the main division in our sport), we believed these previous matches were landmarks in Hopstock's career and worth including in his record.
Tarik Hopstock Grappling Record
23 WINS
BY POINTS


BY ADVANTAGES




BY SUBMISSION




BY DECISION




BY PENALTIES




BY DQ



19 SUBMISSIONS WINS
#214eb8
Straight ankle lock
37
7
#f58822
Arm in Ezekiel
5
1
15 LOSSES
BY POINTS


BY ADVANTAGES




BY SUBMISSION




BY DECISION




BY PENALTIES




BY DQ



6 SUBMISSIONS LOSSES
#214eb8
Choke from back
33
2
#86e620
Bow and arrow
17
1
Tarik Hopstock Fight History
ID
Opponent
W/L
Method
Competition
Weight
Stage
Year
19204

Ygor Rodrigues

Ygor Rodrigues
L
Pts: 2x2, Adv
Copa Podio
77KG
RR
2019
19217

Tommy Langaker

Tommy Langaker
L
Choke from back
Copa Podio
77KG
F
2019
24069

Darragh OConaill

Darragh OConaill
D
---
Polaris Squads
ABS
RR
2020
30584

Tainan Dalpra

Tainan Dalpra
L
Bow and arrow
European Open
82KG
SF
2022
32948

Tommy Langaker

Tommy Langaker
L
Pts: 8x4
World Champ.
82KG
4F
2022
37125

Vinicius Liberati

Vinicius Liberati
L
Pts: 0x0, Adv
European Open
ABS
R1
2023
37210

Faris Dean

L
Referee Decision
European Open
88KG
R2
2023
37649

Faris Benlamkhadem

L
Pts: 2x0
London Open
88KG
SF
2023
37667

Roberto Jimenez

Roberto Jimenez
L
Choke from back
London Open
ABS
SF
2023
37697

Roberto Jimenez

Roberto Jimenez
L
RNC
London NGO
91KG
F
2023
37703

Erick Souza

L
Points
London NGO
ABS
4F
2023
38221

Jansen Gomes

Jansen Gomes
L
Pts: 12x1
AJPGD LDN
85KG
4F
2023
38229

Erick Souza

L
Botinha
AJPGD LDN
85KG
RPC
2023
38397

Eduardo Avelar

Eduardo Avelar
L
Pts: 2x0
Pan American
82KG
4F
2023
40281

Tye Ruotolo

Tye Ruotolo
L
Kneebar
World Champ.
82KG
4F
2023
42500

J. Chen

D
---
Quintet 4
ABS
NA
2023
42599

Omer Emanoely

L
Pts: 2x0
ADCC EU Trials
88KG
8F
2023
19201

Jhonny Loureiro

Jhonny Loureiro
W
Footlock
Copa Podio
77KG
RR
2019
19206

Darragh OConaill

Darragh OConaill
W
Tarikoplata
Copa Podio
77KG
RR
2019
19216

Alef Brito

Alef Brito
W
Footlock
Copa Podio
77KG
SF
2019
19539

Eoghan OFlanagan

W
Straight ankle lock
Polaris 9
82KG
SPF
2019
21511

Sean McDonagh

W
Tarikoplata
Polaris 11
85KG
SPF
2019
24070

Kieran Davern

D
---
Polaris Squads
ABS
RR
2020
28375

Fred Grenall

W
Referee Decision
Polaris 17
85KG
SPF
2021
30583

Evyatar Paperni

W
Straight ankle lock
European Open
82KG
4F
2022
32019

Max Lindblad

Max Lindblad
W
Footlock
Dublin Open
82KG
SF
2022
32031

Haidar Abbas

W
Footlock
Dublin Open
ABS
R1
2022
32034

Jan Zander

W
Kimura
Dublin Open
ABS
4F
2022
32036

Sean Coates

W
Footlock
Dublin Open
ABS
SF
2022
32038

Lucasz Michalec

W
Points
Dublin Open
ABS
F
2022
32934

Gyalisson Freitas

W
Straight ankle lock
World Champ.
82KG
R1
2022
32942

Servio Tulio

Servio Tulio
W
Straight ankle lock
World Champ.
82KG
8F
2022
37645

Oliver Falkingham

W
Arm in Ezekiel
London Open
88KG
4F
2023
37659

Baruc Barrios

W
Darce choke
London Open
ABS
R1
2023
37663

Bradley Schneider

W
Pts: 22x0
London Open
ABS
4F
2023
37695

Max Bickerton

W
Pts: 0x0, Pen
London NGO
91KG
SF
2023
38214

Hiago Lima

W
Straight ankle lock
AJPGD LDN
85KG
R1
2023
38228

Fredrik Widgren

W
Kneebar
AJPGD LDN
85KG
RPC
2023
38393

Joshua McKinney

W
Straight ankle lock
Pan American
82KG
R1
2023
40273

Eduardo Avelar

Eduardo Avelar
W
Straight ankle lock
World Champ.
82KG
8F
2023
42598

Ben Hodgkinson

W
Darce choke
ADCC EU Trials
88KG
16F
2023