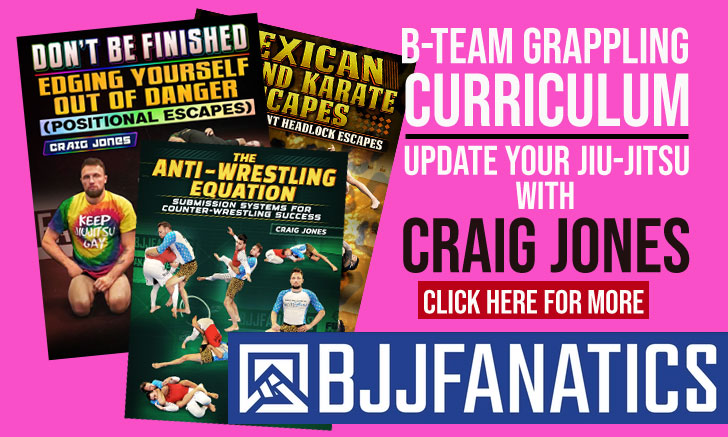 Cassio Werneck was one of the top Brazilian Jiu Jitsu middle-weights at the turn of the century. A black belt under Ricardo Reis, Cassio Werneck fought a true who is who of BJJ, such as Terere, Marcelo Garcia, Marcel Louzado and many others having managed to win some of the most important tournaments in the world, like the Mundial and the Pan American.
Cassio Werneck Jiu-Jitsu
Lineage: Mitsuyo Maeda > Carlos Gracie > Reyson Gracie >Osvaldo Alves > Fabrício Martins > Ricardo Reis > Cassio Werneck
Main Achievements:
1st Place IBJJF World Championship (2003)
1st Place IBJJF Pan Championship (2003)
1st Place CBJJO Brazilian Cup (2002)
2nd Place IBJJF World Championship (2004)
2nd Place CBJJO World Championship (2004)
2nd Place IBJJF Pan Championship (2004)
3rd Place IBJJF Pan Championship (2000, 2001, 2004)
3rd Place CBJJ Brazilian Nationals (1999)
Main Achievements (Colored Belts):
1st Place IBJJF Pan Championship (1997 & 1998 brown)
2nd Place IBJJF World Championship (1997 brown)
3rd Place CBJJ Brazilian Nationals (1998 brown)
Favorite Position/Technique: N/A
Weight Division: Peso Medio (82kg-181lbs); Meio-Pesado (88kg-194lbs)
Team/Association: Cassio Werneck BJJ (formerly BTT, Oswaldo Alves)
Cassio Werneck Biography
Cassio Werneck was born on the 17th of February, 1974 in the capital of Brazil – Brazilia, being the youngest of 4 children. He began his life as a martial artist when he was 11 years old, starting to practice Capoeira, an activity Cassio carried out for 4 years. He would make the bridge to grappling in 1991 moving to a Judo club where he was coached by sensei Miura.
Cassio found jiu-jitsu through Professor Sardella in 1992, an instructor who covered more the self defence aspect of the sport who was also a member of the Federal Police in Brasilia. However, Werneck only was truly converted to BJJ a few months later. That special moment occurred while doing his Judo class. A new guy (brown belt) arrived in town from Rio de Janeiro, Cassio thought the guy was Judo brown belt and asked him to grapple. Werneck was very confident of his newaza (Judo ground-work) as he had been doing well against other brown belts, but after 5 minutes of training he found out that his ground game did not compare. After being submitted several times he asked where the guy trained and found out he did BJJ.
The guy's name was Ricardo Reis (commonly known as "Tanque" in Brazil), and he became Werneck's Jiu-Jitsu coach after a few days. This was in 1993, and Werneck started training BJJ full time with Tanque until the day he received his black belt in 1998.
He came to America for the first time in 1996, where he stayed for a few months. He ended opening a training center there with the help of Terry Maxwell and left his brother Roberto coaching while he returned to Brazil. Werneck came back to the country several times to compete, give seminars and teach at that same school, until in 2003 he was invited to come and coach full time at an academy also in Sacramento (Kovar Karate) which he did. He would open his own academy at a later stage.
While in America, Cassio Werneck also tried his luck in MMA doing very well against high-level competition such as Tobi Imada in the WEC, winning both his professional bouts by submission.
Ever since he arrived in the country Werneck has been coaching full time, having also graduated several American black belts in jiu-jitsu, such as:
Adrian Saldana
Al Williams
Brad Sandoval
Toby Staley
Dan Goodwin
Derek DiManno
Gustavo Enriquez
Marcos Torregossa
Zaid Mirza
Cassio Werneck Academy
3732 Auburn Blvd
Sacramento
CA
95821
Cassio Werneck vs Adriano Pires (2004)

Cassio Werneck vs Ricardo Bastos

Cassio Werneck Highlight