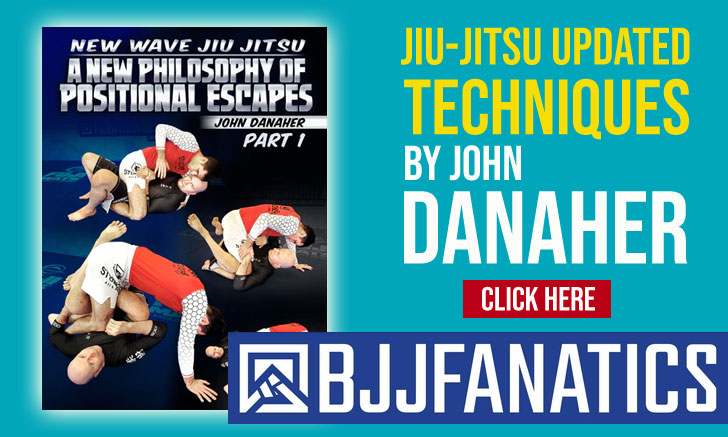 Fabricio Barbarotti is a jiu-jitsu black belt under coach Cicero Costha who represents Costha's team in the sport's global circuit where he's earned numerous medals of the International Brazilian Jiu-Jitsu Federation (IBJJF). Barbarotti is a rare case of someone who did not break through in the sport up until his black belt rank, a fact that was owed largely to his family obligations while climbing the BJJ belt system.
Fabricio Barbarotti Jiu-Jitsu
Full Name: Fabricio José Barbarotti
Nickname: N/A
Lineage: Carlos Gracie > Helio Gracie > Rickson Gracie > Marcelo Behring > Waldomiro Perez > Roberto Godoi > Marco Barbosa > Cicero Costha > Fabricio Barbarotti
Main Achievements:
1st Place P-Belum Invitational (2020)
1st Place IBJJF Atlanta Winter Open (2022)
1st Place IBJJF London Winter Open (2019)
1st Place IBJJF New York Fall Open (2019)
1st Place IBJJF Cincinnati Open (2017)
1st Place IBJJF Toronto Open (2018 / 2019)
1st Place AJP British National Pro (2019*)
Main Achievements (Colored Belts):
2nd Place CBJJ Brazilian Nationals (2017 brown)
3rd Place IBJJF Pan Championship (2016 brown)
* Absolute
** Weight and Absolute
Favorite Position/Technique: Omoplata
Weight Division: Peso Leve (76,00 kg / 168.0 lbs)
Team/Association: Cicero Costha
Fabricio Barbarotti Biography
Fabricio Barbarotti was born on February 08, 1996, in São José do Rio Preto, São Paulo, Brazil.
Interested in sports from a young age, Barbarotti made an attempt at football/soccer during his pre-teens, though he quickly found out he lacked the talent for the pitch. The collapse of Fabricio's soccer career drove the São Paulo native down to his local jiu-jitsu gym.
Although Fabricio did not truly know what jiu-jitsu was when he walked into coach Ercules Malta's gym, he was a martial arts movie enthusiast and wanted to know more. Enticed by the prospect of learning mixed martial arts, 11-year-old Barbarotti decided to join Malta's grappling classroom. The year was 2007.
Sadly for young Fabricio, jiu-jitsu was not a love at first sight type affair. Malta's class did not have any children of his age, and grappling did not interest Fabricio as much as the kicking and punching styles he had been accustomed to watching on the television. Two factors that led Barbarotti to quit after a few weeks.
A month after he left the academy, Fabricio bumped into one of Malta's students who convinced him to return to class. Two weeks after his return, Fabricio competed at a local tournament and won. The victory piqued his interest in the sporting aspect of jiu-jitsu and led the young athlete to remain in the sport, even joining a kids' side-project of coach Eracles, where he was able to train with children of his age.
Once Fabricio started training with coach Ercules' kids, he became hooked to jiu-jitsu, training 2 or 3x per day, every weekday. During this time, Barbarotti became a big fan of Cicero Costha's work in the state capital and desired to one day train with the famous coach, but was unable to do so due to his obligations, taking care of his elderly father. As a brown belt, however, Barbarotti's older brother returned to Rio Preto and offered to care for their dad, allowing Fabricio to move to the capital.
Under coach Cicero, Fabricio was able to compete internationally, placing 3rd at the brown belt Pan Championships in 2016, before being promoted to black belt in August 2017.
During the end of 2017, Fernando Zulik started a project alongside Cicero Costha in Canada, a project that was a gateway for Fabricio to train and compete in North America for an extended period. Sadly, when the world was hit by the COVID19 pandemic, restrictions forced Barbarotti to return to his hometown. He returned to the continent in 2021, settling in Florida.
Fabricio Barbarotti Grappling Record
43 WINS
BY POINTS


BY ADVANTAGES




BY SUBMISSION




BY DECISION




BY PENALTIES




BY DQ



9 SUBMISSIONS WINS
#5AD3D1
Choke from back
11
1
41 LOSSES
BY POINTS


BY ADVANTAGES




BY SUBMISSION




BY DECISION




BY PENALTIES




BY DQ



14 SUBMISSIONS LOSSES
#214eb8
Choke from back
21
3
#224aba
North south choke
7
1
Fabricio Barbarotti Fight History
ID
Opponent
W/L
Method
Competition
Weight
Stage
Year
14637

Matt Leighton

Matt Leighton
L
Triangle
Cincinnati Open
ABS
4F
2017
16250

Marcos Tinoco

Marcos Tinoco
L
North south choke
Brasileiro
82KG
4F
2018
17058

Lucas Valle

L
Referee Decision
Boston SMO
82KG
F
2018
17860

Gabriel Procopio

Gabriel Procopio
L
Referee Decision
Miami FO
82KG
SF
2018
17865

Roberto Abreu

Roberto Abreu
L
Cross face
Miami FO
ABS
F
2018
18363

Alexandre Jesus

Alexandre Jesus
L
Pts: 0x0, Adv
South American
82KG
SF
2018
18492

Yan Lucas

Yan Lucas
L
Triangle
Brasilia Open
82KG
F
2018
18548

Ygor Dantas

L
Botinha
BH Sp Open
82KG
F
2018
18908

Leonardo Lara

Leonardo Lara
L
Choke
European Open
82KG
R1
2019
19221

Guilherme Rocha

Guilherme Rocha
L
Referee Decision
UK National Pro
77KG
SF
2019
19435

Guilherme Rocha

Guilherme Rocha
L
Pts: 2x0
Grand Slam LDN
77KG
R1
2019
19619

Otavio Sousa

Otavio Sousa
L
Katagatame
Pan American
82KG
8F
2019
20621

Michael Langhi

Michael Langhi
L
Pts: 2x0
World Champ.
76KG
R1
2019
21073

Felipe Cesar

Felipe Cesar
L
Points
NY BJJ Pro
82KG
4F
2019
21491

Felipe Cesar

Felipe Cesar
L
Pts: 6x4
Boston SMO
82KG
F
2019
23094

Vitor Oliveira

Vitor Oliveira
L
Pts: 0x0, Adv
European Open
76KG
R1
2020
23330

Ethan Crelinsten

Ethan Crelinsten
D
---
Para Bellum
ABS
F
2020
23457

Pablo Lavaselli

Pablo Lavaselli
L
Pts: 2x0
Canada Pro
77KG
F
2020
24563

Osvaldo Moizinho

Osvaldo Moizinho
L
Pts: 2x2, Adv
American Nats
76KG
4F
2020
26268

Lucas Valle

L
Points
Miami Open
82KG
SF
2021
26272

Lucas Valle

L
N/A
Miami Open
ABS
4F
2021
27244

Tainan Dalpra

Tainan Dalpra
L
Choke from back
Grand Slam MIA
77KG
4F
2021
27252

Caio Caetano

Caio Caetano
L
Pts: 3x3
Grand Slam MIA
77KG
3RD
2021
27330

Johnny Tama

Johnny Tama
L
Referee Decision
Charleston SO
76KG
SF
2021
27345

Davi Cabral

Davi Cabral
L
Kneebar
Charleston SO
ABS
SF
2021
27574

Lucas Valente

Lucas Valente
L
Botinha
Pan American
76KG
4F
2021
29504

Renato Canuto

Renato Canuto
L
Pts: 7x2
World Champ.
76KG
8F
2021
30682

Kevin Mahecha

Kevin Mahecha
L
Pts: 2x0
Miami WO
76KG
SF
2022
31652

Igor Feliz

Igor Feliz
L
Referee Decision
Pan American
76KG
R2
2022
32754

Matheus Gabriel

Matheus Gabriel
L
Armbar
Houston Open
76KG
F
2022
32912

Sergio Soares

L
Referee Decision
World Champ.
76KG
R1
2022
33399

Osvaldo Moizinho

Osvaldo Moizinho
L
DQ
American Nat.
76KG
4F
2022
34723

Joshua Mckinney

L
Pts: 0x0, Adv
JJ Con
82KG
4F
2022
35888

Alef Brito

Alef Brito
L
Points
Houston FO
82KG
4F
2022
36674

Austin Oranday

L
Toe hold
Waco Open
82KG
F
2022
38383

Elijah Dorsey

Elijah Dorsey
L
Pts: 0x0, Adv
Pan American
76KG
8F
2023
38805

Gabriel Sousa

Gabriel Sousa
L
Pts: 2x0
Charleston Open
ABS
SF
2023
39783

Jonata Gomes

Jonata Gomes
L
Pts: 3x2
Denver Open
76KG
SF
2023
40245

Leo Saggioro

Leo Saggioro
L
Choke from back
World Champ.
76KG
R1
2023
41128

Mathias Luna

Mathias Luna
L
Choke from back
American Nats
82KG
4F
2023
41543

Raul Basilio

Raul Basilio
L
Pts: 0x0, Adv
Orlando SMO
82KG
SF
2023
41684

Arthur Detanico

Arthur Detanico
L
Points
Dallas SMO
82KG
SF
2023
14634

Ashur Darmo

W
Points
Cincinnati Open
82KG
F
2017
16246

Flavio Junqueira

Flavio Junqueira
W
Points
Brasileiro
82KG
8F
2018
17056

Renan Borges

W
Points
Boston SMO
82KG
SF
2018
17338

Darson Hemmings

Darson Hemmings
W
Referee Decision
Toronto Open
82KG
F
2018
17863

Rodrigo Francioni

Rodrigo Francioni
W
Omoplata
Miami FO
ABS
SF
2018
18489

Guilliard Douglas

W
Points
Brasilia Open
82KG
4F
2018
18491

Chaise Olimpio

W
Points
Brasilia Open
82KG
SF
2018
18546

Pedro Henrique

W
Points
BH Sp Open
82KG
4F
2018
18547

Matheus Costa

Matheus Costa
W
Points
BH Sp Open
82KG
SF
2018
19277

Samuel Cook

W
Adv
London WO
82KG
SF
2019
19278

Sam Gibson

W
Points
London WO
82KG
F
2019
19616

Brian Beaury

Brian Beaury
W
DQ
Pan American
82KG
R1
2019
21488

Thiago Goncalves

W
Points
Boston SMO
82KG
4F
2019
21489

Lucas Valle

W
Referee Decision
Boston SMO
82KG
SF
2019
22015

Matthew McDonald

W
Points
Toronto Open
76KG
F
2019
22667

Francis Quinn

W
Points
NYC Fall Open
76KG
4F
2019
22668

Daniel Sirica

W
Points
NYC Fall Open
76KG
SF
2019
23323

Corey Guitard

D
---
Para Bellum
ABS
SF
2020
23455

Riccardo Galli

W
Triangle
Canada Pro
77KG
RR
2020
24557

Damian Kells

W
Choke from back
American Nats
76KG
R1
2020
25155

Guilherme Rocha

Guilherme Rocha
W
Referee Decision
F2W 164
75KG
SPF
2021
27249

Kevin Mahecha

Kevin Mahecha
W
Pts: 3x2
Grand Slam MIA
77KG
RPC
2021
27251

Gialysson Freitas

Gialysson Freitas
W
Pts: 7x5
Grand Slam MIA
77KG
RPC
2021
27341

Charles McGuire

W
Submission
Charleston SO
ABS
4F
2021
27570

Johnny Tama

Johnny Tama
W
DQ
Pan American
76KG
8F
2021
29035

Clay Mayfield

W
Points
JJ CON
82KG
R1
2021
29495

Espen Mathiesen

Espen Mathiesen
W
Referee Decision
World Champ.
76KG
R1
2021
30466

Daniel Maira

Daniel Maira
W
Pts: 6x6, Adv
Atlanta WO
76KG
4F
2022
30470

Alexandre Molinaro

Alexandre Molinaro
W
Omoplata
Atlanta WO
76KG
SF
2022
30471

Nick Salles

Nick Salles
W
Pts: 4x2
Atlanta WO
76KG
F
2022
30679

Murilo Linhares

W
Omoplata
Miami WO
76KG
4F
2022
30780

Daniel Diniz

Daniel Diniz
W
Pts: 4x4, Adv
Dallas Open
76KG
4F
2022
30784

Alexandre Molinaro

Alexandre Molinaro
W
Pts: 2x2, Pen
Dallas Open
76KG
F
2022
31646

Charles Murdock

W
Omoplata
Pan American
76KG
R1
2022
32752

Youngseung Cho

Youngseung Cho
W
Triangle
Houston Open
76KG
SF
2022
33395

Tyler Najjar

W
Armbar
American Nat.
76KG
R1
2022
35787

Daniel Donahue

W
Referee Decision
Miami FO
82KG
SF
2022
35789

Lucas Brito

W
Referee Decision
Miami FO
82KG
F
2022
36672

Arthur Detanico

Arthur Detanico
W
Pts: 0x0, Adv
Waco Open
82KG
SF
2022
38373

Jose Perez

W
Pts: 4x0
Pan American
76KG
R1
2023
38795

Dante Muschamp

W
Points
Charleston Open
82KG
SF
2023
38804

Chris Passerrello

W
Pts: 2x0
Charleston Open
ABS
4F
2023
41124

Max Li

W
Pts: 2x0
American Nats
82KG
R1
2023
41540

Caio Ferreira

W
N/A
Orlando SMO
82KG
4F
2023