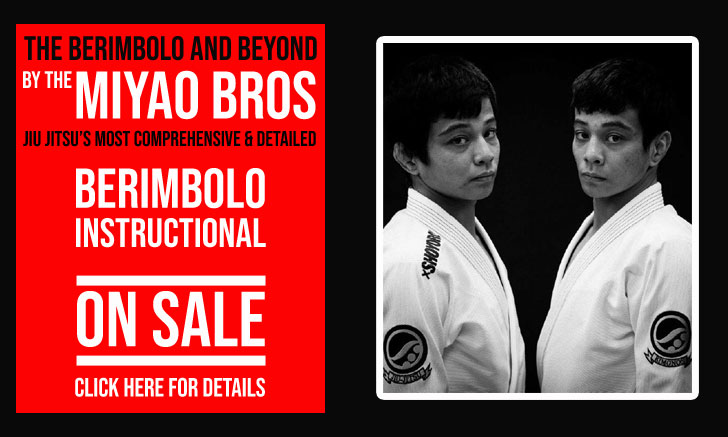 Gabriel Arges is a Brazilian jiu jitsu black belt under Romulo Barral and Felipe "Preguiça", who also trained extensively with Marcelo "Uirapuru", competing for the Gracie Barra Academy. Arges made a name for himself in the lower belt divisions of the sport, particularly during his purple and brown belt campaigns (2013-2015) where he conquered important titles such as IBJJF World Champion (Gi/No-Gi), European Open Champion, as well as Pan America and American National Champion.
Gabriel Arges Jiu Jitsu
Full Name: Gabriel Arges
Nickname: "Frodo". When the Lord of The Rings films came out, Gabriel's haircut resembled that of the famous hobbit. For that reason, his fellow football team mates started calling him Frodo.
Lineage: Mitsuyo Maeda > Carlos Gracie (Sr) > Helio Gracie > Carlos Gracie Junior > Vinícius Magalhães > Rômulo Barral > Gabriel Arges
Main Achievements:
IBJJF World Champion (2017/2016)
ACB 4 Grand Prix Champion (2017)
UAEJJF Abu Dhabi Pro Champion (2017/2016)
UAEJJF King of Mats 85 kg Champion (2019)
UAEJJF Grand Slam Abu Dhabi Champion (2017)
UAEJJF Grand Slam Los Angeles Champion (2016)
UAEJJF Grand Slam Tokyo Champion (2016)
IBJJF European Open Champion (2016)
Main Achievements (Colored Belts):
IBJJF World Champion (2014 purple)
IBJJF World No-Gi Champion (2015 brown, 2013 purple)
UAEJJF Abu Dhabi Pro Champion (2015 brown, 2014 purple)
IBJJF Pan American Champion (2014 purple)
IBJJF European Open Champion (2014 purple)
IBJJF American National Champion (2015 brown)
IBJJF American National No-Gi Champion (2015** brown)
IBJJF World Championship 3rd Place (2015** brown)
IBJJF World No-Gi Championship 3rd Place (2014 brown)
IBJJF Pan American Championship 3rd Place (2015 brown, 2013 purple)
* Absolute
* Weight and absolute
Favorite Position/Technique: X + Single X Guards
Weight Division: Peso Médio (82,30 kg/181.5 lbs)
Team/Association: Gracie Barra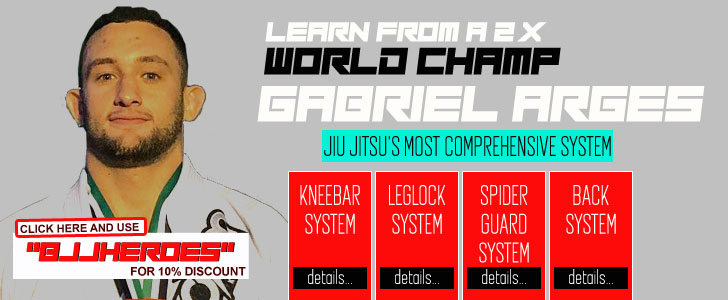 Gabriel Arges Biography
Gabriel Arges was born on the 29th of January, 1993 in Belo Horizonte – state of Minas Gerais, Brazil.
Throughout his childhood Gabriel practised a number of sports, with his first martial arts experience coming at the age of 14 through Thai-boxing. A contact that was short-lived as Arges was more committed to his school's football (soccer) team, a group he captained at the time.
In his early teens, Arges had a few friends who trained and competed in jiu jitsu. They would often invite Gabriel to watch their tournaments and even attend their open mat sessions at each other's homes. These invites eventually led Gabriel to the mat (at the age of 16), joining a gym close to his house, which he already attended for fitness purposes.
At this gym Gabriel Arges' first instructor was Fernando Fialho of the Gracie Barra Belo Horizonte (GB-BH) team. Fialho had just earned his brown belt at the time and was starting his coaching career, having plenty eagerness and time to spend with his students. After 18 months training under the watchful eye of Fernando, Gabriel earned his blue belt.
After earning his blue belt, Gabriel decided he wanted to compete more. Fialho's gym only had a few blue belts to spar with, and offered 3 classes per week, so with his coach's permission Arges decided to reconcile his training between Fialho and the GB-BH headquarters' classes – led by Marcelo "Uirapuru" Azevedo.
At the headquarters of the BH academy, Gabriel Arges met and befriended Felipe "Preguiça" Pena who was a purple belt then. Together with senior coach Uirapuru, Pena helped push Arges' game to the next level.
Felipe Pena and Arges trained extensively together, from 2011 onwards. Arges would often travel with Pena and train at his academy, right from this academy's inception. In 2012 Preguiça decided to return to Romulo Barral's academy (Gracie Barra Northridge), where he had been for the previous year's Pan Ams and World Championship preparation, a recipe that had been very fruitful. Pena invited Arges to come as well, which turned out to be the start of another important student-coach relationship in Arges' life, with Barral.
Romulo Barral became a huge influence in Gabriel's decision to become a professional jiu jitsu athlete, promoting Arges to brown belt after he won his first world title (2014) together with Felipe Pena. The two would also award Gabriel his black belt in a similar situation, after Arges won the No-Gi World Championship in 2015, whilst on the podium.
Banner picture taken by Preston Smith.
Gabriel Arges Grappling Record
79 WINS
BY POINTS


BY ADVANTAGES




BY SUBMISSION




BY DECISION




BY PENALTIES




BY DQ



32 SUBMISSIONS WINS
#214eb8
Choke from back
34
11
#224aba
Mounted triangle
3
1
#bf1f6c
Mounted X choke
3
1
#22c9a5
Triangle from mount
3
1
18 LOSSES
BY POINTS


BY ADVANTAGES




BY SUBMISSION




BY DECISION




BY PENALTIES




BY DQ



4 SUBMISSIONS LOSSES
Gabriel Arges Fight History
ID
Opponent
W/L
Method
Competition
Weight
Stage
Year
8927

Jackson Sousa

Jackson Sousa
L
Toe hold
European Open
ABS
R2
2016
8982

Alan Finfou

Alan Finfou
L
DQ
PNBJJC
88KG
GP
2016
9257

Leandro Lo

Leandro Lo
L
Pts: 12x6
Pan American
88KG
4F
2016
9327

Bernardo Faria

Bernardo Faria
L
Dogbar
Pan American
ABS
4F
2016
10631

Otavio Sousa

Otavio Sousa
L
Botinha
BJJ Pro LA
82KG
SF
2016
11001

Manuel Ribamar

Manuel Ribamar
L
DQ
Grand Slam RJ
85KG
4F
2016
11794

Alexandre Ribeiro

Alexandre Ribeiro
L
Referee Decision
Argentina Pro
ABS
SF
2017
11954

Jose Junior

Jose Junior
L
Pen
Grand Slam LDN
110KG
F
2017
16024

Leandro Lo

Leandro Lo
L
Points
ACBJJ 13
85KG
SPF
2018
16220

Tommy Langaker

Tommy Langaker
L
DQ
World Champ.
82KG
4F
2018
17233

Adam Wardzinski

Adam Wardzinski
L
Pts: 2x0
King of Mats
110KG
RR
2018
17241

R. Evangelista

R. Evangelista
L
Pts: 2x0
King of Mats
110KG
RR
2018
17245

Gutemberg Pereira

Gutemberg Pereira
L
Pts: 2x2, Adv
King of Mats
110KG
RR
2018
17401

Manuel Ribamar

Manuel Ribamar
L
Referee Decision
WSOG 2
81KG
SF
2018
18175

Marcos Tinoco

Marcos Tinoco
L
Pts: 6x4
NoGi Worlds
85KG
4F
2018
18292

Rudson Mateus

Rudson Mateus
L
Pts: 2x2, Adv
Grand Slam AD
85KG
4F
2019
18317

Lucas Barbosa

Lucas Barbosa
L
Pts: 3x0
King of Mats II
85KG
RR
2019
18740

Craig Jones

Craig Jones
L
RNC
GrappleFest 4
ABS
SPF
2019
8689

Lucas Barbosa

Lucas Barbosa
W
Pts: 6x4
Irvine Open
88KG
RR
2015
8691

Lucas Barbosa

Lucas Barbosa
W
Pts: 2x2, Adv
Irvine Open
88KG
F
2015
8697

Carlos Farias

Carlos Farias
W
Adv
Irvine Open
ABS
4F
2015
8699

Lucas Barbosa

Lucas Barbosa
W
Pts: 8x6
Irvine Open
ABS
SF
2015
8892

Jurandir Conceicao

Jurandir Conceicao
W
Pts: 8x4
European Open
88KG
R1
2016
8896

Tero Pyylampi

W
Pts: 14x6
European Open
88KG
4F
2016
8900

Patrick Gaudio

Patrick Gaudio
W
Referee Decision
European Open
88KG
SF
2016
8979

Luca Anacoreta

Luca Anacoreta
W
Pts: 4x4, Adv
PNBJJC
88KG
GP
2016
8981

Gregorio Thomaz

W
Armbar
PNBJJC
88KG
GP
2016
9251

Manuel Diaz

W
Pts: 16x0
Pan American
88KG
8F
2016
9316

Arnaldo Maidana

Arnaldo Maidana
W
Pts: 10x4
Pan American
ABS
R2
2016
9320

Pedro Moura

W
Referee Decision
Pan American
ABS
8F
2016
9521

Andre Almeida

W
Toe hold
World Pro
77KG
R1
2016
9528

Sam Gibson

W
Pts: 8x0
World Pro
77KG
8F
2016
9535

Cesar Miyahira

W
Pts: 2x0
World Pro
77KG
4F
2016
9540

Jhonny Loureiro

Jhonny Loureiro
W
Pts: 3x2
World Pro
77KG
SF
2016
9541

Roberto Satoshi

Roberto Satoshi
W
Pts: 6x2
World Pro
77KG
F
2016
9923

Manuel Ribamar

Manuel Ribamar
W
Pts: 8x8, Adv
World Champ.
82KG
R2
2016
9938

Celso Vinicius

Celso Vinicius
W
Pts: 8x7
World Champ.
82KG
8F
2016
9943

Claudio Calasans

Claudio Calasans
W
Kneebar
World Champ.
82KG
4F
2016
9946

Marcos Tinoco

Marcos Tinoco
W
Kneebar
World Champ.
82KG
SF
2016
10288

Alan Finfou

Alan Finfou
W
Referee Decision
Berkut 3
ABS
SPF
2016
10376

Lucas Barbosa

Lucas Barbosa
W
Pts: 4x2
Grand Slam LA
85KG
SF
2016
10378

Otavio Sousa

Otavio Sousa
W
Pts: 2x0
Grand Slam LA
85KG
F
2016
10680

Gottrell King

W
Kneebar
Las Vegas Pro
85KG
SF
2016
10681

Nathan Mendelsohn

Nathan Mendelsohn
W
Kneebar
Las Vegas Pro
85KG
F
2016
10728

Yongam Noh

W
Pts: 2x2, Adv
Grand Slam Tokyo
85KG
SF
2016
10729

Faisal AlKitbe

Faisal AlKitbe
W
Pts: 2x0
Grand Slam Tokyo
85KG
F
2016
10995

Ricardo Filho

W
Kneebar
Grand Slam RJ
85KG
8F
2016
11089

David Aghion

W
Choke from back
Curitiba Pro
85KG
RR
2016
11090

David Aghion

W
Mounted X choke
Curitiba Pro
85KG
F
2016
11126

Flavio Santos

W
Triangle from mount
Belem Int. Pro
85KG
4F
2016
11127

Luis Nogueira

W
Choke from back
Belem Int. Pro
85KG
SF
2016
11128

Wanderley Fr.

W
Choke from back
Belem Int. Pro
85KG
F
2016
11218

Jhonathan Ramos

W
RNC
Colombia Nat. Pro
85KG
F
2016
11355

Marcos Costa

Marcos Costa
W
Choke from back
Grand Slam AD
85KG
4F
2017
11358

Jaime Canuto

Jaime Canuto
W
Pts: 0x0, Adv
Grand Slam AD
85KG
SF
2017
11360

Matheus Spirandeli

Matheus Spirandeli
W
RNC
Grand Slam AD
85KG
F
2017
11559

Victor Silverio

Victor Silverio
W
Pts: 6x2
UAEJJF Orlando
85KG
F
2017
11684

Alexsandro Pereira

W
Triangle
Manaus Nat. Pro
77KG
4F
2017
11687

Mateus Bernardi

W
Points
Manaus Nat. Pro
77KG
SF
2017
11690

Talison Soares

W
Points
Manaus Nat. Pro
77KG
F
2017
11712

Jhonny Loureiro

Jhonny Loureiro
W
Pts: 4x2
Manaus Nat. Pro
ABS
F
2017
11785

Enrique March

W
Submission
Argentina Pro
85KG
SF
2017
11786

Enrique March

W
Choke from back
Argentina Pro
85KG
F
2017
11791

Giovanni Della

W
Pts: 4x2
Argentina Pro
ABS
R1
2017
11792

Facundo Acosta

W
RNC
Argentina Pro
ABS
4F
2017
11833

Josh Hinger

Josh Hinger
W
Points
ACBJJ 4
85KG
4F
2017
11836

Arnaldo Maidana

Arnaldo Maidana
W
Triangle
ACBJJ 4
85KG
SF
2017
11838

Otavio Sousa

Otavio Sousa
W
Kneebar
ACBJJ 4
85KG
F
2017
11953

Gabriel Lucas

Gabriel Lucas
W
Pts: 2x0
Grand Slam LDN
110KG
SF
2017
12514

Akira Osokawa

W
RNC
World Pro
77KG
4F
2017
12517

Isaque Bahiense

Isaque Bahiense
W
Pts: 4x4, Adv
World Pro
77KG
SF
2017
12522

Edwin Najmi

Edwin Najmi
W
Pts: 2x0
World Pro
77KG
F
2017
13005

Jonathan Satava

Jonathan Satava
W
Choke from back
World Champ.
82KG
8F
2017
13008

Felipe Cesar

Felipe Cesar
W
Pts: 4x4, Adv
World Champ.
82KG
4F
2017
13010

Jaime Canuto

Jaime Canuto
W
Referee Decision
World Champ.
82KG
SF
2017
13012

Marcos Tinoco

Marcos Tinoco
W
Choke from back
World Champ.
82KG
F
2017
14767

Gianni Crivello

W
Choke from back
Los Angeles Open
88KG
SF
2018
14768

Gabriel Vieira

W
Choke from back
Los Angeles Open
88KG
F
2018
15142

Igor Paiva

Igor Paiva
W
Pts: 8x0, Adv
Pan American
82KG
8F
2018
15149

Felipe Cesar

Felipe Cesar
W
Pts: 2x0
Pan American
82KG
4F
2018
15152

Ygor Dantas

W
Triangle
Pan American
82KG
SF
2018
15154

Marcos Tinoco

Marcos Tinoco
W
Pts: 0x0, Adv
Pan American
82KG
F
2018
16201

Edson Antonio

W
Pts: 0x0, Adv
World Champ.
82KG
R2
2018
16218

Dante Leon

Dante Leon
W
Pts: 8x6
World Champ.
82KG
8F
2018
17237

Tanner Rice

Tanner Rice
W
Pts: 4x0
King of Mats
110KG
RR
2018
17387

Lucas Rocha

Lucas Rocha
W
Armbar
WSOG 2
81KG
R1
2018
17393

I. Almeida

W
Referee Decision
WSOG 2
81KG
8F
2018
17397

R. Junior

W
Referee Decision
WSOG 2
81KG
4F
2018
17402

J. Gracie

W
Choke from back
WSOG 2
81KG
3RD
2018
18162

Isiah Wright

W
Mounted triangle
NoGi Worlds
85KG
R1
2018
18167

Nick Calvanese

Nick Calvanese
W
Pts: 2x2, Adv
NoGi Worlds
85KG
R2
2018
18291

Thabet AlTaher

W
RNC
Grand Slam AD
85KG
R1
2019
18315

Espen Mathiesen

Espen Mathiesen
W
Choke from back
King of Mats II
85KG
RR
2019
18320

Caio Caetano

Caio Caetano
W
Referee Decision
King of Mats II
85KG
RR
2019
18322

Rudson Mateus

Rudson Mateus
W
Pts: 2x2, Adv
King of Mats II
85KG
RR
2019
18332

Manuel Ribamar

Manuel Ribamar
W
Pts: 4x2
King of Mats II
85KG
SF
2019
18334

Isaque Bahiense

Isaque Bahiense
W
Pts: 6x2
King of Mats II
85KG
F
2019
Gabriel Arges Abu Dhabi World Pro 2015 Highlight

Gabriel Arges IBJJF World Championship 2014 Highlight