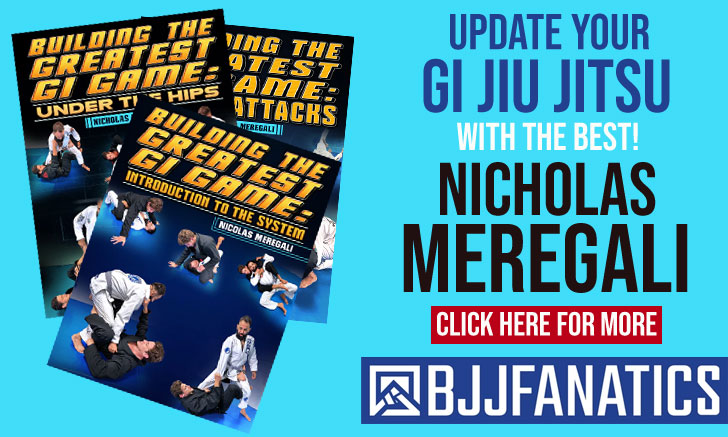 With only a few competitions left in the jiu jitsu calendar, and considering all the big tournaments are now behind us, we went back in time to rescue some of this year's most incredible submissions.
Unfortunately, due to copyright, we had to leave tournaments such as No-Gi Worlds, Copa Podio, Polaris, the ADCC and a few others out of the race, but luckily there was no shortage of amazing submissions and most of our top choices were still available to display for grappling fans.
10. ROBERTO "CYBORG" ABREU VS ANDRÉ CAMPOS (LA GRAND SLAM)
Submission by Abreu: Choke
The Abu Dhabi Grand Slam Tour – Los Angeles was certainly Cyborg's most memorable competitive moment of 2015, a year filled with setbacks for the Fight Sports Academy founder. In the final of the LA tournament, absolute division, Cyborg was on point running through his opponents and catching Campos in the final with this creative choke.
9. ROBERTO SATOSHI VS CHOI CHOI (ASIAN OPEN)
Submission by Satoshi: Triangle
Roberto Satoshi is well known for his flashy and entertaining grappling style. In the final of the Asian Open "Toshi" faced the equally crowd pleasing style of Choi Won Choi, a match-up that went fully Roberto's way, with the Brazilian showing his dominance from the get-go, chaining submissions attempts which led to this masterful triangle.
8. MACKENZIE DERN VS LEANNA DITTRICH (ASIAN OPEN)
Submission by Dern: Toe hold
Dern was one of the most entertaining grapplers of 2015. In this match against one of the rising stars of the female division, Mackenzie put to use one of her most well known combinations effortlessly: Reverse De La Riva guard, to kneebar, to toe hold.
7. GARY TONON VS JOSH HAYDEN (ROCKSOLID CHALLENGE)
Submission by Tonon: Kneebar
One of the revelations in 2013, Tonon continued showcasing a great range of submissions these past 2 years. One of his most devastating kneebar set-ups was perfectly performed against Hayden at the Rocksolid Challenge earlier in the year.
6. DAVI RAMOS VS LOUIS V. (SHARJAH OPEN)
Submission by Ramos: Russian armbar
Like Mackenzie Dern, Davi Ramos had a breakthrough year winning the European Open, the ADCC trials and the ADCC finals in emphatic fashion. His return to jiu jitsu's competitive scene had many flashy submissions for our records, and one of his finest was this quick and aggressive armbar, typical Ramos style.
5. JOÃO MIYAO VS WELLINGTON DIAS (CHICAGO SPRING OPEN)
Submission by Miyao: Belly down bow and arrow choke
Miyao kept a very busy schedule this year, competing in a wide variety of rules all around the globe, applying his favorite back choke often. In this match against the legendary Megaton, Miyao had to put all his creativity and movement to use to pull the submission successfully.
4. ANDRIS BRUNOVSKIS VS JOSH WINCEY (SUBMISSION SERIES)
Submission by Brunovskis: Omoplata
One of the most exciting athletes to watch in our sport today, Andris Brunovskis had plenty submissions worthy of being featured on this article. This particular Omoplata against Josh Wincey is poetry in motion, from start to finish.
Part 1 (set-up)

Part 2 (finish)

3. CAIO TERRA VS MAX CARVALHO (BRITISH NATIONAL)
Submission by Terra: Straight-ankle lock from DLR
Rooster weight Caio Terra faced the highly accomplished medium heavyweight Max Carvalho in the final of the British National Championship Open-weight division. In an epic performance Caio applied one of his trademark positions, the straight-ankle lock from the De La Riva hook.
2. DOMINYKA OBELENYTE VS KAREN PETERSON (NYC SPRING OPEN)
Submission by Obelenyte: Gogoplata
A special kind of athlete, Dominyka has become one of the most impressive guard players in the sport today, with her highly effective shoulder lock attacks coming from all angles much like a modern day Nino Schembri. One of her most epic submissions this year came against Karen Paterson, amazing set up and finish.
Part 1 (set-up)

Part 2 (finish)

1. KEENAN CORNELIUS VS ARNALDO MAIDANA (DALLAS OPEN)
Submission by Cornelius: Armbar from reverse worm guard
The Master of the worm guard did not compete as often as we would have liked this year, but when he did step on the mats he made it count. One of his most amazing submissions came through at the IBJJF Dallas Open against Checkmat's Arnaldo Maidana.