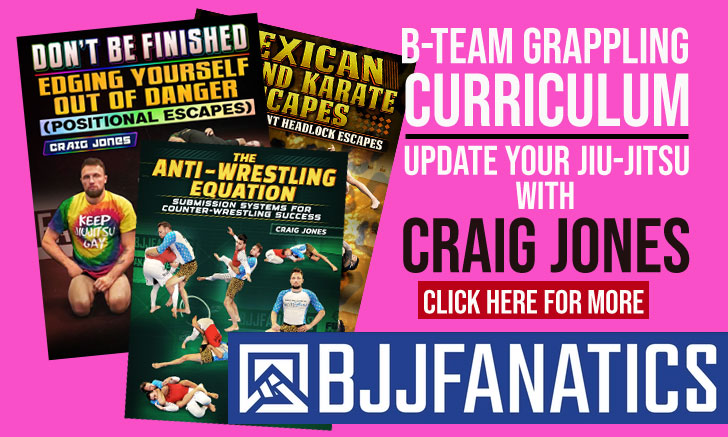 One of the main American figures in Jiu-Jitsu and Submission Wrestling tournaments at the turn of the millennium, the Hawaiian Baret Yoshida is an ADCC medallist and World No Gi Champion who earned his black belt training under Egan Inoue guidance, having fought against the elite of BJJ with some very solid wins – such as his win over Alexandre Soca (2001). those aforementioned accomplishments together with his exquisite use of the guard, quickly made Baret a worldwide fan favorite. Baret Yoshida also competed in MMA (Mixed Martial Arts) becoming an important grappling coach at the same time; he is also a published author with a grappling book and DVD that were very well accepted by the community.
Baret Yoshida Jiu Jitsu
Full Name: Baret Yoshida
Nickname: n/a
Lineage: Mitsuyo Maeda > Carlos Gracie > Helio Gracie > Carlson Gracie > André Pederneiras > John Lewis > Egan Inoue > Barret Yoshida
Main Achievements:
1st Place IBJJF World Championship No-Gi (2008 / 2009 / 2018 & 2019 Master 3)
1st Place Copa Hawaii Champion (2004 / 2005 / 2006)
1st Place IBJJF Pans Champion (2018 Master 3)
F2W Pro Bantamweight Champion (2016)
F2W Pro Bantamweight No-Gi Champion (2018)
2nd Place ADCC World Championship (2003 / 2001)
3rd Place IBJJF World Championship No-Gi (2010)
3rd Place ADCC World Championship (2007)
Main Achievements (Colored Belts):
2nd Place IBJJF Pans Championship (1997 blue)
3rd Place IBJJF Pans Championship (1998 blue, 1999 purple)
Favorite Position/Technique: Open Guard
Weight Division: Peso Pena (70kg-154lbs) and Pluma (64kg-141lbs)
Team/Association: Arena MMA
Baret Yoshida's Biography
Baret Yoshida was born in Hawaii, United States on the 26th of April, 1975. He started training Jiu Jitsu in 1994 at Relson Gracie's academy, one of the oldest and most established academies in the region. He trained under the Gracie for a number of years, achieving his purple belt with him. In 1999 however, he decided to switch camps and move to the Inoue brother's gym, led by Egan and Enson "Yamato Damashii" Inoue.
Though Baret already had important wins at an international stage in the lower belts, it was his participation in the 1999 ADCC (Abu Dhabi Combat Club) that put Yoshida's name on the map. Baret Yoshida had fought on the trials and made it to the final, though he lost. He was called to the finals as an alternate because one of the competitors had injured himself and could no longer compete. In that tournament, the younger and less experienced Baret gave a very tough challenge to one of the most dominant fighters to have ever competed, Royler Gracie. Yoshida lost a chance to medal, but he gained a legion of fans and was invited into the tournament in the following years. In those tournaments, Yoshida would solidify his name as one of the best Nogi competitors in the world medalling on 3 occasions in arguably the toughest submission wrestling tournaments in the world.
An admitted admirer of the Nogi game, Baret decided to also taste the feel of Mixed Martial Arts action. He has had somewhat of a mixed record, fighting mainly big names such as Jeff Curran and Masahiro Oishi.
After a long list of achievements, including a silver medal at the world's most challenging Nogi competition, Egan Inoue awarded Baret Yoshida his black belt in BJJ, in 2002.
Baret Yoshida Grappling Record
63 WINS
BY POINTS


BY ADVANTAGES




BY SUBMISSION




BY DECISION




BY PENALTIES




BY EBI/OT



53 SUBMISSIONS WINS
#86e620
Crucifix choke
19
10
#d1212a
Anaconda choke
11
6
#224aba
Bow and arrow
4
2
#bf1f6c
Choke from back
2
1
#22c9a5
No-gi ezekiel
2
1
#03861f
Flying armbar
2
1
26 LOSSES
BY POINTS


BY ADVANTAGES




BY SUBMISSION




BY DECISION




BY PENALTIES




BY EBI/OT



3 SUBMISSIONS LOSSES
#214eb8
Inside heel hook
67
2
#86e620
Baseball choke
33
1
Baret Yoshida Fight History
ID
Opponent
W/L
Method
Competition
Weight
Stage
Year
310

Sasha Palvski

L
Pts: 4x0
ADCC
66KG
4F
1999
361

Garth Taylor

Garth Taylor
L
Pts: 2x0
ADCC
ABS
R1
1999
404

Royler Gracie

Royler Gracie
L
Pts: 2x0
ADCC
66KG
R1
2000
504

Royler Gracie

Royler Gracie
L
Pts: 2x0
ADCC
66KG
F
2001
736

Daniel Moraes

Daniel Moraes
L
Pts: 11x0
Gracie Pac. Rim
ABS
SF
2002
772

Leonardo Vieira

Leonardo Vieira
L
Pts: 6x0
ADCC
66KG
F
2003
1134

Leonardo Vieira

Leonardo Vieira
L
Pts: 19x0
Budo Challenge
77KG
SF
2005
1660

Andre Galvao

Andre Galvao
L
Points
ADCC
ABS
R1
2007
1680

Rany Yahya

Rany Yahya
L
Points
ADCC
66KG
SF
2007
2229

Justin Rader

Justin Rader
L
Adv
ADCC
66KG
R1
2009
2623

Flavio Almeida

Flavio Almeida
L
Points
No Gi Worlds
ABS
R1
2010
2751

Samir Chantre

Samir Chantre
L
Adv
American Nat.
70KG
SF
2010
3179

Guilherme Mendes

Guilherme Mendes
L
Baseball choke
San Diego Trials
65KG
F
2011
3262

Rubens Charles

Rubens Charles
L
Points
ADCC
66KG
4F
2011
3733

James Puopolo

James Puopolo
L
Pts: 5x0
SD World Trials
ABS
4F
2012
4982

Nicolas Renier

L
Points
ADCC
66KG
R1
2013
5099

Osvaldo Moizinho

Osvaldo Moizinho
L
Pts: 6x2
NoGi Worlds
70KG
4F
2013
5874

Jeff Glover

Jeff Glover
D
---
Metamoris 4
ABS
SPF
2014
7818

Eddie Cummings

Eddie Cummings
L
Inside heel hook
EBI 4
65KG
SF
2015
8032

Robson Moura

Robson Moura
D
---
Polaris 2
70KG
SPF
2015
8799

Josh Hinger

Josh Hinger
D
---
Gracie NoGi Worlds
ABS
F
2015
9866

Milton Bastos

Milton Bastos
L
Referee Decision
FTW Pro 5
ABS
SPF
2016
10299

Mike Davila

L
EBI/OT
EBI 7
65KG
4F
2016
11270

Eddie Cummings

Eddie Cummings
L
Inside heel hook
EBI 10
61KG
SF
2016
11428

Pablo Silva

Pablo Silva
L
Referee Decision
F2W 21
70KG
SPF
2017
13909

Kuba Witkowski

L
Pts: 0x0, Pen
ADCC
66KG
E1
2017
15072

Cleber Luciano

L
Referee Decision
F2W 61
70KG
SPF
2018
20851

Hiago George

Hiago George
L
Referee Decision
F2W 114
61KG
SPF
2019
23420

Kory Paredes

L
Referee Decision
F2W 136
65KG
SPF
2020
307

Wellington Dias

Wellington Dias
W
Flying armbar
ADCC
66KG
R1
1999
488

Unknown

W
Triangle
Contenders
70KG
4F
2001
489

Katsuya Toida

W
Referee Decision
Contenders
70KG
SF
2001
490

Kid Yamamoto

W
DQ
Contenders
70KG
F
2001
497

Gustavo Dantas

Gustavo Dantas
W
Kneebar
ADCC
66KG
R1
2001
501

N. Uematsu

W
Triangle
ADCC
66KG
4F
2001
503

Alexandre Soca

Alexandre Soca
W
Kneebar
ADCC
66KG
SF
2001
624

Masakazu Imanari

W
RNC
Kingdom Japan
NA
SPF
2002
765

K. Toida

W
RNC
ADCC
66KG
R1
2003
768

Mike Mrkulic

W
RNC
ADCC
66KG
4F
2003
771

Alexandre Soca

Alexandre Soca
W
Pts: 9x6
ADCC
66KG
SF
2003
1347

Unknown

W
RNC
ZST GFT
70KG
4F
2006
1348

Rubens Charles

Rubens Charles
W
Referee Decision
ZST GFT
70KG
SF
2006
1349

Shuichi Katsumura

W
RNC
ZST GFT
70KG
F
2006
1673

Eddie Sanchez

W
RNC
ADCC
66KG
R1
2007
1677

Yoshitomi Mishima

W
Triangle
ADCC
66KG
4F
2007
1682

Tetsu Suzuko

W
Pts: 3x0
ADCC
66KG
3PLC
2007
2000

Unknown

W
RNC
NoGi Worlds
70KG
NA
2008
2001

Unknown

W
RNC
NoGi Worlds
70KG
4F
2008
2002

Robson Rodrigues

W
RNC
NoGi Worlds
70KG
F
2008
2079

Naoya Uematsu

W
Cross choke
Taiwan Open
ABS
4F
2008
2080

Takizawa Keusuke

W
Crucifix choke
Taiwan Open
ABS
SF
2008
2081

Aramaki

W
RNC
Taiwan Open
ABS
F
2008
2083

Takezawa Keisuke

W
Heel hook
Taiwan Open
ABS
R1
2009
2084

Makoto ikuta

W
Crucifix choke
Taiwan Open
ABS
4F
2009
2085

Makoto Ogasawara

W
Heel hook
Taiwan Open
ABS
SF
2009
2086

Daniel Charles

W
Crucifix choke
Taiwan Open
ABS
F
2009
2090

Chris Holdsworth

Chris Holdsworth
W
Kneebar
NAGA LV
70KG
F
2009
2407

Leandro Escobar

Leandro Escobar
W
RNC
NoGi Worlds
70KG
4F
2009
2408

Denny Prokopos

Denny Prokopos
W
Pts: 9x0
NoGi Worlds
70KG
SF
2009
2410

Samir Chantre

Samir Chantre
W
RNC
NoGi Worlds
70KG
F
2009
2450

Kohei Yasumi

W
Triangle
Deep SPF
NA
SPF
2010
2461

Kohei Yasumi

W
Triangle
DEEP X 05
SPF
ABS
2010
3225

Nicolas Renier

W
RNC
ADCC
66KG
R1
2011
7812

Dennis Dombrow

W
Kneebar
EBI 4
65KG
R1
2015
7813

Randall Dolf

W
RNC
EBI 4
65KG
4F
2015
9099

Nobuo Yagai

W
Crucifix choke
F2W 4
70KG
SPF
2016
9457

Juan Bernardo

W
Choke from back
SubCon
ABS
SPF
2016
10293

Alex Eklin

W
RNC
EBI 7
65KG
R1
2016
10313

Woolf Barnato

W
Referee Decision
F2W 8
72KG
SPF
2016
10538

Mike Reyna

W
Bow and arrow
F2W 13
70KG
SPF
2016
11263

Eric Medina

W
EBI/OT
EBI 10
61KG
R1
2016
11268

Arturo Cadenas

W
No-gi ezekiel
EBI 10
61KG
4F
2016
12039

Ron Henderson

W
Bow and arrow
FIVE SL
70KG
SPF
2017
15069

Cristobal Chavez

W
Crucifix choke
Gracie World
N/A
SF
2018
15070

Damon Morgan

W
RNC
Gracie World
N/A
F
2018
16412

Paulo Cezar

W
Armbar
F2W 75
70KG
SPF
2018
16753

Kelly Johnson

W
Anaconda choke
F2W 78
65KG
SPF
2018
17992

Kristian Woodmansee

Kristian Woodmansee
W
Anaconda choke
F2W 90
60KG
SPF
2018
18450

Andre Pontes

W
Kneebar
F2W 95
65KG
SPF
2018
18721

N/A

W
Crucifix choke
NoGi Worlds
70KG
4F
2018
18722

Flavio Meier

W
Anaconda choke
NoGi Worlds
70KG
SF
2018
18723

Marlond Vera

W
RNC
NoGi Worlds
70KG
F
2018
19379

Gabriel Sa

W
N/A
LA BJJ Pro
70KG
SF
2019
19380

J. Noval

W
Anaconda choke
LA BJJ Pro
70KG
F
2019
20960

Marcus Norat

Marcus Norat
W
Crucifix choke
F2W 117
65KG
SPF
2019
21762

Antonio Lopez

W
Crucifix choke
F2W 126
70KG
SPF
2019
27193

Jeff Nolasco

W
Crucifix choke
F2W 180
N/A
SPF
2021
27695

Bernardo Pitel

Bernardo Pitel
W
Anaconda choke
F2W 183
61KG
SPF
2021
28427

T. Yoshioka

W
Referee Decision
SUBVERSIV 6
65KG
SPF
2021
30761

Jeff Huang

W
Anaconda choke
F2W 200
N/A
SPF
2022
34557

Tim Mendoza

W
Crucifix choke
F2W 210
N/A
SPF
2022
36974

Garry Nakamura

W
Kneebar
F2W 126
N/A
SPF
2022
Baret Yoshida vs Naoya Uematsu

Baret Yoshida vs Christ Holdsworth

Baret Yoshida vs Christian Broadnax

Baret Yoshida vs Alex Ferreira