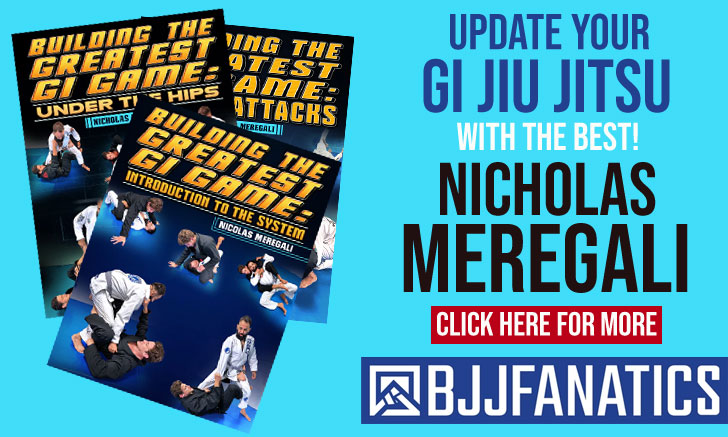 Gabriel Gaudio is a professional grappler and a black belt in judo (under Emerson Neves), and jiu-jitsu (under Júlio César Pereira), who represents the GF Team in the sport's international circuit. Gaudio first made waves in jiu-jitsu with his 2016 blue belt world title with the IBJJF (International Brazilian Jiu-Jitsu Federation) and the Brazilian National Championships bronze medal.
Gabriel Gaudio Jiu-Jitsu
Full Name: Gabriel Vieira de Sá Bottino Gaudio
Nickname: N/A
Lineage: Luis França > Oswaldo Fadda > Monir Salomão > Júlio César Pereira > Gabriel Gaudio
Main Achievements:
1st Place IBJJF Jiu-Jitsu Con NOGI (2021)
2nd Place AJP Brazil National Pro (2021)
3rd Place IBJJF Nashville Open (2021)
Main Achievements (Colored Belts):
1st Place IBJJF World Championship (2016 blue)
1st Place IBJJF Pan Pacific Championship NOGI (2017 purple)
1st Place AJP Grand Slam, LA (2019 brown)
3rd Place IBJJF Brazilian Nationals (2016 blue)
3rd Place IBJJF Brazilian Nationals Juvenile (2014)
Favorite Position/Technique: Well-Rounded
Weight Division: Peso Pluma (64,00 kg / 154.5 lbs)
Team/Association: GF Team
Gabriel Gaudio Biography
Gabriel Gaudio was born on May 27, 1997, in Rio de Janeiro, Brazil.
A sporty kid from an early age, Gaudio joined judo classes at the age of 4, a sport that had a strong role in Gabriel's development as a grappling athlete.
Although a big fan of his judo classes, around the age of 10 Gaudio gained an interest in jiu-jitsu after weeks of watching the jiu-jitsu class (which took place after judo practice at his gym) while waiting for his mother to pick him up from training. One day, after the gym's BJJ coach invited Gaudio to join the class instead of sitting outside waiting, he did, then starting a long-lasting relationship with jiu-jitsu.
Luckily for Gabriel, the gym's instructor was none other than Júlio César Pereira, the leader of the GF Team and one of the foremost jiu-jitsu instructors in the world. Under the guidance of Júlio César, Gabriel developed into one of the hottest prospects in the country and internationally, particularly after his 2016 World Championship gold medal, a trophy that galvanized Gaudio to seek a career in the sport.
At the age of 19, Gabriel Gaudio moved to California, US, with his coach, César, to open the GF Team – Orange Academy. Sadly, due to the COVID19 pandemic, Gaudio was forced to return to Brazil where he was promoted to black belt on December 20, 2020.
Gabriel Gaudio Grappling Record
16 WINS
BY POINTS


BY ADVANTAGES




BY SUBMISSION




BY DECISION




BY PENALTIES




BY DQ



3 SUBMISSIONS WINS
#214eb8
Choke from back
33
1
#5AD3D1
Straight ankle lock
33
1
14 LOSSES
BY POINTS


BY ADVANTAGES




BY SUBMISSION




BY DECISION




BY PENALTIES




BY DQ



4 SUBMISSIONS LOSSES
Gabriel Gaudio Fight History
ID
Opponent
W/L
Method
Competition
Weight
Stage
Year
25107

Lucas Pinheiro

Lucas Pinheiro
L
Pts: 2x1
Brazil Nat. Pro
62KG
F
2021
25877

Yago Rodrigues

L
Pts: 10x4
S. American NG
67KG
4F
2021
26838

Rafael Mansur

Rafael Mansur
L
Points
Big Deal Pro 3
70KG
SPF
2021
27220

Diogo Reis

Diogo Reis
L
Pts: 3x0
Grand Slam MIA
62KG
4F
2021
27225

Keven Carrasco

Keven Carrasco
L
Pts: 3x2
Grand Slam MIA
62KG
RPC
2021
27532

Pedro Dias

Pedro Dias
L
Pts: 5x0
Pan American
64KG
8F
2021
28667

Matheus Honda

L
Points
Nashville Open
70KG
SF
2021
29656

Cris Lencioni

L
Americana
High Rollerz 10K
77KG
R1
2021
30101

Lucas Pinheiro

Lucas Pinheiro
L
Pts: 7x2
Oklahoma Open
70KG
SF
2022
30119

Hunter Colvin

L
RNC
Oklahoma NGO
ABS
4F
2022
32474

Elijah Tagalog

L
N/A
SD NGO
67KG
F
2022
33459

Emilio Hernandez

Emilio Hernandez
L
Armbar
American NGN
70KG
SF
2022
33792

Isaias Higino

L
Pts: 4x2
Orlando SMNGO
67KG
F
2022
35504

Richar Nogueira

Richar Nogueira
L
RNC
NoGi Pan
67KG
4F
2022
25105

Felipe Nacib

W
Pts: 2x1
Brazil Nat. Pro
62KG
4F
2021
25868

Andre Torres

W
Choke from back
SJJAF Pans
70KG
SF
2021
25869

Wellerson Silva

W
Points
SJJAF Pans
70KG
F
2021
25875

N/A

W
Points
S. American NG
67KG
R1
2021
27530

Kyle Huang

W
Pts: 15x2
Pan American
64KG
R1
2021
28665

Emilio Hernandez

Emilio Hernandez
W
Points
Nashville Open
70KG
4F
2021
29071

Suraj Budhram

W
Points
JJ CON NG
67KG
4F
2021
29075

Ryan Jennerjohn

W
Points
JJ CON NG
67KG
SF
2021
29077

Marcus Beddor

Marcus Beddor
W
Toe hold
JJ CON NG
67KG
F
2021
30820

Santiago Furlong

W
Pts: 3x0
Dallas NGO
67KG
SF
2022
32472

Geoffrey Villareal

W
Points
SD NGO
67KG
SF
2022
32667

Santiago Furlong

W
Pts: 2x0
Denver NGO
67KG
F
2022
33705

Aaron Morris

W
Pts: 15x0
Austin SMNGO
68KG
SF
2022
33706

James Harrell

W
Pts: 2x0
Austin SMNGO
68KG
F
2022
33789

Michael Mehl

W
Straight ankle lock
Orlando SMNGO
67KG
4F
2022
33791

Dennis Pressey

W
Pts: 0x0, Adv
Orlando SMNGO
67KG
SF
2022