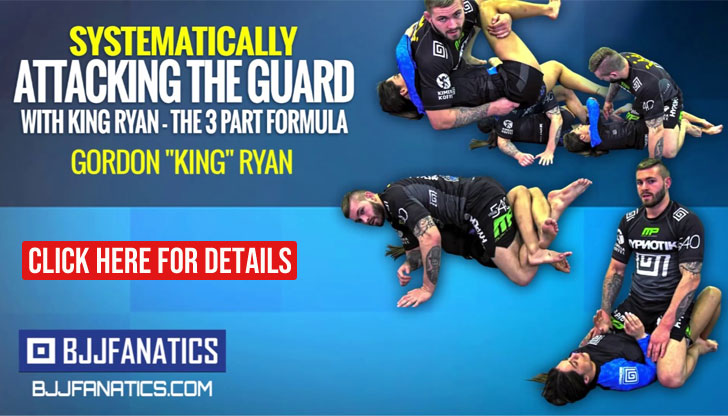 Sergio Ardila-Ibarra is a former freestyle wrestler and a Brazilian jiu jitsu black belt under Roan Carneiro, specialising in the no-gi facet of the sport. Born in Bucaramanga – Colombia, Ardila-Ibarra managed to achieve important titles in both wrestling and jiu jitsu becoming an All American collegiate athlete and an IBJJF No-Gi World Champion as a purple belt (2014) while working full time as a lawyer, also earning podium placements at the prestigious ADCC US Trials. Sergio is also the older brother of Paul Ardila-Ibarra, another accomplished grappler.
Sergio Ardila-Ibarra Jiu Jitsu
Full Name: Sergio Ardila-Ibarra
Nickname: N/A
Lineage: M. Maeda > C. Gracie > Carlson Gracie > Murilo Bustamante > Roan Carneiro > Sergio Ardila-Ibarra
Main Achievements:
IBJJF World No-Gi Champion (2014 purple)
IBJJF Pan American No-Gi Champion (2012 purple)
IBJJF World No-Gi Championship Runner-up (2015 brown)
ADCC US Trials 3rd Place (2015/2014)
Favorite Position/Technique: Distance Passing/Knee Slide
Weight Division: Peso Médio (82,30 kg / 181.5 lbs)
Team/Association: American Top Team (ATT)
Sergio Ardila-Ibarra Biography
Sergio Ardila-Ibarra was born on June 23, 1989 in Bucaramanga, Colombia the country where he lived the first 11 years of his life.
Throughout his childhood and early teenage years Sergio was tremendously focused on his studies choosing not to play sports competitively. That would change at 17, during his senior year at highschool when he joined his school's wrestling team.
By his own admission Ardila became obsessed with wrestling, training/drilling anywhere and everywhere he could. His hard work paid off when he was classed as his school's "Most Improved Wrestler" that year. His love for wrestling would later earn him the label of NCWA All American, and an SEC title.
Sergio's first college year was attended at a school without a wrestling program. Being fully embedded in the sport, he looked for an alternative that presented itself in the form of Brazilian jiu jitsu. Adrila explained:
"One day, I saw some people doing what looked a lot like wrestling without shoes in the college's martial arts room. I needed an outlet to channel my newfound passion & obsession with grappling. I would think about techniques and moves all day, and I wanted to be able to apply them. I went in and found out they were practising no-gi jiu jitsu." – Sergio Ardila-Ibarra (2017 interview to BJJ Heroes).
With an increased interest in jiu jitsu, Sergio started researching the sport and its different outlets, particularly mixed martial arts (MMA) on television. He decided to look into finding an adequate program, locking in on that of former UFC fighter Junior Assunção. 6 months into his BJJ training he joined Roan Carneiro's (Jucão) American Top Team gym – another former UFC title contender, who became his mentor from there on.
After 1 year training regularly submission grappling Sergio moved towns to pursue his freestyle wrestling goals. He remained away for 5 years, though still keeping regular access to Roan's teachings and being graded by Jucão. During these 5 years Ardila-Ibarra carried on training and competing in both sports regularly, while working towards a law degree (and later practising law as well). His intense schedule earned Sergio his black belt in BJJ on December 2015.
Sergio Ardila Grappling Record
31 WINS
BY POINTS


BY ADVANTAGES




BY SUBMISSION




BY DECISION




BY PENALTIES




BY DQ



12 SUBMISSIONS WINS
#5AD3D1
Inside heel hook
17
2
14 LOSSES
BY POINTS


BY ADVANTAGES




BY SUBMISSION




BY DECISION




BY PENALTIES




BY DQ



3 SUBMISSIONS LOSSES
#86e620
Inside heel hook
33
1
Sergio Ardila Fight History
ID
Opponent
W/L
Method
Competition
Weight
Stage
Year
7213

Magid Hage

L
Points
ADCC US Trials
77KG
SF
2015
10911

Francisco Iturralde

Francisco Iturralde
L
Pts: 0x0, Adv
NoGi Worlds
79KG
R1
2016
12015

Vagner Rocha

Vagner Rocha
L
Short choke
EBI 11
77KG
4F
2017
12495

Issa Able

L
Referee Decision
ADCC WC Trials
77KG
R2
2017
13893

Mansher Khera

Mansher Khera
L
Pts: 2x0
ADCC
77KG
E1
2017
14686

Josh Hinger

Josh Hinger
L
Pts: 8x0
NoGi Worlds
79KG
R2
2017
18638

Jaime Canuto

Jaime Canuto
L
Referee Decision
NoGi Worlds
79KG
4F
2018
31439

Magid Hage

L
Pts: 2x0
ADCC WC Trials
77KG
R4
2022
32555

Oliver Taza

Oliver Taza
L
Inside heel hook
Atlanta SPNGO
79KG
F
2022
34794

Joshua Bacallao

L
Pts: 0x0, Adv
JJ Con NG
79KG
SF
2022
35239

Francisco Cuneo

Francisco Cuneo
L
Pts: 0x0, Adv
Atlanta FNGO
79KG
F
2022
42230

Brady Wicklund

L
RNC
UWW World NG
77KG
8F
2023
42232

Evyatar Pareini

L
Pts: 4x4
UWW World NG
77KG
3RD
2023
42420

Kevin Beuhring

L
Pts: 1x0
ADCC Chicago
76KG
SF
2023
7204

Eddie Fyvie

W
Botinha
ADCC US Trials
77KG
R1
2015
7206

Jason Patino

W
Referee Decision
ADCC US Trials
77KG
8F
2015
7212

AJ Agazarm

AJ Agazarm
W
Pts: 2x0
ADCC US Trials
77KG
4F
2015
7216

Jonathan Satava

Jonathan Satava
W
Botinha
ADCC US Trials
77KG
3RD
2015
7217

Nathan Orchard

D
---
Kakuto Challenge
77KG
RR
2015
7218

Ruben Alvarez

D
---
Kakuto Challenge
77KG
RR
2015
11426

Rafael Rosendo

W
Referee Decision
F2W 20
77KG
SPF
2017
12009

Richie Martinez

Richie Martinez
W
Botinha
EBI 11
77KG
R1
2017
13238

Jacob McClintock

W
Referee Decision
F2W 36
N/A
SPF
2017
17836

Sam Faron

W
RNC
Olympus Inv.
ABS
R1
2018
17837

Kagan Pierce

W
Points
Olympus Inv.
ABS
R2
2018
17838

Herbert Burns

Herbert Burns
W
Points
Olympus Inv.
ABS
4F
2018
17839

Josh Garcia

W
RNC
Olympus Inv.
ABS
SF
2018
17840

A. Sanchez

W
Points
Olympus Inv.
ABS
F
2018
18622

Lucas Rocha

Lucas Rocha
W
RNC
NoGi Worlds
79KG
R1
2018
18633

David Garmo

David Garmo
W
Pts: 2x0
NoGi Worlds
79KG
R2
2018
24240

Desmund Reid

W
N/A
NFC All Valley
79KG
4F
2020
24241

T. Pontes

W
Pts: 3x2
NFC All Valley
79KG
SF
2020
24243

Logan Santos

W
Pts: 7x0
NFC All Valley
79KG
F
2020
26561

Jonathan Lane

W
Pts: 6x0
Atlanta NGO
79KG
4F
2021
26562

Francisco Cuneo

Francisco Cuneo
W
Pts: 0x0, Adv
Atlanta NGO
79KG
SF
2021
26564

Frederico Alves

W
Inside heel hook
Atlanta NGO
79KG
F
2021
31410

Alecsander Guevara

W
RNC
ADCC WC Trials
77KG
R1
2022
31428

Oscar Santos

W
Pts: 0x0, Pen
ADCC WC Trials
77KG
R2
2022
32553

Clay Mayfield

W
Pts: 6x2
Atlanta SPNGO
79KG
SF
2022
34793

Tyler Scalisi

W
RNC
JJ Con NG
79KG
4F
2022
35238

Jonathan Lane

W
RNC
Atlanta FNGO
79KG
SF
2022
42231

L Rosiak

W
Pts: 3x0
UWW World NG
77KG
RPC
2023
42411

Alexander Joss

W
RNC
ADCC Chicago
76KG
R1
2023
42415

Alejandro Wajner

W
Pts: 4x0
ADCC Chicago
76KG
8F
2023
42418

Jett Thompson

W
Pts: 2x0
ADCC Chicago
76KG
4F
2023
42422

Zach Cothren

W
Inside heel hook
ADCC Chicago
76KG
RPC
2023
42424

Michael Liera

Michael Liera
W
Pts: 1x0
ADCC Chicago
76KG
3RD
2023
Sergio Ardila ADCC Trials 2014