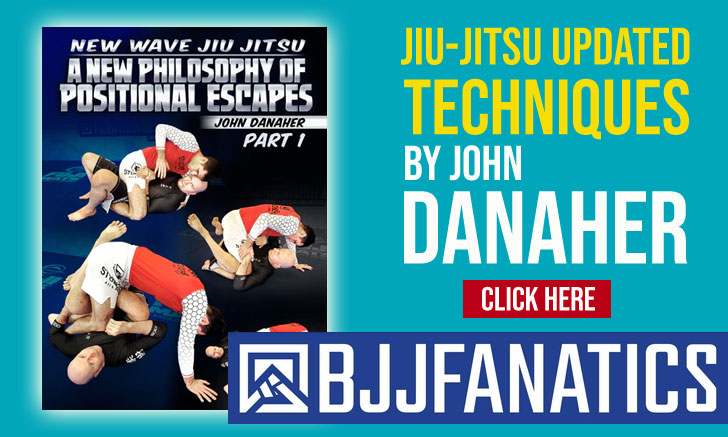 Fabio Caloi is a Brazilian Jiu-Jitsu black belt under Fabio Gurgel, who belongs to a generation of grapplers developed in the Sao Paulo headquarters of the Alliance Academy, one that raised waves in the lower belts of the sport, continuing in great form through the black belt divisions. In this group were competitors such as Dimitrius Souza, Juan Caio Kamezawa.
Fabio Caloi Jiu-Jitsu
Full Name: Fabio Murat Caloi
Nickname: "Fabinho" Caloi, a friendly way of saying Fabio in Portuguese.
Lineage: C. Gracie > Helio Gracie > Rolls Gracie >Romero Cavalcanti > Fábio Gurgel > Fábio Caloi
Main Achievements:
1st Place IBJJF South American Championship (2016)
1st Place IBJJF Pans Championship NOGI (2019)
1st Place IBJJF European Open NOGI (2019)
1st Place IBJJF Rio Summer Open (2016)
1st Place IBJJF Floripa Fall Open (2017)
1st Place IBJJF Floripa Fall Open NOGI (2017)
2nd Place CBJJ Brazilian Nationals NOGI (2016)
3rd Place IBJJF World Championship NOGI (2019 / 2021)
3rd Place CBJJ Brazilian Nationals (2018/2016)
3rd Place CBJJ Brazilian Nationals NOGI (2016*)
Main Achievements (Colored Belts):
1st Place IBJJF Pan Championship (2014 brown)
1st Place IBJJF Pan Championship Juvenile (2006 )
1st Place IBJJF Brazilian Nationals (2014 brown)
2nd Place IBJJF World Championship (2013 brown)
3rd Place IBJJF World Championship (2012 brown)
* Absolute
** Weight and absolute
Favourite Position/Technique: Balão Sweep (tomoe nage) to Armbar
Weight Division: Peso Pena (70kg/141lbs)
Team/Association: Alliance
Fabio Caloi Biography
Fabio Caloi was born on the 10th of January, 1989 in São Paulo Brazil. He became interested in martial arts at a young age, influenced by Jean Claude Van Damme, Jackie Chan, Jet Li, and other Hollywood action heroes. Fabio's introduction to combat sports came by way of Judo at the age of 7. The experience was short-lived and he moved on the Karate at 9 and later Kung Fu.
Caloi enjoyed Kung Fu but felt that without real-life sparring the techniques were untested and could not be taken seriously, for that reason he gradually lost interest in the activity. In 2003 (shortly after his 14th birthday) Fabinho's cousin (Bob) and his brother Ricardo decided to do a Jiu-Jitsu trial class at Macaco Gold Team academy, influenced by Caloi's father who was a grappling enthusiast. Fabio went along with the intent of checking the gym to join the Thai Boxing there. After seeing the BJJ class he decided he wanted to try that as well. He enjoyed grappling from the start and trained both disciplines (Muay Thai and Jiu-Jitsu) for one year, after which he opted to dedicate his full attention to Jiu-Jitsu and dropped the striking sport altogether.
Diego Latorre was Caloi's first coach who awarded Fabio's blue and purple belts. In 2008, however, Latorre stopped coaching Jiu-Jitsu, this caused Caloi to seek for another gym to train with. Being a huge fan of Marcelo Garcia he chose to accept an invitation from a friend to visit the Alliance academy. There he met Fabio Gurgel and a world-class training regime.
The professional environment found at Alliance boosted Caloi's competitive record which earned him his brown belt by Master Gurgel in 2011, it also earned him a spot as a BJJ instructor at the Be Fit sports academy.
Early in 2012, Fabio suffered an injury that put him out of any Jiu-Jitsu related training for 3 months, he returned to the academy with only one week remaining until the World Championship but decided to try his luck at the toughest tournament in the world. Though out of shape for such a high demand competition, Caloi's talent shined through, earning the Sao Paulo native a bronze medal. After a near-miss at the Mundial in 2013, and a gold medal at the Pan American Championship and the Brazilian Nationals in 2014, Caloi was awarded his black belt (July 2014).
Banner picture by BJJ Club.
Fabio Caloi Grappling Record
79 WINS
BY POINTS


BY ADVANTAGES




BY SUBMISSION




BY DECISION




BY PENALTIES




BY DQ



41 SUBMISSIONS WINS
#5AD3D1
Straight ankle lock
7
3
#fad11b
Inside heel hook
5
2
#f58822
Choke from back
5
2
#224aba
Bow and arrow
2
1
#22c9a5
Outside heel hook
2
1
38 LOSSES
BY POINTS


BY ADVANTAGES




BY SUBMISSION




BY DECISION




BY PENALTIES




BY DQ



10 SUBMISSIONS LOSSES
#86e620
Straight ankle lock
20
2
#5AD3D1
Triangle armbar
10
1
Fabio Caloi Fight History
ID
Opponent
W/L
Method
Competition
Weight
Stage
Year
6313

Gabriel Rollo

Gabriel Rollo
L
Armbar
King of Fights
76KG
SPF
2014
6798

Osvaldo Moizinho

Osvaldo Moizinho
L
Pts: 0x0, Adv
Pan American
70KG
4F
2015
7233

Luan Carvalho

Luan Carvalho
L
Injury
Brasileiro
76KG
4F
2015
7723

Sandro Vieira

L
Points
Rio Winter Open
82KG
F
2015
7833

Isaque Paiva

Isaque Paiva
L
Triangle armbar
SP Open
70KG
F
2015
7864

Thiago Abreu

Thiago Abreu
L
Points
SP Open NoGi
74KG
F
2015
8056

Paulo Miyao

Paulo Miyao
L
Points
Brazil Nat. Pro
69KG
4F
2015
8212

David Lemes

David Lemes
L
Pts: 6x6, Pen
Floripa Open
70KG
F
2015
8230

David Lemes

David Lemes
L
Pts: 6x6, Adv
Floripa NoGi Open
70KG
SF
2015
8308

Thiago Gaia

Thiago Gaia
L
Points
Brasileiro NoGi
73KG
4F
2015
8418

Thiago Abreu

Thiago Abreu
L
Botinha
NoGi Worlds
73KG
4F
2015
8574

Lucas Valle

L
Pts: 3x0
South American
76KG
4F
2015
9247

Marcio Andre

Marcio Andre
L
Pts: 11x0
Pan American
70KG
8F
2016
9737

Paulo Miyao

Paulo Miyao
L
Pts: 10x4
Brasileiro
70KG
SF
2016
9954

Osvaldo Moizinho

Osvaldo Moizinho
L
Armbar
World Champ.
70KG
R2
2016
10562

Victor Moraes

L
Pts: 2x0
Sao Paulo Open
70KG
4F
2016
10726

Thiago Abreu

Thiago Abreu
L
Adv
Floripa Open
76KG
F
2016
10846

Kim Terra

Kim Terra
L
Points
Brasileiro NoGi
73KG
F
2016
10862

Max Gimenis

Max Gimenis
L
Points
Brasileiro NoGi
ABS
SF
2016
10902

Enrico Cocco

Enrico Cocco
L
Pts: 0x0, Adv
NoGi Worlds
73KG
R2
2016
10952

Muslim Patsarigov

Muslim Patsarigov
L
Straight ankle lock
NoGi Worlds
ABS
R1
2016
12764

Matheus Costa

Matheus Costa
L
Toe hold
Brasileiro
76KG
4F
2017
13099

Jamil Hill-Taylor

Jamil Hill-Taylor
L
Triangle
World Champ.
70KG
4F
2017
15638

Caio Cipriano

L
Points
Floripa Fall Open
76KG
SF
2018
16233

Yan Lucas

Yan Lucas
L
Points
Brasileiro
76KG
SF
2018
16492

Ricardo Rocha

L
Pts: 4x0
World Champ.
76KG
R2
2018
17091

Chairo Olimpio

L
Points
Vitoria NGO
79KG
4F
2018
17627

Hugo Marques

Hugo Marques
L
Pts: 2x0
Hadron SF
76KG
SPF
2018
17696

Celso Ricardo

L
Points
Brasileiro NoGi
79KG
R1
2018
21787

Ygor Rodrigues

Ygor Rodrigues
L
Pts: 4x2
Brasileiro NoGi
73KG
F
2019
21809

Marcelo Gomide

Marcelo Gomide
L
Straight ankle lock
Brasileiro NoGi
ABS
R2
2019
22863

Johnny Tama

Johnny Tama
L
Pts: 4x2
NoGi Worlds
73KG
SF
2019
23367

Felipe Ribas

L
Points
Curitiba SO
76KG
SF
2020
28258

Gianni Grippo

Gianni Grippo
L
Pts: 2x0
NoGi Worlds
73KG
SF
2021
30299

Roberto Jimenez

Roberto Jimenez
L
RNC
ADCC BR2 Trials
77KG
F
2022
36822

Carlos Henrique

Carlos Henrique
L
Pts: 2x0
NoGi Worlds
73KG
8F
2022
43045

Ygor Rodrigues

Ygor Rodrigues
L
Referee Decision
Brasileiro NoGi
79KG
F
2023
44129

M. Szczecinski

L
Armbar
European NoGi
79KG
4F
2023
6437

Alexandre Rosa

W
Pts: 6x0
Brazil Nat. Pro
75KG
R1
2015
6439

Pedro Farias

W
Pts: 2x0
Brazil Nat. Pro
75KG
R2
2015
6441

Vitor Matos

W
Armbar
Brazil Nat. Pro
75KG
4F
2015
7718

Flavio Macedo

W
Armbar
Rio Winter Open
76KG
R1
2015
7720

Bruno Rafael

W
Points
Rio Winter Open
76KG
4F
2015
7830

V. Ferreira

W
Choke
SP Open
70KG
4F
2015
7832

Victor de Matos

W
Choke from back
SP Open
70KG
SF
2015
7862

Marco Queiroz

W
Guillotine
SP Open NoGi
74KG
SF
2015
8211

Isaque Paiva

Isaque Paiva
W
Adv
Floripa Open
70KG
SF
2015
8228

Isaque Paiva

Isaque Paiva
W
Points
Floripa NoGi Open
70KG
SF
2015
8235

Herbert Maeda

W
Points
Floripa NoGi Open
70KG
SF
2015
8237

Isaque Paiva

Isaque Paiva
W
Points
Floripa NoGi Open
70KG
F
2015
8412

Marcelo Motta

W
Armbar
NoGi Worlds
73KG
8F
2015
9158

João Francisco

W
Choke from back
Rio Summer Open
70KG
4F
2016
9161

Luciano Queiroz

W
Adv
Rio Summer Open
70KG
SF
2016
9163

Victor Matos

W
Armbar
Rio Summer Open
70KG
F
2016
9246

Issa Able

W
Armbar
Pan American
70KG
R1
2016
9725

Thiago Santos

W
Armbar
Brasileiro
70KG
R1
2016
9728

Filipe Ciabotti

W
Points
Brasileiro
70KG
8F
2016
9733

Victor Matos

W
Armbar
Brasileiro
70KG
4F
2016
9947

Daisuke Shiraki

W
Pts: 2x0
World Champ.
70KG
R1
2016
10722

Matheus Knorr

W
Armbar
Floripa Open
76KG
4F
2016
10724

Breno Bittencourt

Breno Bittencourt
W
Toe hold
Floripa Open
76KG
SF
2016
10838

Caio Gregório

W
Adv
Brasileiro NoGi
73KG
R1
2016
10843

Leo Carlos

W
Referee Decision
Brasileiro NoGi
73KG
4F
2016
10845

Herbert Burns

Herbert Burns
W
Points
Brasileiro NoGi
73KG
SF
2016
10857

Junior Greco

W
Guillotine
Brasileiro NoGi
ABS
R1
2016
10859

Ruan Oliveira

Ruan Oliveira
W
Points
Brasileiro NoGi
ABS
4F
2016
11236

Rodrigo Santos

W
Armbar
South American
76KG
R1
2016
11238

Unknown

W
Armbar
South American
76KG
4F
2016
11239

Ricardo Rocha

W
Pts: 4x2
South American
76KG
SF
2016
12426

Osmar Telles

W
Armbar
Floripa Fall Open
76KG
4F
2017
12428

Jan Buatim

Jan Buatim
W
Omoplata
Floripa Fall Open
76KG
SF
2017
12748

Nuno Martins

Nuno Martins
W
Pts: 2x2, Adv
Brasileiro
76KG
R1
2017
12762

Jan Buatim

Jan Buatim
W
Estima lock
Brasileiro
76KG
8F
2017
13082

Eduardo Botega

W
Kneebar
World Champ.
70KG
R1
2017
13090

Samuel Braga

Samuel Braga
W
Pts: 6x6, Adv
World Champ.
70KG
8F
2017
15635

Mackson

W
Armbar
Floripa Fall Open
76KG
4F
2018
15654

Andrey Martins

W
Pts: 6x0
Floripa NG Open
73KG
SF
2018
15655

Matheus Knorr

W
RNC
Floripa NG Open
73KG
F
2018
16222

Thiano Alves

W
Points
Brasileiro
76KG
R1
2018
16225

Ricardo Rocha

W
Referee Decision
Brasileiro
76KG
8F
2018
16231

Jonas Campos

W
Points
Brasileiro
76KG
4F
2018
17068

Ygor Rodrigues

Ygor Rodrigues
W
Referee Decision
Vitoria Open
76KG
4F
2018
17069

Eduardo Campos

W
Armbar
Vitoria Open
76KG
SF
2018
17070

Aquila de Paula

W
Bow and arrow
Vitoria Open
76KG
F
2018
17097

Francisco Cuneo

Francisco Cuneo
W
Straight ankle lock
Vitoria NGO
ABS
SF
2018
21573

Garett Beck

W
RNC
No Gi Pan Am.
73KG
R1
2019
21579

Rodrigo Francioni

Rodrigo Francioni
W
Footlock
No Gi Pan Am.
73KG
4F
2019
21582

Fred Alves

W
Pts: 2x2, Adv
No Gi Pan Am.
73KG
SF
2019
21583

Athos Miranda

W
Pts: 0x0, Adv
No Gi Pan Am.
73KG
F
2019
21779

Lucas Brandao

W
Armbar
Brasileiro NoGi
73KG
R1
2019
21782

Natan Chueng

Natan Chueng
W
Pts: 0x0, Adv
Brasileiro NoGi
73KG
4F
2019
21786

Rodrigo Costa

W
Adv
Brasileiro NoGi
73KG
SF
2019
22158

Marko Jokmanovic

W
RNC
European NoGi
73KG
4F
2019
22162

Italo Moura

Italo Moura
W
Adv
European NoGi
73KG
SF
2019
22186

Sam McNally

Sam McNally
W
Adv
European NoGi
ABS
R1
2019
22192

Dudi Zaken

W
Body choke
European NoGi
ABS
R2
2019
22368

Eduardo Jantzen

W
N/A
South American NG
73KG
SF
2019
22369

Eduardo Avelar

Eduardo Avelar
W
Armbar
South American NG
73KG
F
2019
22853

Lachlan Warne

W
Armbar
NoGi Worlds
73KG
R2
2019
22861

Lucas Araujo

W
Referee Decision
NoGi Worlds
73KG
4F
2019
23358

Caio Silva

W
Points
Curitiba SO
76KG
R1
2020
23365

Victor Matos

W
Points
Curitiba SO
76KG
4F
2020
28243

Corey Brown

W
Pts: 7x0
NoGi Worlds
73KG
R2
2021
28250

Giann Moramarco

W
Straight ankle lock
NoGi Worlds
73KG
8F
2021
28254

Josh Bacallao

W
Pts: 0x0, Adv
NoGi Worlds
73KG
4F
2021
30258

Italo Oliveira

W
Guillotine
ADCC BR2 Trials
77KG
R2
2022
30280

Felipe Esser

W
Straight ankle lock
ADCC BR2 Trials
77KG
R3
2022
30290

Athos Miranda

W
Referee Decision
ADCC BR2 Trials
77KG
8F
2022
30295

Luis Ribas

W
Pts: 6x0
ADCC BR2 Trials
77KG
4F
2022
30297

Carlos Campos

W
Referee Decision
ADCC BR2 Trials
77KG
SF
2022
31212

Eduardo C.

W
Armbar
Curitiba NGO
79KG
4F
2022
31213

Pierpaolo Chiappe

W
Inside heel hook
Curitiba NGO
79KG
SF
2022
31214

Marcus Aurelio

W
Pts: 2x0
Curitiba NGO
79KG
F
2022
43037

Carlos Favetta

W
Outside heel hook
Brasileiro NoGi
79KG
8F
2023
43041

Joao Santos

W
RNC
Brasileiro NoGi
79KG
4F
2023
43044

Pierpaolo Chiappe

W
Inside heel hook
Brasileiro NoGi
79KG
SF
2023
44122

Burak Sarman

W
RNC
European NoGi
79KG
8F
2023
Fabio Caloi Highlight

Fabio Caloi vs Ivan Turek

Fabio Caloi vs Luiz Vieira Filho

Fabio Calio vs unknown

Fabio Caloi vs Nicholas Welker