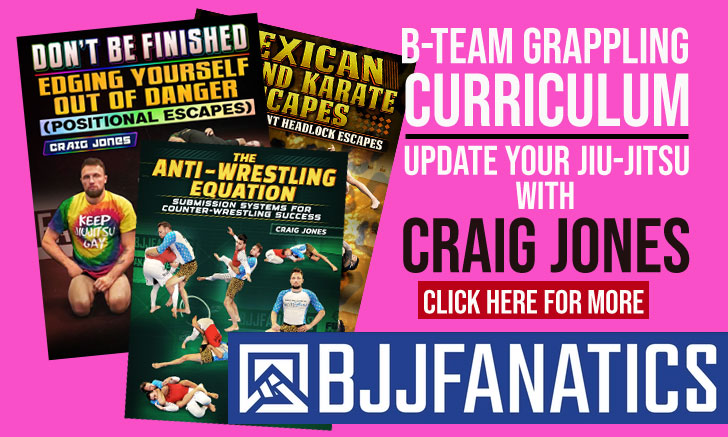 Gabriel Lucas, commonly known as "Fedor", is a Brazilian jiu jitsu black belt under the legendary Eduardo "Jamelão" da Conceição. Regarded as one of the hottest prospects in the Super and Ultra Heavyweight divisions after winning the IBJJF World Jiu Jitsu Championship as a brown belt (2013), Lucas would cement this claim as a black belt by winning titles at the World, Brasileiro No-Gi and Pan-American No Gi Championship, to name a few.
Gabriel Lucas Jiu Jitsu
Full Name: Gabriel Lyrio Lucas
Nickname: "Fedor" is a name Gabriel has carried since he his teenage years. As a teenager many of his training partners believed he resembled the famous MMA fighter Fedor Emelianenko due to his podgy figure and shaved head. For this reason he started being called "Fedor", a name he's carried throughout his BJJ career.
Lineage: Mitsuyo Maeda > Carlos Gracie > Helio Gracie > Rolls Gracie > Romero Cavalcanti > Eduardo da Conceição "Jamelão" > Gabriel Lucas
Main Achievements:
IBJJF World Champion (2015)
IBJJF Pans No-Gi Champion (2014)
CBJJ Brazilian National No-Gi Champion (2013)
IBJJF South American Champion (2014)
IBJJF World No-Gi Championship 2nd Place (2014)
Main Achievements (Colored Belts):
IBJJF World Champion (2013 brown)
CBJJ Brazilian National Champion (2013 brown)
IBJJF World Championship 2nd Place (2011 purple)
Favorite Position/Technique: Kimura Lock
Weight Division: Peso Pesadíssimo (over 100kg/221lbs)
Team/Association: Checkmat
Gabriel Lucas Biography
Gabriel Lucas was born on the 3rd of August,1990. He was born in the state capital of Espirito Santo, Vitória. Growing up Gabriel was always interested in combat sports, starting his martial arts journey when he was 8 years old through Karate.
Gabriel showed interest in jiu jitsu from a very young age, although the lack of training facilities near his location prevented him from starting. That changed with Lucas was around 15 years of age, a time when a brand new gym opened near him which offered jiu jitsu classes.
Fedor's first coach graded him up until purple belt, a time in which Lucas decided to move to a bigger team, choosing the academy of a legendary 1990's competitor Eduardo Jamelão. Jamelão awarded Gabriel Lucas his brown and the coveted black belt, which he received on the 1st of August, 2013 – two days before his birthday, after a brown belt campaign where Gabriel won the world jiu jitsu championship, and the Brazilian national title.
Gabriel Lucas Grappling Record
56 WINS
BY POINTS


BY ADVANTAGES




BY SUBMISSION




BY DECISION




BY PENALTIES




BY DQ



7 SUBMISSIONS WINS
#5AD3D1
Choke from back
14
1
#fad11b
Reverse triangle
14
1
40 LOSSES
BY POINTS


BY ADVANTAGES




BY SUBMISSION




BY DECISION




BY PENALTIES




BY DQ



6 SUBMISSIONS LOSSES
#214eb8
Inverted armbar
17
1
#d1212a
Choke from mount
17
1
#fad11b
Outside heel hook
17
1
#f58822
Cachecol choke
17
1
Gabriel Lucas Fight History
ID
Opponent
W/L
Method
Competition
Weight
Stage
Year
5077

AJ Agazarm

AJ Agazarm
L
Pts: 9x0
Brasileiro NoGi
ABS
SF
2013
5420

Andre Galvao

Andre Galvao
L
Inverted armbar
Pan American
O100KG
4F
2014
6069

Yuri Simoes

Yuri Simoes
L
Pts: 2x0
NoGi Worlds
O100KG
F
2014
6233

Jaime Canuto

Jaime Canuto
L
Adv
Copa Cachoeira
ABS
NA
2014
6624

Igor Silva

Igor Silva
L
Pts: 11x2
European
O100KG
SF
2015
6721

Alexandre Sousa

L
Pts: 2x2, Adv
Gramado Trials
O95KG
SF
2015
6767

Yuri Simoes

Yuri Simoes
L
Pts: 10x2
Pan American
ABS
R3
2015
6885

Evandro Nunes

Evandro Nunes
L
Triangle
Pan American
O100KG
R1
2015
7253

Kaue Damasceno

L
Points
Brasileiro
O100KG
R1
2015
7897

Jared Dopp

Jared Dopp
L
Pts: 2x0
ADCC
O99KG
R1
2015
7987

Claudio Calasans

Claudio Calasans
L
Referee Decision
ADCC
ABS
R1
2015
8681

R. Evangelista

R. Evangelista
L
Referee Decision
Grand Slam RJ
O94KG
SF
2015
8683

Andre Campos

L
Pts: 2x0
Grand Slam RJ
O94KG
3RD
2015
8712

Andre Campos

L
Submission
Grand Slam RJ
ABS
8F
2015
9656

Dany Gerard

Dany Gerard
L
Referee Decision
World Pro
O94KG
R1
2016
10077

Carlos Farias

Carlos Farias
L
Referee Decision
World Champ.
ABS
R1
2016
10157

Otavio Serafim

L
Pts: 0x0, Adv
SP BJJ Pro
O94KG
R1
2016
10765

Nelton Pontes

Nelton Pontes
L
Pts: 2x0
Copa Podio
105KG
RR
2016
10768

Diego Borges

Diego Borges
L
Pts: 4x0
Copa Podio
105KG
RR
2016
10777

Alexander Trans

Alexander Trans
L
Pts: 9x0
Copa Podio
105KG
RR
2016
10999

Victor Honorio

Victor Honorio
L
Pts: 3x0
BJJ Rio Pro
O94KG
F
2016
11770

Victor Honorio

Victor Honorio
L
Points
ADCC RJ
O99KG
SF
2017
12079

Gabriel Arges

Gabriel Arges
L
Pts: 2x0
Grand Slam LDN
110KG
SF
2017
12367

Otavio Serafim

L
Adv
European NoGi
O100KG
F
2017
12936

Roberto Abreu

Roberto Abreu
L
Choke from mount
Miami SPO
O100KG
F
2017
13215

Gustavo Dias

Gustavo Dias
L
Pts: 3x0
World Champ.
O100KG
4F
2017
13781

Gustavo Dias

Gustavo Dias
L
Pts: 5x2
San Diego Pro
O94KG
SF
2017
14072

Lucas Barbosa

Lucas Barbosa
L
Pts: 0x0, Adv
Dallas FO
ABS
F
2017
14247

Patrick Gaudio

Patrick Gaudio
L
Outside heel hook
ACBJJ 8
O95KG
SF
2017
14419

Otavio Nalati

L
Pts: 0x0, Adv
BJJ NY Pro
94KG
SF
2017
14556

Shane Shapiro

L
Pts: 0x0, Adv
BJJ Tour NV
ABS
SF
2017
14624

Max Gimenis

Max Gimenis
L
Referee Decision
ACB JJ Worlds
O95KG
F
2017
15928

Fernando Pena

L
N/A
ACB Asian Open
ABS
4F
2018
16291

Otavio Serafim

L
Points
Brasileiro
O100KG
SF
2018
16838

Igor Schneider

Igor Schneider
L
Pts: 5x0
ACBJJ World
O95KG
4F
2018
19770

Braga Neto

Braga Neto
L
Referee Decision
ADCC SP Trials
O99KG
F
2019
19830

Eduardo Lopes

Eduardo Lopes
L
Points
Rio FO
O100KG
SF
2019
20349

Felipe Sanchez

L
Referee Decision
Brasileiro
O100KG
R1
2019
23149

Seif Houmine

Seif Houmine
L
Cachecol choke
European Open
O100KG
4F
2020
23465

Seif Houmine

Seif Houmine
L
Pts: 5x0
Munich Open
O100KG
SF
2020
5073

Otavio Serafim

W
Points
Brasileiro NoGi
O100KG
F
2013
5417

Alessandro Silva

W
Points
Pan American
O100KG
R1
2014
5886

Unknown

W
Kimura
Rio Open
O100KG
SF
2014
5887

Kitner Moura

W
Pts: 5x2
Rio Open
O100KG
F
2014
5900

Kitner Moura

W
Adv
SP Open NoGi
O100KG
F
2014
5930

Leonardo Moura

W
Kimura
Mundial CBJJE
O100KG
F
2014
5985

Abraham Marte

Abraham Marte
W
Pts: 3x0
No Gi Pan Am.
O100KG
F
2014
6066

Paulo Vitor

W
Points
NoGi Worlds
O100KG
4F
2014
6067

Rodrigo Comprido

Rodrigo Comprido
W
Referee Decision
NoGi Worlds
O100KG
SF
2014
6140

Cassio Francis

Cassio Francis
W
Pts: 3x0
Rio BJJ Pro
O94KG
SF
2014
6141

Felipe Bueno

W
Adv
Rio BJJ Pro
O94KG
F
2014
6262

Andre Campos

W
Pts: 2x0
South American
O100KG
F
2014
6621

Takashi Haguihara

W
Armbar
European
O100KG
4F
2015
6720

Unknown

W
Armbar
Gramado Trials
O95KG
4F
2015
6724

Eduardo Inojosa

W
Pts: 2x0
Gramado Trials
ABS
SF
2015
6725

Igor Ribeiro

W
Adv
Gramado Trials
ABS
F
2015
6759

Victor Estima

Victor Estima
W
Adv
Pan American
ABS
R2
2015
7079

Alexandro Ferreira

W
Points
ADCC SP
O99KG
SF
2015
7081

Gilmar Oliveira

W
Points
ADCC SP
O99KG
F
2015
7511

Leo Davila

W
Choke from back
World Champ.
O100KG
8F
2015
7518

R. Evangelista

R. Evangelista
W
Pts: 0x0, Adv
World Champ.
O100KG
F
2015
8080

Pedro Moura

W
Adv
Brazil Nat. Pro
O77KG
SF
2015
8081

Igor Schneider

Igor Schneider
W
Pts: 6x0
Brazil Nat. Pro
O77KG
F
2015
8472

John Fain

W
Pts: 4x0
NoGi Worlds
O100KG
4F
2015
8474

Gustavo Dias

Gustavo Dias
W
Pts: 2x2, Adv
NoGi Worlds
O100KG
SF
2015
8475

Mahamed Aly

Mahamed Aly
W
Pts: 2x2, Adv
NoGi Worlds
O100KG
F
2015
8675

Marcos Conrado

W
Submission
Grand Slam RJ
O94KG
8F
2015
8678

Igor Schneider

Igor Schneider
W
Pts: 0x0, Adv
Grand Slam RJ
O94KG
4F
2015
8687

N. Guimaraes

W
Reverse triangle
Grand Slam RJ
ABS
R1
2015
10781

Rodrigo Cavaca

Rodrigo Cavaca
W
Pts: 3x2
Copa Podio
105KG
RR
2016
10998

Otavio Nalati

W
Points
BJJ Rio Pro
O94KG
SF
2016
11768

Unknown

W
Referee Decision
ADCC RJ
O99KG
4F
2017
12077

Henrique Pereira

W
Pts: 4x0
Grand Slam LDN
110KG
4F
2017
12309

Samir Krvavac

W
Points
Rome Open
100KG
SF
2017
12310

Otavio Serafim

W
Points
Rome Open
100KG
F
2017
13015

James Puopolo

James Puopolo
W
Referee Decision
F2W 35
O100KG
SPF
2017
13213

Antonio Junior

W
Pts: 5x0
World Champ.
O100KG
8F
2017
13367

Felipe Abad

W
N/A
American Nats
O100KG
SF
2017
13369

Gustavo Dias

Gustavo Dias
W
N/A
American Nats
O100KG
F
2017
14070

Manuel Ribamar

Manuel Ribamar
W
Points
Dallas FO
ABS
SF
2017
14074

Jaime Canuto

Jaime Canuto
W
Pts: 2x0
Dallas FNGO
ABS
F
2017
14244

Muhammad Kerimov

W
Points
ACBJJ 8
O95KG
4F
2017
14623

Leandro Pedrosa

W
Referee Decision
ACB JJ Worlds
O95KG
SF
2017
14967

R. Evangelista

R. Evangelista
W
Referee Decision
ACB 10
O95KG
SPF
2018
15847

Vinny Magalhaes

Vinny Magalhaes
W
Points
ACBJJ 12
O95KG
SPF
2018
15923

Felipe Paces

W
Pts: 3x0
ACB Asian Open
O95KG
4F
2018
15925

Mukjammed Kerimov

W
Pts: 6x0
ACB Asian Open
O95KG
SF
2018
15926

Eldar Rafigaev

Eldar Rafigaev
W
Pts: 2x0
ACB Asian Open
O95KG
F
2018
15933

Felipe Pacces

W
Pts: 3x0
Curitiba Open
O95KG
4F
2018
15935

Muhammed Kerimov

W
Pts: 6x0
Curitiba Open
O95KG
SF
2018
15937

Eldar Rafigaev

Eldar Rafigaev
W
Pts: 2x0
Curitiba Open
O95KG
F
2018
16288

Rafael Leite

W
Points
Brasileiro
O100KG
4F
2018
16733

Marcos Oliveira

Marcos Oliveira
D
---
ACBJJ 14
O95KG
SPF
2018
19768

Leonardo Goncalves

W
Points
ADCC SP Trials
O99KG
N/A
2019
19769

Kitner Moura

W
Points
ADCC SP Trials
O99KG
SF
2019
19829

Renan Peixoto

W
N/A
Rio FO
O100KG
4F
2019
21295

Leonardo Rocha

W
Points
Vitoria Open
O100KG
SF
2019
Gabriel Lucas vs Abraham Marte

Gabriel Lucas vs Andre Campos