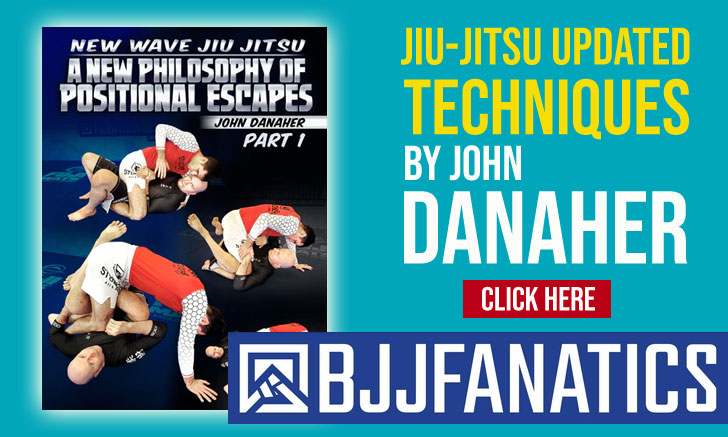 Ross Nicholls is a Brazilian jiu-jitsu black belt under César Lima and Roger Gracie, as well as a member of the Roger Gracie Academy (RGA), who is widely regarded as one of the top British and European competitors of his generation. Nicholls made himself noticed with eye-pleasing performances in big international events such as the Polaris Jiu Jitsu Invitational and the ADCC European Trials and is well-known for his matches with the likes of Oliver Taza, Nathan Orchard, Max Campos, and many others.
Ross Nicholls Jiu Jitsu
Full Name: Ross Nicholls
Nickname: N/A
Lineage: Mitsuyo Maeda > Carlos Gracie (senior) > Hélio Gracie > Carlos Gracie Júnior > Roger Gracie (> César Lima) > Ross Nicholls
Main Achievements:
1st Place ADCC European Trials (2018)
1st Place IBJJF British NoGi Nationals (2017)
1st Place IBJJF London Winter Open (2017)
2nd Place IBJJF British NoGi Nationals (2016)
3rd Place UAEJJF Grand Slam LDN (2016/2017)
Main Achievements (Colored Belts):
1st Place IBJJF European Open (2010 blue)
1st Place IBJJF European NoGi Open (2013 brown)
1st Place IBJJF London Open (2013 brown)
IBJJF European Open 2nd Place (2013 brown)
Favorite Position/Technique: Butterfly Guard
Weight Division: Peso Leve (76,00 kg / 168.0 lbs)
Team/Association: Roger Gracie Academy
Ross Nicholls Biography
Ross Nicholls was born on March 09, 1990 in London, England, though he grew up in a steelworks town named Port Talbot, South Wales, United Kingdom.
Although he didn't engage in many sporting activities as a child, Ross did pick up martial arts training from an early age, namely aikido, a combat system he practiced from the ages of 6 to 14.
While growing up, among Nicholls' best friends, were the Kox brothers: Kevin, Rob, Gareth and Richard, all of who started grappling before Ross. It was through them that Nicholls gained an interest in jiu-jitsu and eventually joined a class under Kevin Kox, who was then a purple belt just starting his coaching career (2007).
Kevin taught in Port Talbot under the guidance of Brazilian black belt, and Wales BJJ pioneer, Pedro Bessa. Although Ross moved to London one year into his training, he continued training and was graded all the way up to purple belt by this coalition, Bessa, Cox.
Following his relocation to study biomedical science at the University College London (UCL) in 2008, Nicholls' training schedule was split between the aforementioned Kox (when at home [P.T.]) and the Roger Gracie Academy in England's capital. With time, particularly after Nicholls graduated and started making London his permanent residence, RGA coach César Lima, and Roger Gracie himself took a more permanent control of Ross' tuition.
After ending his degree, Ross spent some time working outside his academic field of expertise, just to fund his BJJ training and competition schedule. In 2014 he started coaching on a regular basis which set him up to become a full-time athlete/coach in jiu-jitsu. It was also in 2014 (November), that Ross Nicholls was promoted to black belt. A ceremony led by Roger and Lima.
Ross Nicholls Grappling Record
76 WINS
BY POINTS


BY ADVANTAGES




BY SUBMISSION




BY DECISION




BY PENALTIES




BY DQ



40 SUBMISSIONS WINS
#fad11b
Inside heel hook
10
4
#224aba
Outside heel hook
8
3
#bf1f6c
Violin armlock
3
1
#22c9a5
Violin armbar
3
1
19 LOSSES
BY POINTS


BY ADVANTAGES




BY SUBMISSION




BY DECISION




BY PENALTIES




BY DQ



5 SUBMISSIONS LOSSES
#5AD3D1
Outside heel hook
20
1
#fad11b
Straight ankle lock
20
1
Ross Nicholls Fight History
ID
Opponent
W/L
Method
Competition
Weight
Stage
Year
7563

Max Carvalho

Max Carvalho
L
Points
British National
ABS
4F
2015
8415

Gabriel Rollo

Gabriel Rollo
L
Pts: 6x2
NoGi Worlds
73KG
8F
2015
8930

Michael Liera

Michael Liera
L
Kneebar
European Open
76KG
R1
2016
9213

Pedro Fernandes

L
Pts: 2x0
Grand Slam LDN
77KG
SF
2016
9594

Gabriel Procopio

Gabriel Procopio
L
Pts: 4x2
World Pro
77KG
R2
2016
10122

Max Campos

L
Points
British National
76KG
SF
2016
10134

Osvaldo Moizinho

Osvaldo Moizinho
L
Points
Brit. No-Gi Nat.
73KG
F
2016
10900

Augusto Mendes

Augusto Mendes
L
Katagatame
NoGi Worlds
73KG
R2
2016
11565

Ilke Bulut

Ilke Bulut
L
Referee Decision
European Open
76KG
8F
2017
11873

Oliver Taza

Oliver Taza
L
Outside heel hook
TUFF Kumite
80KG
RR
2017
12060

Talison Soares

L
Referee Decision
Grand Slam LDN
77KG
SF
2017
13658

Oliver Taza

Oliver Taza
L
Referee Decision
Polaris 5
76KG
SPF
2017
16902

Eoghan OFlanagan

L
Armbar
Submitting Things
ABS
F
2018
19544

Vagner Rocha

Vagner Rocha
L
Referee Decision
Polaris 9
77KG
SPF
2019
20741

Lachlan Giles

Lachlan Giles
L
Referee Decision
GrappleFest 5
80KG
SPF
2019
21853

JT Torres

JT Torres
L
Pts: 0x0, Pen
ADCC
77KG
R1
2019
23832

Frederic Vosgrone

L
Pts: 1x0
Polaris GP
ABS
F
2020
27169

Nick Ronan

D
---
Polaris Squads
ABS
RR
2021
27179

Nathan Orchard

D
---
Polaris Squads
ABS
RR
2021
27186

Nick Ronan

D
---
Polaris Squads
ABS
RR
2021
27772

M. Szczecinski

L
Straight ankle lock
ADCC EU Trials
77KG
8F
2021
32278

Tommy Langaker

Tommy Langaker
L
Pts: 6x0
ADCC EU Trials
77KG
SF
2022
6371

Duayne Helvoirt

D
---
Subfifteen
ABS
SPF
2015
7555

Alex Enlund

W
Kneebar
Grapple Nation 4
N/A
SPF
2015
7556

Jason Tan

W
Kneebar
Grapple Nation 6
N/A
SPF
2015
8380

Marcos Nardini

W
Referee Decision
Grapple4Glory
73KG
N/A
2015
8381

Max Campos

W
Referee Decision
Grapple4Glory
73KG
N/A
2015
9214

Bruno Amorim

Bruno Amorim
W
Pts: 0x0, Adv
Grand Slam LDN
77KG
3RD
2016
10132

Max Campos

W
Points
Brit. No-Gi Nat.
73KG
SF
2016
10873

Marco Canha

Marco Canha
W
Referee Decision
Polaris 4
73KG
SPF
2016
10896

Christian Lopez

W
RNC
NoGi Worlds
73KG
R1
2016
11562

Claudevan Oliveira

W
Pts: 6x6, Adv
European Open
76KG
R1
2017
11866

Daniel Crawford

W
Outside heel hook
TUFF Kumite
80KG
RR
2017
11868

Jack Cronin

W
Outside heel hook
TUFF Kumite
80KG
RR
2017
11871

Sean Harper

D
---
TUFF Kumite
80KG
RR
2017
12020

Oliver Lovell

W
Points
London WO
76KG
F
2017
12055

Melksedec Franc

W
Pts: 0x0, Adv
Grand Slam LDN
77KG
4F
2017
12062

Tiago Bravo

Tiago Bravo
W
Pts: 0x0, Adv
Grand Slam LDN
77KG
3RD
2017
13281

Darragh OConaill

Darragh OConaill
W
Pts: 4x2
British NoGi Nats
79KG
F
2017
13650

Sam Gibson

D
---
TUFF
82KG
SPF
2017
13651

Rodolfo Nygarrd

W
Ezekiel
TUFF
82KG
SPF
2017
13652

Eoghan O'flannagan

W
Submission
Welsh Inv.
ABS
N/A
2017
13653

Tom Caughey

W
Points
Welsh Inv.
ABS
N/A
2017
13654

John Maflin

W
Submission
Welsh Inv.
ABS
N/A
2017
13655

Tom O'hagan

W
Submission
Welsh Inv.
ABS
N/A
2017
15172

Tommi Pulkkanen

W
Heel hook
Polaris 6
73KG
SPF
2018
16897

Fabian Edwards

W
Heel hook
Submitting Things
ABS
R1
2018
16898

Dan Vinni

W
Heel hook
Submitting Things
ABS
4F
2018
16901

Jack Grant

W
Referee Decision
Submitting Things
ABS
SF
2018
16910

Nathan Orchard

W
Referee Decision
Polaris 7
77KG
SPF
2018
17464

Jack Grant

W
Armbar
Grapple Fest
ABS
SPF
2018
17749

Rodrigo Oliveira

W
Submission
English NGO
85KG
SF
2018
17750

Lewis Long

W
Pts: 14x4
English NGO
85KG
F
2018
17751

Ross Ridpath

W
Submission
English NGO
ABS
F
2018
17760

Denis Brotzmann

W
Violin armlock
ADCC EU Trials
77KG
R2
2018
17765

Dinu Bucalet

W
Armbar
ADCC EU Trials
77KG
8F
2018
17767

Vegard Randeberg

W
Outside heel hook
ADCC EU Trials
77KG
4F
2018
17770

Mateusz Szczecinski

W
Referee Decision
ADCC EU Trials
77KG
SF
2018
17772

Mateusz Gamrot

W
Inside heel hook
ADCC EU Trials
77KG
F
2018
18426

S. Boukhezzer

W
Heel hook
NAGA Europe
75KG
SF
2018
18428

Gianni Grippo

Gianni Grippo
W
Referee Decision
GrappleFest 3
80KG
SPF
2018
19026

Kamil Wilk

D
---
Pantheon
76KG
SPF
2019
20210

H. Ayub

W
Submission
Grappling Ind.
83KG
RR
2019
20211

J. Roberts

W
RNC
Grappling Ind.
83KG
RR
2019
20212

J. Grace

W
Submission
Grappling Ind.
83KG
RR
2019
20213

Christian Ozbek

W
Submission
Grappling Ind.
ABS
R1
2019
20214

A. Brown

W
Submission
Grappling Ind.
ABS
R2
2019
20215

J. Groom

W
Submission
Grappling Ind.
ABS
4F
2019
20216

Ollie Bates

W
Submission
Grappling Ind.
ABS
SF
2019
20217

Tolan Halleck

W
Pts: 24x2
Grappling Ind.
ABS
F
2019
20968

Lloyd Cooper

W
Armbar
Pantheon Inv.
80KG
SF
2019
20969

Sean Mcdonagh

W
Referee Decision
Pantheon Inv.
80KG
F
2019
21146

Cees Dear

W
Violin armbar
G.I. London
77KG
RR
2019
21147

Dominic Dillon

W
Pts: 9x0
G.I. London
77KG
RR
2019
21148

Richard Mearns

W
Pts: 10x0
G.I. London
77KG
RR
2019
21149

Neil Mcgwynne

W
RNC
G.I. London
77KG
RR
2019
21150

Mads Zerahn

W
Kneebar
G.I. London
77KG
RR
2019
21151

Tom Asabre-Holt

W
Heel hook
G.I. London
ABS
R1
2019
21152

Marcin Ziaja

W
Guillotine
G.I. London
ABS
R2
2019
21153

Claudiu Crisu

W
RNC
G.I. London
ABS
4F
2019
21154

Nick Forrer

W
Heel hook
G.I. London
ABS
SF
2019
21155

Jordan Ambe

W
Heel hook
G.I. London
ABS
F
2019
23828

Dominic Dillon

W
Pts: 1x0
Polaris GP
ABS
4F
2020
23830

Bradley Hill

W
Referee Decision
Polaris GP
ABS
SF
2020
27763

Tom Maenurm

W
Pts: 9x0
ADCC EU Trials
77KG
R1
2021
29306

Valentin Fels

W
Inside heel hook
G. Industries
77KG
SF
2021
29307

Davis Asare

W
Pts: 9x0
G. Industries
77KG
F
2021
29308

Dominic Erk

W
Inside heel hook
G. Industries
ABS
R1
2021
29309

Tehmoor Abbas

W
Inside heel hook
G. Industries
ABS
R2
2021
29310

Hejraat Rashid

W
Pts: 2x0
G. Industries
ABS
4F
2021
29311

Keiren Rodwell

W
Referee Decision
G. Industries
ABS
SF
2021
29312

Max Bickerton

W
Referee Decision
G. Industries
ABS
F
2021
30165

L. Pelakauskas

W
Pts: 4x2
Grappling Ind.
ABS
R1
2022
30166

Kial Wilkins

W
Pts: 9x0
Grappling Ind.
ABS
R2
2022
30167

Max Bickerton

W
Pts: 4x2
Grappling Ind.
ABS
4F
2022
30168

Hejraat Rashid

W
Pts: 4x0
Grappling Ind.
ABS
SF
2022
30169

Nikita Berkovic

W
Pts: 2x0
Grappling Ind.
ABS
F
2022
32261

Moataz Barkouky

W
Armbar
ADCC EU Trials
77KG
R1
2022
32266

Liam Alpang

W
Pts: 3x0
ADCC EU Trials
77KG
R3
2022
32272

Rafal Farjaszewski

W
Referee Decision
ADCC EU Trials
77KG
8F
2022
32276

Christopher Wojcik

W
Referee Decision
ADCC EU Trials
77KG
4F
2022
32281

Ellis Younger

W
Pts: 2x0
ADCC EU Trials
77KG
3RD
2022