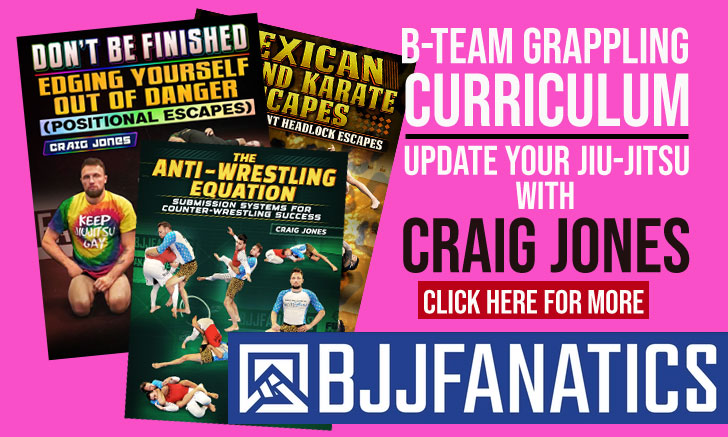 Gabriel Arantes Volante is a jiu-jitsu black belt under the legendary Celso Venicius (Celsinho) who represents the XCoach squad in the sport's global circuit and is particularly active in the International Brazilian Jiu-Jitsu Federation (IBJJF) league (with the gi) where he defeated important names of the sport such as Lucas Alves, Fernando Reis, Harryson Pereira, to name a few.
Gabriel Volante Jiu-Jitsu
Full Name: Gabriel Arantes Volante
Nickname: N/A
Lineage: Carlos Gracie Sr. > Carlos Gracie Junior > Roberto Correa > Celso Venicius > Gabriel Volante
Main Achievements:
1st Place IBJJF Curitiba Spring Open (2019*)
1st Place IBJJF Sao Paulo Open (2019)
2nd Place IBJJF South American Championship (2019)
2nd Place IBJJF Floripa Fall Open (2023**)
3rd Place CBJJ Brazilian Nationals (2023)
Main Achievements (Colored Belts):
1st Place CBJJE Sul Brasileiro (2015** purple)
3rd Place IBJJF South American Championship (2018 / 2017 brown)
* Absolute
** Weight and Absolute
Favorite Position/Technique: Well-Rounded
Weight Division: Peso Pesado (94kg/207lbs)
Team/Association: XCoach
Gabriel Volante Biography
Gabriel Volante was born on August 11, 1992, in Florianópolis, the capital city of southern Brazil's Santa Catarina state.
Sports were a big part of Gabriel's life while growing up, with football (soccer) being particularly prevalent and an activity he pondered on turning pro. With so much of his efforts allocated towards football, combat sports ran as an afterthought even though capoeira and karate – a sport his father practiced extensively – were a part of his upbringing.
Although curious about jiu-jitsu due to his younger brother's involvement in this martial art, Gabriel prioritized football and feared grappling could sideline him with an injury. For this reason, it took him a few years before he finally decided to try a BJJ class back in 2009, at the age of 17.
Everson Ávila (Maromba) was Gabriel's first instructor, a person highly involved with Volante's early start in the sport.
As a purple belt, Gabriel Volante was training under a full-time regime but lacked the infrastructure required to compete at the highest level in his hometown. For that reason, as a brown belt, Gabriel decided to move to São Paulo – the country's most challenging jiu-jitsu hub where he joined Celso Venicius (Celsinho) club, XCoach.
Gabriel was promoted to the black belt rank by Celsinho Venicius on June 29, 2019.
The cover photo was taken by Manu Maciel.
Gabriel Volante Grappling Record
16 WINS
BY POINTS


BY ADVANTAGES




BY SUBMISSION




BY DECISION




BY PENALTIES




BY DQ



9 SUBMISSIONS WINS
#214eb8
Choke from back
44
4
#5AD3D1
Back triangle
22
2
15 LOSSES
BY POINTS


BY ADVANTAGES




BY SUBMISSION




BY DECISION




BY PENALTIES




BY DQ



3 SUBMISSIONS LOSSES
#214eb8
Choke from back
67
2
Gabriel Volante Fight History
ID
Opponent
W/L
Method
Competition
Weight
Stage
Year
21344

Fernando Reis

Fernando Reis
L
Referee Decision
Floripa WO
94KG
SF
2019
21351

Fernando Reis

Fernando Reis
L
Ezekiel
Floripa WO
ABS
4F
2019
22594

Dimitrius Souza

Dimitrius Souza
L
Referee Decision
South American
94KG
F
2019
23044

Keenan Cornelius

Keenan Cornelius
L
Choke from back
European Open
ABS
R2
2020
23138

Adam Wardzinski

Adam Wardzinski
L
Choke from back
European Open
94KG
4F
2020
26438

Erich Munis

Erich Munis
L
Pts: 2x0
SA Cont. Pro
94KG
R1
2021
32190

Rider Zuchi

Rider Zuchi
L
Pts: 4x2
Brasileiro
94KG
SF
2022
33234

Gabriel Henrique

Gabriel Henrique
L
Pts: 3x0
Floripa WO
94KG
F
2022
33594

Wallison Pardim

L
Pts: 3x0
Betim Open
94KG
4F
2022
33611

Cleyton Flores

L
Referee Decision
Betim Open
ABS
4F
2022
35170

Gabriel Neto

L
Pts: 2x0
SP Open
ABS
4F
2022
38057

Patrick Gaudio

Patrick Gaudio
L
Pts: 5x0
Curitiba SMO
94KG
F
2023
38966

Vinicius Liberati

Vinicius Liberati
L
Referee Decision
BJJS Confere
ABS
F
2023
39519

Rider Zuchi

Rider Zuchi
L
Pts: 4x2
Brasileiro
94KG
4F
2023
40140

Marcos Martins

Marcos Martins
L
Pts: 2x0
Floripa FO
94KG
F
2023
21736

Caio Paganini

Caio Paganini
W
Choke from back
Sao Paulo Open
94KG
SF
2019
21737

Harryson Pereira

Harryson Pereira
W
Adv
Sao Paulo Open
94KG
F
2019
22119

Renan Marcel

W
Armbar
Curitiba SPO
ABS
SF
2019
22121

Fernando Reis

Fernando Reis
W
Choke from back
Curitiba SPO
ABS
F
2019
22593

Fernando Reis

Fernando Reis
W
Kneebar
South American
94KG
SF
2019
23132

Rafael Vasconcelos

Rafael Vasconcelos
W
Pts: 6x0
European Open
94KG
R1
2020
32188

Felipe Pimentel

W
Choke from back
Brasileiro
94KG
4F
2022
33232

Wesley Maxwell

W
Pts: 13x2
Floripa WO
94KG
SF
2022
35152

Otavio Marinho

W
Pts: 17x0
SP Open
94KG
R1
2022
35167

Edgar Loureiro

W
Choke from back
SP Open
ABS
R1
2022
38053

David Santos

W
Back triangle
Curitiba SMO
94KG
4F
2023
38055

Lucas Alves

Lucas Alves
W
Back triangle
Curitiba SMO
94KG
SF
2023
38960

Wildemar Santos

W
Referee Decision
BJJS Confere
ABS
4F
2023
38964

Vinicius Lessa

Vinicius Lessa
W
Referee Decision
BJJS Confere
ABS
SF
2023
39517

Caique Honorio

W
Armbar
Brasileiro
94KG
R1
2023
40139

Vital Neto

W
Referee Decision
Floripa FO
94KG
SF
2023