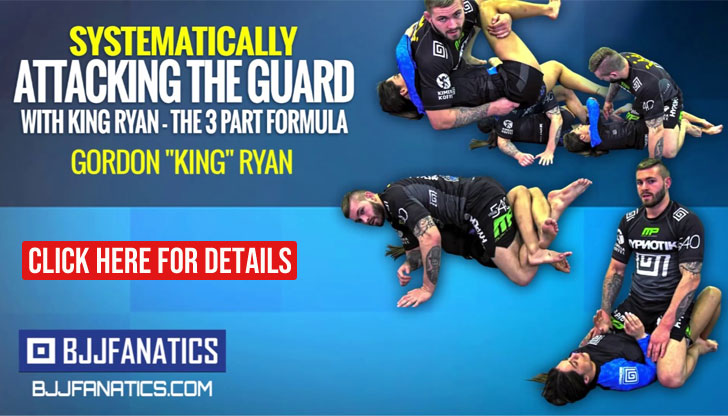 Giancarlo Bodoni is a professional jiu-jitsu competitor and a black belt under Lucas Lepri, who worked extensively with Bernardo Faria as well as Rillion Gracie, and is best known for his success while representing the Alliance Team. Bodoni earned his reputation as one of the sport's top athletes after his performances in the International Brazilian Jiu-Jitsu Federation (IBJJF) World Championships and Pan American Championships as a brown belt, a level of excellence he continued to display as a black belt.
Giancarlo Bodoni Jiu-Jitsu
Full Name: Giancarlo Bodoni
Nickname: N/A
Lineage: Carlos Gracie > Carlson Gracie> Sergio Bolão > Mauro Chueng > Elan Santiago > Lucas Lepri > Giancarlo Bodoni
Main Achievements:
1st Place ADCC (2022)
1st Place IBJJF Pan Championship NOGI (2021)
2nd Place IBJJF Pan Championship NOGI (2020)
3rd Place IBJJF Pan Championship NOGI (2020* / 2021*)
Main Achievements (Colored Belts):
1st Place IBJJF World Championship NOGI (2019 brown)
1st Place IBJJF Pan Championship (2020 brown)
2nd Place IBJJF World Championship (2019 brown)
3rd Place IBJJF World Championship NOGI (2019* brown)
3rd Place IBJJF Pan Championship (2020* brown)
3rd Place IBJJF Pan Championship NOGI (2018 brown)
3rd Place IBJJF European Open(2019 brown)
Favorite Position/Technique: Closed Guard
Weight Division: Pesado (94,30 kg / 208.0 lbs)
Team/Association: Alliance
Giancarlo Bodoni Biography
Giancarlo Bodoni was born on October 15, 1995, in Miami, Florida, United States of America.
Martial arts were introduced to Giancarlo's life at a very young age. By the time he was 5YO, Bodoni was already training karate, an extracurricular activity to which he would later also add taekwondo, competing briefly in both combat sports.
Although widely recognized by the jiu-jitsu community as a product of the Alliance team, Giancarlo's grappling initiation was spent training with one of the Gracie Family's most respected members, Rillion Gracie, who guided the talented Floridian from the age of 12 up until his 20th birthday. It was Master Rillion who promoted Bodoni from white to purple belt.
In 2017, Giancarlo Bodoni fulfilled his lifelong dream of training in Rio de Janeiro, Brazil, a city famous for being the birthplace of jiu-jitsu. The American grappler spent a few months there, where he met and befriended another big player in the sport, Mr. Gutemberg Pereira of GF Team. Later, when Pereira moved to the United States to live in Toledo, Ohio, he invited Bodoni to train with his local team, this way settling a bond between the Giancarlo and the Toledo workgroup.
When Giancarlo's father moved to Charlotte, in North Carolina, the young athlete took the opportunity to train at the local Alliance gym, with one of BJJ's greatest competitors of all time, Mr. Lucas Lepri. Bodoni made the most of this experience by joining the team and spending extended periods with the Minas Gerais legend, who graded Bodoni with his brown belt in June 2018.
Midway through 2019, Giancarlo received an invitation from another Alliance legend, who, coincidently, is also from Minas Gerais, namely 4x adult black belt World Champion Bernardo Faria, who offered Bodoni a position as an instructor at his school – Faria's Alliance gym in Bedford, Massachusetts. Giancarlo accepted the offer and it was while training and working at his new Massachusetts home that Bodoni conquered two of his most prized gold medals, the 2019 World No-Gi title and his 2020 Pan American Gi title – both in the brown belt division.
After these tremendous achievements, Bodoni was promoted to black belt in a ceremony that took place in Charlotte, NC, led by Lucas Lepri on October 18, 2020.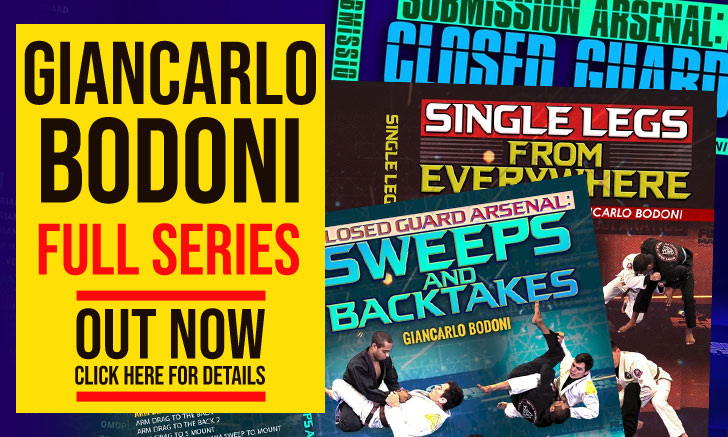 Giancarlo Bodoni Grappling Record
52 WINS
BY POINTS


BY ADVANTAGES




BY SUBMISSION




BY DECISION




BY PENALTIES




BY EBI/OT



32 SUBMISSIONS WINS
#5AD3D1
Inside heel hook
13
4
#fad11b
Shoulder lock
3
1
#bf1f6c
Straight ankle lock
3
1
#22c9a5
Choke from back
3
1
#fad223
Reverse triangle
3
1
19 LOSSES
BY POINTS


BY ADVANTAGES




BY SUBMISSION




BY DECISION




BY PENALTIES




BY DQ



5 SUBMISSIONS LOSSES
#214eb8
Outside heel hook
40
2
#d1212a
Inside heel hook
20
1
Giancarlo Bodoni Fight History
ID
Opponent
W/L
Method
Competition
Weight
Stage
Year
24498

Lucas Barbosa

Lucas Barbosa
L
Pts: 2x0
No Gi Pan Am.
92KG
F
2020
24520

Lucas Barbosa

Lucas Barbosa
L
Pts: 2x0
No Gi Pan Am.
ABS
4F
2020
25425

Rafael Vasconcelos

Rafael Vasconcelos
L
Pts: 0x0, Adv
Orlando Open
94KG
SF
2021
25431

Michael Liera

Michael Liera
L
Pts: 2x0
Orlando Open
ABS
R1
2021
25463

Pedro Marinho

Pedro Marinho
L
Guillotine
Orlando NGO
91KG
F
2021
25477

Tex Johnson

Tex Johnson
L
Outside heel hook
Orlando NGO
ABS
F
2021
26019

Austin Baker

Austin Baker
L
Pts: 0x0, Adv
N.Orleans Open
ABS
SF
2021
26038

Diego Ramalho

Diego Ramalho
L
Footlock
N.Orleans NGO
ABS
SF
2021
26219

Lucas Barbosa

Lucas Barbosa
L
Pts: 2x0
NoGi Pan Am.
ABS
SF
2021
26285

Jorge Escudero

L
Outside heel hook
Miami NGO
91KG
F
2021
27889

Mason Fowler

Mason Fowler
L
Referee Decision
WNO Champ.
ABS
4F
2021
27893

Kaynan Duarte

Kaynan Duarte
L
Referee Decision
WNO Champ.
ABS
SF
2021
27926

Rida Haisam

Rida Haisam
L
Referee Decision
WNO Champ.
ABS
3RD
2021
28310

Vagner Rocha

Vagner Rocha
L
Referee Decision
NoGi Worlds
91KG
8F
2021
29796

Nick Ronan

L
Inside heel hook
Emerald City
ABS
SF
2021
30832

Andre Porfirio

Andre Porfirio
L
Pts: 2x0
Dallas NGO
91KG
F
2022
33141

Lucas Barbosa

Lucas Barbosa
L
Referee Decision
SUBVERSIV 7
83KG
F
2022
35102

Nicholas Meregali

Nicholas Meregali
L
Pts: 6x2
ADCC
ABS
4F
2022
37780

Pedro Marinho

Pedro Marinho
L
Referee Decision
WNO
92KG
SPF
2023
24495

Ronnie Pace

W
RNC
No Gi Pan Am.
92KG
4F
2020
24497

Benjamin Silva

W
RNC
No Gi Pan Am.
92KG
SF
2020
24511

John Hansen

W
Guillotine
No Gi Pan Am.
ABS
R1
2020
24518

Arnaldo Maidana

Arnaldo Maidana
W
Pts: 4x2
No Gi Pan Am.
ABS
8F
2020
25461

Charles McGuire

W
Short choke
Orlando NGO
91KG
SF
2021
25474

Francisco Cuneo

Francisco Cuneo
W
Straight ankle lock
Orlando NGO
ABS
4F
2021
25475

Diego Ramalho

Diego Ramalho
W
Pts: 5x2
Orlando NGO
ABS
SF
2021
26007

Nathan Mendelsohn

Nathan Mendelsohn
W
Pts: 4x3
N.Orleans Open
94KG
F
2021
26012

Joshua McKinney

W
Choke from back
N.Orleans Open
ABS
R1
2021
26016

Charles McGuire

W
Armbar
N.Orleans Open
ABS
4F
2021
26031

Alika Angerman

W
RNC
N.Orleans NGO
91KG
F
2021
26035

Charles McGuire

W
Verbal tap
N.Orleans NGO
ABS
4F
2021
26161

A. Angerman

W
RNC
NoGi Pan Am.
91KG
4F
2021
26163

Yuri Santos

W
Armbar
NoGi Pan Am.
91KG
SF
2021
26164

Lucas Barbosa

Lucas Barbosa
W
Referee Decision
NoGi Pan Am.
91KG
F
2021
26201

Romulo Caiado

W
Reverse triangle
NoGi Pan Am.
ABS
R1
2021
26212

Joseph Watson

W
Pts: 2x2, Adv
NoGi Pan Am.
ABS
8F
2021
26217

Bruno Matias

Bruno Matias
W
Pts: 0x0, Adv
NoGi Pan Am.
ABS
4F
2021
28879

Logan Yox

W
Pts: 3x0
ADCC EC Trials
88KG
R1
2021
28888

Maxim Cote

W
Inside heel hook
ADCC EC Trials
88KG
R2
2021
28899

Michael Ferrante

W
RNC
ADCC EC Trials
88KG
R3
2021
28907

James Brasco

James Brasco
W
Armbar
ADCC EC Trials
88KG
R4
2021
28911

Ryan Aitken

W
Pts: 3x0
ADCC EC Trials
88KG
4F
2021
28914

Jacob Couch

Jacob Couch
W
RNC
ADCC EC Trials
88KG
SF
2021
28915

Elder Cruz

Elder Cruz
W
Pts: 3x0
ADCC EC Trials
88KG
F
2021
29795

Enrique Galarza

W
EBI/OT
Emerald City
ABS
4F
2021
30171

F. Costa

F. Costa
W
Inside heel hook
F2W 193
N/A
SPF
2022
30831

Thiago Andrade

W
Inside heel hook
Dallas NGO
91KG
SF
2022
33130

Joshua Dawson

W
RNC
SUBVERSIV 7
83KG
4F
2022
33138

Jay Rodriguez

W
N/A
SUBVERSIV 7
ABS
SF
2022
33522

PJ Barch

PJ Barch
D
---
UFC Inv. 2
ABS
RR
2022
33643

Jacob Rodriguez

W
Referee Decision
WNO 13
ABS
SPF
2022
34192

Elijah Carlton

W
Katagatame
Sapateiro Inv
93KG
8F
2022
34203

Brad Schneider

W
RNC
Sapateiro Inv
93KG
4F
2022
34205

Dan Martinez

W
RNC
Sapateiro Inv
93KG
SF
2022
34206

Devhonte Johnson

Devhonte Johnson
W
EBI/OT
Sapateiro Inv
93KG
F
2022
35034

Isaque Bahiense

Isaque Bahiense
W
Pts: 6x0
ADCC
88KG
R1
2022
35040

Matheus Diniz

Matheus Diniz
W
Triangle
ADCC
88KG
4F
2022
35044

Eoghan OFlanagan

W
Footlock
ADCC
88KG
SF
2022
35046

Lucas Barbosa

Lucas Barbosa
W
RNC
ADCC
88KG
F
2022
35100

Rida Haisam

Rida Haisam
W
Shoulder lock
ADCC
ABS
8F
2022
39916

Michael Laci

W
Submission
Houston Open
ABS
SF
2023
39918

Igor Schneider

Igor Schneider
W
Armbar
Houston Open
ABS
F
2023
40860

Adam Bradley

W
Pts: 2x0
ADCC Dallas
100KG
R1
2023
40862

Sebastian Attard

W
Pts: 3x0
ADCC Dallas
100KG
4F
2023
40864

Brian Guevara

W
RNC
ADCC Dallas
100KG
SF
2023
40865

Daishi Goto

W
Pts: 4x0
ADCC Dallas
100KG
F
2023
42199

Kamal Akagunduz

W
RNC
AIGA
91KG
RR
2023
42205

Murad Ramzanov

W
Verbal tap
AIGA
91KG
RR
2023
42211

A. Gadzhimurad

W
Inside heel hook
AIGA
91KG
RR
2023
42393

Elder Cruz

Elder Cruz
W
Points
Blue Collar
ABS
4F
2023
42397

Andy Varela

Andy Varela
W
Referee Decision
Blue Collar
ABS
SF
2023
42399

Roberto Jimenez

Roberto Jimenez
W
Referee Decision
Blue Collar
ABS
F
2023