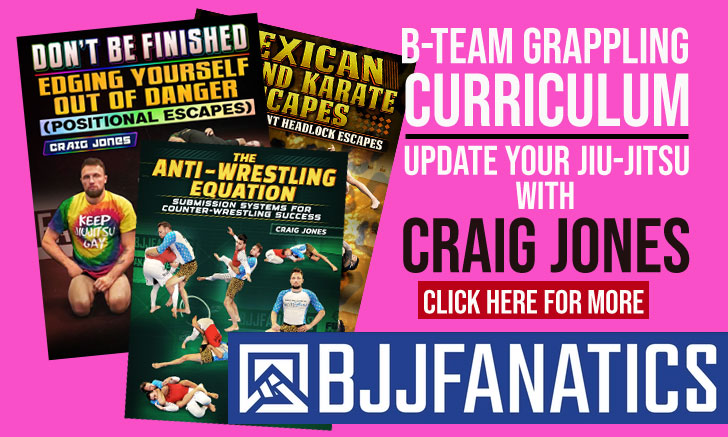 Braulio Estima "Carcará" is a Brazilian Jiu-Jitsu black belt World Champion and an ADCC open weight & super fight champion. Considered by most, one of the top jiu-jitsu competitors of the 2000's era, Braulio Estima collected trophies throughout his grappling career, both as a fighter and as an instructor. In recent years Braulio has slowed down on his competitive appearances. Braulio is also the older brother of another great jiu-jitsu talent, Victor Estima.
Braulio Estima Jiu-Jitsu
Full Name: Braulio de Oliveira Estima
Nickname: Carcará is the name of a bird that habits the region where Braulio was raised. It was also the name of a brand of jiu-jitsu kimono's that Braulio used to wear (now extinct), which is the reason why his teammates started calling him "Carcara"
Lineage:  Carlos Gracie Sr. > Helio Gracie > Carlos Gracie Jr > Braulio Estima
Main Achievements:
1st Place IBJJF World Champion (2004/2006/2009/2014)
1st Place UAEJJF Abu Dhabi World Pro (2014)
1st Place ADCC Championship (2009**)
1st Place IBJJF European Open (2007/2009/2011)
2nd Place IBJJF World Championship (2005/2008/2013)
2nd Place ADCC Championship (2007)
Main Achievements (Colored Belts):
1st Place IBJJF Pan Championship (2002 purple, 2003, 2006 brown)
* Absolute
2014 – stripped of the title after positive PEDs Test.
Weight Division: Meio Pesado (88kg-194lbs)
Favorite Position/Technique: Triangle/Open Guard.
Association/Team: Gracie-Barra
Braulio Estima Biography
Braulio Estima was born on June 10, 1980, in the city of Recife, State of Pernambuco – Brazil. He was initiated in the world of martial arts as a child when he was 9 years of age, training in Judo, however, In June 1990 a tragic bike accident brought his coach's life to an end, and Braulio Stopped training altogether. He regained his interest in 1996 when he was 16 years old, through his old Judo buddy Fernando Cavalcanti who was by then training Jiu-Jitsu. The first gym where Braulio Estima started his Jiu-Jitsu tuition was called "Free Style" and the classes were taught by a brown belt called Charles dos Anjos (who later became a respected Royce Gracie Black Belt who teaches in the USA), dos Anjos awarded Braulio his first belt (blue) after Estima won 5 major junior titles in a row.
When Charles dos Anjos left the gym to move to the United States, Jose Olimpio da Rocha (also known as "Zé Raidiola") took over the gym's classes and taught Braulio Estima from there until he reached Brown Belt. A few years after Braulio started his training under "Radiola", Carlos Gracie Junior passed by Recife to give a seminar and it was agreed that the "Free Style" academy would be under Gracie-Barra's shield from thereon.
In 2003 Braulio won the Pan American as a Brown Belt submitting 7 people in a total of 5 minutes and 24 seconds. By the end of that year, Braulio met an old training partner by the name of Alain Pozo, who at the time resided in London – England, and was in Recife for his holidays. Alain invited Braulio to come over to the United Kingdom to try his luck in Europe as BJJ was booming in "The Old Continent". Braulio didn't hesitate and jumped on a plane to London.
In London, Braulio trained for a short while at Carlson Gracie's team in the famous "Boiler Room" academy, but soon Mauricio Gomes (The Gracie Barra representative in the country) spotted the talent in young Braulio and took him under his wing. Mauricio saw that Braulio was an excellent training partner for his son Roger Gracie, and he wasn't wrong. The two fighters training together grew exponentially to the point where they became two of the best Brazilian Jiu-Jitsu fighters on the planet. Braulio also started teaching in Gracie Barra – Birmingham around that time, taking over the academy that Mauricio Gomes had started.
Braulio was awarded his Black Belt in January 2004 winning the Mundial (World Championship) as a middleweight on that same year. He has gone from strength to strength in the sport winning every major tournament there is in the Black Belt division. He also won one of the most prestigious tournaments there is in Submission Wrestling, the ADCC in both his weight and the Open weight divisions (2009). He is now focusing on an MMA career, although still competing now and again in BJJ tournaments.
In 2011 although fully dedicated to MMA, Braulio Estima decided to return to the mats to honor a close friend, Steven Fan that had passed away shortly before the competition. Braulio was successful once again and was able to dedicate the victory to Steve.
Braulio Estima's PED Suspension
In October 2014 The USADA (United States Anti-Doping Agency) revealed that Braulio Estima had been caught with Performance Enhancing Drugs (PED) in his system while competing at the World Championship in 2014. The USADA, the organization responsible for testing IBJJF's athletes for performance enhancers, mentioned that Methylhexaneamine (DMAA) had been found, for this reason, the International Jiu-Jitsu Federation suspended Estima for 2 years. The reason why the athlete received a maximum suspension was due to Estima not knowing where he received the enhancing substance.
Braulio Estima mentioned that the substance likely came from a pre-workout drink he took from a fan while celebrating his victory at the semi-final over Murilo Santana (Braulio's final match at the worlds). Through his social media profile, Braulio explained:
it would be much easier for me to make a simple story up and get the ban reduced to 60 days. I just needed to know what was the product took, as simple as that. As this was an accident and I have no clue what it was I couldn't fight back. – Braulio Estima
Braulio Estima Grappling Record
59 WINS
BY POINTS


BY ADVANTAGES




BY SUBMISSION




BY DECISION




BY PENALTIES




BY DQ



37 SUBMISSIONS WINS
#5AD3D1
Choke from back
8
3
#224aba
Triangle armbar
3
1
#03861f
Inverted triangle
3
1
#039a1f
Inverted Katagatame
3
1
21 LOSSES
BY POINTS


BY ADVANTAGES




BY SUBMISSION




BY DECISION




BY PENALTIES




BY DQ



5 SUBMISSIONS LOSSES
#5AD3D1
Choke from back
20
1
#d1212a
Flying triangle
20
1
Braulio Estima Fight History
Photo by Ross Finlayson